Levana Mila Baby Monitor Review & Video
Does the Levana Mila give the ultimate peace of mind? We found out.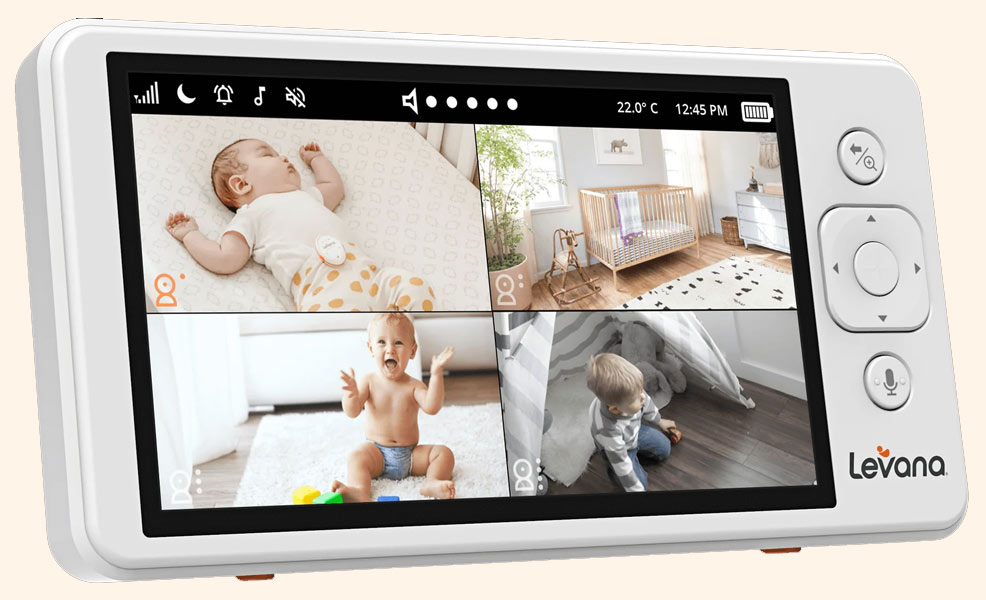 ---
Mommyhood101 independently tests and curates baby gear to help you make informed decisions. If you buy products through links on our site, we may earn a commission.
Levana baby monitors have come a long way over the past few decades, from audio-only baby monitors to full-featured touchscreen video baby monitors, all of which offer great quality and features at a relatively reasonable price.
We put Levana's newest video baby monitor, the Mila, to the test! For this review, we tested the Mila in daylight and darkness, from near and far, explored the menu system, evaluated the reception range indoors and out, and tested all the features.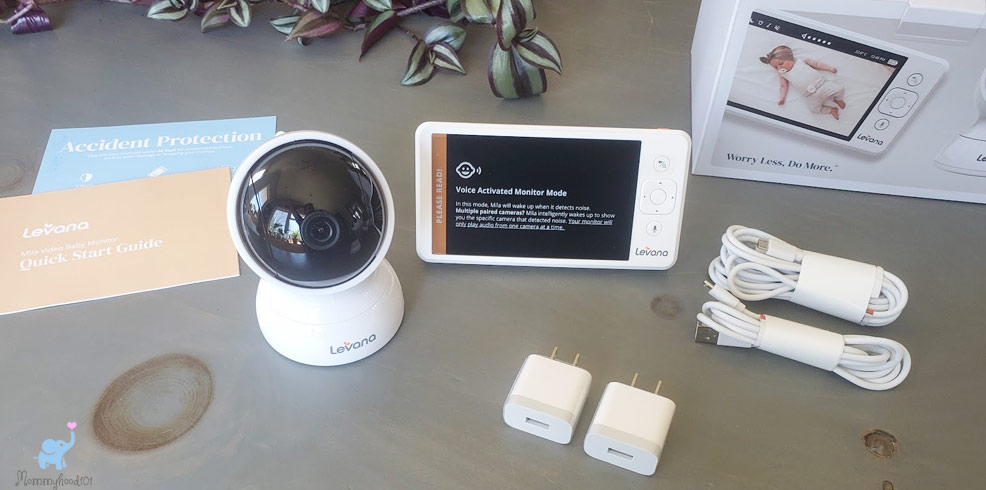 As of this writing, the new Levana Mila is available through Amazon and a few other retailers and sells for about $159. At the end of this article, we provide a few purchase options.
Note: The Levana Mila was originally released after a successful Kickstarter campaign, but then voluntarily pulled from the market by the manufacturer back in 2020 due to issues with the firmware. This review is for the new model, the LHGP5, which resolves previous issues.
Will the Levana Mila baby monitor make it onto our list of the best baby monitors of the year? Let's find out!
Full disclosure: Levana was generous enough to provide us with free samples of the new Levana Mila baby monitor for testing (thank you!).
Our Levana Mila Baby Monitor Review
Based on our hands-on reviews, we give the Levana Mila baby monitor a 4.5 out of 5 stars:
Most parents don't have time to read through this entire article, so here is a summary of what we found.
We were excited to get our hands on this new Levana baby monitor, and we were pleasantly surprised by the following aspects:
✔️ Very simple setup & operation.
✔️ Large and high-resolution parent unit.
✔️ Remote pan, tilt, & zoom.
✔️ Accurate nursery temperature.
✔️ Temperature alerts.
✔️ Two-way intercom talk.
✔️ Clear infrared night vision.
✔️ Nature sounds & lullabies.
✔️ Sound alerts.
✔️ Pair up to 4 cameras.
✔️ View 4 cameras simultaneously!
✔️ Wall mount capability.
✔️ Secure communications.
✔️ Great signal range.
However, like with any review we write, we also had some little gripes worth mentioning:
❌ So-so battery life.
❌ No smart integration.
❌ No battery in the camera.
Overall, we think this new Levana Mila is definitely the best model that Levana has produced in its long history of making high-quality baby monitors!
It has a great feature list, works smoothly and easily, has great reception, and can easily do a couple of things we love such as fitting in your pocket, monitoring nursery temperature, and viewing up to four cameras simultaneously! All that for only about $159? We think that's a great deal!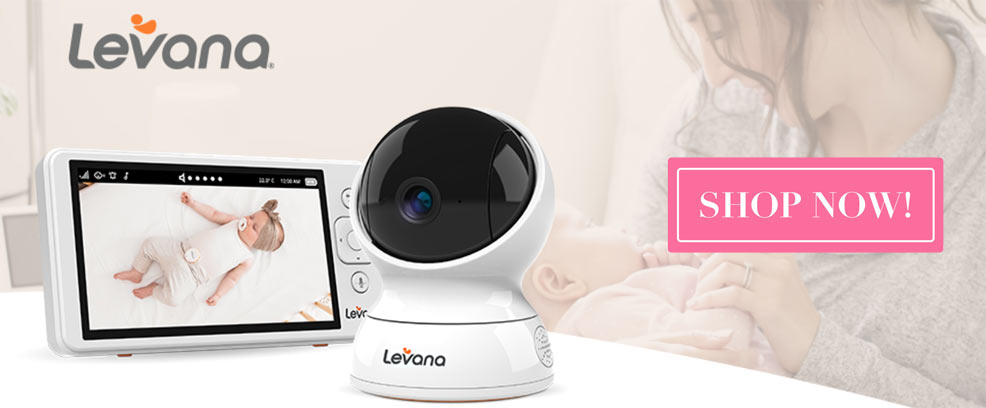 About Levana
Did you know that in ancient Roman mythology, Levana is the goddess of childbirth, who would lift the newborn child from the ground when it was born? Neither did we!
Levana the baby product manufacturer, in contrast, has only been around since 2001 (unlike Roman mythology, which has been around for over 10,000 years!), and is based in Ontario, Canada.
Levana's parent company is called Empowerment Technologies, Inc., which manages the manufacturing of Levana products, including the Mila.
While both Levana and Empowerment Technologies are based in Ontario, Canada, their products are made in China.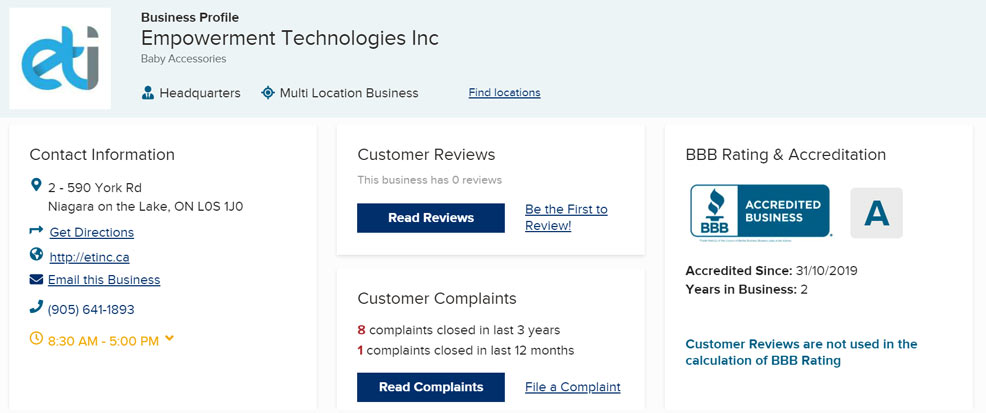 Empowerment Technologies is generally well-reviewed among employees and has a BBB membership with only one (resolved) complaint in the past 12 months.
Not bad!
Levana and Empowerment Technologies have been making a wide range of baby monitors, including the Levana Clearvu, Willow, Ovia, Shiloh, Aria, and Amara.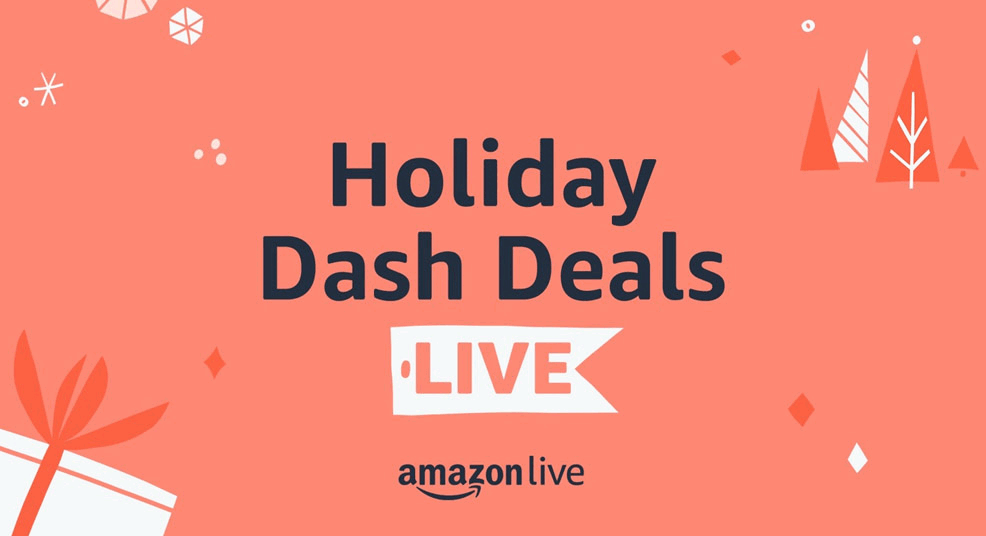 Historically they tend to be high quality and durable, last for many years, and provide basic features for a reasonable price.
And as a preview of what we found, the Mila is no exception!
The Levana Mila has a ton of features that we needed to try out! We begin with a summary of features and then discuss the camera and parent unit.
Features
The Levana Mila baby monitor has a strong set of features.
Here is a short video to show you the menu system and features of the Levana Mila:
We also already detailed the primary features above in our list of overall pros and cons, so you should be familiar with those already.
Let's focus on a couple of additional features that we loved.
First, the parent unit is relatively compact and has an integrated antenna, which means it can probably fit into your pants pocket. That's not to say the display is small, because it's quite large at 5", but the entire unit is relatively streamlined (contrast that with something like the giant Motorola PIP1510).
Second, we love the ability to not only add up to 4 cameras but to stream them simultaneously to the parent unit. Of course, squeezing four videos onto a 5" display will cause each camera feed to be somewhat small, but it's nice not having to shuffle through them.
Third, we appreciated the relatively wide-angle camera, which allows you to position the camera relatively close to the crib while still maintaining a decently wide view of your little one.
Finally, all the features are intuitive and easy to use. The menu icons are self-explanatory and things worked very smoothly.
Unboxing
The Mila comes packaged in a nice-looking box with foam padding to protect the monitor and camera.
Here is the box, showing that Levana has done some work on its branding and packaging: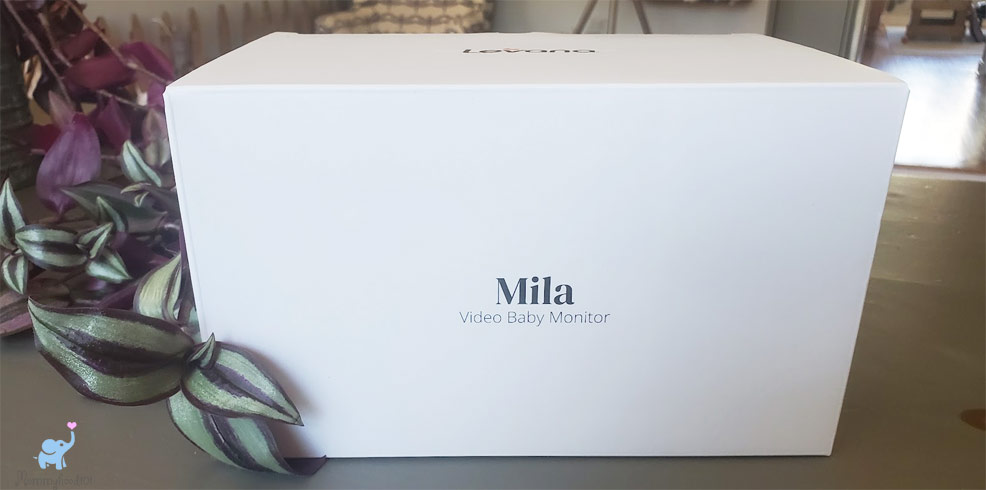 Inside, the contents are nicely protected: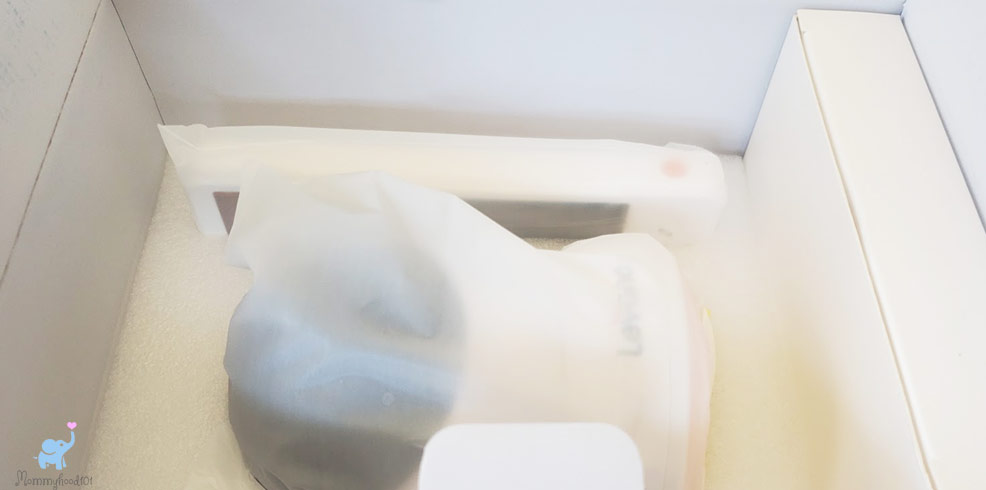 Here is the information from the bottom of the box, showing the model number, UPC, and technical and safety information: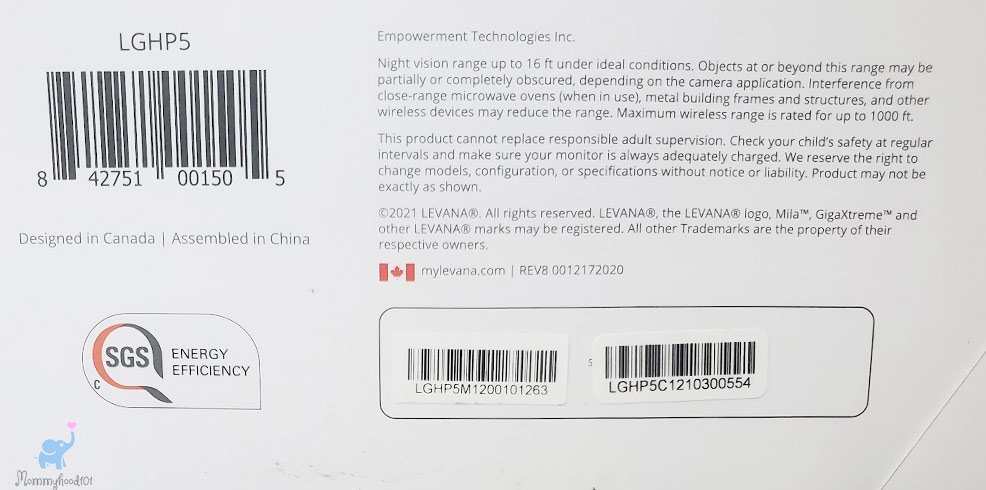 Here is everything out of the box.
This includes the two USB charging bricks, two USB power cords, the monitor and camera, and manuals: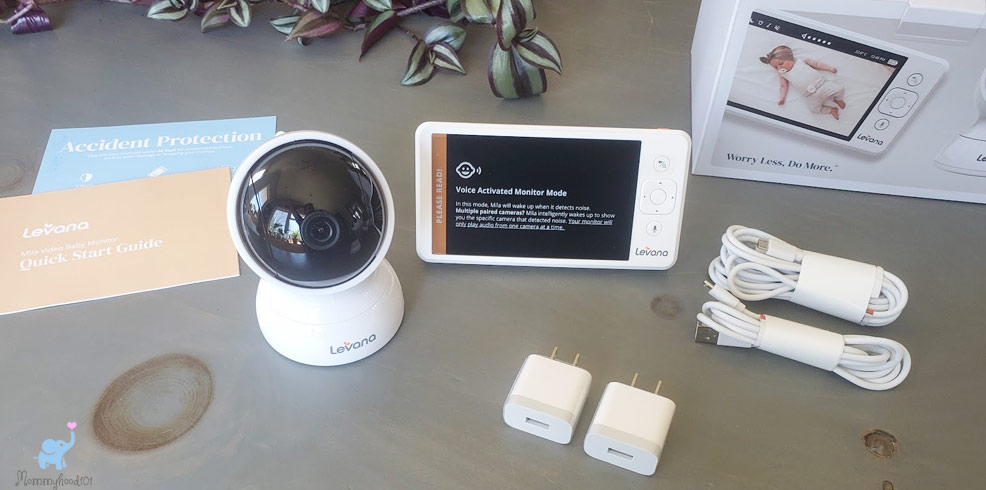 A quick note about the chargers.
These are basic USB chargers (5.0V, 2A) and micro-USB cables. The cord for the monitor (parent unit) is about 5 feet long, and the cord for the camera is an awesome 8.5 feet long.
The beauty of using these types of chargers is that they're universally compatible and you likely have a few of them kicking around your home already. In a pinch, you could use your phone's micro-USB charger to charge the parent unit. Here's a close-up of the charger connection so you can see what we mean: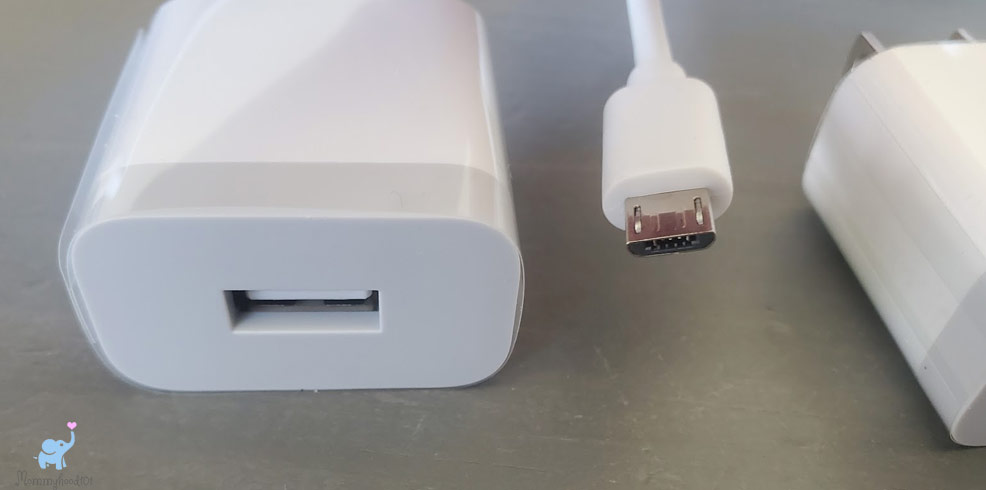 Parent Unit
The parent unit is what you'll spend most time looking at, carrying around the house, and fiddling with in the middle of the night.
For those reasons, you want the screen to be bright and high resolution, the night vision to be clear and crisp, the interface to be intuitive and easy, and the battery life and range to be excellent.
You also want the parent unit to be rugged and easy to carry around (or clip to your side).
One of the first things you'll notice about the Levana Mila's monitor is that it has a peel-off sticker telling you about the voice-activated monitor mode, which wakes up automatically when it hears noise.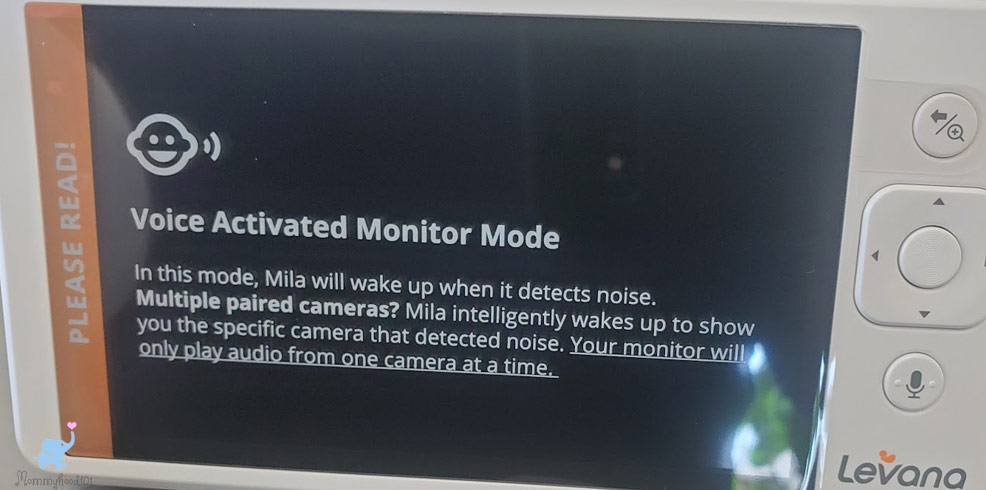 When you plug the parent unit in (be sure to charge it for about 7 hours before its first use) and turn it on, you'll realize it starts up very quickly and immediately finds the camera.
In daylight conditions, we think the display looked pretty great!
This photo is taken in direct sunlight, where displays typically get washed out and hard to see.
Notice that it still maintains high contrast and brightness: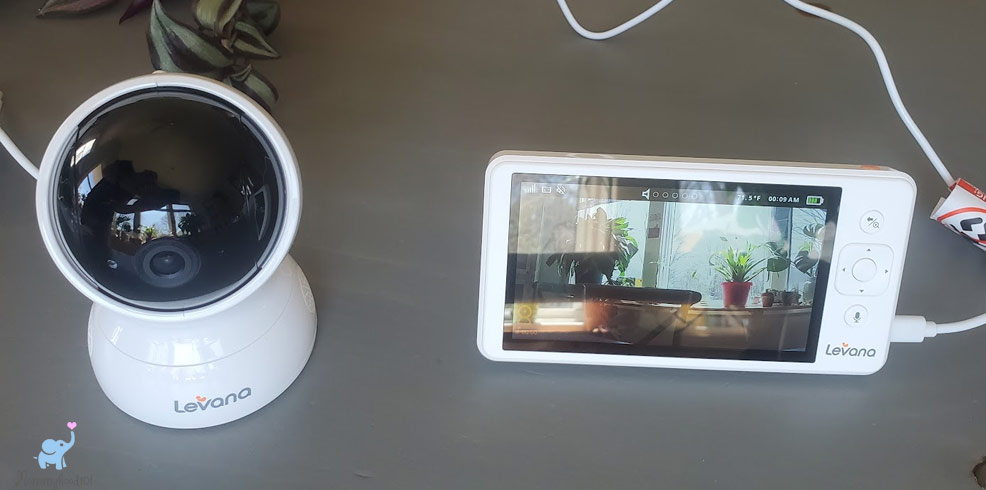 In the dark, it shows off an awesome infrared night vision system.
It does a great job maintaining contrast and resolution in nighttime conditions, and provides a very clear view of your sleeping (we hope!) baby: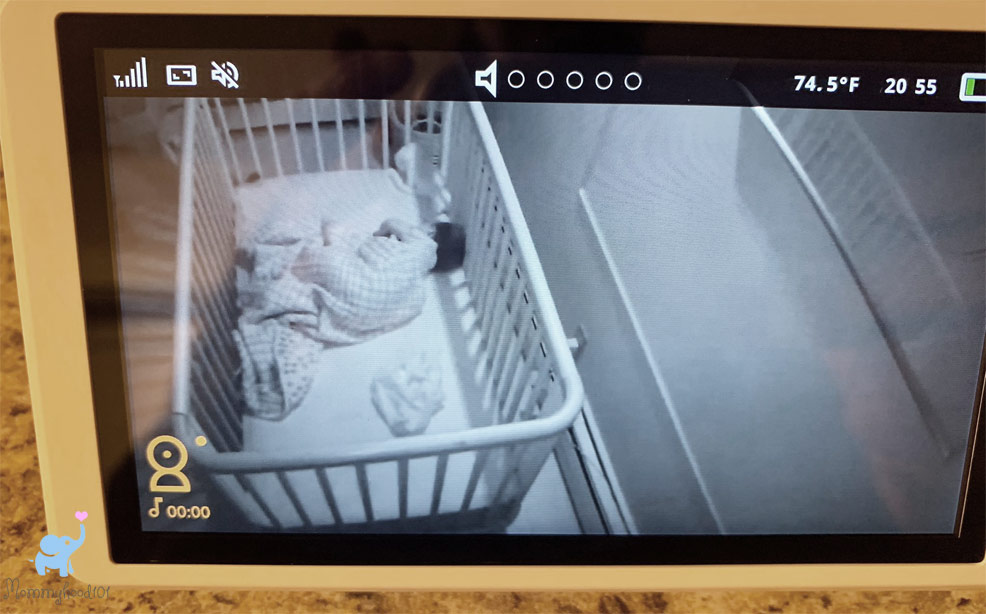 All the buttons and menus are easy to use.
There are volume (up/down) buttons on the side, and on the front of the parent unit are a zoom button, a menu navigation joystick, and a push-to-talk intercom button.
On the back of the parent unit is a kickstand, speaker, and some information such as the FCC ID, model number, and serial number.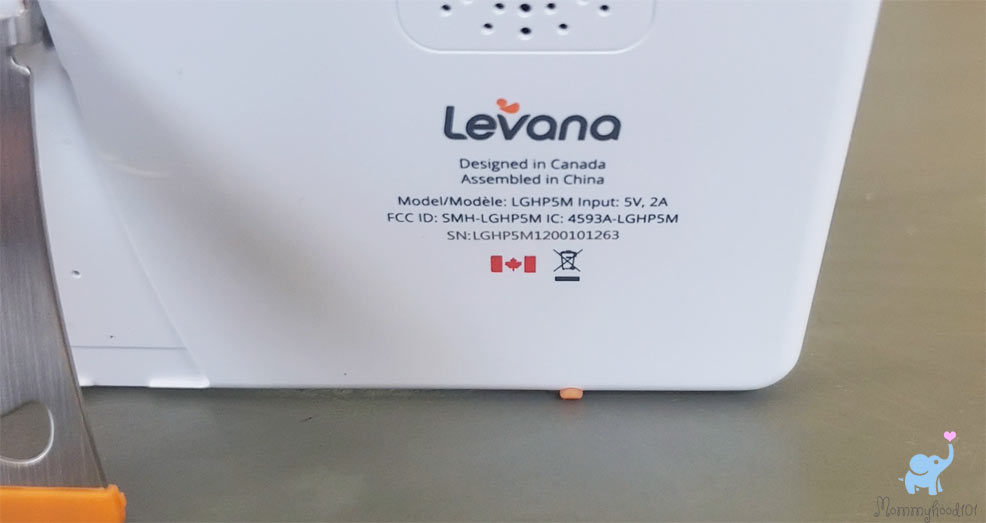 The Mila has a nice status bar at the top of the parent unit, putting a ton of information at your fingertips. Rather than listing them all here, Levana did a nice job of labeling them in the owner's manual: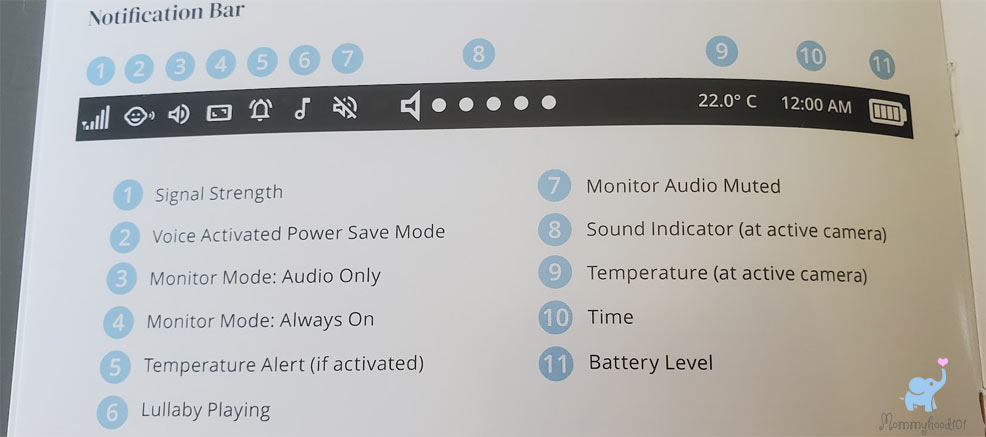 The menu is easy and intuitive to use, and we had no challenges getting everything to work.
Reception Range Testing
Levana uses something they call GigaXtreme wireless technology that can, according to their marketing materials, increase the signal range to 1000 feet.
We couldn't find much information regarding what exactly GigaXtreme represents.
There was a trademark filing request submitted last year, requesting the registration of GigaXtreme as a standard character mark. There is no information about what exactly this technology represents.
According to their FCC filing, the baby monitor operates in a frequency range from 2.41-2.477GHz, with a 56.2mW power output.
We're going to assume this is what they mean by "GigaXtreme" - simply that it operates in a high (2.4) gigahertz frequency band (like most modern baby monitors), and has a slightly higher power output than some other baby monitors (which tend to be between 45-50 mW).
Anyway, in our testing the reception range was just as good as most other baby monitors operating in this frequency range (not surprisingly!).
While this little dude was supposed to be napping, we were able to stream this image from the opposite corner of the house, one level up: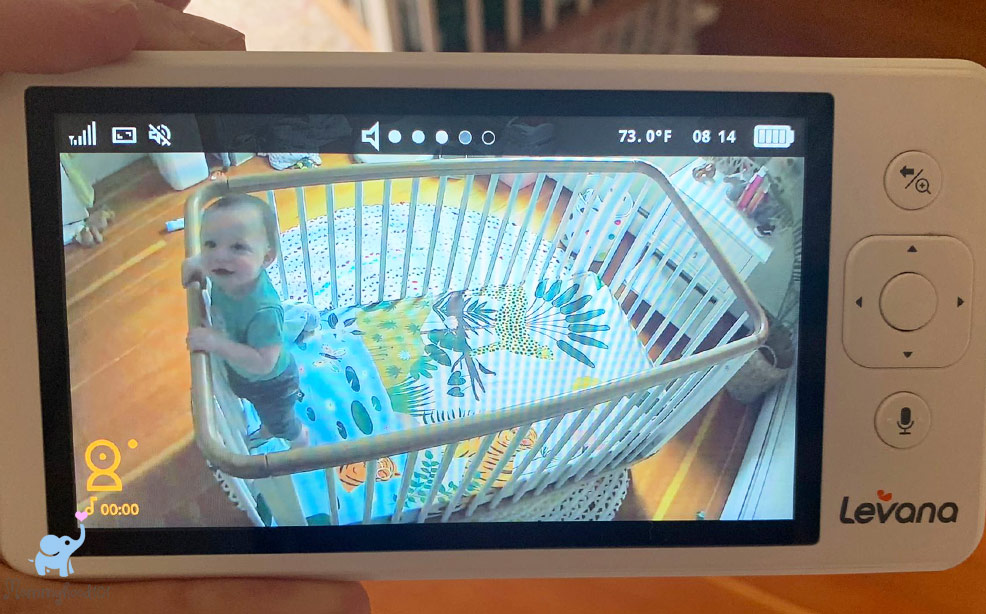 That means we were able to go into our backyard, go up two levels inside our home, and go to the opposite side of a longer home while maintaining good signal quality.
While we don't think there's anything necessarily unique here relative to other modern baby monitors we've tested, we think the reception is quite good!
Battery Life Testing
In voice-activated power saving mode, we found that the battery lasted nearly 20 hours, which was very impressive. That's with the screen turning on only about 5-6 times for about a minute (when it heard some noises).
When the screen is on the entire time, at low-to-medium brightness the battery lasts about 10 hours, and at full brightness, it lasts about 7 hours. Not bad, but also not anything too amazing.
Of course, for situations where you're doing a movie night or naptime, these battery life results are definitely sufficient!
Camera
The camera looks similar to some other baby monitors we've tested, such as in our Hubble Nursery Pal reviews.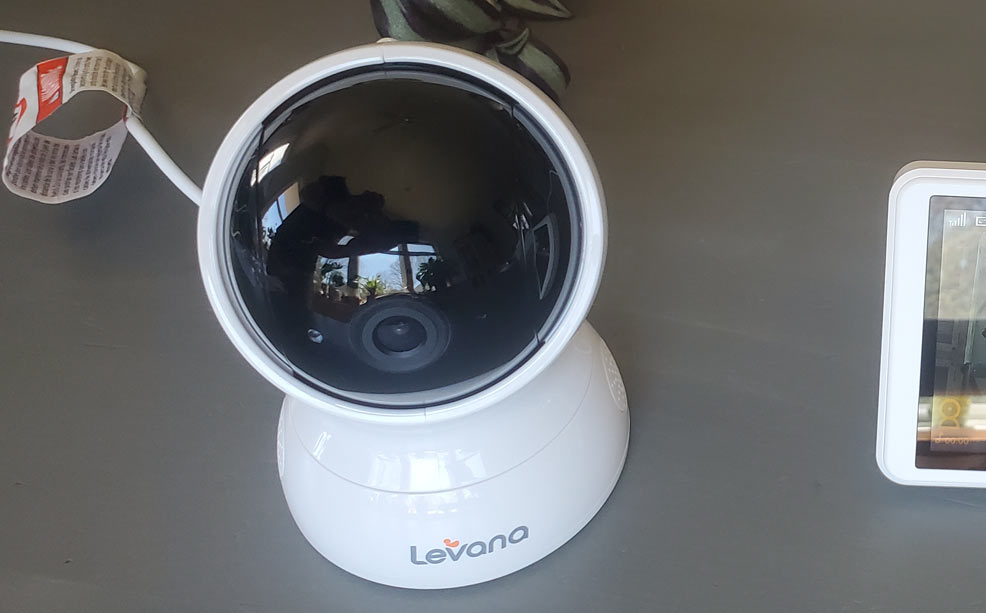 While a little boring, this camera design is highly functional, allowing remote tilt (up/down), pan (right/left), and zoom, which we love.
And we think it looked pretty good in the nursery: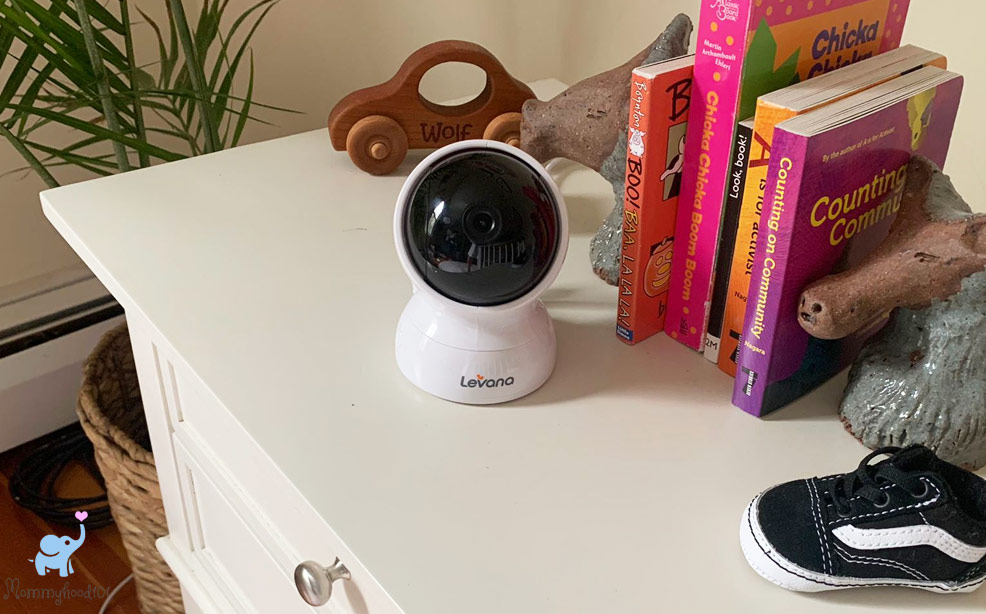 On the back of the camera, you will find the boom microphone, antenna, and the port for the USB charger.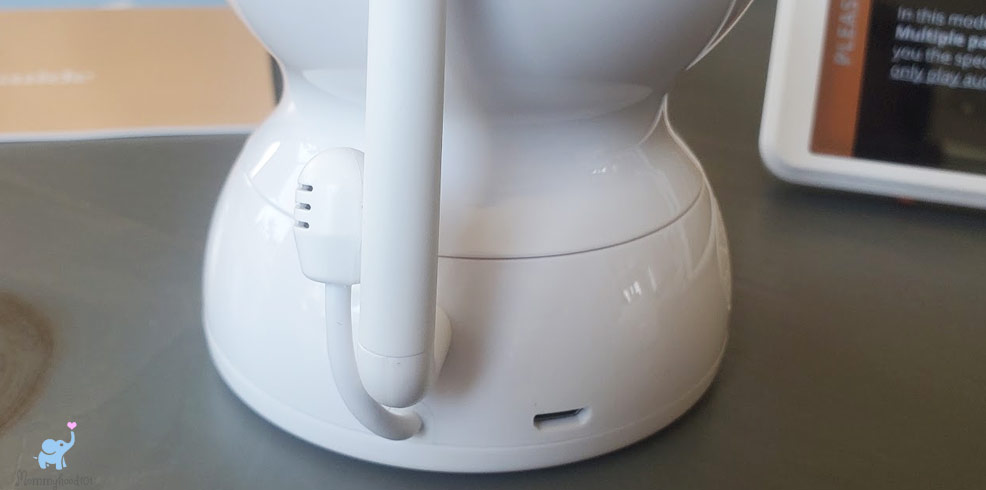 There is also a little speaker for the lullabies and two-way talk function: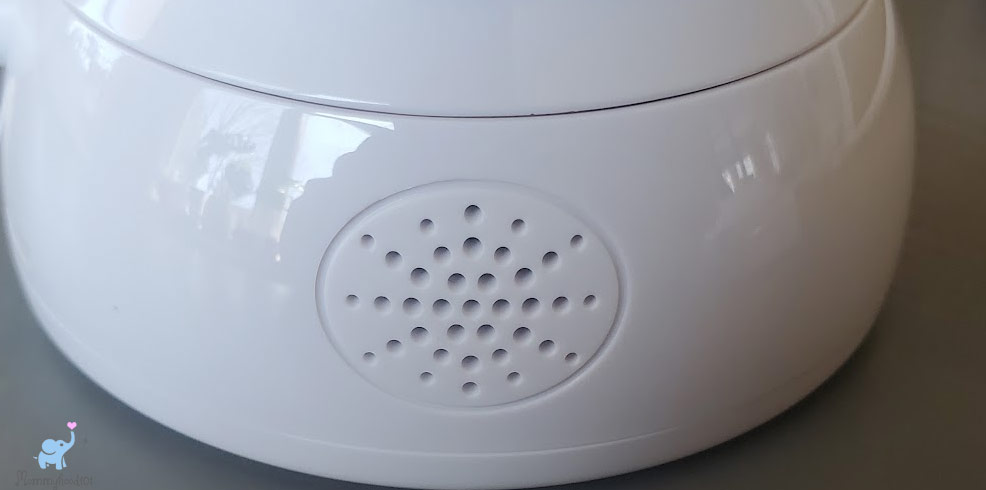 Here's something we really appreciated...
On the bottom of the camera unit is a mounting point for a screw-based installation (a screw and anchor are included):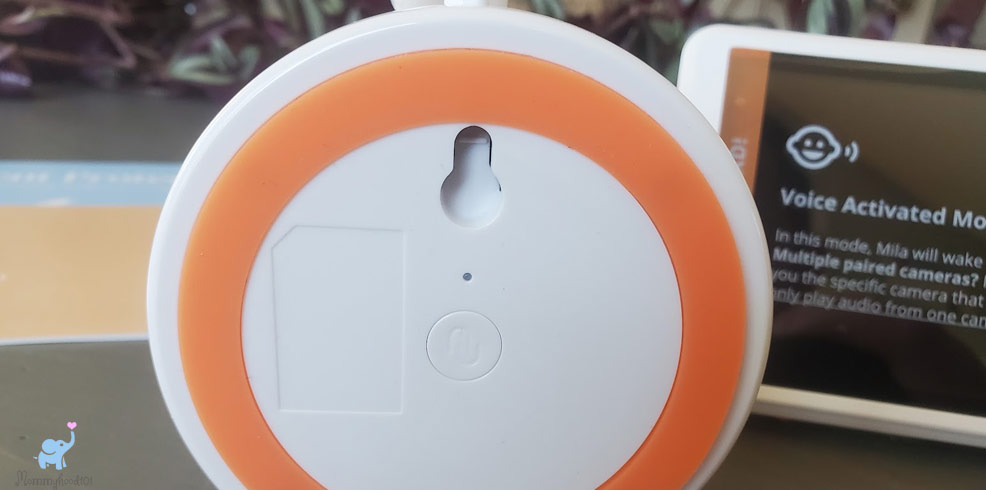 That's super helpful if you might want to install the camera on a nursery wall.
Of course, we prefer the UNC tripod attachment screw holes that many cameras have (like you can see in our Motorola PIP review), but this is a good second option.
The camera is smooth and quiet in its operation. When you tilt or pan the camera, it's basically silent and you won't risk waking a sleeping baby.
There is no bright light on the camera, and we think the 720p resolution is sufficient for this application. We do understand that 1080p might be better for certain scenarios, such as streaming onto a larger display, but realistically it's not very impactful when you're streaming onto a 5" monitor.
Speaking of streaming onto the parent unit, we think the camera does a really nice job in both daylight and nighttime conditions, and it has good color balance, contrast, and brightness.
Overall, we think it's a great camera!
Pros & Cons, Conclusions
Overall, we think Levana did a great job with this baby monitor, and that it's a great option for parents looking for a traditional video baby monitor with some great features.
All the features worked really well, the image quality was great, and the reception range met expectations.
We have no doubt that Levana's claims of a 1000-ft range would work in a flat open outdoor environment.
In a home with walls, floors, and doors, of course, you can expect that to vary a lot based on not only distance but also materials. Concrete floors or walls, of course, are really challenging, but non-insulated interior walls tend to be easy to penetrate.
We appreciated that both the camera and parent unit can be charged with basic USB chargers and cords (micro-USB), which makes things super convenient when you move the parent unit to another room (like the den, kitchen, or living room) for extended periods of time.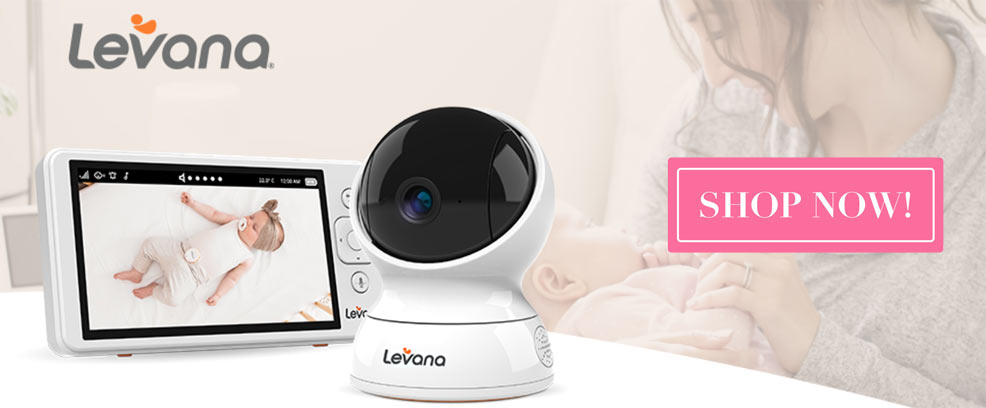 For cons, the Mila doesn't offer smart integration, such as streaming on your smartphone or integration with Google Home or Alexa. This is unfortunate because there are many baby monitors available around this price point that offer not only a parent unit but also streaming via an app on your smartphone. For example, the Hubble Nursery Pal series (like the Cloud model) and the VTech VM901 both offer a parent unit and smartphone streaming, both for about $150.
Also, the battery life isn't as great as some of its competitors, such as the Infant Optics DXR-8 PRO or the VAVA. Finally, there is no battery in the camera itself, which means that even in a brief power outage this system will not function. One of its strong competitors, the Hubble Nursery Pal Deluxe, also includes a camera in the battery that lasts about 3 hours (to be fair, it's also about $50 more expensive).
Overall, we're impressed with the Levana Mila and think it offers high video quality and a great set of highly functional features. Relative to its peers, we think the price could be a bit lower given the average battery life and lack of smart integration.
Once we finish a long-term test, we'll return to this article mid-year and update you on the system's reliability.
Where to Buy the Levana Mila Baby Monitor
The new Levana Mila baby monitors are available at a few major retailers including Amazon and Target.
The price is about $159 right now and we have not been able to find any discounts so far.
You can click the below image to check out the Levana Mila baby monitor at Amazon!