The Best Bottle Sterilizers of 2023
For squeaky clean baby bottles, these top-rated sterilizers aced our tests.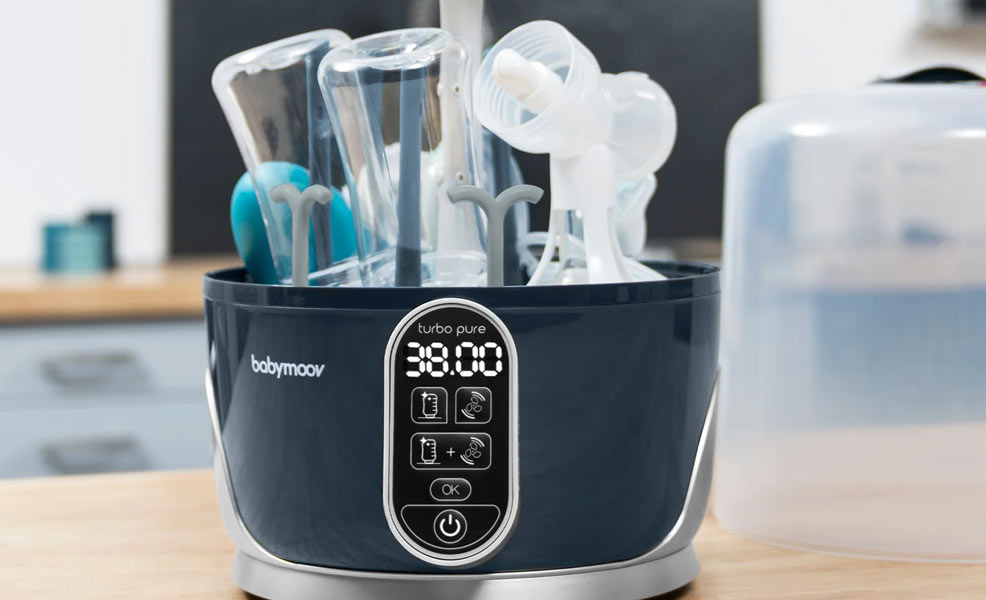 ---
Mommyhood101 independently tests and curates baby gear to help you make informed decisions. If you buy products through links on our site, we may earn a commission.
We all know that the gold standard for sterilizing a baby bottle is to place it in a pot of boiling water, but many parents want something a little safer and more efficient.
The baby bottle sterilizer is the perfect solution!
Just for fun, what does ChatGPT-4 think is the best bottle sterilizer!?
"Based on expert reviews and parent recommendations, the Philips AVENT 3-in-1 Electric Steam Sterilizer is one of the best baby bottle sterilizers available." -ChatGPT-4
We agree that sterilizer is a good bet, but we think you can do even better!
The good news is that we've been reviewing bottle sterilizers for over 10 years, and if we made our own, here is what it would look like:
✔️ Large (>4 bottles) capacity.
✔️ Fits wide mouth & narrow bottles.
✔️ Sterilizes and dries.
✔️ Integrated HEPA filter.
✔️ Sterilizes in under 10 mins.
✔️ Dries in under 45 mins.
✔️ Count-down timer.
✔️ Areas for bottles & nipples.
✔️ Easy to use, one-touch.
✔️ Easy to clean & maintain.
✔️ No BPA or phthalates.
✔️ Whisper quiet operation.
Of course, you will also want the sterilizer to meet your style preferences, fit easily into your kitchen, and meet your budget constraints. That's a lot to ask, and very few baby bottle sterilizers meet the needs of picky parents!
To find you the best bottle sterilizers, we've tested over 15 models including electric bottle sterilizers, microwave sterilizers, and the new UV sterilizers. Below are the top 5 bottle sterilizers we found, followed by in-depth reviews.
Recent research demonstrates that even baby bottles labeled as BPA-free or BPA-safe leach BPA chemicals after extended use, including washing, scrubbing, and steam sterilization. In fact, every single "BPA-free" bottle tested by these scientists released residual BPA following multiple cleanings. While we recommend steam sterilizing your baby bottles, we strongly suggest using glass or silicone baby bottles.
Regardless of whether you choose to use plastic, silicone, or glass baby bottles, be sure to follow all steaming instructions carefully to avoid placing excessive stress on the bottle. Microwave bottle steam sterilizers and electric steam sterilizers are both good options, but only if they are used exactly as suggested by the manufacturers. This is the same advice we give to parents who choose to use baby bottle warmers.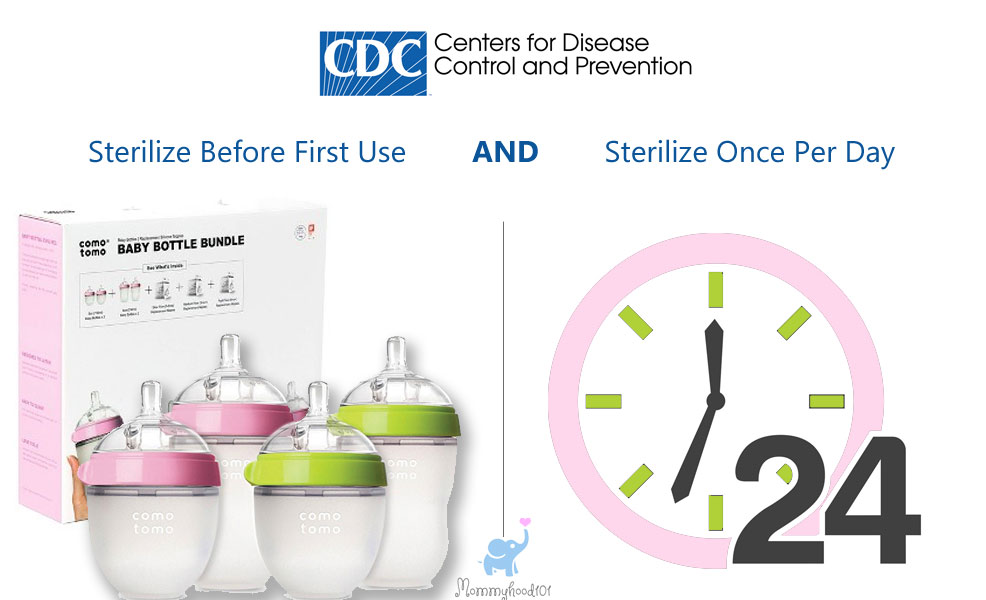 The Centers for Disease Control and Prevention (CDC) recommends sterilizing new bottles and parts before first use and also sterilizing once per day. A good bottle sterilizer makes that task a breeze!
In our testing, we used each sterilizer over a dozen times, tried to fit 5 different baby bottle sizes and shapes inside (and pacifiers and more!), cleaned them, washed the parts, and measured their internal temperatures. While we tested, we took notes about the pros and cons of each model, including their reliability, effectiveness, compatibility with various bottle types, and ease of use.
Full disclosure: Some of these bottle sterilizers, including the Tommee Tippee, Munchkin, and Babymoov models, were sent to us as free test samples by the manufacturer.
Here are the Best Bottle Sterilizers of 2023!
We got our hands on this Babymoov sterilizer when it was first released, and we were super impressed with its features and functionality! Babymoov is best known for their awesome baby food maker, which we review in our best baby food makers article. We think this product is even more impressive! Let's talk about the features. It combines a bottle sterilizer with a bottle dryer, for all-in-one functionality. You can use the sterilizing function alone, the drying function alone, or you can run both (one after the other). For sterilizing, it uses an 8-minute sterilizing cycle that kills 99.9% of all germs and bacteria that might be found on your bottles and accessories. Rather than sending steam throughout a big enclosed space, this sterilizer nicely targets the inside of the bottles with a series of stems that send steam directly into the bottles while also steaming the outside space through bottom tray slots. There are six of those stems, so you can sterilize up to 6 bottles at once. Even the wide-mouth ones fit nicely next to one another. Note that all of the stems are removable and can be moved around to fit various shapes and sizes of items. It also has a smaller upper tray that is used for steam sterilizing smaller parts like bottle nipples, pacifiers, breast pump parts, teether toys, and more. The upper tray has 6 hooks that work well for holding any of those items. Once it's done steam sterilizing, the Babymoov automatically goes into drying mode (which you can set from 30 to 60 minutes). The drying mode is really impressive and uses not only a fan and heat but also a HEPA filter that helps keep germs from blowing into the sterilizer during the drying process.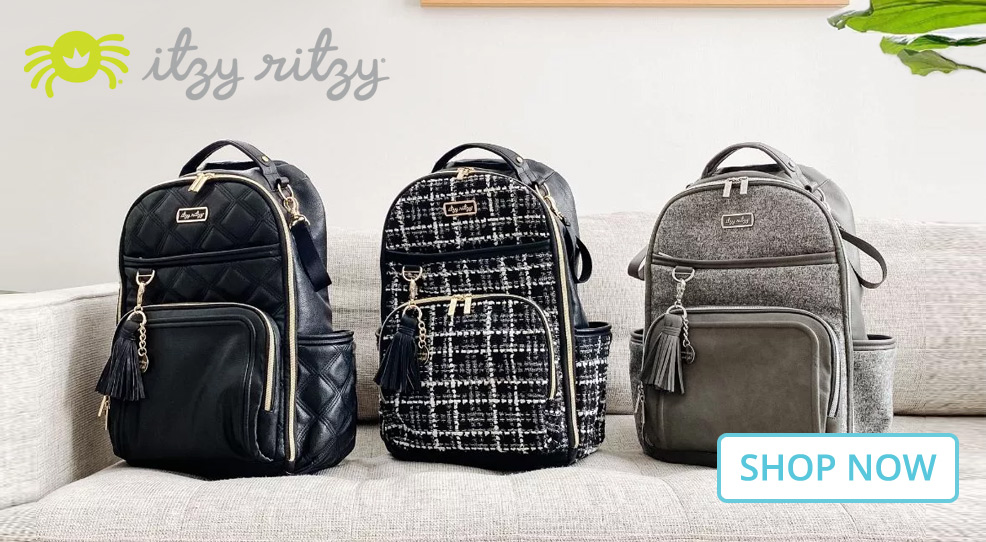 We haven't reviewed any other baby bottle dryer that uses a HEPA filter, so this feature sets this product apart from the others. Another aspect that sets it apart is the 36-hour storage feature, meaning that items inside will stay sterile for up to 36 hours after the cycle completes, so you don't need to take them out immediately. Of course, once you open the lid, that 36-hour time window ends. In our testing, we found the control panel super intuitive, the water reservoir easy to fill with the included measuring cup (use distilled water only!), and everything works very reliably and thoroughly. Our thermometer showed that temperatures inside reached and maintained 250 degrees F, which means that it reaches the threshold for effective steam sterilization. The dryer worked best when it was set closer to about 60 minutes of drying time. There is a drip tray underneath the appliance that you need to empty before using, as it is designed to let some of the steam escape through the bottom during sterilization. Cons? Not many! The price is a bit high relative to others, coming in at about $99, but we think you're getting your money's worth. Overall, this is the best baby bottle sterilizer and dryer on the market this year, and we are happy to have it up here on our list! And we're in good company, it's also top-rated by our friends at Babylist! Interested? You can check out the Babymoov Turbo Pure Bottle Sterilizer and Dryer here.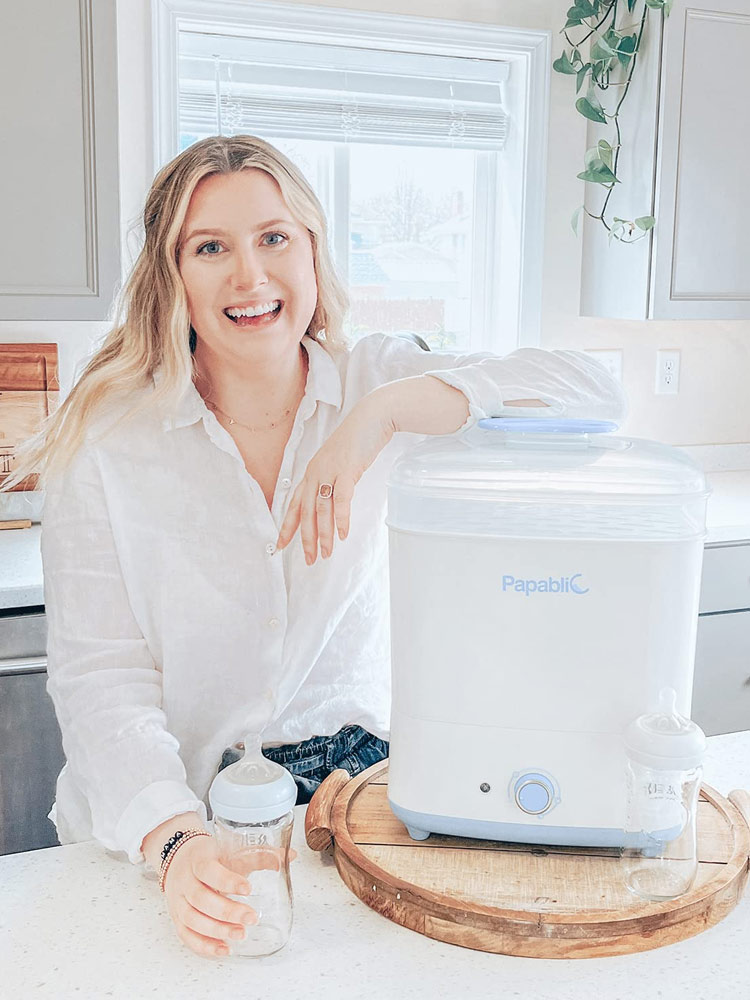 Before we got our hands on the Papablic sterilizer and dryer system, we admit we were really skeptical. We hadn't heard of the company before and we've become increasingly wary of fake reviews on various e-commerce websites. But we were totally wrong, this is an awesome product that is making a big splash on the bottle sterilizer market! Like the Baby Brezza, this electric steam sterilizer not only sterilizes but also has a bottle-drying function. This means that rather than opening the system after sterilizing and finding a bunch of soaking wet bottles and nipples, you run it through the dual-function sterilization and drying process and find everything nice and dry and ready for next use (and ready to be put away). It uses a deep bottom tray that can fit a lot of bottles - we were able to fit 8 Dr. Brown's bottles in there, or 5 wide Comotomo, Tommee Tippee, or Avent bottles, without any space issues. For bigger and taller bottles, we needed to remove the little white stems from the bottom tray (you'll see what we mean). Then it has an upper tray that you attach, which is shallower and easily fits all of the bottle nipples and then some - pacifiers, breast pump parts, etc. Once you put the lid on and add the 100mL (about 3.4 ounces) of distilled water, you're ready to start sterilizing. There are a few different settings you can use. You can do an 8-minute sterilization process only, the 8-minute sterilization process plus 45 minutes of drying, or the 8-minute sterilization process plus 60 minutes of drying. In New England in an air-conditioned home, we were able to consistently get everything dry with the 45-minute drying setting, but if you're in a more humid area then definitely go for the 60 minutes. Note that if you only want to use the drying function (without sterilizing), you can simply turn it to drying and it will sense that there is no water in the reservoir (after about a minute of thinking) and then simply dry the bottles.
The Papablic sterilizer settings and features are very similar to the Baby Brezza, so it was all very familiar to us. In the steaming process, we checked the interior temperature with our thermometer and it exceeded the 250-degree F standard for steam sterilization, which we were happy to see. Once the sterilization and drying process is complete, Papablic claims 12 hours of sterile bottles until you remove the lid - that means you can run it overnight and then take the stuff out the next morning and it will still be sterile. In our testing, we found the system very easy to use, reliable, quiet, and versatile. We were impressed with the size of the trays and how many bottles we could fit inside, the integrated sterilizing and drying functions, and the fact that it's about $20 cheaper than the similarly-featured Baby Brezza. For cons, there were some minor things to keep in mind. First, this model produces a lot of steam that comes out of the system into the kitchen. So be careful not to slide it back under upper cabinets, or near anything you worry about getting steam on it (like little kids' hands). That's not to say the other systems don't also release steam, it's just something we noticed more with the Papablic. Second, there were a few times that things weren't completely dry, especially on the top rack, but it was pretty minor. Overall, we think this is an awesome option, and we're happy to feature it on our list! Who else loves the Papablic sterilizer? Our friends at WhatToExpect and The Bump consider it a top pick! Interested? You can check out the Papablic Electric Steam Sterilizer and Dryer here.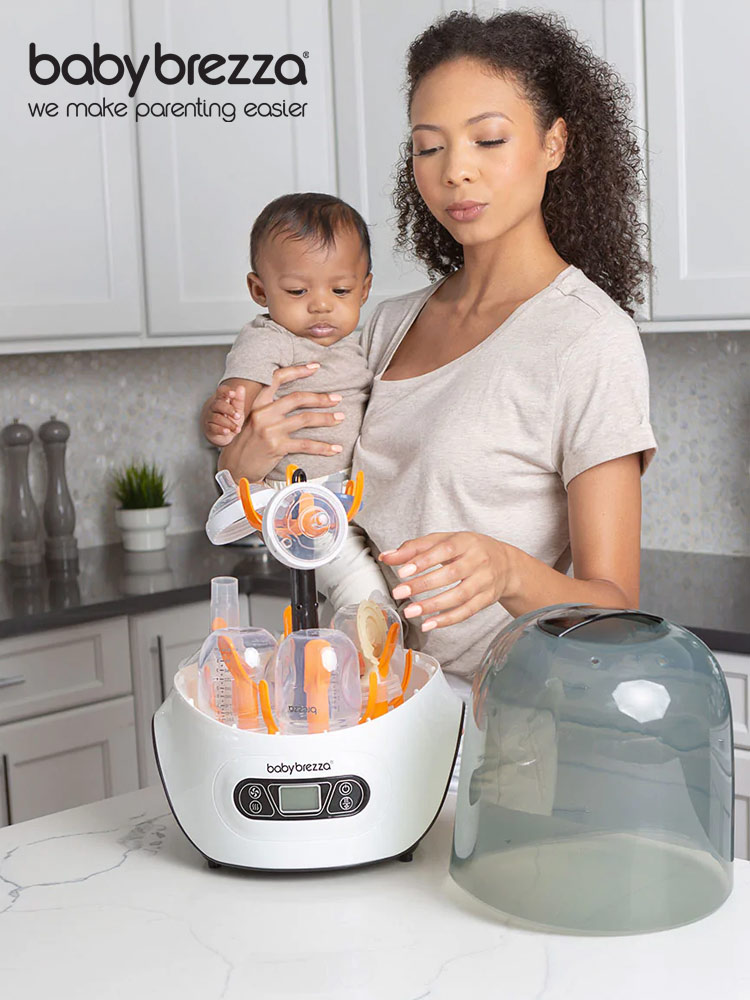 You will be super impressed with the Baby Brezza electric sterilizer - it has versatility, convenience, usability, and reliability, all wrapped up in a package that is relatively compact! And while it is a bit more expensive than most others on this list (at about $100), we think the bang for the buck is definitely there. Let's start with features and then talk about our impressions. Like many others on the list, the Baby Brezza isn't just a sterilizer, it also includes a bottle dryer function. That means when you remove your bottles, nipples, and pacifiers from this sterilizer, they will come out completely dry. This helps prevent mildew and mold build-up and saves valuable time. You can use it either as a sterilizer or dryer, or you can set it to complete both functions one after the other. As a sterilizer and dryer, it accommodates up to six bottles and nipples. Of course, this is assuming you're using very narrow bottles (likely a 4 to 6-ounce bottle). With wider bottles, you'll fit about 4 of them (for instance with Comotomo or AVENT bottles). That's pretty good space, meaning that if you have about 4 bottles you use throughout the week, you might be able to get away with using this every couple of days. The system functions by way of a wide lower rack and a narrower upper rack. The lower rack is where you place the bottles, upside-down, using a series of convenient flexible stems that help hold your bottles in place. There are 12 stems (6 little ones, 6 larger ones). On the upper rack, there are also a series of 6 flexible stems that hold nipples or pacifiers in place. The upper and lower trays pull up and out, which you will need to do to fill the lower water reservoir. The reservoir takes 120mL of water, has a clear MAX fill line, and requires you to use distilled water. If you don't use distilled water, you will end up with all sorts of water stains and deposits in the reservoir - that's the same with all bottle sterilizers, so no surprises there. Once you fill it with water and put the racks back on, and fill it up with bottles and nipples (and anything else - like pacifiers, breast pump parts, etc), then you're ready to turn it on! The sterilizing phase always takes 8 minutes. The drying phase can be set for 30, 45, or 60 minutes. If you press the sterilize and dry button once, it will sterilize and then dry for 45 minutes (the default setting). Pressing the button a couple more times will let you toggle through the three different drying time options. We used it for the 45-minute drying and found that it dried everything perfectly. Note that after drying, the bottles and accessories will stay sterile for up to 24 hours or until you open the lid.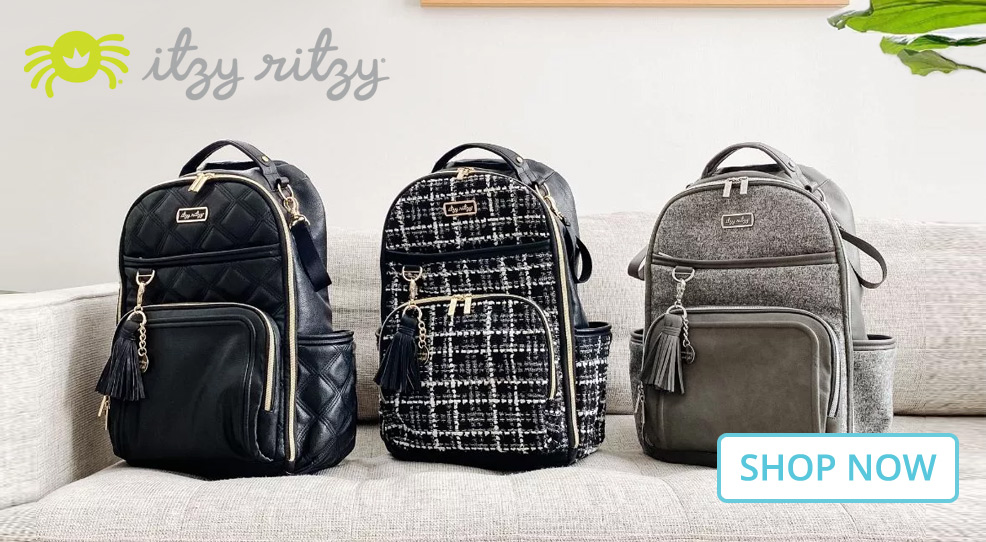 In our testing, we found everything easy to use. The controls were intuitive, the rack and lid were easy to pull off and put back on, and the water reservoir was large and easy to fill. Using our thermometer, we found that the internal temperature during sterilizing reached over 250 degrees F, meeting the specification for steam sterilization. Just a couple of annoyances. First, we found that the reservoir heating element got discolored after about 5 uses, even with distilled water. Second, it was strange how when you press the drying button (or sterilize and dry button) multiple times, it cycles through as 45, 60, then 30 (which is an odd order!) Overall, we think this is a great baby bottle sterilizer that includes a bottle dryer, and it really worked very well with only minor issues. Worth the price? We think so, especially if you like the compact design and don't want to separately hand-dry or leave the bottles on a drying rack after sterilizing. Who else loves the Baby Brezza sterilizer? Our friends at Babylist, WhatToExpect, and The Bump consider it a top pick. Interested? You can check out the Baby Brezza Electric Steam Sterilizer and Dryer here.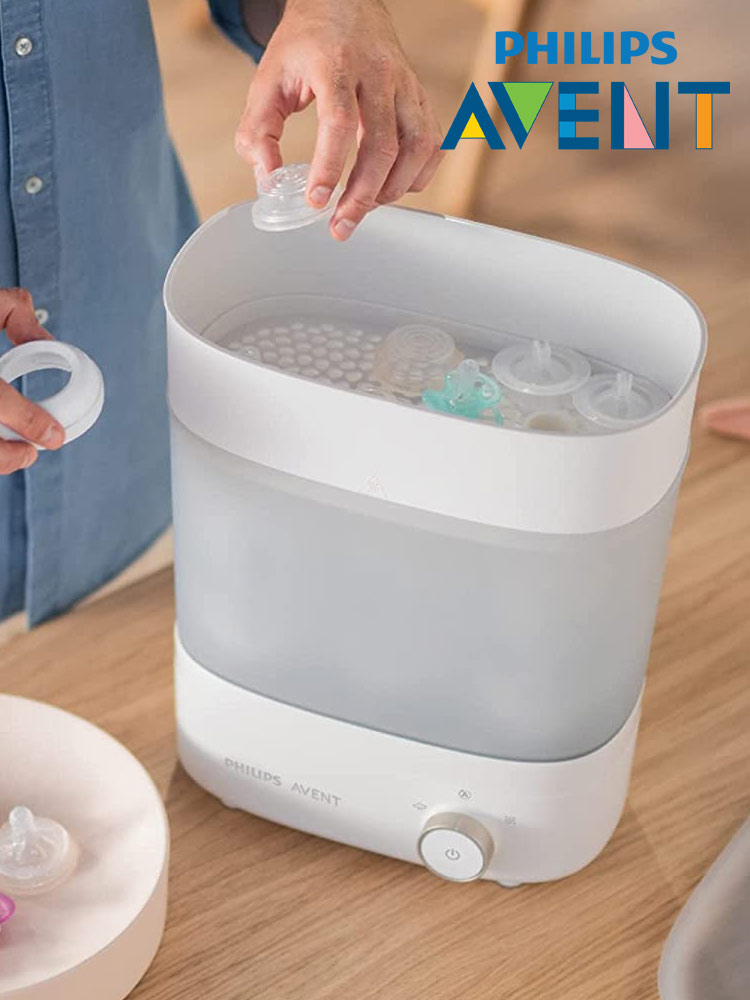 Philips AVENT makes some of the best baby bottles on the market, so it makes sense that they'd also make an awesome bottle sterilizer system as well! This system is relatively simple in comparison to many of the other systems on this list, and don't let the 3-in-1 label fool you: it's only a bottle steam sterilizer, and it does not perform any drying function. So unlike the better-rated models on this list, when this system is done sterilizing your bottles and accessories, everything will be wet when you pull it out of the unit. And no, you can't just leave it in there to dry, or things run the risk of getting mildew or mold. You can, however, take off the lid and let the system air out for a few hours. The 3-in-1 sterilizer means that it can be used in three different ways: with both the lower (big) and upper (small) basket, or with only the big basket, or only the small basket. So if you only have a few things, you can use it with just a small area, etc. You get the picture. The lower basket is surprisingly large, though it's not quite tall enough to fit the 8-ounce or 9-ounce Dr. Brown's bottles standing upright. You can fit plenty of wide-mouth bottles, such as 6 Comotomo bottles, or 6 AVENT bottles. But if you're using taller bottles, you'll be able to fit about 4 of them because they'll need to be tilted to the side in order to fit. So this bottle sterilizer is best suited for people using shorter and/or wide-mouth style bottles. The smaller basket area is also surprisingly roomy, and a great place for putting in a bunch of bottle nipples, caps, pacifiers, and more. Plenty of space, just make sure you put bottles and lids in mouth-down so they don't fill up with water during sterilization. Once you get it all filled up, it's a really simple system to use. There is only one button, and that starts the sterilization process, which runs for only 6 minutes! That's a really quick sterilization process, shorter than any other steam sterilizer we've reviewed! And our thermometer showed that it achieved 250 degrees F and maintained it for several minutes, so we're confident that it's doing the trick.
Once it's done, if you keep the lid on for 24 hours the contents will remain sterile. They'll also be wet, just FYI, and we wouldn't recommend keeping them in there for more than that or things will start to get a little funky. Like several other models on this list, the AVENT 3in1 sterilizer uses 100mL of water, which is about 3.4 ounces. There is a great YouTube instructional video for how to use this unit if you're confused at all! Cons? Well, we didn't like that you can't fit taller bottles into the big basket, which was a bit of a bummer. Second, because it doesn't dry, things are really steamy and wet when the sterilizing finishes. Be careful lifting the lid off the unit after it completes because a ton of steam will come out. And be prepared to dry things off (or purchase a drying rack), including not only the contents but also the baskets and lid. Even using distilled water we did get some deposits on the heating element, but they did come off very easily with vinegar - we put some white vinegar and water in there and let it sit for about half an hour and everything was like new. Keep that in mind for all steam bottle sterilizers: clean the heating element once a week or so with vinegar and it will stay nice and clean. Overall, this is a good and relatively inexpensive (usually about $70) bottle sterilizer that has some limitations but also some great bang for the buck! Note that if you want the drying function, Philips AVENT now offers a sterilizer and dryer combo (which we have not yet tested). Who else recommends the AVENT bottle sterilizer? Our friends at Babylist, WhatToExpect, and The Bump also consider it a top pick! Interested? You can check out the Philips AVENT 3in1 Baby Bottle Sterilizers here.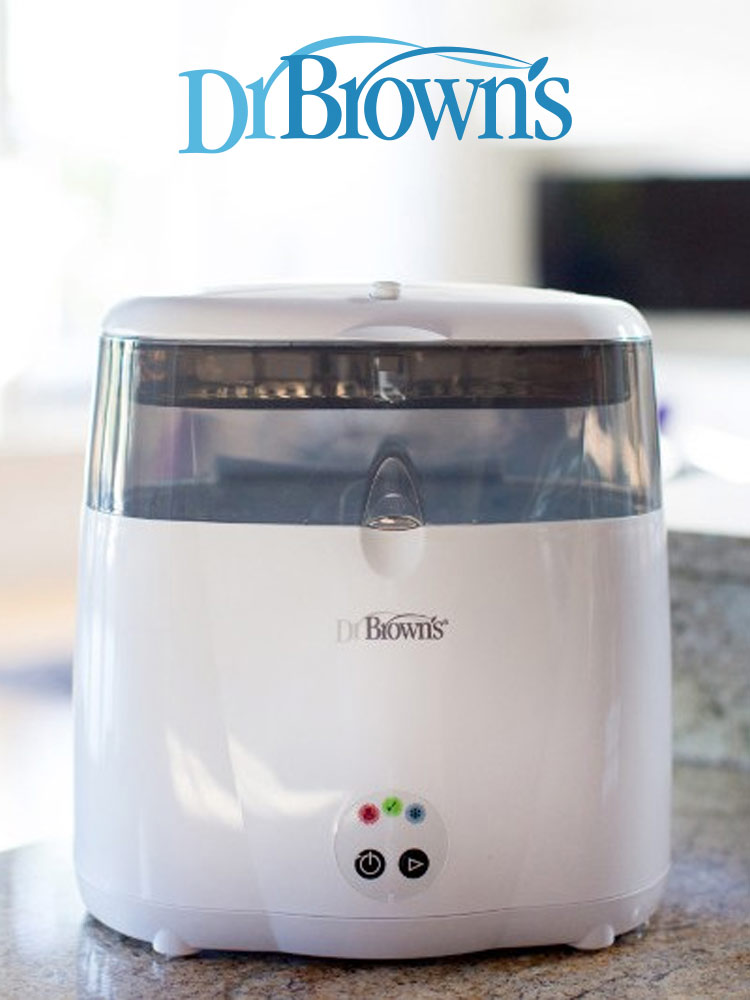 Just like Philips AVENT, Dr. Brown's makes some of the best overall baby bottles on the market, so we were excited to try out Dr. Brown's baby bottle sterilizer system! And we weren't disappointed. This baby bottle sterilizer has some great features and capabilities, including the ability to hold up to 6 Dr. Brown's 8-ounce or 9-ounce bottles! In other words, it's one of the only baby bottle sterilizer systems on our list that is actually big enough in tank and basket height to hold taller baby bottles. It's specifically made for Dr. Brown's bottles with the tall venting tubes, as it has little spots in the basket that will help them stick straight up during sterilization. But that's not to say it doesn't fit other bottles, including the wider-mouth bottles too - it does! We were able to fit in 6 of the 8-ounce Comotomo bottles (the larger ones) without any issues. We were also able to fit in AVENT bottles and every other bottle we tested. Up top, there is a smaller basket that's perfect for holding bottle nipples, pacifiers, and any other little items you need to sterilize (like teething toys). It fits so much stuff because it's pretty big and roomy, which by the way translates to a big appliance that will take up significant counter space; it's not highly recommended for space-efficient kitchens. Operating the sterilizer was pretty simple - you fill-up the reservoir with water (preferably distilled to keep it from staining and discoloring), put the lower basket in and fill it up with bottles and anything else you'd like, close the upper basket down (which is like a middle lid) and fill it up with smaller items, and close the top lid. It's all on hinges, which makes it easier not to get confused about which part goes where, but also makes it necessary to fill the bottom basket before the top basket (or risk items in the top basket tipping out or sliding all around). Once you fill the reservoir, fill the baskets, and close the lid, you're ready to go. To start the unit, you simply press the button that looks like a "play" button. The red light will turn on, showing you that it's running.
When it's done, it goes through a cool-down period (the blue snowflake light will be on), and then the green check mark will light up showing you that it's completed. Sterilization time is 8 minutes, just like most of the other steam bottle sterilizers on this list. Cool-down time is about 15 minutes. Note that the cool-down phase is not a drying phase - things will come out dripping wet, even after they've cooled down for a while. The inside walls will also be steamy and wet, and you'll need to wipe them down after use. Speaking of steam, most of the steam comes out of a single venting hole on the top lid, so make sure that's away from anything you care about (like the bottom of your cabinets). In our testing, we found that everything worked perfectly: it steam sterilized the bottles very well, it achieved the 250 degrees F standard according to our digital thermometer, and the cool-down cycle was sufficient to make things easily removed without worrying about a plume of steam when you opened the lid, or trying to pick up steaming hot items. It also comes with a couple convenient items, such as plastic tongs to help you pick up hot items without touching them (and possibly getting bacteria on them), and a little water measuring cup that is graduated for measuring the exact amount you need to put into the reservoir before use. You'll probably never use the tongs, unless you're as neurotic as me, or if you're donating pumped milk and need to keep things strictly sterile. This model has a lot of good things going for it. What about the cons? First, it doesn't have a drying cycle, which we prefer to have in any bottle sterilizing system. But that does make it about half the price, coming in at around $50, which makes it a slightly more reasonable purchase relative to the steam sterilizers with drying function. Of course, realize that you might end up buying a drying rack in addition, which might bring the price as high as one of the models with the dryer. Second, because the upper basket and lid are attached by hinges, you can't fill the upper basket before the lower one - everything needs to be done in the correct order. That was only a minor aggravation, along with its large size. Finally, we did get some rusty-looking deposits in the heating element after a couple of weeks, but they cleaned out very easily with some white vinegar. Interested? You can check out the Dr. Brown's Deluxe Baby Bottle Sterilizer here.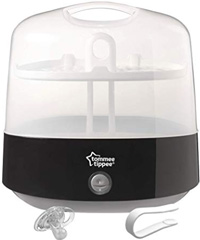 Just like Philips AVENT and Dr. Brown's, Tommee Tippee makes some of the most popular baby bottles on the market. So it's no wonder that they also make a great electric baby bottle sterilizer system that fits their bottles perfectly. It also worked quite well in our testing, making it a good contender for our top 10 list. The Tommee Tippee bottles are relatively short and wide, with an hourglass shape that is pretty distinctive. Because they are relatively short, the main basket for this bottle sterilizer is also relatively short, meaning that their own bottles fit perfectly. You can fit up to 5 Closer to Nature bottles in it, or 4 of the Tommee Tippee Ultra bottles since they're a bit larger. We also found that AVENT and Comotomo bottles fit well, but that anything taller, like the Dr. Brown's 8 or 9-ounce bottles, didn't fit standing up. We had to put any taller bottles tilted to the side, which was unfortunate and likely reduces the sterilization effectiveness given that the steam can't enter directly into the mouth of the bottle. So if you're a user of shorter, wider-mouth bottles, this could definitely be a good option for you. Another unique aspect of this bottle sterilizer is that its steam sterilization process only takes about 5 minutes, which makes it the fastest bottle sterilizer we've seen on the market, making it the best option for a quick sterilization. As a reminder, the AVENT sterilizer takes 6 minutes, and most others take 8 minutes. During that 5-minute process, it does a very effective job at sterilizing, and according to our digital thermometer it reached and maintained the 250-degree (F) threshold required for steam sterilization. So we're confident that even with its relatively short steam cycle, it's doing the trick. And it does it with only about 2.7 ounces (80mL) of water (preferably distilled water), which is very little water relative to most other sterilizers we've tested.
Note that Tommee Tippee bottles actually have a little dotted line on them to indicate 80mL (just below the 90mL line), so they're very helpful for filling up the reservoir on this system. Of course, if you're not using Tommee Tippee, you can simply estimate the 2.7 ounces or 80mL of water using just about any baby bottle or glass measuring cup. A nice aspect of the Tommee Tippee relative to the Dr. Brown's is that the entire lid removes, and it's a simple two-piece basket that easily pulls in and out. That means you can load the lower and upper basket areas at the same time, or even the upper one first, without having to worry. It's just a bit simpler to use overall. Speaking of simplicity, we appreciated it only having a single button to start its cycle. Once started, it takes about 5 minutes, and they suggest leaving it in there for another 5 minutes to cool down before opening the lid or removing anything. Like Dr. Brown's, it comes with a little set of plastic tongs, but it does not come with a water measuring cup. Overall, we found the Tommee Tippee Closer to Nature Electric Steam Sterilizer easy to use and reliable, and we didn't run into any major issues. Some minor gripes include some rusty-looking deposits on the heating element after a couple of weeks (which cleaned off easily with white vinegar), and no drying function which leaves everything dripping wet at the end of the cycle. A bigger annoyance is how it doesn't fit many taller bottles, so it's primarily compatible with Tommee Tippee bottles or those of a similar shape and size. Dr. Brown's definitely wins out over this one for mostly that last reason. Not to mention that this one is about $20 more expensive than Dr. Brown's, coming in at about $70, which we think is excessive for not including a bottle drying feature. Interested? You can check out the Tommee Tippee Closer to Nature Baby Bottle Sterilizer here.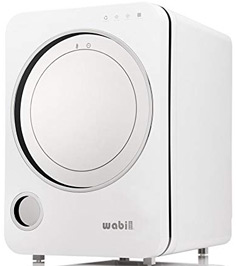 We were super excited to test out this baby bottle sterilizer and dryer because it's completely different from all the others and offers some super high-tech uses that go way beyond sterilizing baby bottles. In fact, we were so excited that we bought it about 5 months before any of the other ones! This is the only sterilizer on our list that uses UV sterilizer lights to kill 99.9% of bacteria on and inside bottles, pacifiers, nipples, and anything else you put in. We tried it out with not only the usual suspects, but also with other household items that get pretty nasty - our remote controls, cell phones, breast pump parts, bottle brushes, and more! And it was awesome for all of them. It loads very differently than the others on this list, functioning a bit like a refrigerator: you swing open the front door and load up the two racks with all your gear. The top rack has the most space and is nice and tall, plenty tall to fit all of the baby bottles we tried, including the 9-ounce Dr. Brown's bottle. Depending on the width of the bottles, we were able to fit between 6-10 bottles inside. You don't want them to be touching each other (keep them at least a half inch apart from each other), and you don't want them closer than about 1" from the dual UV lights at the top. The bottom rack is more of a basket and can hold all the nipples and pacifiers. Once it's loaded up, you can use one of the three features: sterilize only, sterilize and dry, or dry only. The Wabi Baby touch panel makes it easy to select your desired settings. The UV sterilizing can be done for 5 or 10 minutes, but you basically always want the 10 minutes unless you're only using one rack. The drying can be done for 10, 20, or 40 minutes. If you're doing the full cycle (sterilize and dry) you can choose a total of 30, 50, or 70 minutes.
Once you start the cycle, there is a time display on the front, as well as a temperature display to show you how hot it is inside. Once everything is done, you can either remove it or activate an optional "storage" setting. The storage setting will turn on the UV light for 1 minute every 2 hours, for up to 4 cycles. That means you can store the items in the sterilizer for up to 8 additional hours while maintaining sterile conditions. In our extended use (about 6 months), we found the system to be very effective. We loved how it could do sterilizing and drying all in one, and we also loved the versatility to use it with tons of other household products that might need sterilizing - especially electronics that you could never put into a steam sterilizer. There's also the added benefit relative to steam sterilizers: you never have the issue of a discolored, stained, or otherwise disgusting water reservoir! There are a few cons worth mentioning. First, you need to shake-dry the bottles and other items before putting them in. You must put the bottle's neck-up on the rack so that the UV light shines directly down into the bottles; that was a little annoying because it means that water drips down to the bottom of the bottle and sits there until it's dried. So we had little water spots inside the bottom of our bottles. Second, the system is slower than steam sterilizing by at least 2 minutes assuming you are using both top and bottom racks. Third, we had one of our UV bulbs burn out after 3 months, though the company was quick to send us a free replacement. There are some reviews online suggesting a similar problem. Finally, did we mention the price? It's pretty crazy, coming in at over $250, making it definitely the most expensive bottle sterilization system on this list! Worth it? We'll let you decide. Interested? You can check out the Wabi Baby UV Sterilizer and Dryer here.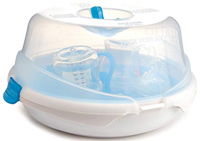 If you're looking for a cheap bottle sterilizer system, this is definitely a good place to start! Rather than taking up space on your counter and running through a long electric steam sterilization process, this Munchkin microwave steam sterilizer system is much simpler. As the only model using microwave sterilizing on our list, it's quite simple: all you do is fill the base with 7 ounces of water, put in the basket and fill it with your bottles and other items to be steamed, put the lid on, and pop it in the microwave for 2 to 6 minutes (depending on how powerful your microwave is). As a general rule, most microwaves (850-1000 watts) will require 4 minutes, but if you're using a smaller and weaker microwave (500-800 watts) then it will take 6 minutes, and a more powerful microwave (1100-1850 watts) will take about 2 minutes. In our home microwave, we simply put it on for 5 minutes and it worked pretty well every time. We couldn't use our internal thermometer with this unit to test the temperature, since it probably would have exploded in the microwave or something terrible! But it looked pretty darn steamy and hot in there. In fact, when it was done we couldn't really pull it out of the microwave without using pot holders, so it was definitely getting super hot. It includes tongs to help you pick up the hot items, but it does not include a measuring cup for the water (7 ounces). A couple of good things about this microwave baby bottle sterilizer: you don't need to use distilled water, it fits even the tallest Dr. Brown's bottles if you tilt them on their sides, and you can fit a bunch of other stuff in along with 4 bottles. And did we mention that it's not yet another kitchen counter appliance to take up counter space!? That's definitely an added bonus, along with the super approachable price of less than $20.
But there are also a lot of cons. There are the big obvious ones like it doesn't include a drying feature, doesn't have a lower and upper rack for added capacity, and it's not as simple as pressing a button and forgetting about it. And then there's the issue of microwaving your baby bottles, which many parents are not interested in doing (for some good reasons). Then there are the relatively minor issues that are unique to this product. We found that the carrying handle on the top was basically useless, and the little blue handles on the sides were too small and awkward to use when getting it out of the microwave. There were some serious burn risks here - one of our testing parents said that she burned her wrist with scalding hot water that leaked from the side of the sterilizer when she was taking it out of the microwave - she said it was hard to balance it with the poor handles and it made her tip it slightly and it spilled water. That was alarming, and we're happy that her baby wasn't nearby! That only happened to one of our reviewer parents, and we didn't have it happen to us, but it's important that you realize it's possible and to be careful when using it. So Munchkin definitely needs to work on their product design a bit - maybe big stable carrying handles on the sides? Maybe a deeper bottom tray to prevent easily tipping water out? We'll leave it up to them to improve on the design in the future. In the meantime, we think this is a great and inexpensive option for parents looking to save counter space and simplify their lives a little bit. But please be careful during use to prevent burns. That same point goes for all of the steam sterilizers on this list - always use caution when handling and opening the devices, as big plumes of steam will escape and possibly injure you. Interested? You can check out the Munchkin Steam Guard Microwave Steam Sterilizer here.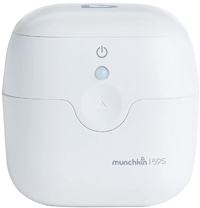 Once the pandemic hit, ultraviolet sterilizers became very popular and difficult to find, and they proved effective for sterilizing equipment at medical and research institutions worldwide. The Munchkin Portable UV Sterilizer and Sanitizer take some of that ultraviolet (UV) power and pack it into a super compact system that is the perfect size for sterilizing pacifiers, baby bottle nipples, personal hygiene products, and little toys. We were able to test out this particular model at a local daycare center that uses it to sterilize pacifiers after they fall on the floor: they rinse them off and put them into the sterilizer for 60 seconds, and then pop them back into the baby's mouth! It all seemed a bit too simple, so we had to give it a shot ourselves and test it using the Quantadose Rapid UVGI test strips to see whether it lived up to its claims.
This Munchkin UV sterilizer is super portable and easy to use. It takes three AA batteries or uses a backup USB cord if you don't have batteries on hand. You can use a typical phone wall charger if needed, though that would be sold separately. We loved the concept of this mini UV sterilizer because it's super simple: pop open the cover, place the item(s) inside the chamber, close the lid, and turn it on! The process takes about 60 seconds. The manufacturer says the LED bulbs emit UV 260-280nm, which falls squarely into the UV-C range. To test this claim, we used Quantadose Rapid UVGI test strips. We placed the strips into the bottom of the chamber and powered it on. After the 60 seconds elapsed, we removed the strips and checked them - according to the Quantadose strips, the device was emitting UV in the UV-A and UV-B range, but it wasn't detectable in the UV-C range. That doesn't necessarily mean it wasn't actually emitting UV-C, but perhaps it wasn't at ample intensity and duration to trigger the strips. Either way, the result was a little concerning. We do want to trust Munchkin that the device is indeed effective, but these results were less than compelling. Overall, we do love the portability, efficiency, price, and ease of use. We just need more evidence that it's effectively sterilizing and sanitizing, as claimed. Also recommended by our friends at Babylist, you can check out the Munchkin Portable UV Sterilizer here.
Note that we also review the Gourmia Jr Steam Sterilizer in our Best Baby Bottle Warmers article, since it includes both a sterilizer and warmer function. In general, it offers some great capabilities for the price but is also quite large and cumbersome.