The Best Toys and Gifts for 2-Year Old Boys
These curated gift ideas include terrific toys for the terrible twos!
---
Mommyhood101 independently tests and curates baby gear to help you make informed decisions. If you buy products through links on our site, we may earn a commission.
The best toys and gifts for two-year-old boys will engage their developing motor and cognitive skills.
At this age, most toddlers will be able to climb, build block towers, and throw or kick a ball. Children will be learning simple vocabulary and relating words to pictures in books or on flash cards. And two-year-old toddlers will be able to follow simple, two-step instructions.
The "terrible twos" are known for the development of toddlers' independence and boundary testing, but some of the best toys and gifts will help direct independent growth and maybe even create some peace and quiet in this exciting year that will be full of energy and surprises!
All of these gifts and toys are time-tested, top-rated, and offer fun and durability for active toddler boys!
Here are the Best Gifts for Two-Year Old Boys!
Click on an image to check prices at a major retailer.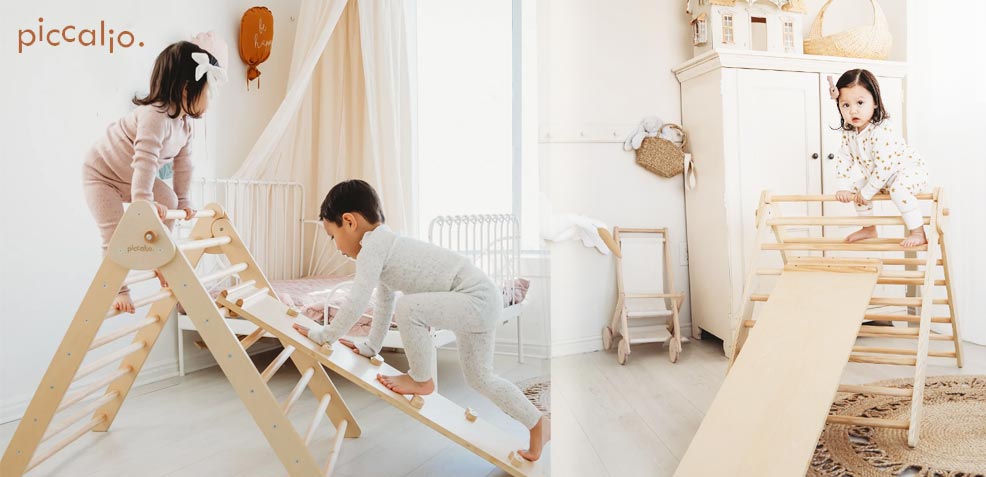 Satisfy your toddler's desire to climb up the walls with this high quality, beautifully crafted wooden climbing triangle! Piccalio makes several adorable and highly functional play structures that will keep your little boy busy for hours. This Pikler climbing triangle has a versatile ramp that can be flipped over and used as a slide or as a climbing wall, supporting gross motor skills, hand-eye coordination, posture and balance, and helping build confidence and get out some of that little boy physical energy! Folds easily for storage and toy rotation. Click the image to learn more.
---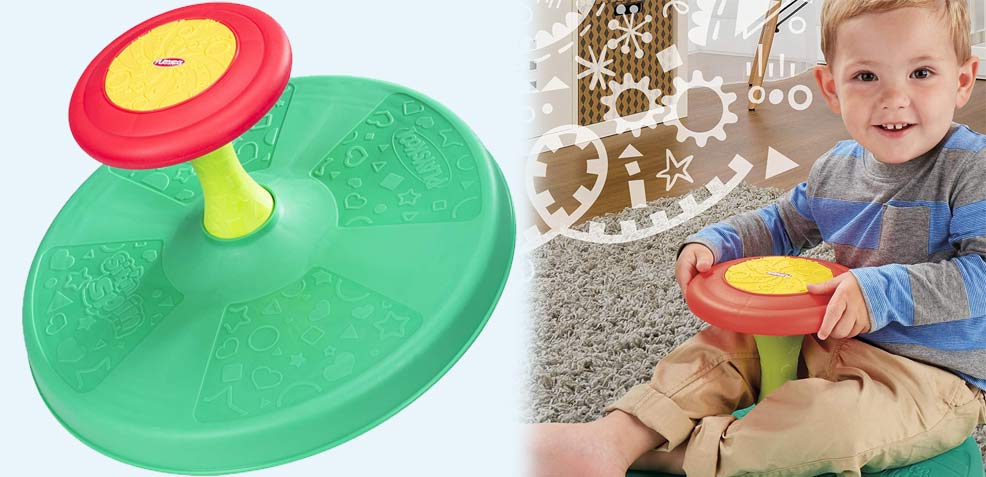 Embrace and encourage toddlers' desire for control with this classic, spinning activity toy. Toddlers can sit on the blue spinning seat and grip the red stationary wheel to make the base spin fast or slow. Kids are in full control of the speed. The Sit 'n Spin from Playskool has been a favorite preschool play activity for generations. This spinning toy encourages muscle development through balance and coordination, and whirling and twirling are the perfect ways to work out some of that extra toddler energy! Click the image to learn more.
---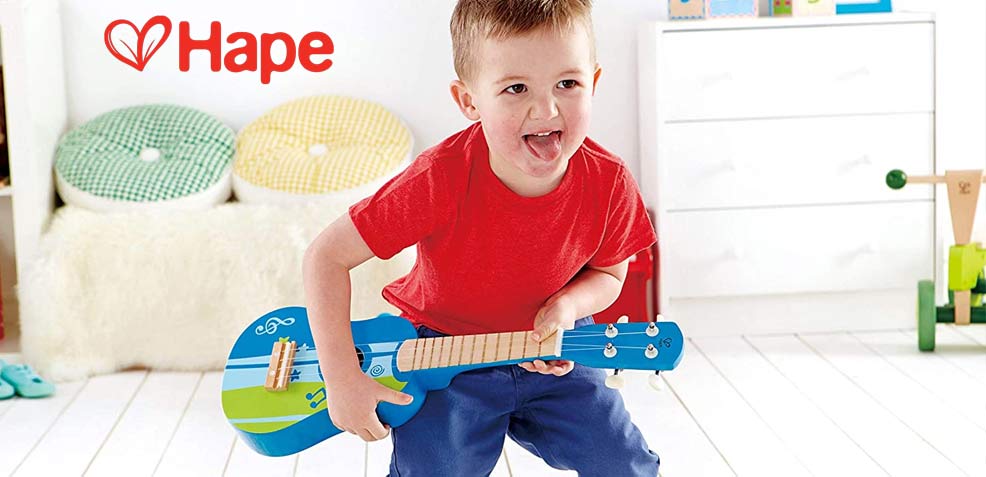 This four-string ukulele is the perfect size for toddlers to hold and strum. Composed entirely with child-safe materials including wood sourced from sustainably maintained forests and non-toxic finishes. This instrument has a sturdy construction, meets or exceeds all applicable safety standards, is fully playable, and is easily tuned. The nylon string ends are hidden to avoid scratching. Toddlers will develop coordination, cause and effect, and rhythm skills as they grow their musical aptitude. As proficiency increases, kids can explore composition and various strumming techniques, making this durable, professional-looking instrument a long-lasting favorite. Click the image to learn more.
---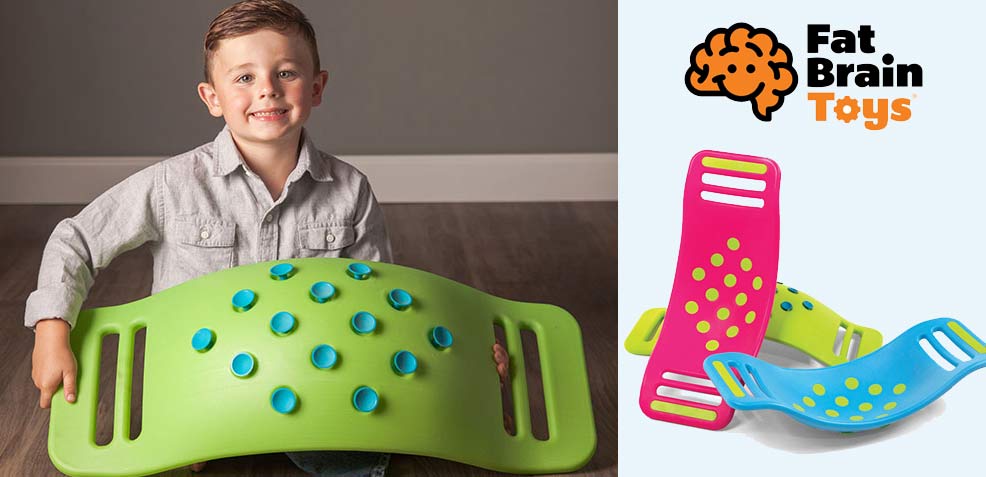 If you haven't heard of Fat Brain Toys, you're missing out on a huge selection of high quality, educational, and super fun gifts for babies, toddlers, and big kids! Their selection is second-to-none, moving beyond the typical gifts everyone will find at Amazon and other big retailers. Two year old boys have seemingly endless energy, and especially with current world events they need unique ways to get out all that energy while around the house! The Teeter Popper is fantastic for not only getting out physical energy and working the core, it also provides an amazing sensory experience. This includes proprioceptive input, tactile and auditory input with the awesome array of suction cups along the bottom, and visual-motor input. Vivid colors, high build quality, and hours of fun! Check out our full list of the best sensory toys here. Click the image to learn more.
---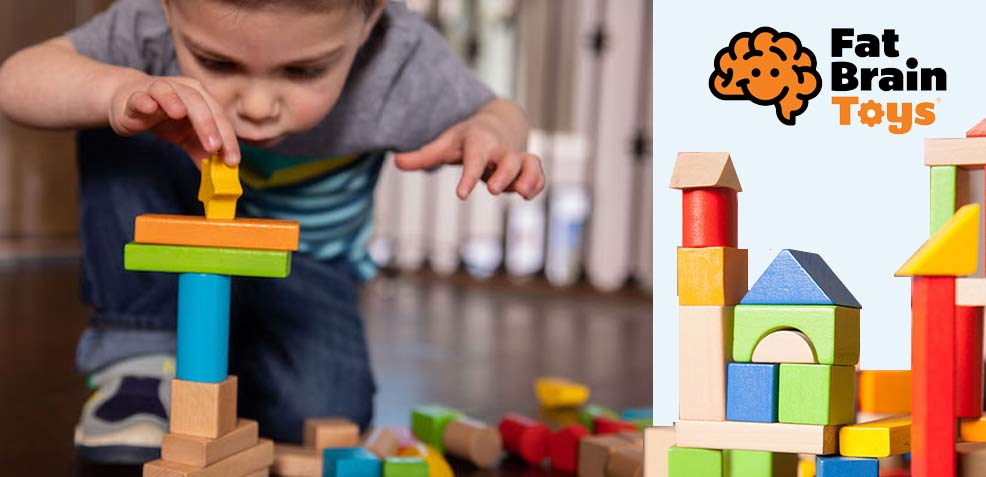 Toddlers learn a lot through testing the limits of their imagination, creativity, and intuitive physics understanding. Open-ended toys like these awesome wooden blocks encourage toddlers to apply their creativity in very imaginative ways, building homes, castles, farms, and anything else their budding minds can conjure up! Fat Brain Toys makes these very high quality, lightweight, and colorful blocks that are perfect for facilitating creative playtime, starting parallel play skills, and helping with counting, color-matching, and shape identification.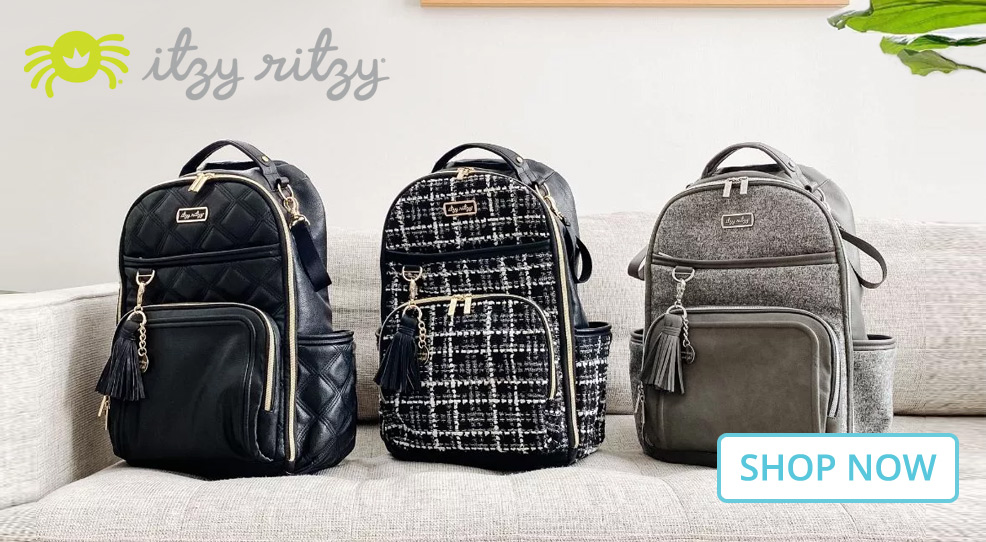 An amazing gift for two year old boys who are right at the cusp of beginning to explore their creative minds! Click the image to learn more.
---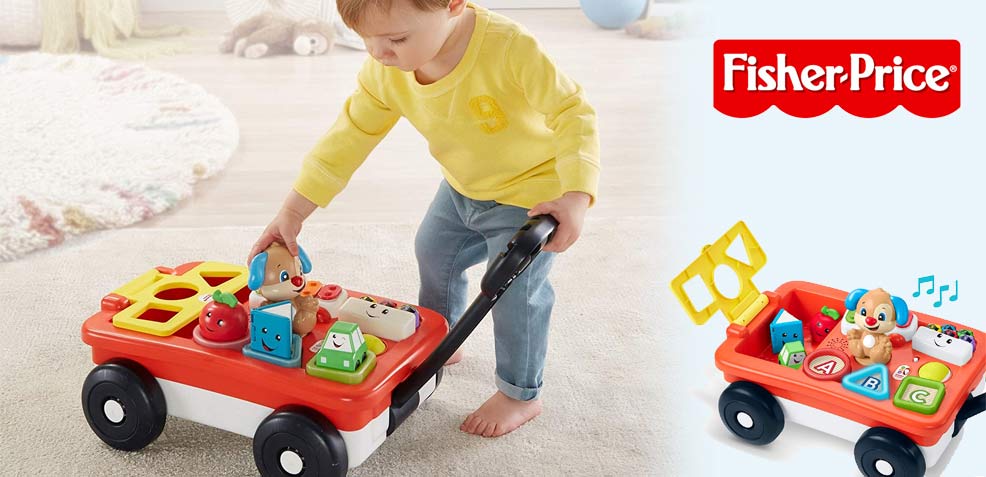 Toddlers love to move and go, and the Laugh & Learn Wagon allows them to pull the fun along. Loaded with hands-on play and early academic content, the wagon features introductions to the alphabet, colors, counting, shapes, and Spanish words. Toddlers can press each object to hear its name and number (in English and Spanish). Three included toys stack into circle, triangle, and square shapes on the top, or pop back through to a storage compartment below. Each level in Fisher-Price's Smart-Stages technology is loaded with different songs, sounds, and phrases, so parents can switch up the learning fun to best fit their child's age and stage, and the wagon handle even tucks underneath for seated play with this dynamic toy. Click the image to learn more.
---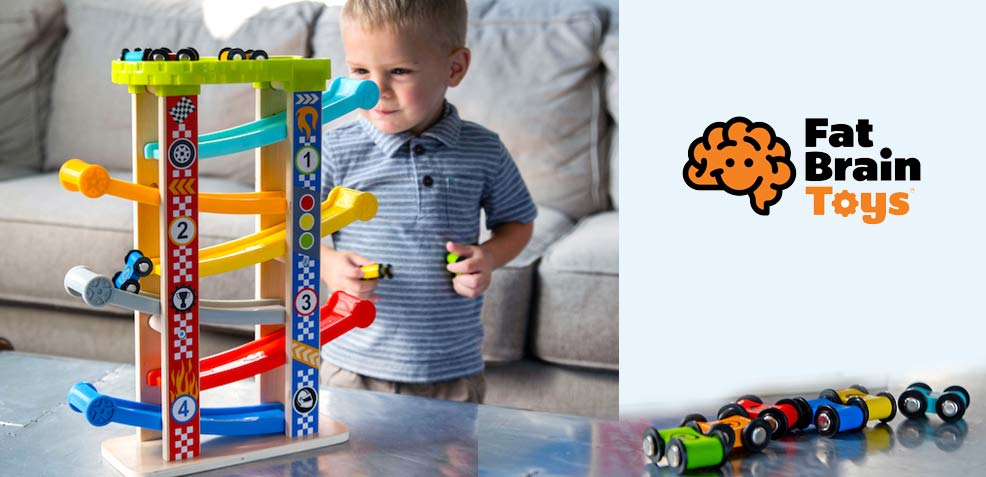 Toddler boys (and girls!) love cars, racing, movement, cause-and-effect, and bright colors. Fat Brain Toys has figured out how to pack all those features into a super-fun zig-zag car ramp. The set includes six colorful cars that offer low-friction rolling on both sides and in both directions, and an awesome wooden and plastic ramp structure with six curvy ramps, a roof deck to store the vehicles, and colorful and relevant markings along the sides. Race them, crash them, stop them, and let them free! Tons of fun for only about 20 bucks, this makes an awesome inexpensive toddler gift idea! Click the image to learn more.
---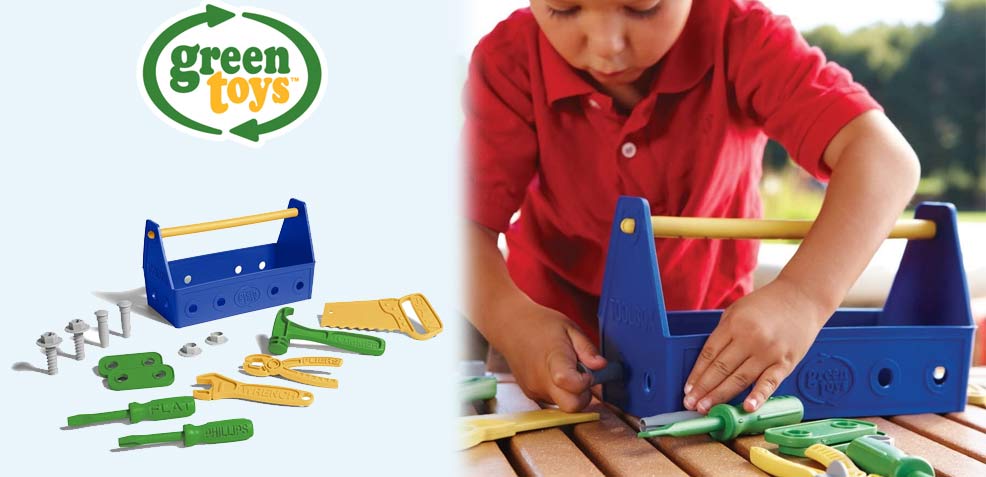 This 15 piece set includes a toolbox, Phillips and flat screwdrivers, hammer, saw, wrench, pliers, two double-hole connectors, two nails, two bolts, and two nuts. All pieces are free from BPA, phthalates, PVC, external paints, and other coatings. In fact, this eco-friendly set is constructed from 100% recycled plastic milk jugs and is even dishwasher safe! The realistic tools are extremely durable, and toddlers will enjoy attaching pieces through holes in the tool caddy. The tools are the perfect size and weight for small hands, encouraging both fine and gross motor skill development. Click the image to learn more. Click the image to learn more.
---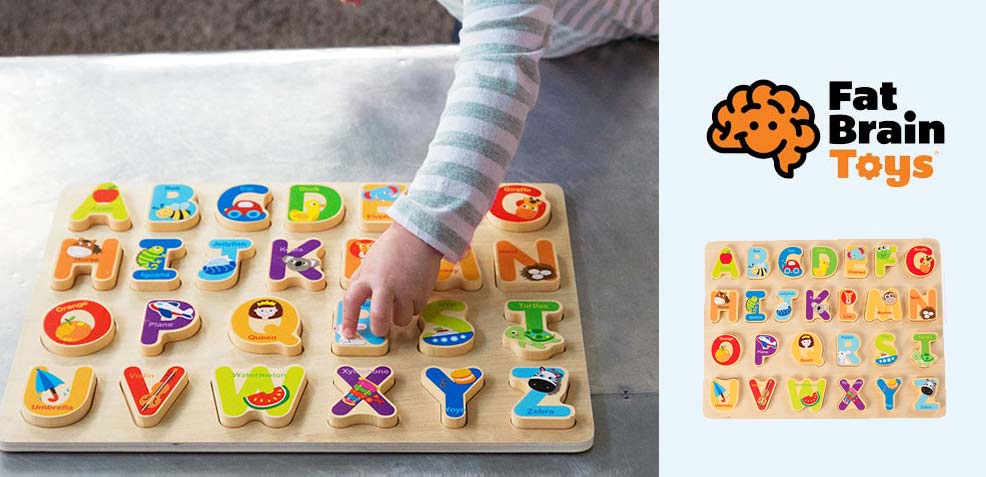 By the time kids reach 3 years old, they will begin to recognize a few letters of the alphabet, usually the letters in their name (B for Ben!). Jump-start their journey towards letter identification and sound association with this awesome wooden alphabet puzzle from Fat Brain Toys! Each letter fits into a special cut-out place on the puzzle board, in alphabetical order, and has adorable colors, pictures, and words. A is for Apple, P is for Plane, and T is for Turtle! This letter puzzle will help with not only letter identification, but also color recognition, shape matching, object identification, and hand-eye coordination. Two years old is the perfect opportunity to start toddlers on this learning adventure! Click the image to learn more.
---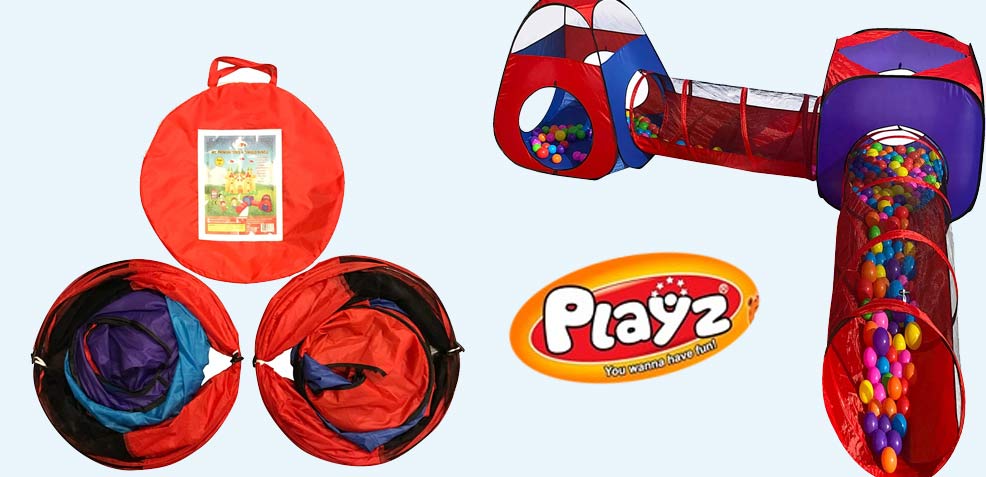 The perfect toy for adventure time or peek-a-boo, this 6-foot Pop-up Play Tunnel with detachable tents will have toddlers rolling with laughter and fun. The simple patterns use bold, primary colors that will be easy for toddlers to identify during play. Toddlers will strengthen muscle development and imaginative play in these extra-long, lightweight polyester tunnels. Set-up is a breeze with a pop-open design and velcro attachments for the tunnels and tents. When play time is over, the tunnels and tents easily collapse and fit back into the included bag for easy storage or travel. This toy is great for rainy days indoors or trips to the beach! Click the image to learn more.
---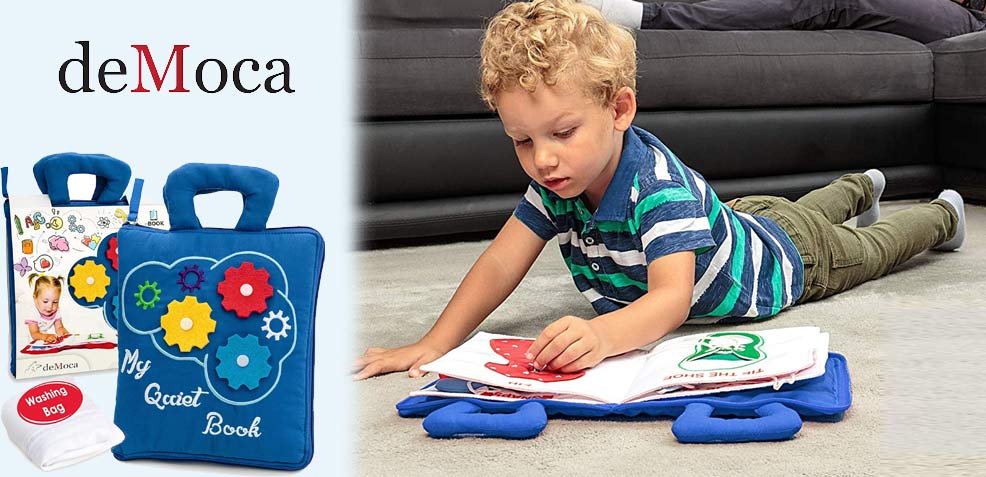 Let's be honest, two-year-old boys do not need any help making noise! The Quiet Book by deMoca combines busy board fun with soft, texture play for an engaging—and quiet—activity time. The Quiet Book is a surprisingly durable and sturdy sensory toy, featuring a pleasant, soft, baby cloth book touch and feel. Each of the reinforced, fabric pages in the Quiet Book include activities with Montessori principles that improve toddlers' basic skills using real-world challenges like matching shapes and colors, getting dressed, telling time, or manipulating snaps and buttons. All of the pieces are tethered to the Quiet Book pages to avoid loss. This toy includes a handle for easy travel and a washing bag to keep it looking brand new. Click the image to learn more.
---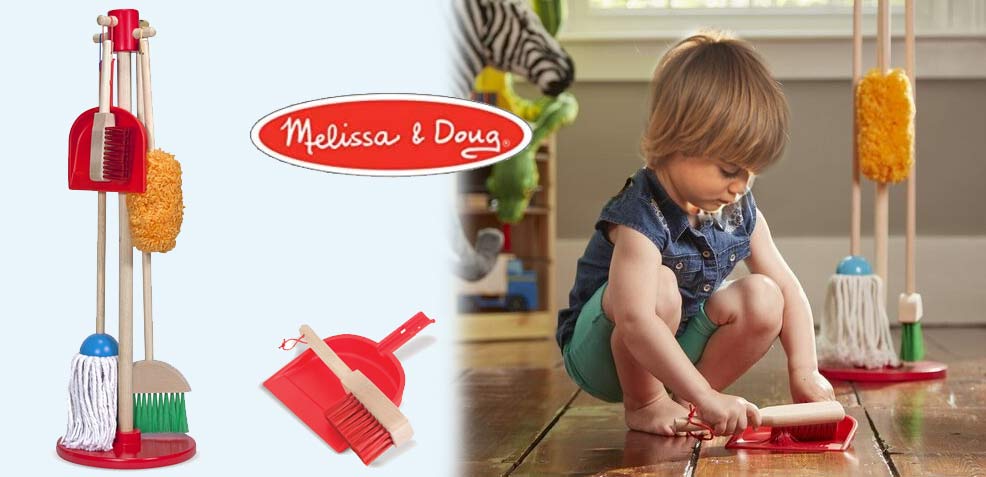 At two years old, toddlers will follow parents and caregivers around the house, watching and repeating simple words and activities—including chores! Many toddlers LOVE to act out daily house cleaning routines they observe. The Dust! Sweep! Mop! toy set makes chore-time a fun-time where children can embrace and model their sense of independence by practicing what the grown-ups do. This colorful, kid-sized set looks just like the real thing and includes a pretend play broom, mop, duster, brush, dustpan, and organizing stand. All pieces in this playset (excluding the plastic dustpan) include solid wooden handles for a realistic look and long-lasting durability. Soft bristles and reinforced fibers ensure safe play with these toys. Click the image to learn more.
---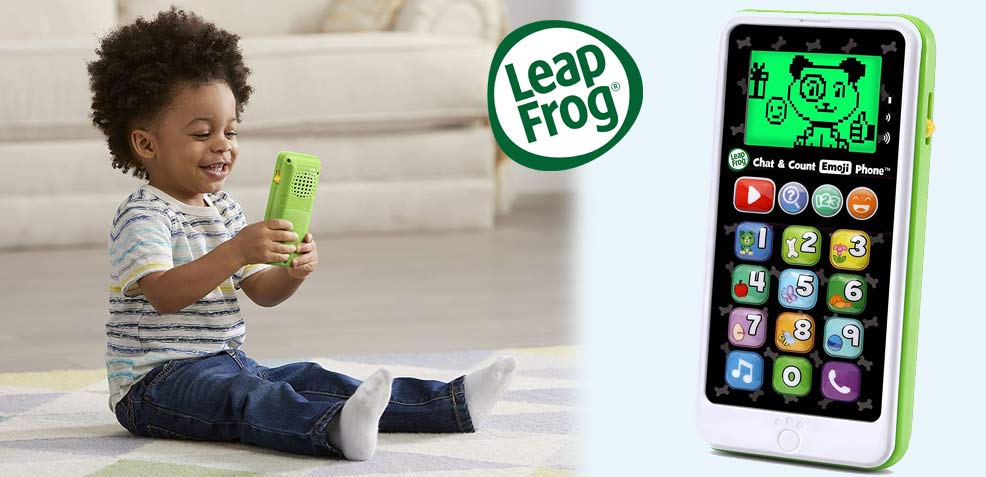 The newer generations are growing up with technology from birth. These tools—when used with care and appropriate limitations—open a world of opportunities for our children. Many parents choose to add educational apps to their smartphones for emergency situations when kids need entertainment. Toddlers are incessantly interested in grown up's phones. The Chat and Count Emoji Phone is an excellent option for parents looking to support academic and social growth without letting a toddler run off with $700 phone. Toddlers will role-play with pixel-animated Scout, explore and count numbers 1-10, watch videos and add emoji sound effects, and listen to songs about counting and phone manners. Click the image to learn more.
---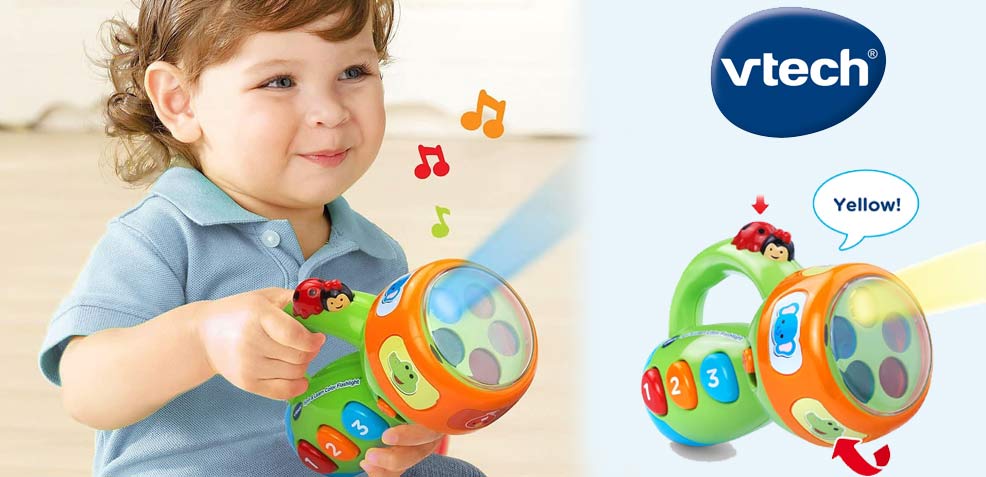 Typically, children start becoming afraid of the dark at around age two. So, this is the perfect time to imagine how much fun the dark can be with colorful light-up toys for exploring. This chunky flashlight does the trick with two modes including standard and play. In standard flashlight mode, toddlers can press the turtle button to shine the flashlight. In play mode, the flashlight announces when light is on or off to introduce opposites. The magical color ring spins and shines six bold colors while introducing colors and animals. An automatic shut-off function saves battery life to keep this flashlight shining longer. Click the image to learn more.
---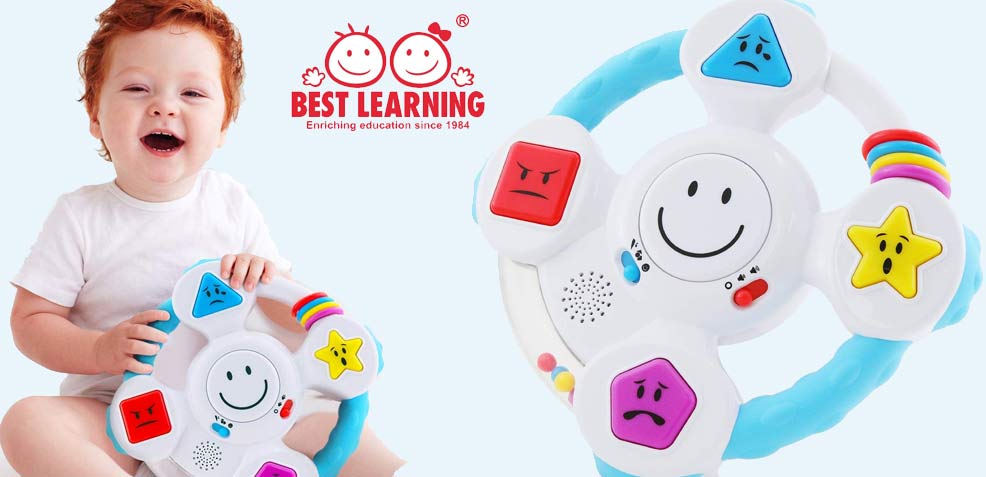 A 2019 Creative Child Toy of the Year and Creative Play of the Year Award winner, the My Spin & Learn Steering Wheel is an emotional education marvel. Including simple colors and a multi-texture design, this toy will be a quick favorite for tactile play, but the fun doesn't stop there. Three play modes teach toddlers colors, shapes, and emotions through speaking and more than 15 songs and tunes. Toddlers will love running around and "driving" this toy or enjoy seated play while spinning the Steering Wheel on its specialized, non-slip rubber pad. This toy passed all global safety standards tests and is made from materials that are free from PVC, BPA, and phthalates. Click the image to learn more.
---
There is so much fun (and learning) packed into this compact toy. At first glance, this little house includes typical, shape-sorting fun. Twelve shape blocks fit through matching holes for excellent developmental stimulation. Included shapes feature standard circle, square, star, and triangle, but this set also includes some new, exciting shapes including a cat, car, key, and heart! The cylindrical house is surrounded by doors, and in addition to shape blocks, this toy comes with a set of six keys on a ring. Each key matches just one door, for even more creative play engagement. Toddlers will love testing their color and shape matching skills while developing key turning dexterity to unlock the fun with this unique toy! Click the image to learn more.
---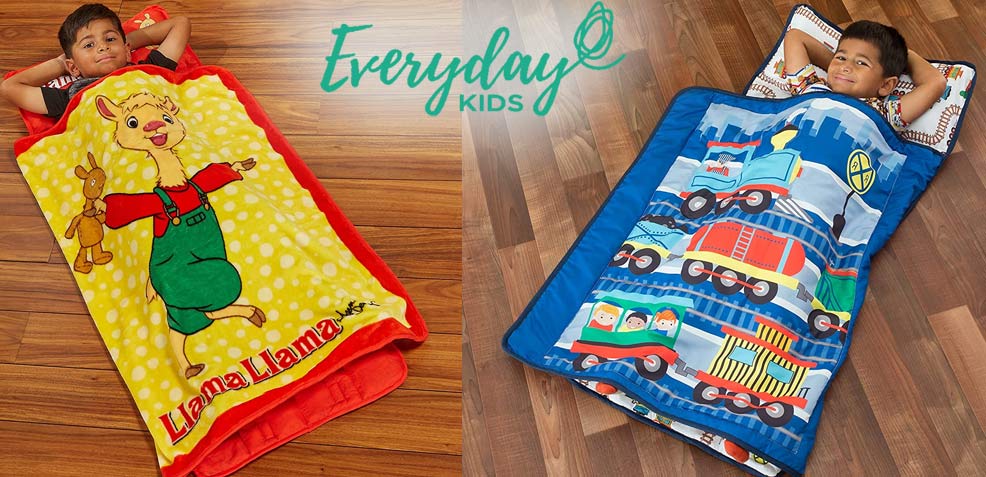 A nap mat, blanket, and pillow all rolled into one, easy-travel piece! This nap mat is perfect for preschool, daycare, or even home use. This high-quality, ultra-soft mat is made from 100% breathable, fade-resistant, and hypoallergenic brushed microfiber. This product is machine washable and the pillow insert is removable (and replaceable) to make the nap mat last longer. The roll-up design, convenient fastening closure straps, and carrying handle allow the mat to travel with ease, and an easy to see name tag window ensures toddlers always find their own belongings. Tons of themes, including cars, construction, trains, and popular baby books (Llama Llama!), make these popular options for preschool, sleep-overs, and lounging around the house! Click the image to learn more.
---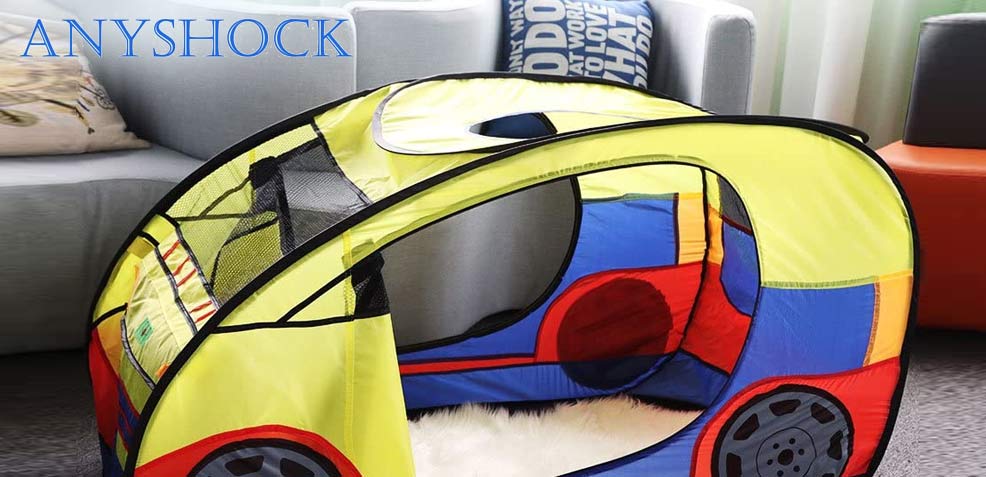 Give toddlers their own private space to rest, explore, or curl up with their favorite picture book. This car tent pops open with quick and easily assembly. Breathable, mesh windows and one open window surround the car for safety. Two doors zip open or closed so kids can imagine they are really driving. This tent is large enough for two to three friends to play together. Add a blanket for nap time or pit balls for exciting sensory play! The pop-up Car Tent twists to collapse and stores easily away in the included carrying bag. Throw in a cozy blanket on the bottom, or fill it up and make a ball pit! Click the image to learn more.
---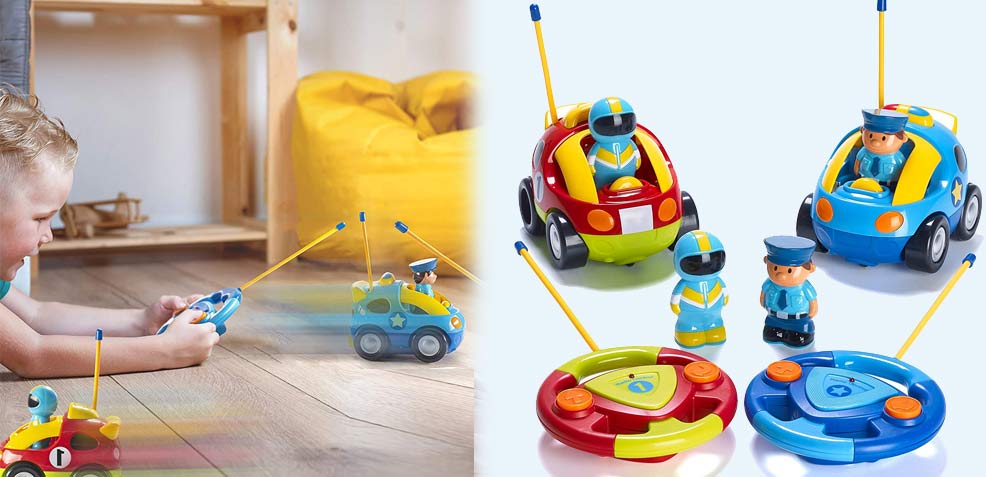 All the fun of remote control cars with a simplified controller for little hands. These racer and remote are designed with chunky features for toddlers to grip. Driver figures are included with the set, so toddlers can choose their favorite racer every day! This RC racer is made from child-safe, non-toxic materials, meeting US toy standards and ASTM safety features approval. Parents love the durability of this little car as it faces rough toddler use and tumbles down the stairs. The remote includes two drive controls for forward and circular motion, making for hours of fun together with friends! Click the image to learn more.
---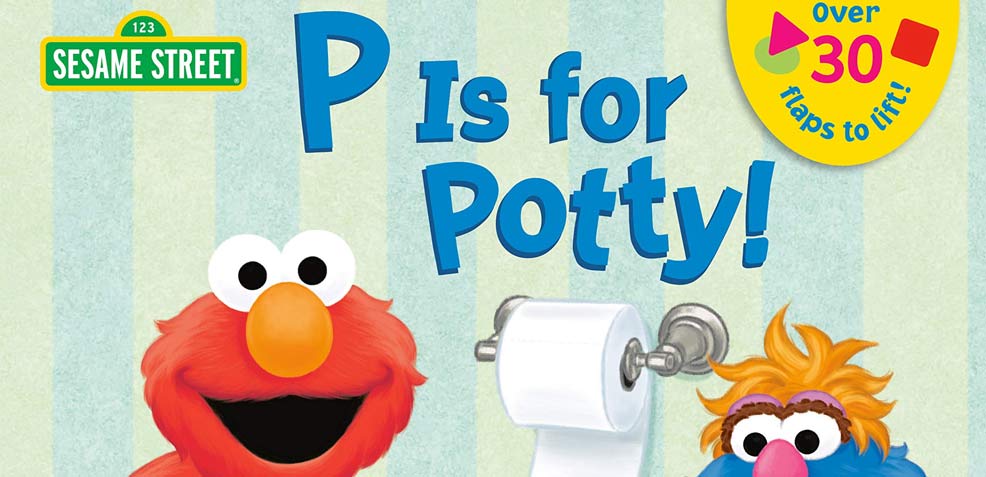 Boys are notoriously late potty trainers. While some girls may be interested in (and even using!) the potty at age two, parents of little boys should not be surprised if it takes another year (or two) for boys to catch up in the bathroom arena. The P is for Potty! lift-the-flap board book features familiar and timeless Sesame Street characters to initiate potty interest. With more than 30 flaps for toddlers to lift and peek under, this book will definitely start the potty discussion in the right direction! Be sure to see our full list of the best baby books, and click the image to learn more.