The Top 19 Gifts for Baby Girls: Toys & Playthings
Girl power! These curated gift ideas are both adorable and practical.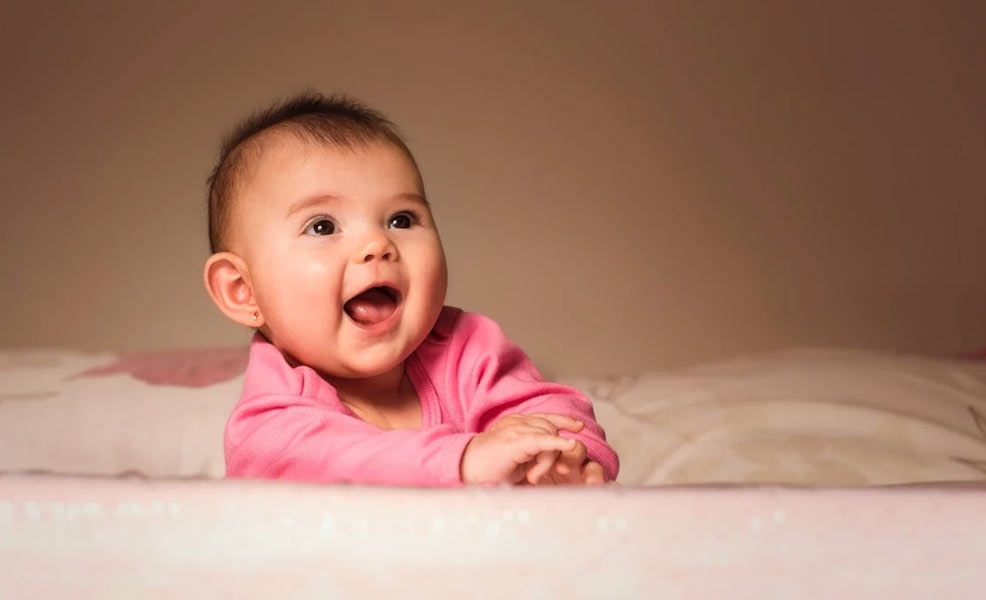 ---
Mommyhood101 independently tests and curates baby gear to help you make informed decisions. If you buy products through links on our site, we may earn a commission.
When searching for the best gift ideas for baby girls, you'll be flooded by options in 100 shades of pink (and maybe a few purples)! So, how do you choose the best gift for a baby shower or birthday? The key is considering meaningfulness and function - you want your gift to be more than adorable clutter! Search for gifts that are not only cute and fun, but also durable and functional.
We have sorted the top 19 best gift ideas for baby girls to help you navigate the myriad pastel products. Our list begins with some of the more expensive baby gift options, and then moves into some more budget-friendly baby girl gift options.
And don't worry, if pink isn't a favorite for the expectant parents, many products are also available in neutral and primary colors (which would also be great for baby boy gifts).
Here are the Best Gifts for Baby Girls!
Click on an image to check prices at a major retailer.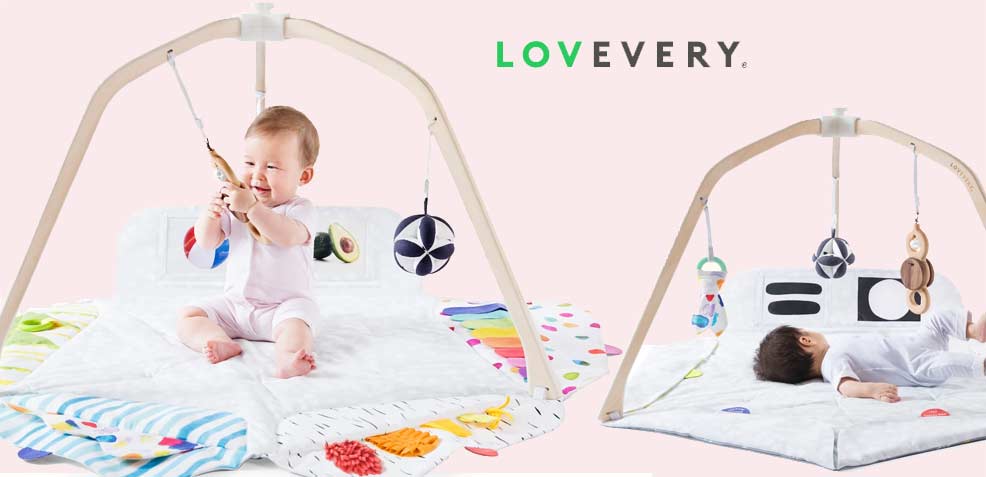 We absolutely love the Lovevery Play Gym, and your baby girl will too! Bright colors and varied textures produce an amazing multi-sensory experience for babies, creating playtime with a purpose! Every little element of the Lovevery activity center is thoughtful, educational, and inspires curiousity and awe! Starting with basic, high contrast shapes, and advancing to colorful and multisensory toys, the Lovevery is innovative, high quality, and simply beautiful.
It makes an amazing gift for any baby girl (or boy!), satisfying even the pickiest parents, and leading to hours of educational fun, tummy time, and exploration! A bit pricier than most other gifts on our list, coming in at about $140, it is a splurge that we think is worth every penny! You can check out the Lovevery Play Gym here.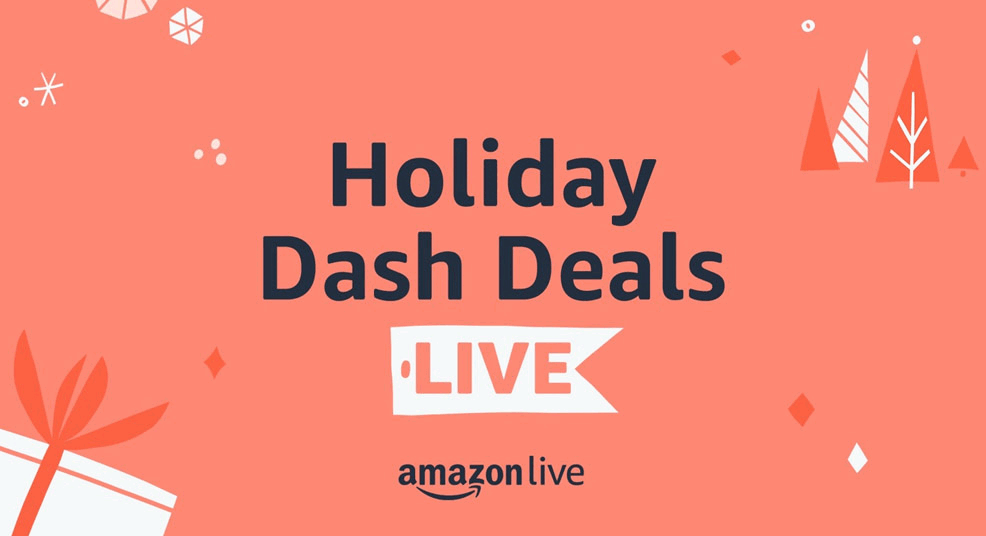 ---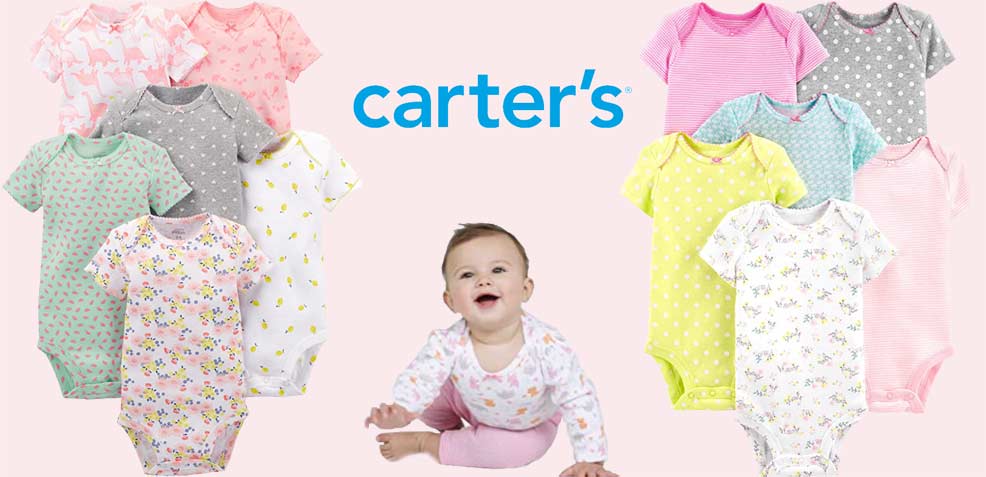 Babies go through onesies almost as quickly as they go through diapers - actually, sometimes they go through both at once! Between drool, spit-up, food spills, and the previously mentioned diaper blowouts, a good stock of onesies is vital for new parents. Carter's Simple Joys bodysuit six-pack is a thoughtfully functional gift with a variety of design options including simple patterns and applique. Four onesies feature expandable necklines, two feature back-snap necklines, and all are accented with scalloped picot trim. We find these to be not only adorable and practical, but also very high quality, soft, and durable, at a very reasonable price! For cold-climate or winter babies, Carter's Simple Joys line also offers a five-pack of long-sleeved bodysuits.
---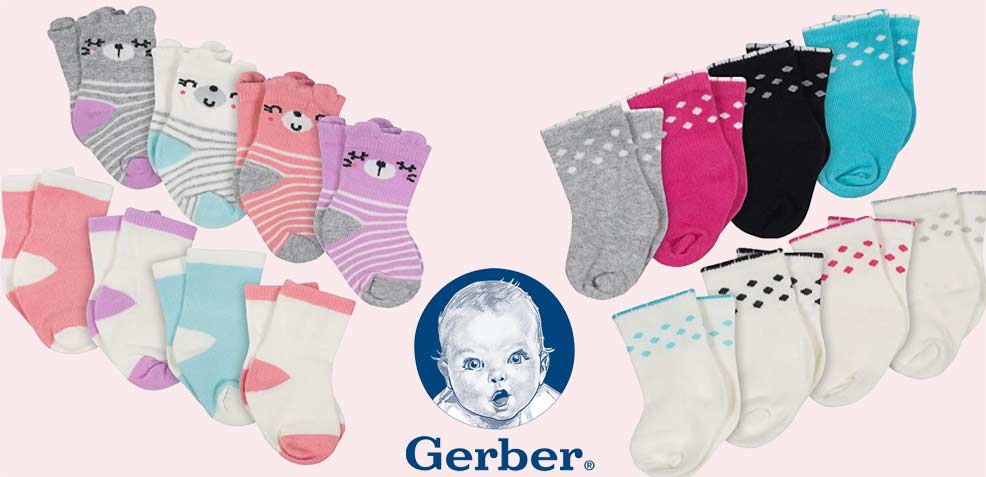 Baby socks are so tiny and cute, and these ballet slipper print socks don't let us down. The simple design and color variety (including a blue!) make these socks a great addition to any outfit. These socks are made by Gerber, a trusted brand for generations, and they equip Gerber's special stay-on, "Wiggle-Proof" technology to snuggly fit baby's feet without being kicked off. Wiggle Ballet Socks come in a pack of eight pairs, so even if one or two get lost in the dryer (or if baby learns to grab and pull them off) this gift offers back-up support! A great gift for the baby girl who has everything, except cozy warm toes!
---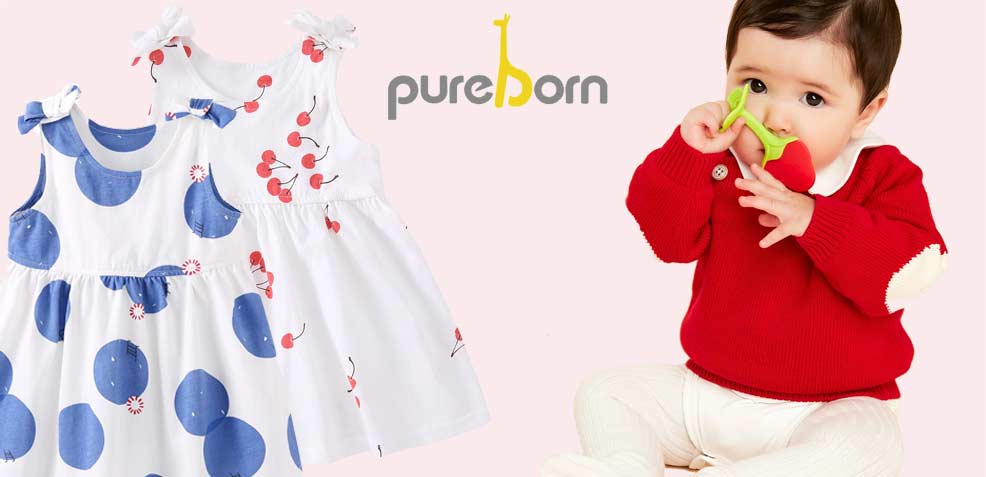 Pureborn makes some of the most adorable baby girl clothing we've ever seen. Combining simple and subtle modern designs with high quality and soft fabrics, these make an awesome and unique gift for any baby girl! Natural cottons and unique designs make for stylish, soft and comfortable baby clothes. Not to mention the surprisingly reasonable prices! Check out their baby girl dresses, bodysuits, footed pajamas, rompers, jumpsuits, sweaters, ponchos and more!
---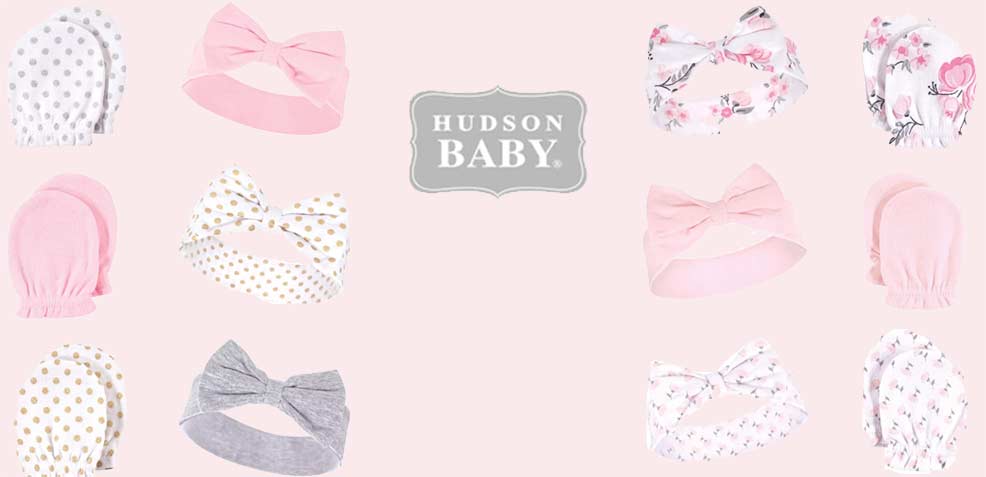 Headbands are an adorable accent for any baby girl's outfit. Sweet prints and oversized flowers and bows add a pop of fashion dynamic while baby hair is still scarce. Hudson Baby takes this fashion statement a step further with matching scratch mittens. Don't be fooled by their small size—baby fingernails are like tiny razors, and when babies fuss and flail their arms around they tend to scratch up their faces. Some parents just put socks on their babies' hands to avoid this. Hudson Baby scratch mittens do the job while complementing the adorable bow headbands. For autumn and winter babies, Hudson Baby also offers stylish hat and scratch mitten combos!
---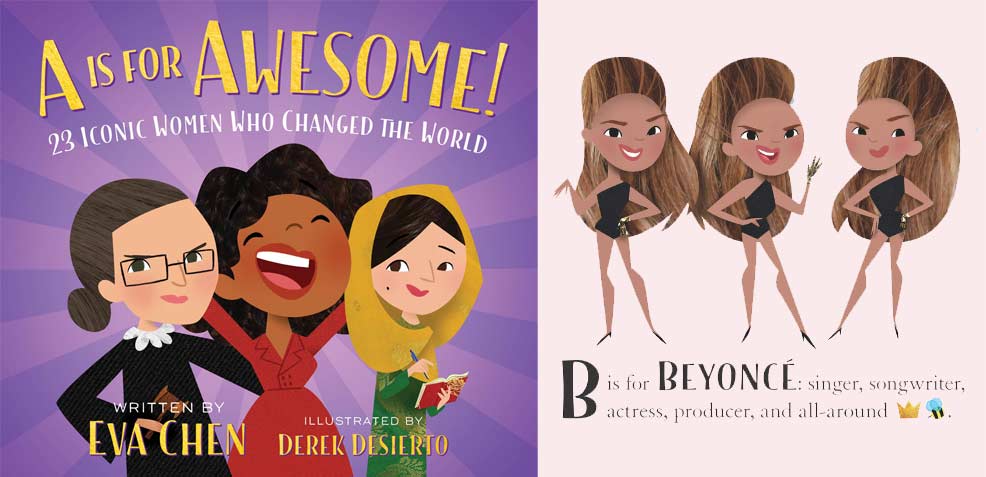 It is never too early to teach a baby girl how impactful she is to the world. Reading to babies has been proven to promote language and literacy development, focus skills, and bonding. "A is for Awesome" by Eva Chen, brings female pioneers, artists, leaders, and activists to the forefront of story time. Each letter represents a remarkable woman in history and a brief write-up on her accomplishments and impacts.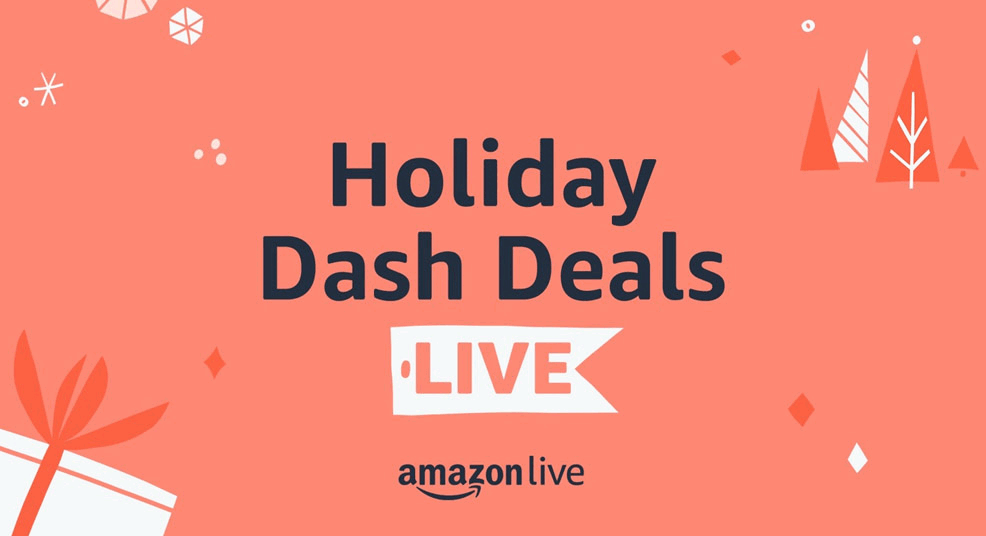 The book includes some good racial diversity and concludes by bringing little girls into the story with, "eXtraordinary You - and the Zillions of adventures you will go on." The last page is a mirror, so little girls can literally see themselves in the story. Want to see more options? Check out our annual list of the best baby books!
---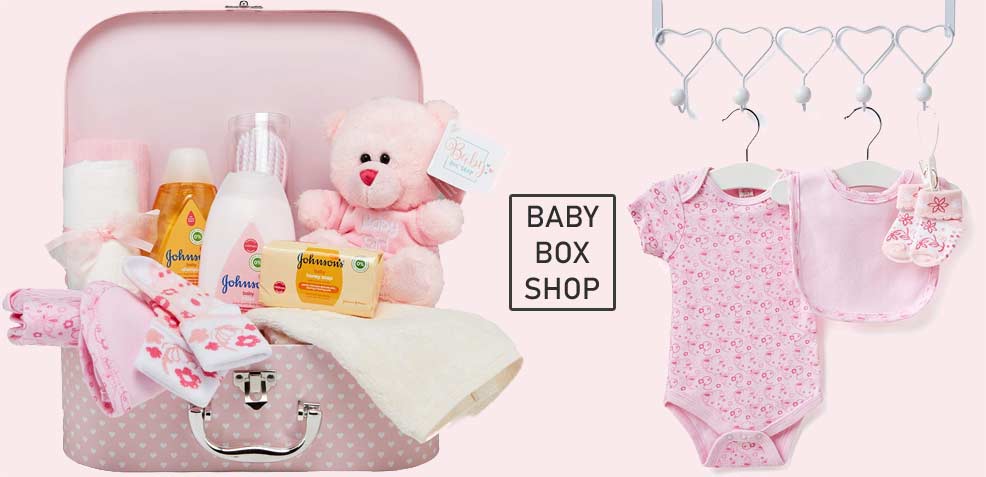 Essentials make an excellent gift for little babies, and this gift set brings it all together with enthusiasm and a pink bow! The Baby Box Shop set includes a keepsake style box with steel clasp fastener and handle. A myriad of treasures inside include a small soft toy, large swaddling muslin cloth, pink cotton onesie, socks, cotton bib, Johnson's baby shampoo, soap, and lotion, a brush and comb set, a soft cotton wash cloth, and a couple of back-up diapers. This gift is especially perfect for baby showers. As a bonus, once the contents are removed, the keepsake box can be used for storage or even travel!
---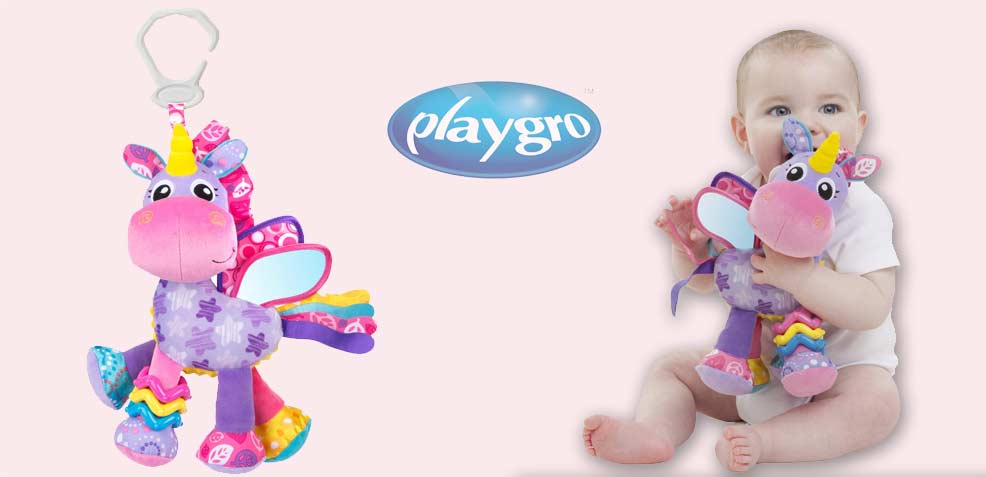 Unicorns make the best friends, and Stella is ready to engage even the smallest hands in simple yet interactive play. Stella is a masterpiece of pinks, purples, yellows, and blues, all with highly-contrasting patterns and varied textures for baby to explore. She wears click clack ring bangle bracelets to develop fine motor skills, and her jingle bell and crinkle feet teach cause-and-effect and stimulate baby's hearing. Stella also includes a mirror wing to promote self-recognition. This beautiful unicorn clips easily and securely onto carriers or strollers. The plastic and fabric are hand washable to keep Stella clean and ready to play. Want to see more sensory toy options? Explore our annual list of the best sensory toys.
---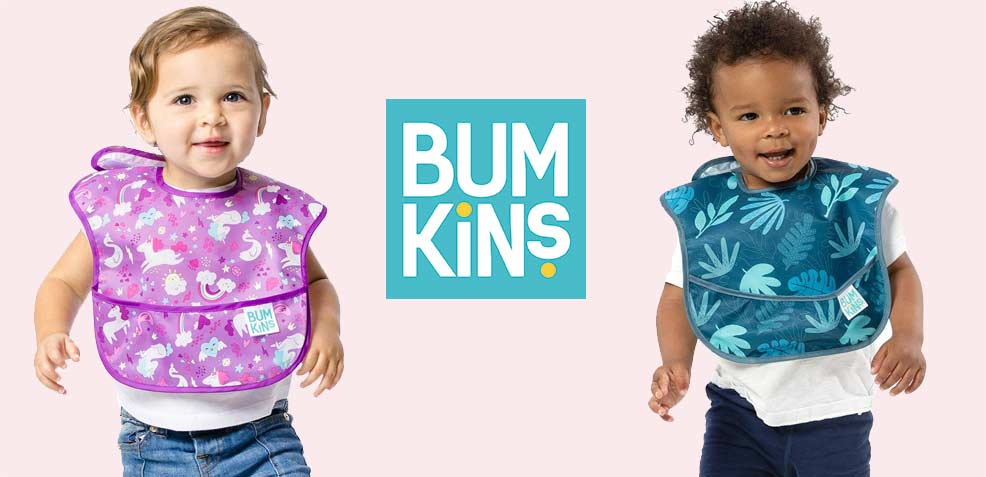 Babies are messy! Even sweet, little girls are not exempt from this fact. Bibs were designed to save adorable outfits from constant food and spit-up mess, but the Bumkins SuperBib is a game changer. These bibs are made from Bumkins special, lightweight, waterproof material making wiping/ rinsing/ and clean-up a breeze. There is no cotton layer, so parents won't need to worry about bacterial growth or residual odors after use and washing. The oversized design protects more clothing surface area. The bibs attach over the shoulder using hook and loop fasteners for a secure fit without the choking hazard. The best feature, however, must be the crumb catcher/ catch-all pocket to keep larger spills from ruining skirts and pants. These bibs are available in a variety of prints including unicorns and rainbows, and a set of three makes a thoughtful gift!
---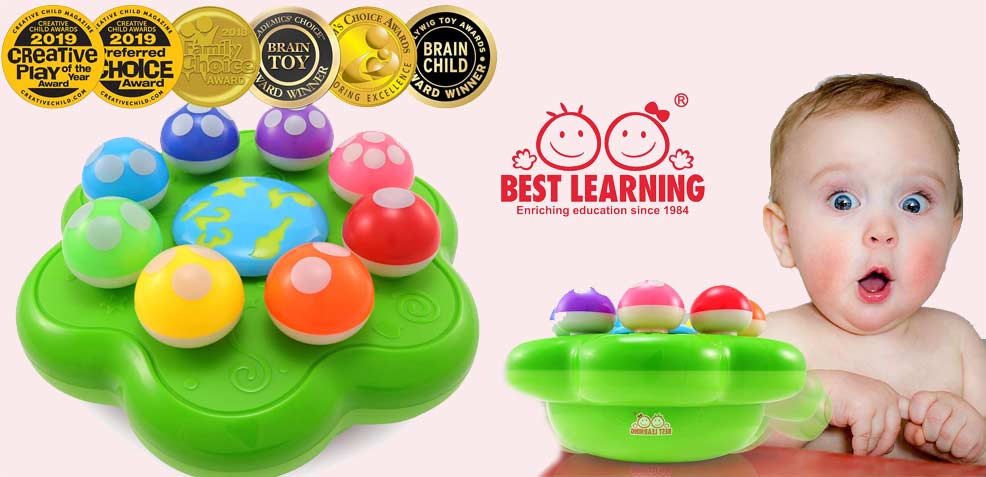 Winner of multiple family and academic awards including the Family Choice Award and Mom's Choice Gold, the BEST LEARNING Mushroom Garden offers engaging light-up and musical play for infants and young children. This colorful, wobbly toy has four modes including Numbers, Colors, Music, and Games to grow with baby. Interactivity encourages development in creativity, logical thinking, motor functions, hand-eye coordination, concentration, and memory. The durable design has large grip shapes for little hands and a fun, spinning and rocking balance. Created with parents in mind, Mushroom Garden offers two different settings for sound control.
---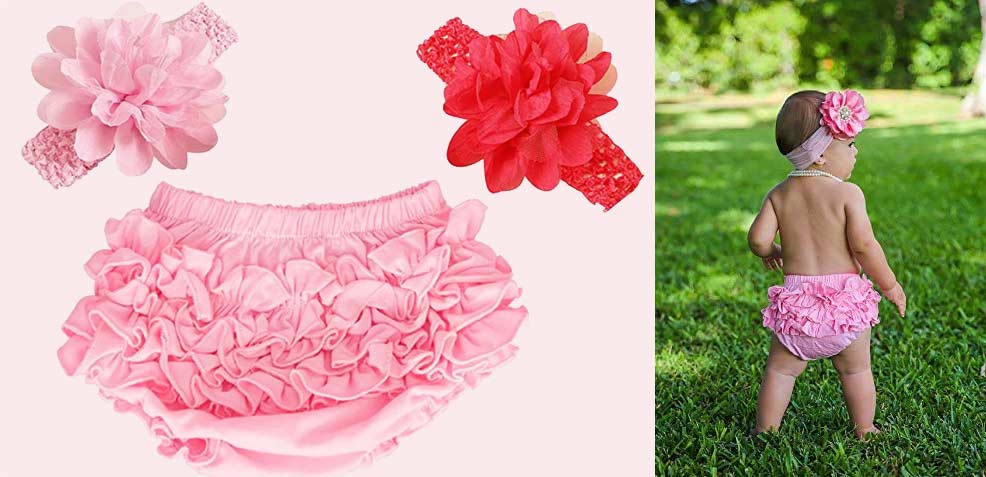 Baby girl dresses are super cute, but they can come with one drawback: diaper hang-out. For some parents, this might be a modesty concern, for others it is consideration for blowouts, or maybe a photo shoot calls for a more complete baby ensemble. Whatever the reason, bloomers are a fashion-conscious option for parents who want to cover up the diaper under little dresses. These cotton-knit diaper-cover bloomers by Muyan use baby-safe dyes to create a variety of color options to complement any outfit. The delicate ruffled bloomers include matching flower headband to really bring the set together.
---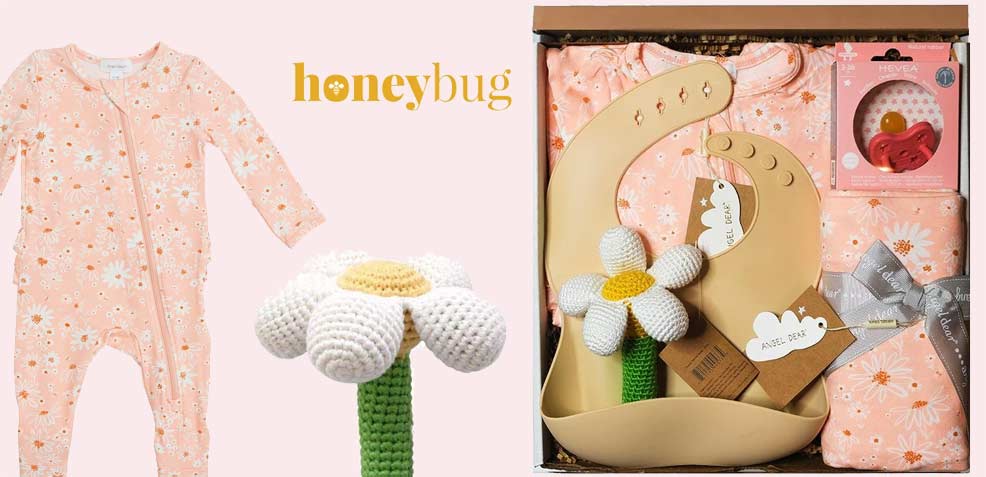 The Honeybug gift boxes for baby girls are unique, fun, high-quality, and well-packaged for gift-giving! We love the Daisy Chain box, Snow Pink Moon and Stars, and Abstract Dawn gift boxes. Each of them includes color-coordinated footie pajamas, swaddling blankets, pacifiers, teething toys, or stuffies. There are 100% cotton and organic cotton options, BPA-free silicone bibs, 100% rubber pacifiers, and the packaging looks great. We love the soft fabrics, subtle and beautiful designs, and how the products are all unique to their boxes (so they are very unlikely to be gifted by someone else!). The price is a little steep at around $100, but we think it's well worth it! You can check out the Honeybug Gift Boxes here.
---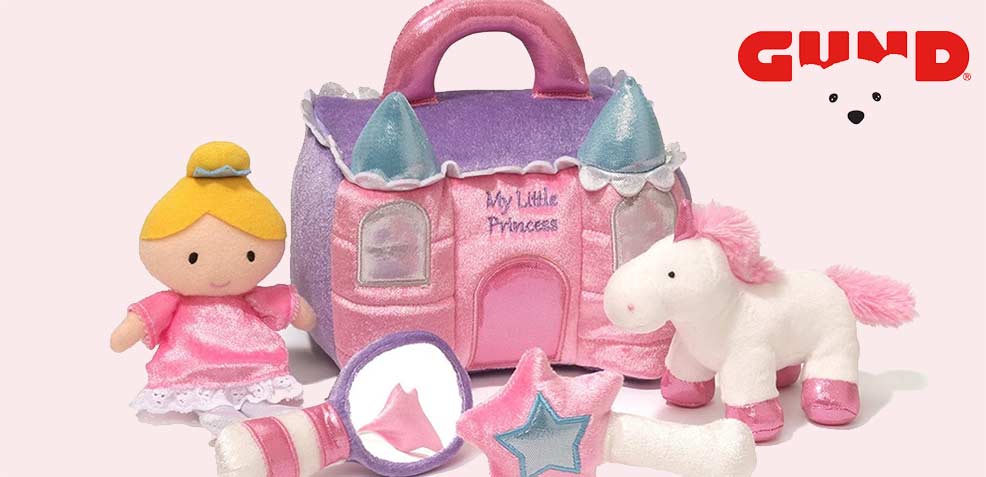 Many little girls love princesses and unicorns! This wonderfully portable set will inspire magical playtime! The pink and purple castle is made from both soft and sparkly material and doubles as a carrying case for easy storage. Inside, is a fairy tale dream including a plush princess, unicorn, star wand, and magic mirror. Each plush element includes a unique feature including crinkle sounds, squeaking, audio, and reflective surface to further engage babies in creative play. Gund is a well-known brand and has been making keepsake toys for generations, so parents can feel assured this set will stand-up to years of play. There is even an option to personalize the castle case with baby's name!
---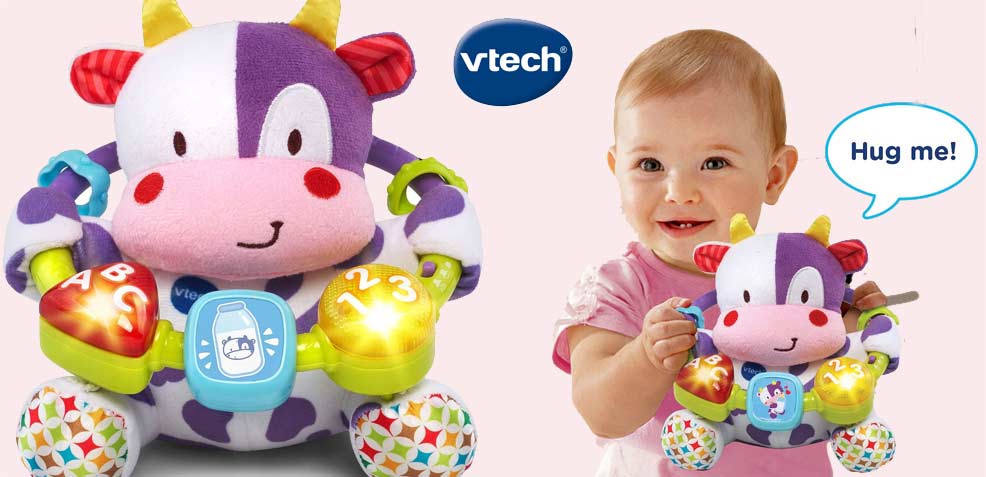 This friendly cow will soon be baby's best friend. She loves hugs and will keep baby entertained with 30+ playful songs, melodies, sounds, and phrases. In addition to the soft, plush cow body, this toy includes an attached grasping bead ring, great for strengthening little hand coordination. Special beads on the ring light up and even spin to support fine motor skill development. Press the light-up buttons to learn about shapes, colors, and more! The Moosical Bead cow comes in a lovely purple version, or a black-and-white for greater contrast and vision and attentional focus development.
---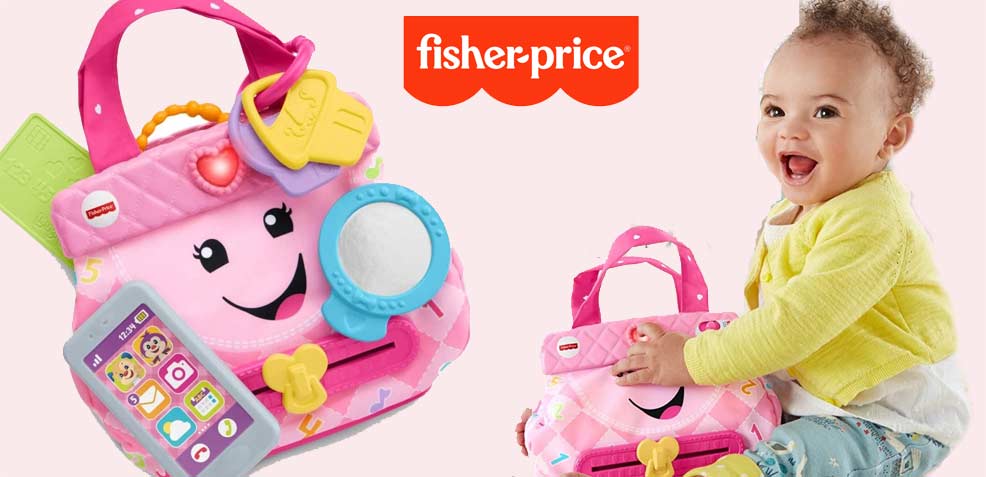 Babies love to imitate people around them, and with the Laugh & Learn My Smart Purse from Fisher-Price, little girls can be just like mommy or other women in their lives who carry a fancy purse! The Fisher Price My Smart Purse is made from durable plastic and soft fabric components. The interactive design elements include sliding zipper, opening handle, light-up heart button, and 50+ songs, sounds & phrases introduce counting, colors, opposites, greetings, Spanish words, and more. Inside the happy, smiling purse, baby will find five play accessories including a rattle phone, compact mirror, credit card, clacker keys and a bead bracelet.
---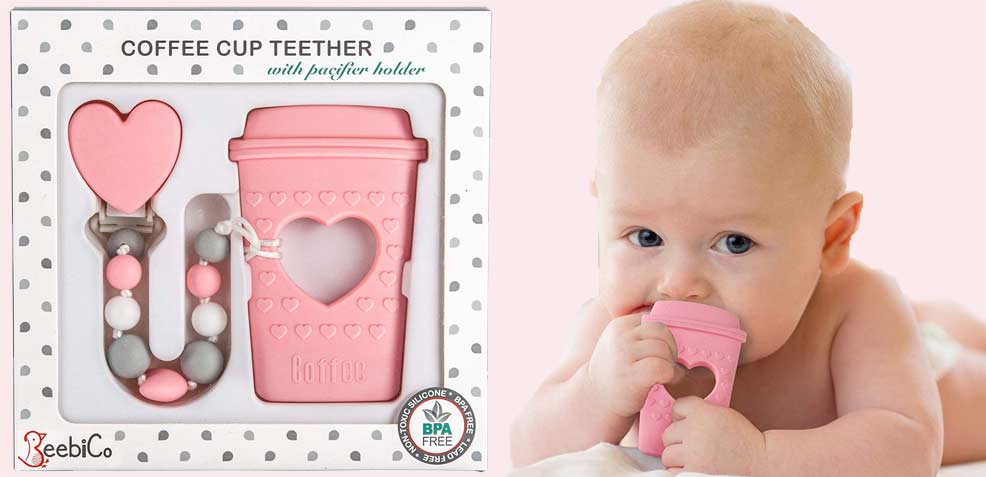 For the chic and modern baby on the go, this sweet pink coffee cup teether is shaped like Mommy or Daddy's favorite travel coffee cup. The main coffee cup element is a single piece made from high quality, CPSIA certified, odorless and durable silicone. This teether includes both smooth and textured surfaces for dynamic soothing on sore gums. This set from BeebiCo also comes with a beaded pacifier clip that attaches to baby's clothing, keeping the teether clean and off the floor. Each silicone bead is secured on both ends for flexibility and safety. The pacifier clip is also compatible with other teether and pacifier brands, making this gift extra functional! See more options on our annual list of the best baby teething toys.
---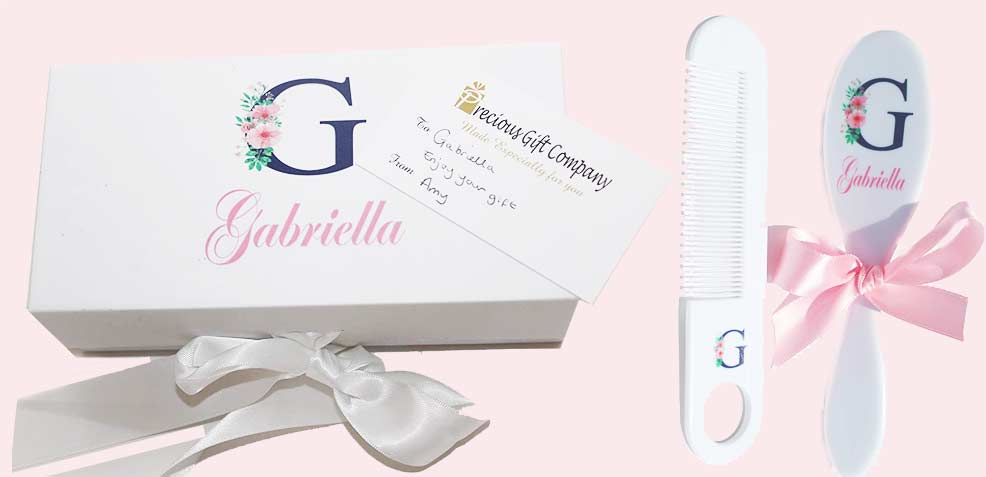 This simple essentials set is made more thoughtful with personalization. The basic set includes a baby comb and a hairbrush made with soft, nylon bristles for sensitive scalps. Each element is decorated with a lovely floral design and monogrammed, and the brush also displays the baby's full name in an elegant script. For an additional charge, this gift may be purchased with a matching, personalized keepsake box and blanket. The keepsake box can hold the brush and comb set or other baby accessories such as headbands or bows. The simple blanket measures 30x40 inches and is made from 100% cotton. This is a beautiful, high quality, and meaningful baby girl gift!
---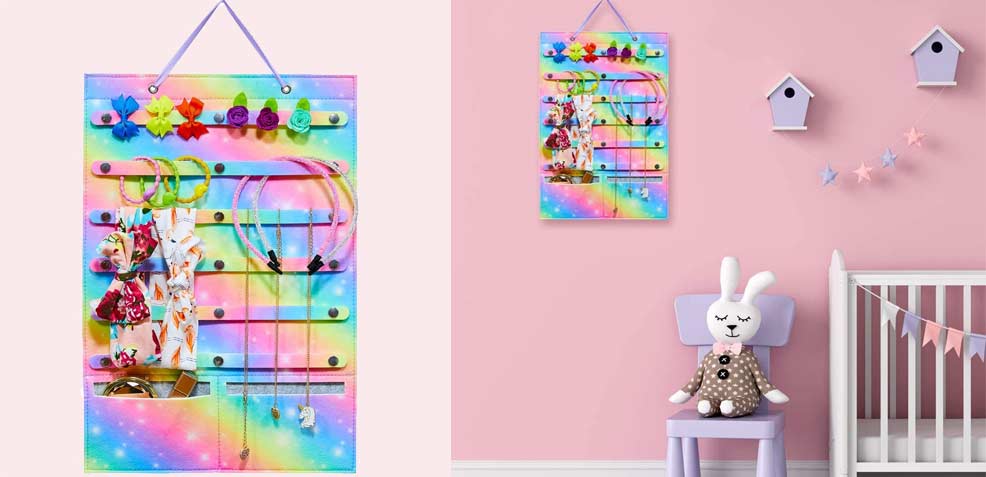 Babies (and perhaps baby girls, especially) seem to come with a lot of accessories. From pacifier clips to hair bows, headbands to bracelets, and everything in between, the collections can be extensive. This hanging storage organizer includes deep pockets and removable, snap-on strips to hang and store accessories in all shapes and sizes. The organizer is made from thick, non-deformable, dirt-resistant felt material, and it comes is a variety of color themes including sparkly rainbow and lavender mermaid, making this storage caddy the perfect, functional accent for a closet, bedroom wall, or above the changing table!