The Best Toys and Gifts for 3-Year Old Girls
Three cheers for 3-year-old girls! Our curated gifts are sure to please.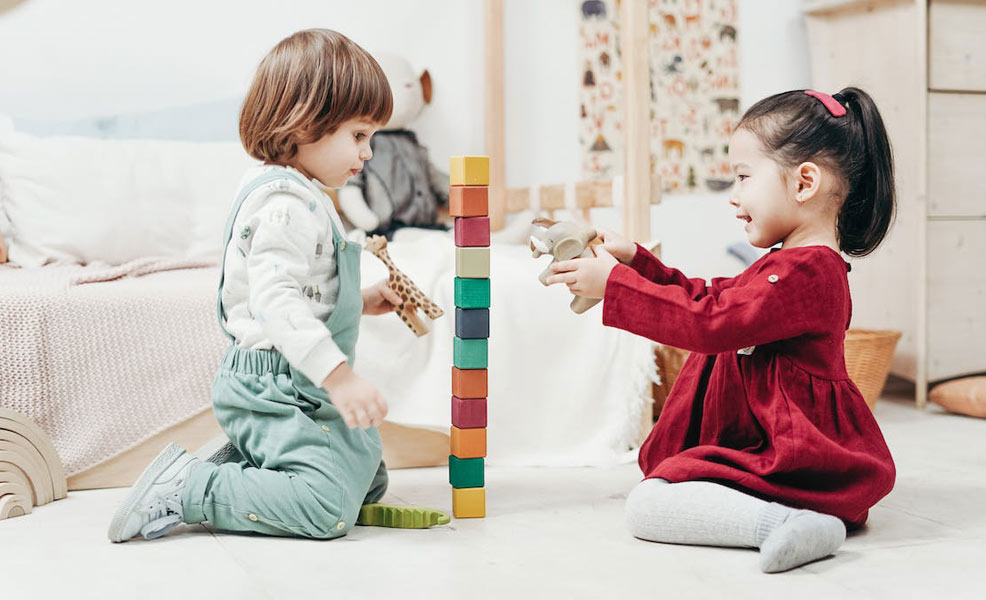 ---
Mommyhood101 independently tests and curates baby gear to help you make informed decisions. If you buy products through links on our site, we may earn a commission.
Finding the best toys and gifts for 3-year-old girls means really getting to know them and their developing personalities.
At three years old, little girls are confident, playful, and sometimes independent children. They are learning how to be self-sufficient by washing their hands and putting on their clothes each morning.
Toddlers at this age will have strong likes and dislikes. So, while many "girl toys" are pink and purple and focus on domesticities, this may not be each little girl's cup of tea. A great way to choose the best gift is to talk to and engage with toddlers to figure out what types of things they're more and less drawn to - their favorites may come as a surprise!
From books to games, swings, and makeup vanities, these are the most popular and reasonably-priced toy and gift ideas for three-year old girls!
All of these gifts and toys are time-tested, top-rated, and offer fun and durability for active three-year old girls!
Here are the Best Gifts for Three-Year Old Girls!
Click on an image to check prices at a major retailer.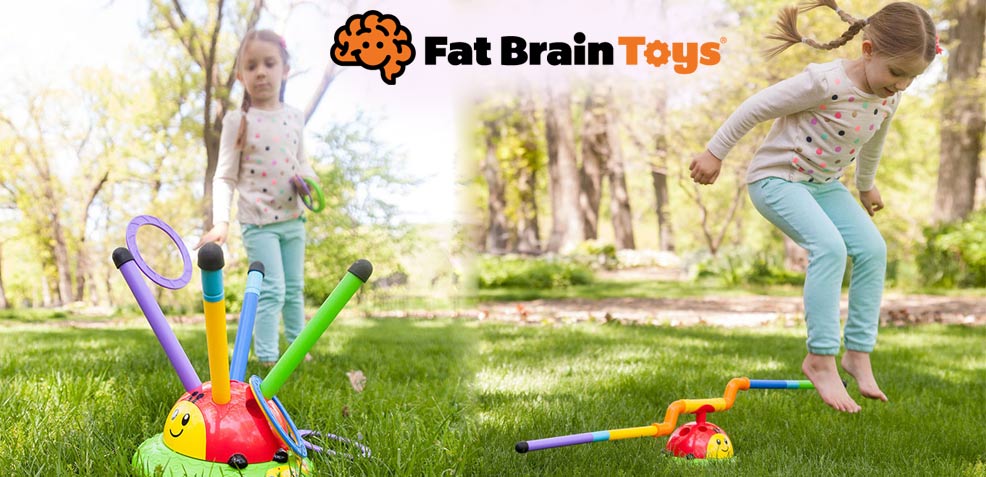 Fat Brain Toys makes some awesome and adorable gifts for babies and toddlers, and this Jump n Toss game is no exception! This popular toy starts as a fun ring-toss game with an adorable ladybug at the bottom that plays music and spins the colorful posts around to introduce some challenge into the ring toss (there's a slow and fast mode for extra challenge). Then it can transition to a fun spinning and jumping game that involves jumping over the rotating arms, seeing how fast you can get it turning before touching one of the arms. It's really a ton of fun for toddler girls, and can be used independently or as a social game with friends and family. Click the image to learn more, and also check out our list of the best outdoor toys!
---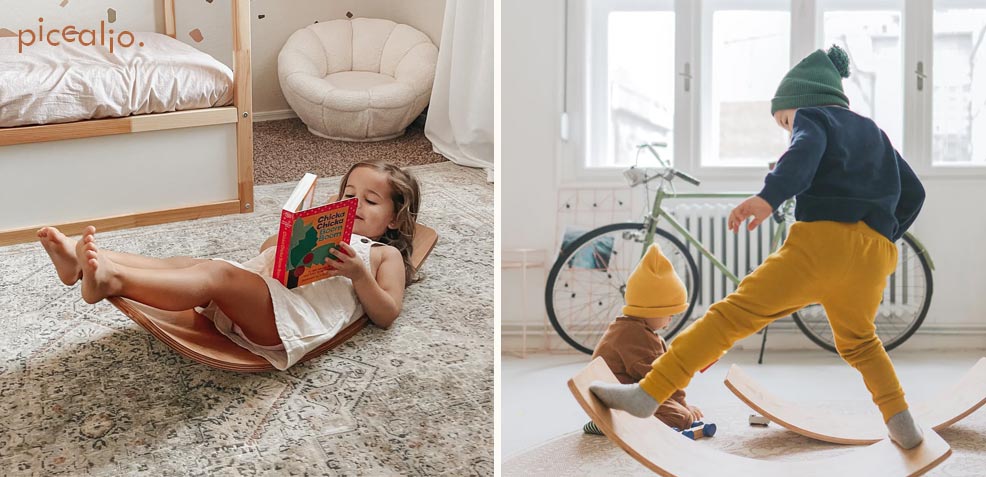 This large, beautiful balance board from Piccalio is versatile and fun! Use it as a standing rocker board, to swivel-scoot across the house, as a sensory-friendly seat with vestibular feedback, and any other way your little girl imagines (a bridge, slide, chaise lounge)! Made from European beech wood with a non-toxic (and no-VOC) finish, this balance board looks great and makes you feel good! Click the image to learn more.
---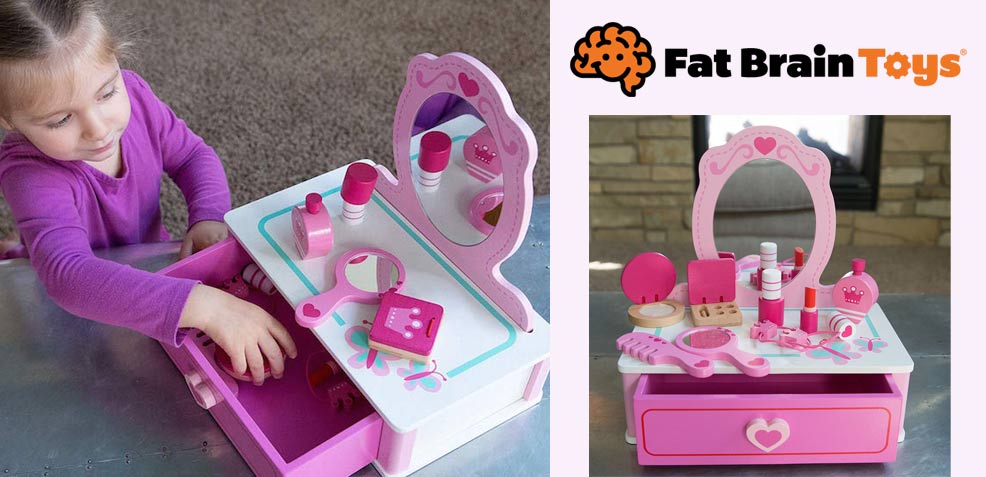 If you read our #2 gift idea, above, you know how much we love Fat Brain Toys! This popular Pretend and Play Makeup Station is one of the most-loved gifts of the year, with all the accessories your little budding fashionista could possibly hope for! A comb, perfume, and several pretend makeup supplies - a compact, lipstick, and more. Your little girl will be powdering her cheeks, putting on lipstick and eye-shadow, and loving how they look and feel (even if nothing really changed!). Use the comb to straighten hair and then put on one of the adorable hair ties!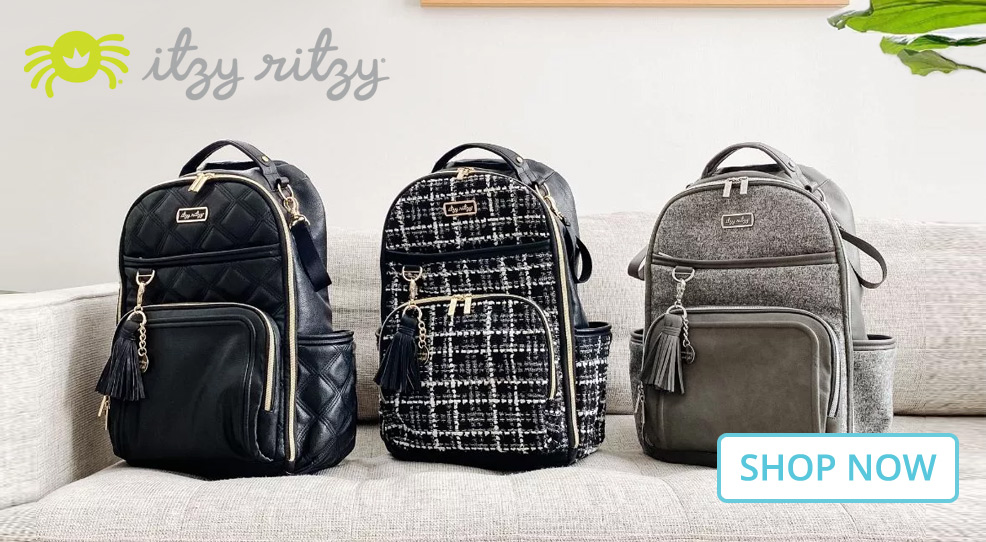 Beautiful colors, a realistic mirror, and a big drawer for storage. Perfect for little girls starting to experiment with their beauty! Click the image to learn more.
---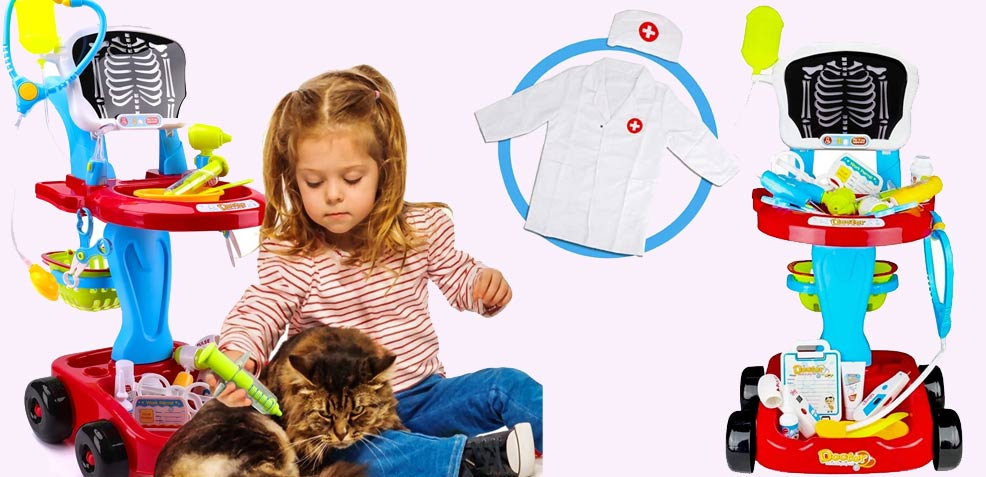 This push-cart doctor trolley will have toddlers busy making their rounds at all the teddy bear bedsides. Complete with a doctor's coat and 16 doctor tools including stethoscope, syringe, thermometer, medicine bottles, and more, this set is fully stocked for top-level care. The wheels roll smoothly on hard floors or carpet, and all pieces are made from ASTM aligned, kid-safe, non-toxic materials. This set is excellent for creative role play, and it also helps kids explore what doctors do, which is great for social learning.
---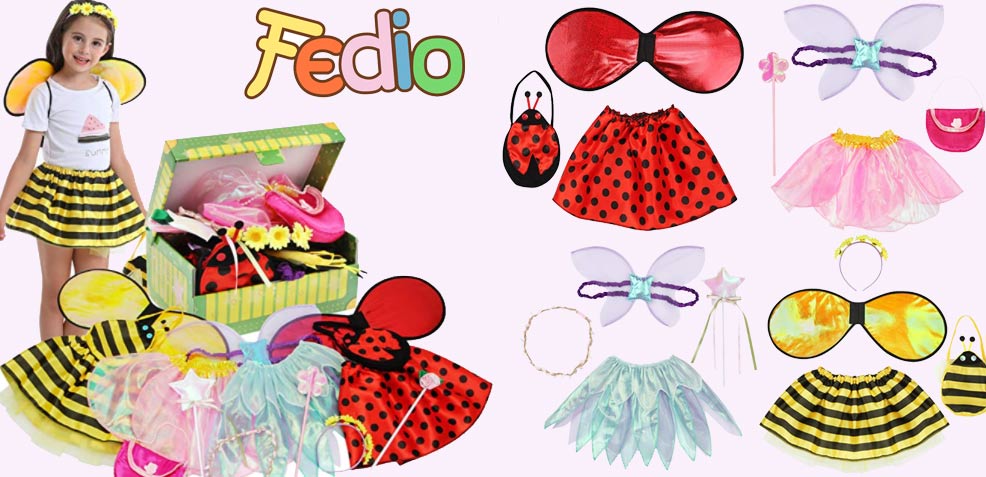 There is something magical about playing dress-up! Some little girls love to sparkle, and this set offers shimmer and shine in spades! Featuring five, full costumes including a pink fairy, a purple fairy, a princess, a ladybug, and a bee. The main ensembles also come with a variety of accessories including wings, headbands, a floral crown, magic wands, and matching handbags! All of the outfits are crafted from soft, premium quality polyester with strong stitching to ensure lasting use and comfort fit. When dress up time is over, cleanup is easy with the included, matching storage trunk. Click the image to learn more.
---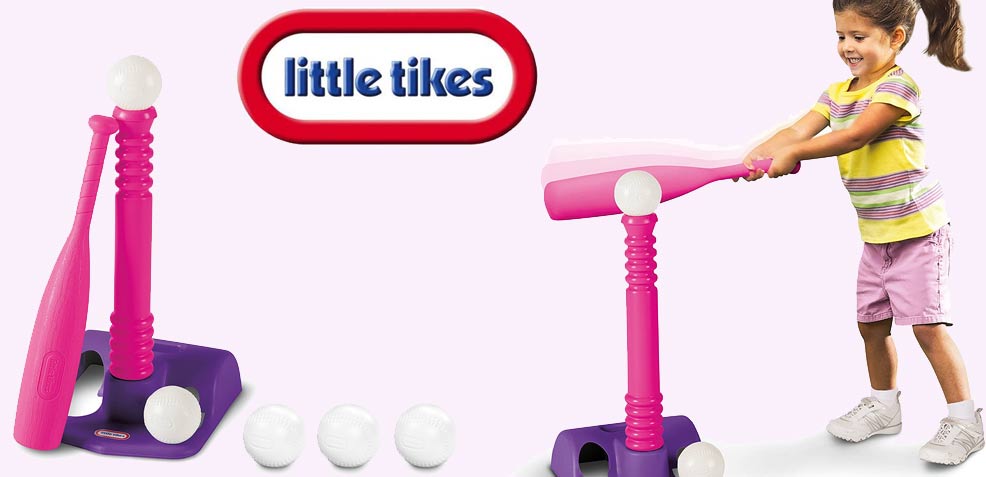 Grow self-confidence along with batting skills with the Little Tike's T-Ball Set. Designed to grow with children, this tee features a simple height-adjustment option. The set includes one large bat and five, oversized balls to let kids get the feel of making contact when they swing. This set is excellent for solitary practice or for group activity. The tee disassembles easily and can be wall-mounted on a single nail or peg. Bat and post along with two balls will fit into hanging base for small-space storage.
---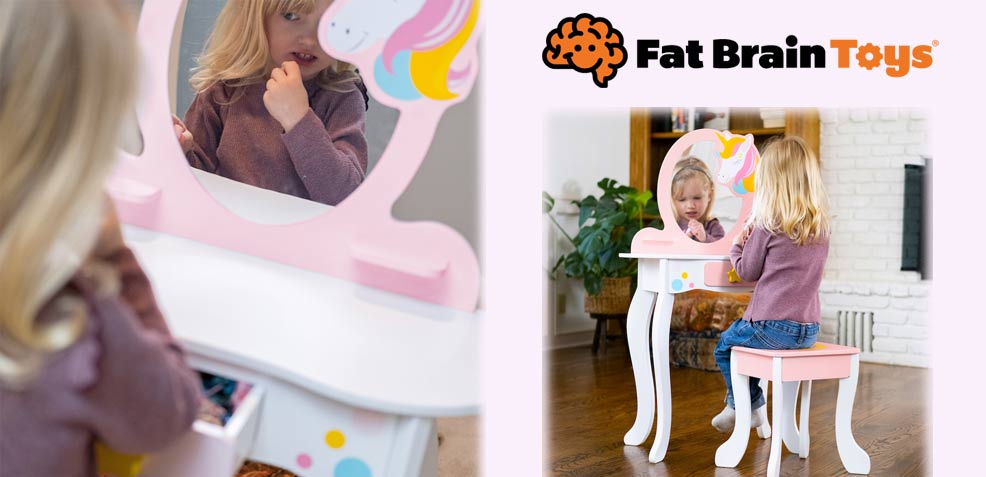 We love this new addition to the Fat Brain Toys arsenal of amazing baby and toddler toys! This vanity and stool set are perfect for supporting pretend play, with a big crystal-clear mirror, a matching stool, and a strong and sturdy design. We love the pastel color scheme, the unicorn design, high quality materials, and the working drawer. It's the perfect place to put in a hair brush, hair ties, sunglasses, and any other beauty supply your three year old girl might desire! Click the image to learn more.
---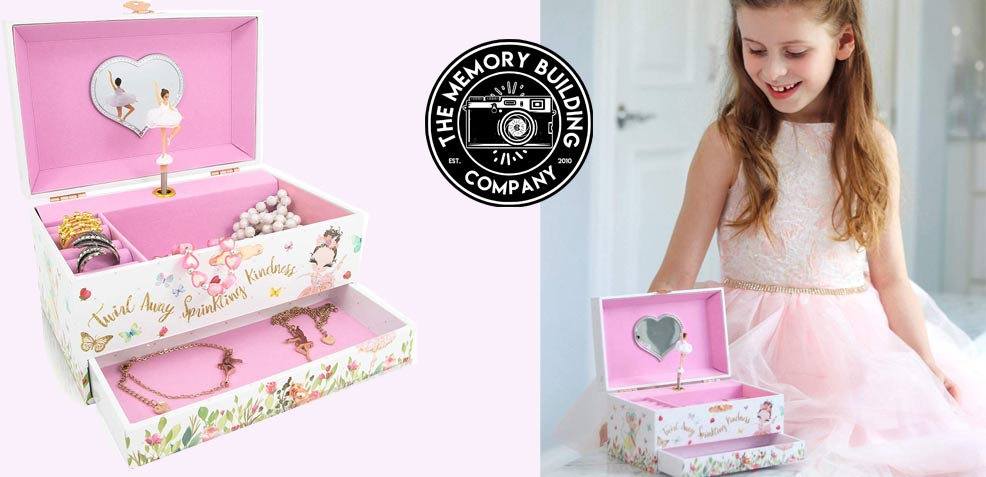 Whether it is a satiny hair ribbon or a glittery bracelet, three-year-old girls will begin to favor their precious treasures. This classic-style jewelry box from the Memory Building Company offers ample space for kids to keep their most special possessions. Made from pine fiberboard, this box is strikingly sturdier than cardboard competition. The best feature, however, is the delicate pirouetting ballerina perched on a turning spring. The Nutcracker's Waltz of the Flowers begins to play as soon as the box is opened. This box comes with a risk-free guarantee that the gift will last until the recipient is 18 years old, or it can be replaced at no charge. As a bonus, this gift includes a lovely, adjustable ballerina-charm bracelet and necklace set.
---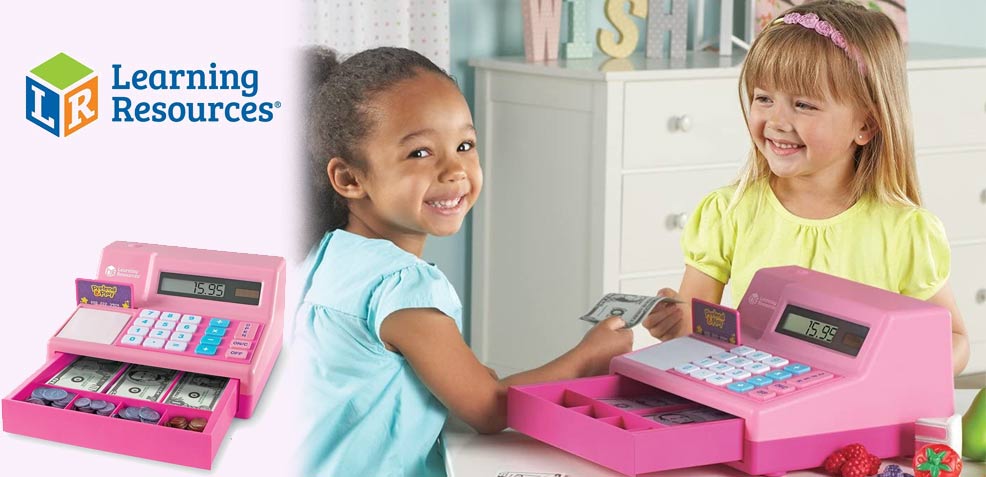 Develop early math and social skills with this pretend cash register from educational brand, Learning Resources. Kids can practice adding and subtracting numbers on the working, solar-powered calculator. The set comes with 30 actual-sized (USD) pretend bills, 40 plastic coins, a pretend credit card, and an activity guide. This Play Cash Register is an excellent addition to creative play time and kids will love the playful cha-ching sound when the cash drawer is popped open. For a cash register with a little more pizzazz, Learning Resources also offers a model with talking features and built-in learning games. Click the image to learn more.
---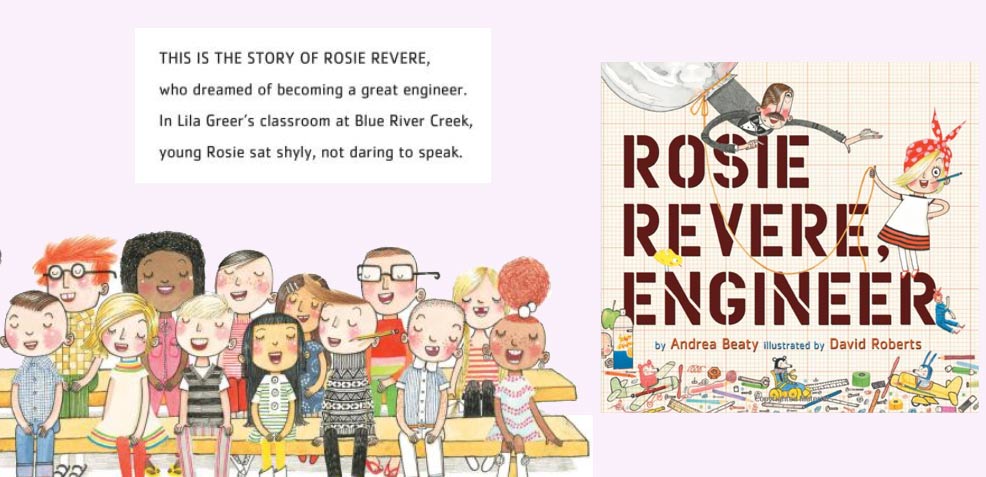 Three-year-old girls are learning self-reliance as they develop life skills like dressing and feeding themselves. They are also learning problem solving when they search for a favorite toy or repair a tumbled block tower. Fostering these traits can help little girls develop into strong, confident women. In Rosie Revere, Engineer, young Rosie is always trying to solve problems with her inventions despite not being taken seriously. This celebration of creativity and perseverance is told through rhyming text, which is perfect to engage little listeners at story time. Toddlers will love the charming, watercolor and ink illustrations while imagining their own inventions and grand adventures. Click the image to learn more, and also check out our list of the best baby books and toddler books of the year.
---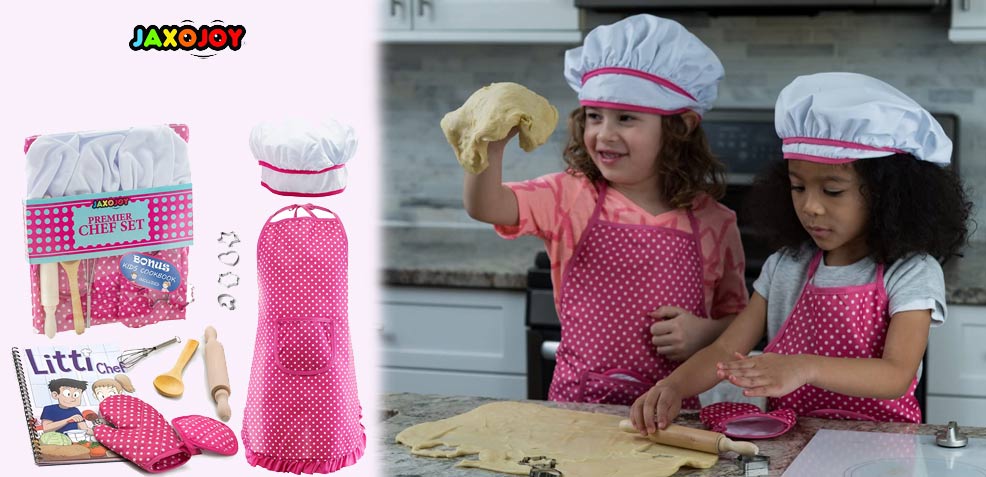 Three-year-old children love to be helpers. They want to explore and experiment, and the kitchen is a wonderful setting for getting messy and trying something new. This kids' Cooking and Baking Set comes with a kids' cookbook featuring ten recipes with illustrated, step-by-step instructions (of course, children will need adult assistance for safety in the kitchen). Kids will also get their own wooden spoon, whisk, rolling pin, cookie cutter set, and a chef's outfit complete with apron, oven mitt, and hat. The utensils are fully functional and can actually be used to cook and bake. The hat and apron align with CPSIA and ASTM standards, are machine washable, and are made to last with a sturdy material and reinforced edges. Click the image to learn more, and also check out our list of the best play kitchens!
---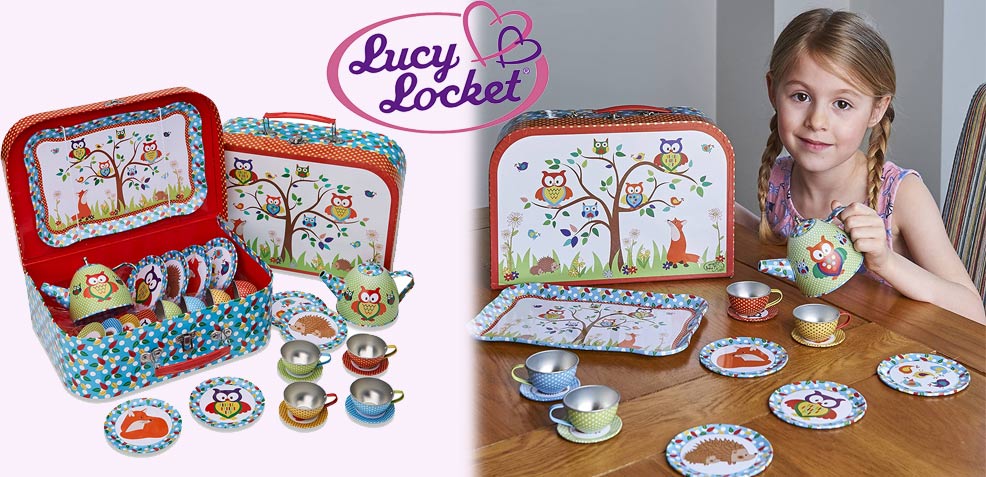 Teatime has never been more adorable! This 14 piece set will be an absolute hit at tea parties and teddy bear picnics alike. Each piece is well coordinated in this intricate woodland themed set with enough pieces to serve four friends. The set includes four saucers, four teacups, a tea pot with removable lid, a serving tray, and a matching case for storage. The cups, plates, pot, and tray are all made from durable printed metal. The storage case is made from laminated cardboard for solid protection that is still light enough for little hands to carry.
---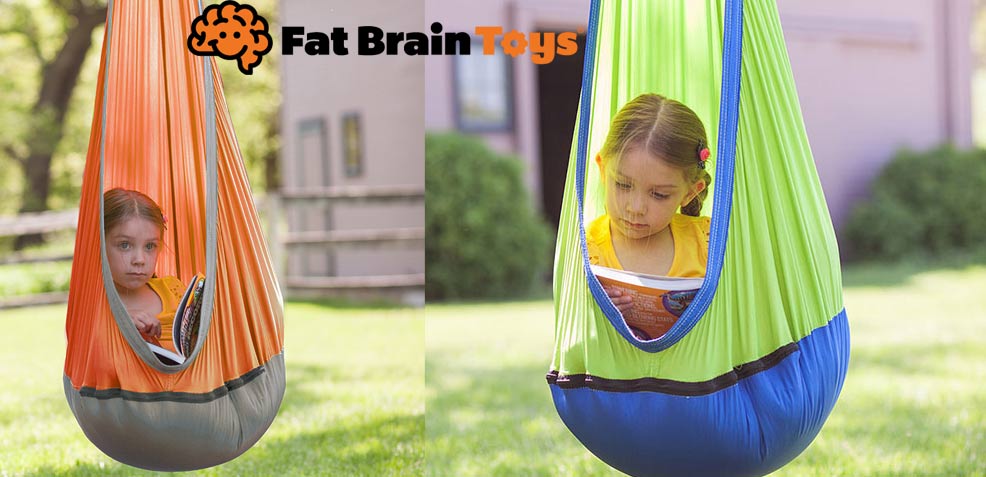 Three year old girls are learning some newfound independence, slowly transitioning from a terrible two-year old to a little girl who might appreciate some time alone with a favorite toy or picture book. This amazing sky nook can be used indoors or outdoors, and is a perfect cozy retreat for a little girl to find some privacy and quiet. The gentle swinging motion provides subtle proprioceptive input while also providing the comfort and security of a cozy little spot. Includes a pillow for the bottom and you can purchase a great strap for hanging indoors or outdoors. Strong stitching, great colors, high quality fabric, and a cozy little pillow make this an awesome gift! Click the image to learn more.
---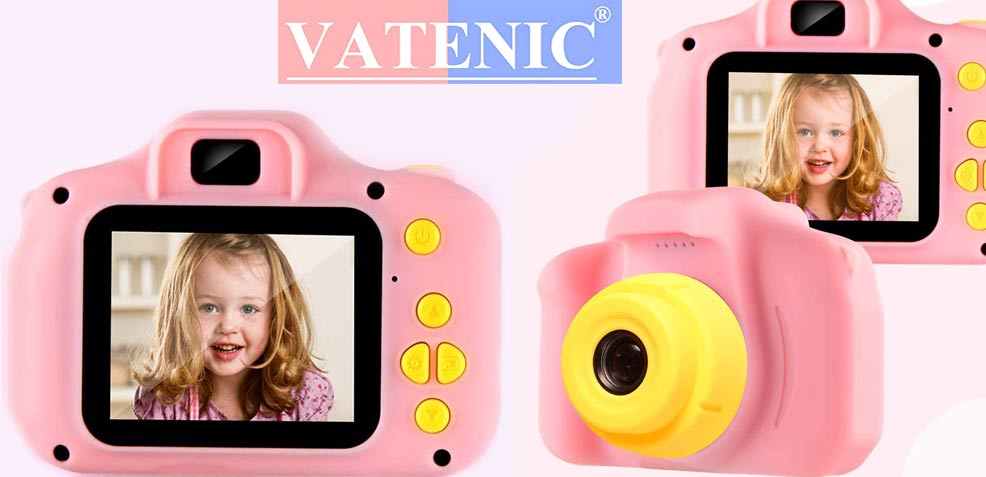 Modern children are accustomed to being in front of the camera (or smartphone lens). This kid-safe digital camera allows them to take a turn at the shutter button. This camera can take up to 1440x1080 pixel video, and with 5.0 mega pixels, the VATENIC camera offers great photo definition compared with other children's cameras on the market. Kids will quickly learn feature settings on the 2 inch color display, including photo/ video playback, games, and funny frames. The Kids' Camera is made from eco-friendly and non-toxic material, it is drop-resistant and durable to withstand toddler use, and it is small and light enough to be comfortable in little hands.
---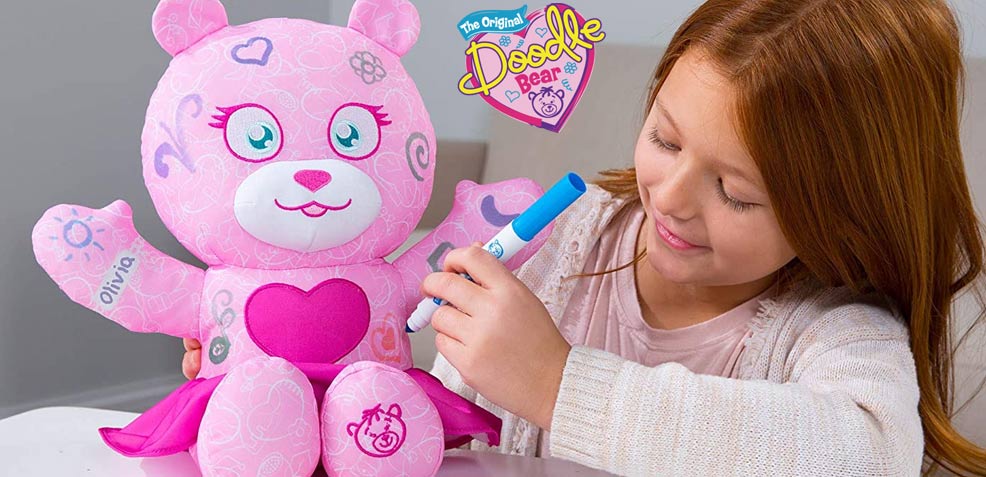 This 90s revival brings the fun with new characters and sizes. This artistic, plush friend comes with three washable markers. Doodle Bear loves to be colored and cuddled, so toddlers can have fun exploring designs and patterns to personalize their pals. When kids are ready to start a new colorful design, durable Doodle Bear is machine washable and dryable, and can be colored again and again. Modern Doodle Bear is also tech-savvy! The Doodle Bear Studio App allows kids to snap a picture of their creation, add stickers, and animate, for 21st century entertainment!
---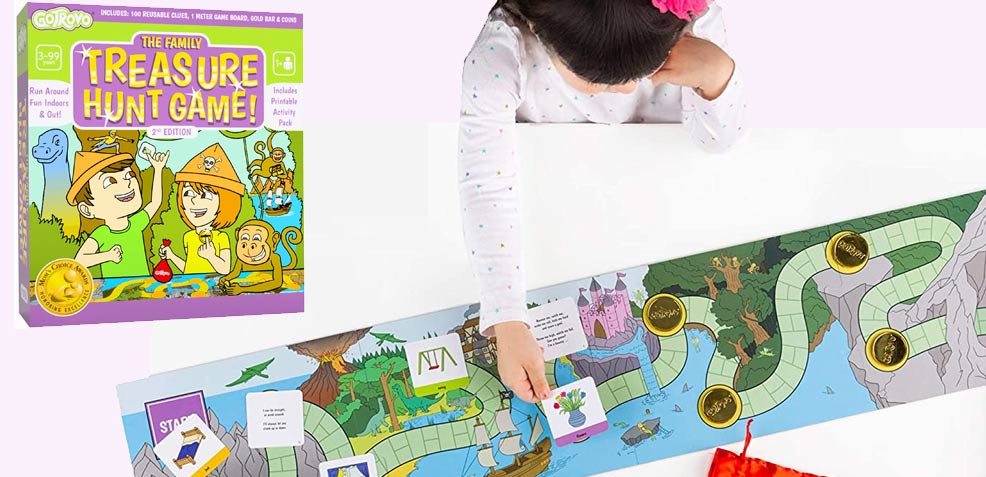 Screen-free time and adventure fun await with the Treasure Hunt Game by GoTrovo. This is no average "board game." The set comes with a laminated treasure map, treasure cards, clue cards, and blank cards for customized play. This game can be played over and over with new paths and treasures each time. The versatile treasure hunts can be set and followed both indoors and outdoors. Set up is simple enough for kids to manage, or grown-ups can help to add more clues and riddles to the hunt. Perfect for birthday parties, sleep overs, rainy days, or any day!
---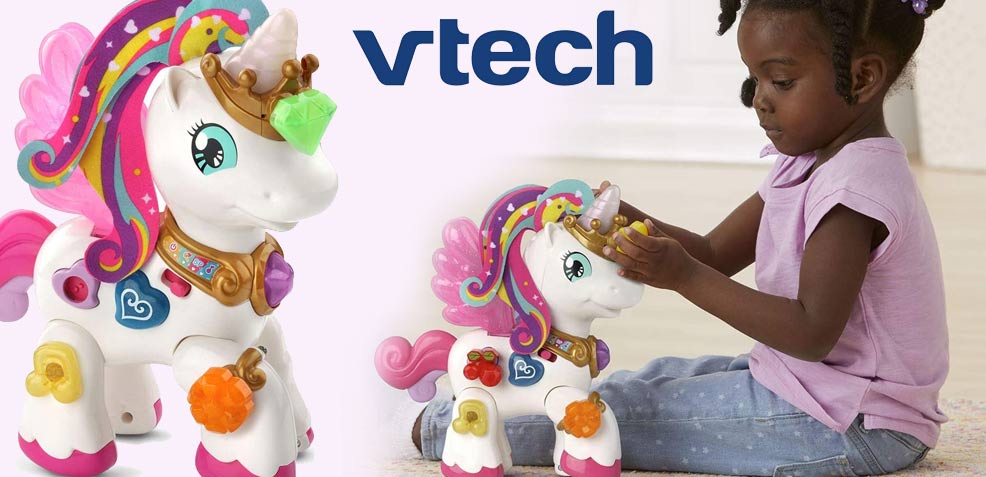 This interactive unicorn is ready to befriend a very special toddler. Starshine is more than a toy, she is an educational companion. Girls will love her bright colors and rainbow, light-up horn. With a squeeze of her magical tail, Starshine flaps her beautiful wings and says whimsical phrases to encourage imaginative play. Starshine comes with a set of seven shape charms. Girls can press the blue heart button to hear quiz questions and select the correct charm to answer. In music mode, Starshine plays a melody, and girls can use the charms to customize with sound effects. Bilingual mode lets kids explore Spanish words and phrases, as well as English.
---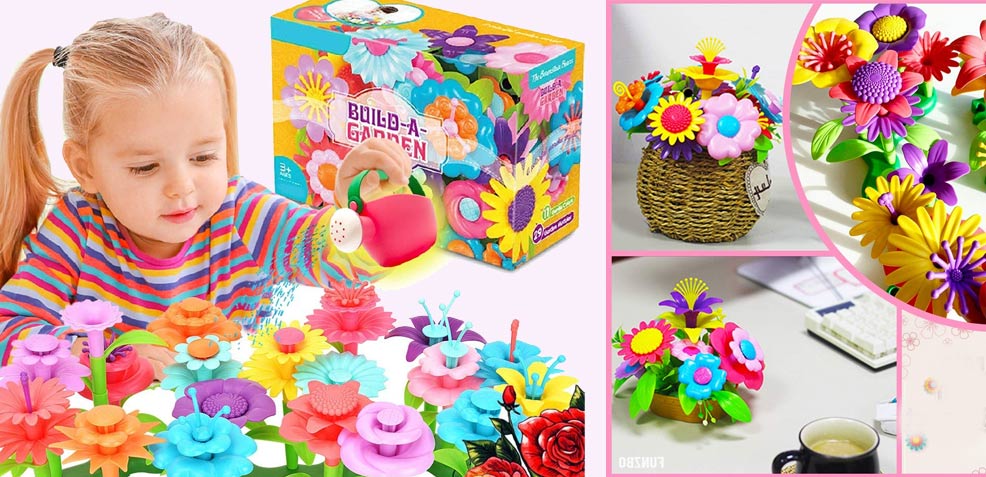 This toy really puts the STEM in flower stem! STEM toys encourage cognitive development in areas including Science, Technology, Engineering, and Mathematics. This 47 piece garden building set is made from high-quality, non-toxic, child-friendly materials designed to withstand lots of playtime. Structural pieces include bases, leaves, petals, pistils, and stamens in a myriad of vibrant colors, so children can learn about the parts of a flower as they design and build their garden scape. This set encourages color recognition, hand-eye coordination, and creativity through structure-developing play. Interchangeable pieces mean there are hundreds of possible combinations for endless garden building fun.
---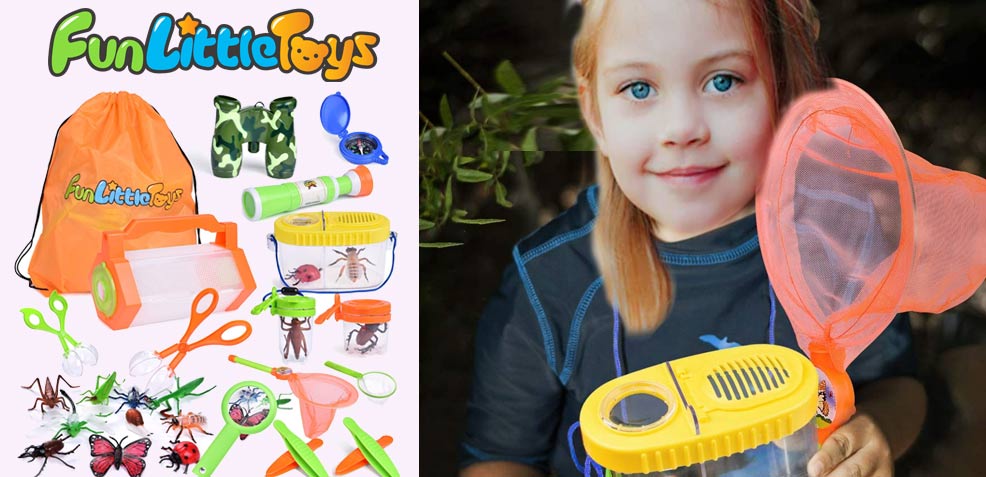 Children see the world from a vastly different perspective than adults. They are captivated by the magic and newness in experiences and encounters. Fluttering, crawling, and squirming bugs are intriguing creatures. The Bug Catcher Kit encourages kids' fascination with outdoor exploration. The kit includes four different-sized bug containers, two bug tongs, two bug tweezers, two insect traps, two butterfly nets, a compass, a magnifying glass, a toy telescope, and a pair of 4x power binoculars. All of the pieces store in the provided backpack for easy adventuring. For indoor use (or for timid toddlers) this kit also includes ten, realistic, pretend bugs for examination and play.