The Best Toys and Gifts for 3-Year Old Boys
These curated gift ideas are thrilling treasures for three-year-old boys.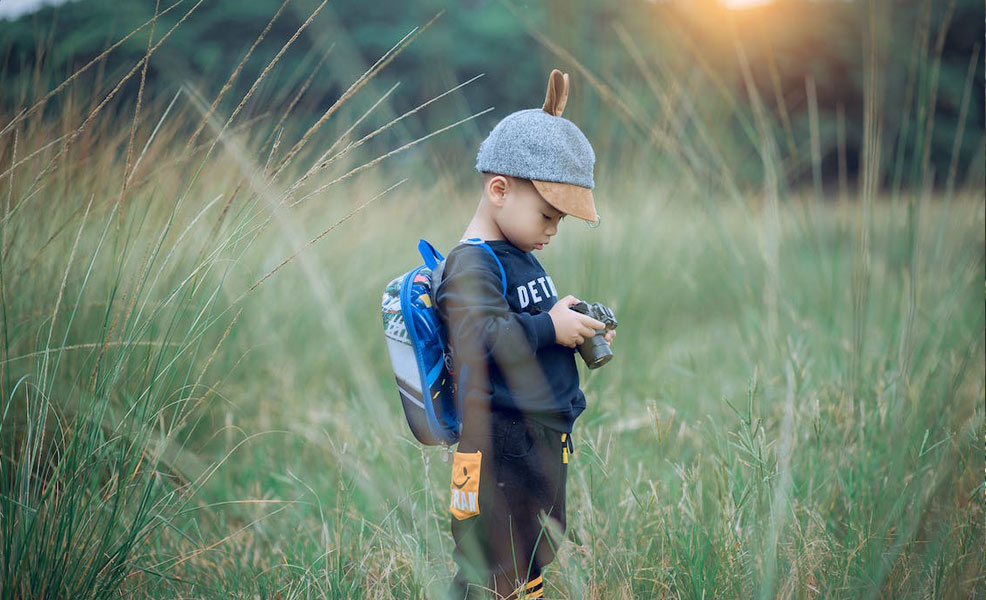 ---
Mommyhood101 independently tests and curates baby gear to help you make informed decisions. If you buy products through links on our site, we may earn a commission.
The best toys and gifts for 3-year-old boys engage their sense of wonder while stimulating their developing strength, motor, and cognitive skills. At this age, boys are learning self-expression and self-reliance. They are starting to make their own choices, and they relish in every new opportunity to do so.
Many three-year-old kids are familiar with the alphabet, have started counting and sorting objects, and are excited to dive into preschool and early learning subjects—this is especially true for those kids with school-age siblings to look up to.
All of these gifts and toys are time-tested, top-rated, and offer fun and durability for active boys!
Here are the Best Gifts for Three-Year Old Boys!
Click on an image to check prices at a major retailer.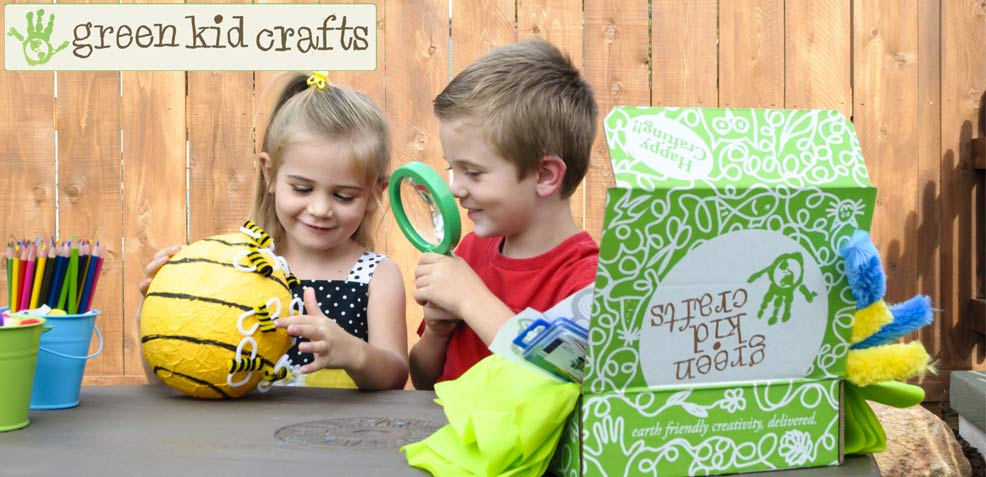 Here's a gift that keeps on giving - every month! What does it give? Each month, the box contains several arts and crafts projects that inspire creativity, problem-solving, and STEAM learning. Each discovery box is packed with 4 to 6 STEAM projects designed by an educator, award-winning activities chosen by families, and a learning magazine. Not only is everything very well-executed and high quality, it's also tons of fun! Each activity includes clear instructions and necessary materials (other than some household basics like water or scissors, as appropriate), and is made from green and eco-friendly materials that you can feel good about. Green Kid Crafts makes it easy to pick an appropriate box for the child's age, the duration of the subscription (1, 3, 6, or 12 months), and whether you would like to auto-renew at the end of the subscription period.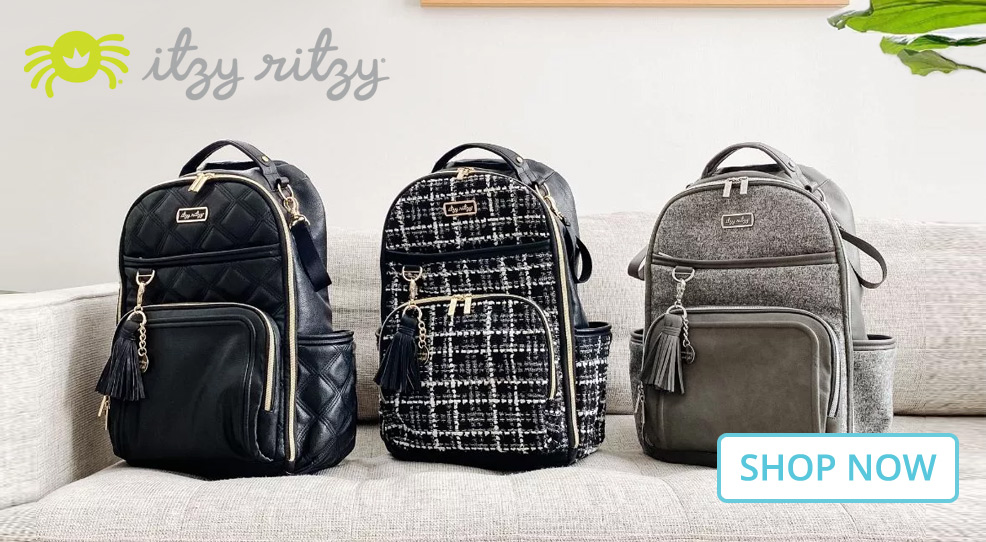 If you purchase an entire year, it's only about 20 bucks per month, which is a great deal given the quality and quantity of activities in each box. There's not much better than a gift that changes to something new each month, and keeps reminding the kids that they're loved by a special someone!
---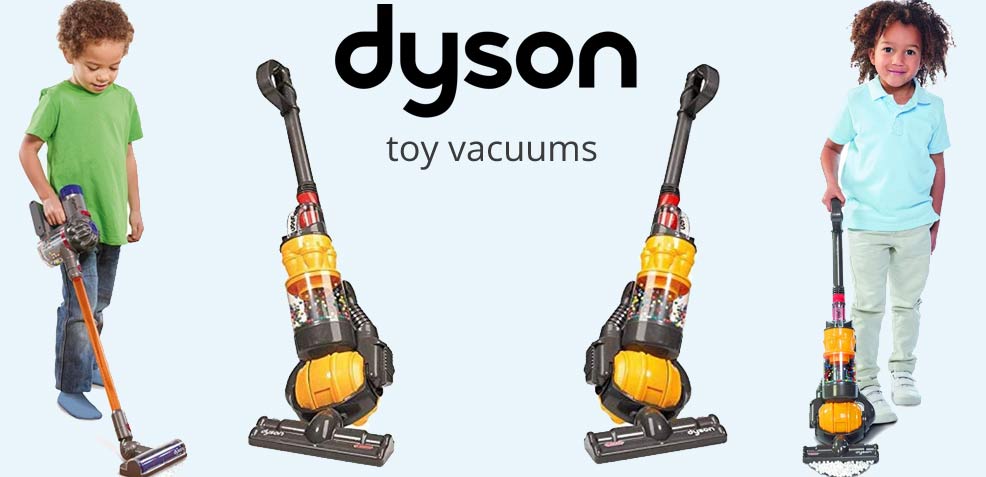 In infancy, some babies are soothed by vacuum sounds. By age three, many babies are fascinated by these big, noisy machines. Imitation is one way children learn. They love to role-play and copy mom, dad, and other caregivers as they zoom about with the vacuum cleaner. There are two varieties - the smaller rechargeable Dyson handheld vacuum replica, and the famous Dyson Ball replica, both look just like the iconic model. Weighing only a couple pounds and running on 4 x C batteries this toy vacuum has working suction and will actually pick-up small bits of paper into the removable debris drawer. Colorful beads in the clear chamber spin around to simulate the cyclone action, and kids will easily maneuver this perfectly-sized machine with realistic twist and turn action. A great, sensory-friendly activity for boys that not only teaches them an important skill but is tons of fun and gets out a lot of physical energy! Be sure to also check out our full reviews of the best sensory toys for babies and toddlers!
---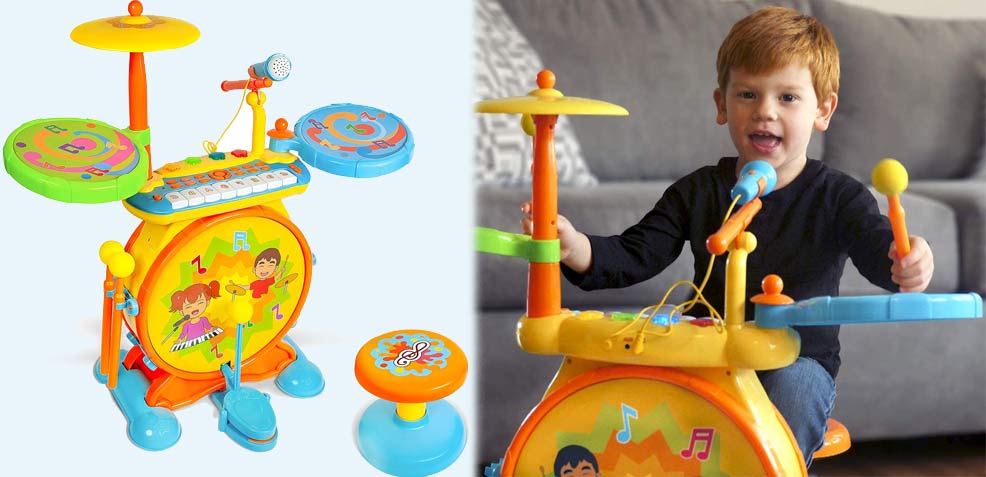 This set is an all-in-one band for musical expression, auditory development, and hand-eye coordination growth. On-board instruments include a labeled electric keyboard, a drum set with a cymbal, and a working microphone. Kids can practice rhythm while playing with built-in musical sounds, record and replay function, demo and play-along modes, plus 16 levels of adjustable volume. Toonit also features an MP3 connection and cable so kids can play and sing along to their favorite music. This full kit includes light-up elements for visual stimulation, and four instructional song cards introduce music literacy.
---
Support STEM learning with the Code 'n Learn Kinderbot. This friendly, interactive robot features three ways to play including free coding, learning challenges, and "secret codes" to help kids learn colors, shapes, early math, and more. Kids can use the direction buttons atop Kinderbot's head to "code" where Kinderbot goes. Colorful lights flash to correspond with different codes and actions. Four machine shape accessories give kids hands-on activity time to explore cause and effect, greater than and less than, and more while Kinderbot gives instructions. Kinderbot's challenges grow in difficulty after each success, so children continue to develop proficiencies.
---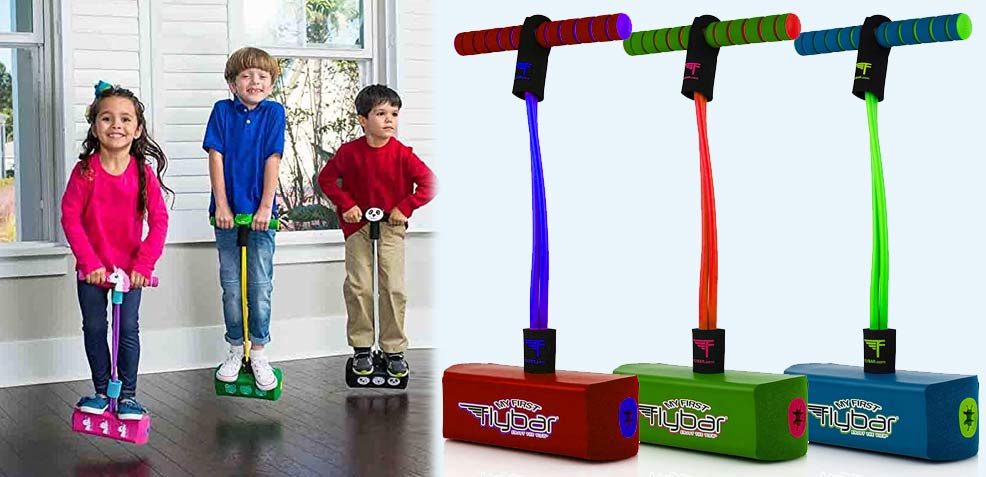 Three-year-old boys have a lot of energy, which can lead to a lot of jumping… on the bed, on the sofa, and anywhere else with good spring action. The Foam Pogo Jumper gives kids a safer outlet for all of their jumping. This jumping toy is designed for both indoor and outdoor use. Flybar is made from high-quality, durable foam; so, it can withstand all conditions and will not scratch floors. Kids will get a kick out of the fun, squeak noise with every bounce, and they will develop motor and balance skills while exercising during playtime!
---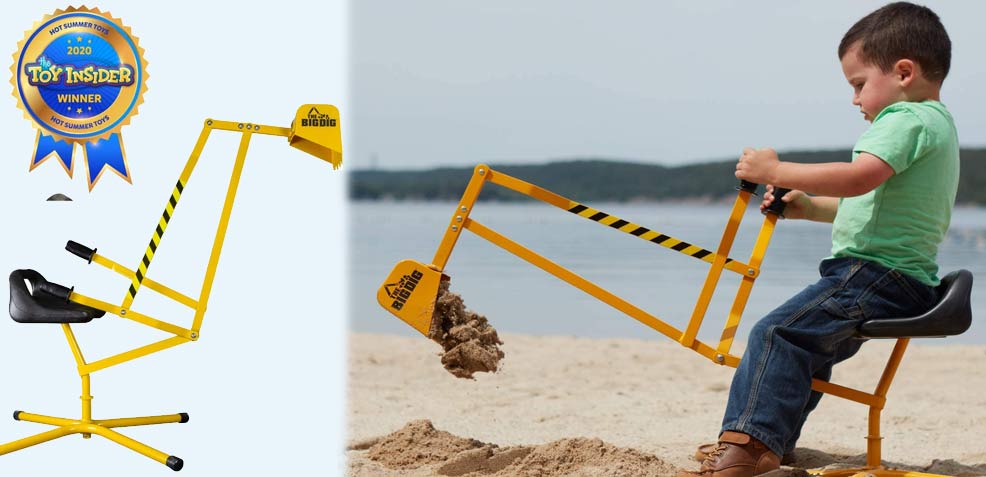 This toy takes sandbox play to a whole new level. A 2020 Winner of Toy Insider's Hot Summer Toys Award, The Big Dig offers load after load of fun. Construction toys help develop fine motor skills; enhance visual-spatial skills; stimulate logic, reasoning and problem-solving skills; and encourage imaginative role play. Kids will love scooping and dumping dirt and sand all over with The Big Dig's 360 degree swivel action. The Big Dig can reach 33" when crane arm is fully extended, and kids can dig holes up to 15" deep. A wide base, contoured seat, and sturdy metal design make this toy stable and durable, and The Big Dig can hold up to 110 lbs. From the back yard sandbox to a beach vacation, this toy will have kids fully engaged in outdoor play. Looking for more? Check out our reviews of the best outdoor toys for kids!
---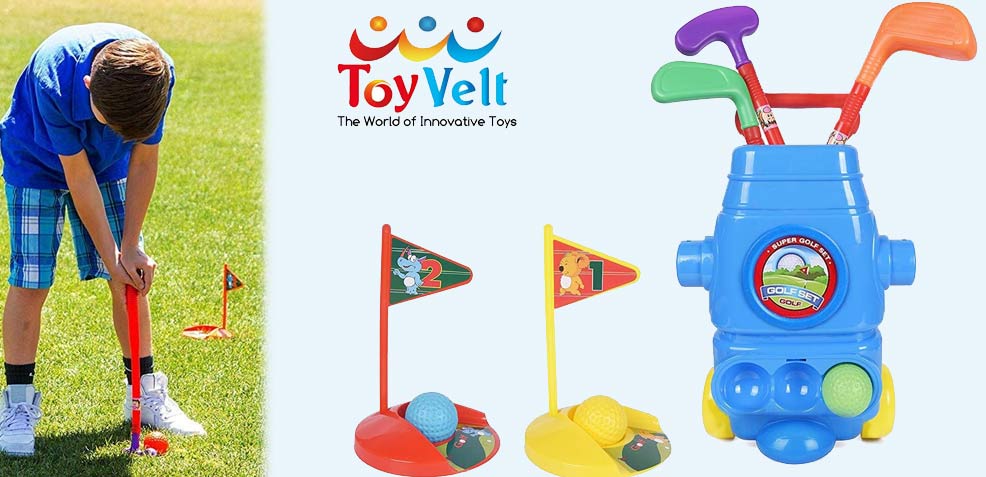 Golf is a game of judgment and skill, and kids will need to practice concentration, patience, and manners while playing. The Golf Club Set from Toyvelt includes a wheeled cart with three clubs in various shapes and sizes, three golf balls, and two practice halls with flags. The cart features an ergonomic handle for easy transport. All elements of this set are perfectly sized for kids to use with good posture. This set is crafted from high-quality, non-toxic material designed to be both lightweight and durable for safety and ease-of-use. Kids can use this set outdoors or practice inside on a rainy day.
---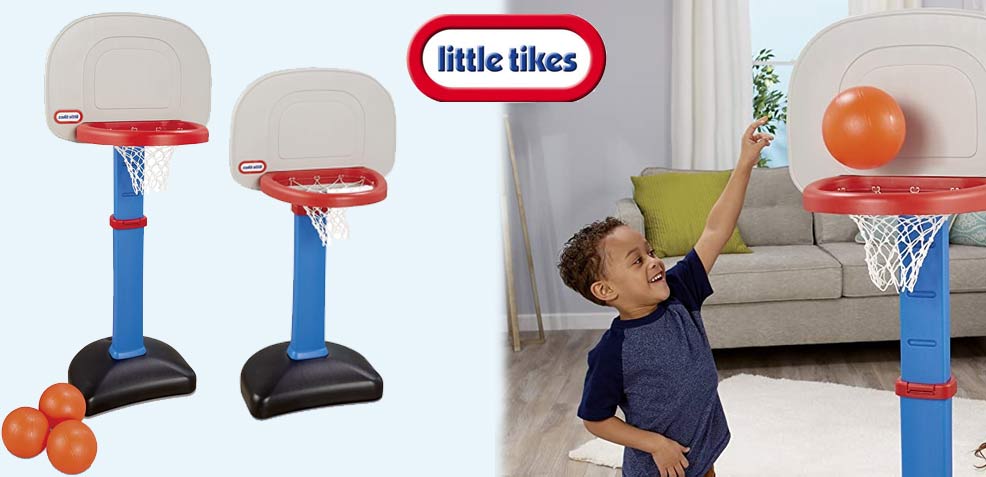 The Easy Score Basketball hoop and ball set gets kids up and moving for a healthy, active playtime. Designed to grow with children, this hoop expands from 2.5 to 4 feet in height. Aiming for the hoop will help develop balance and hand-eye coordination, and the oversized rim and a kid-sized basketballs support self-confidence while ensuring baskets are easier to make. To further stabilize this hoop and avoid tipping, sand (not included) can be added into the base before playtime. This set is perfect for either indoor or outdoor use and can support both independent play and taking turns.
---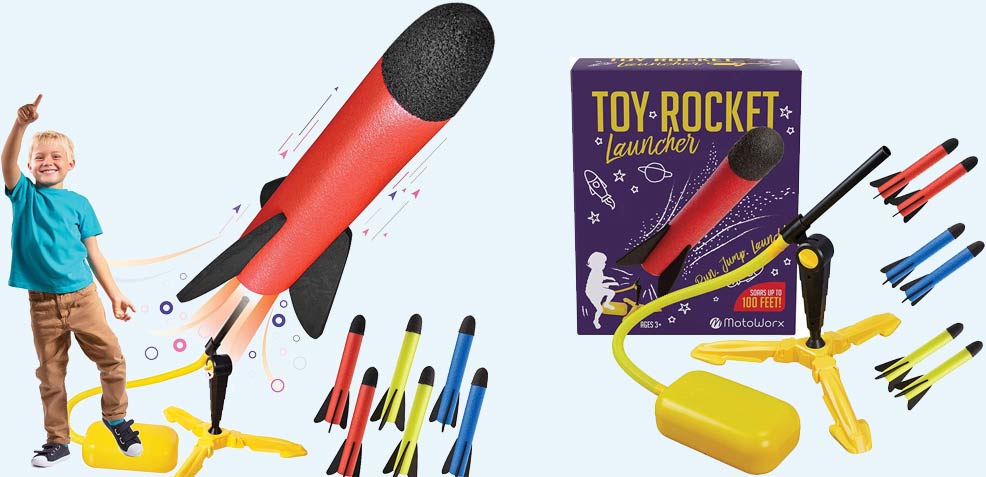 Kids can jump and shoot for the moon with colorful, foam rockets launching into the sky. Kids will willingly look away from TV and tablet screens to get outside and play with these electronics-free toys. The set includes eight full foam rockets in three fun colors plus a durable, folding yellow stand. Little boys can put their excess energy into jumping onto the launch pad to send rockets soaring high. The foam fliers can ascend as high as 100 feet. As an educational bonus, kids will be introduced to STEM concepts as they play and explore with angle adjustments, jump force, and flight trajectories.
---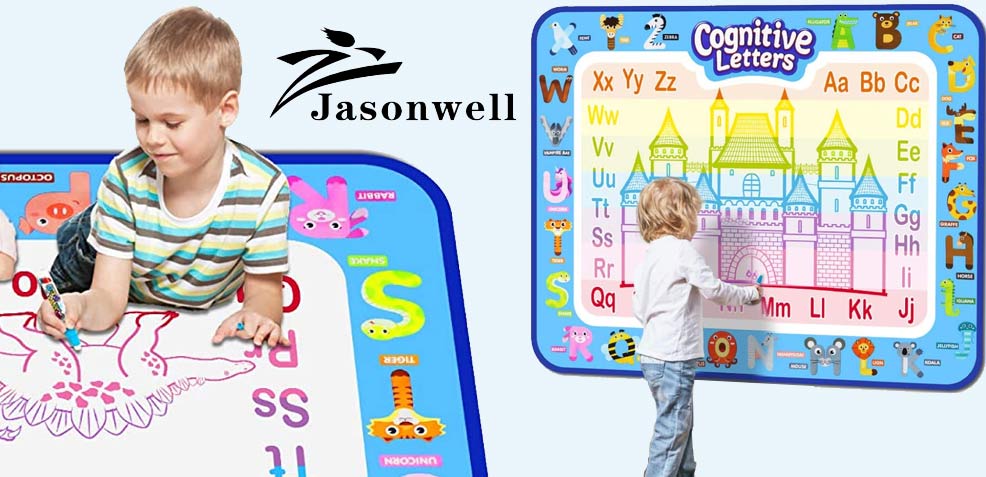 Trying to balance creative and artistic expression with keeping a clean house can be a challenge. Engaging three-year-old kids in tracing and drawing is excellent for growing fine motor skills, shape identification, and cause and effect. The Aqua Magic Doodle Mat lets kids explore freely with absolutely no mess! The secret is in the water-filled pens which react to reveal rainbow colors on the Magic Doodle Mat. There are no inks, no paints, and no harmful chemicals involved. Drawings magically disappear after 3-10 minutes, so kids will always have space to draw—no more running out of paper! In addition to the magic water pens, the mat includes letters for tracing, stencils, and stamps. Kids can lay flat to draw or use the four included suction cups to mount the mat onto a wall or window. The mat folds down for compact storage.
---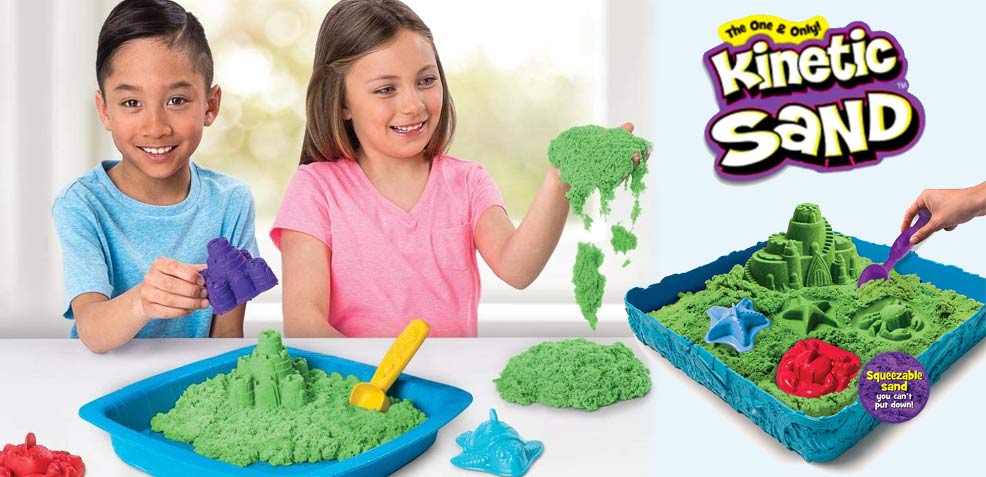 Endless fun for sensory exploration! Kinetic Sand is a solid that acts like a liquid. It feels cool to the touch, firms up when squished, and then it magically melts and flows like liquid—but kids' hands will stay completely dry. This play sand only sticks to itself, so clothes stay clean. Kinetic Sand can be sculpted into sandcastles and other beachy shapes using the three included plastic molds. This fun substance is safe and hypoallergenic, made with beach sand and non-toxic polymers. It comes with a handy tray for playtime, and unlike modeling clay, Kinetic Sand never dries out; so, it can be molded and refreshed over and again.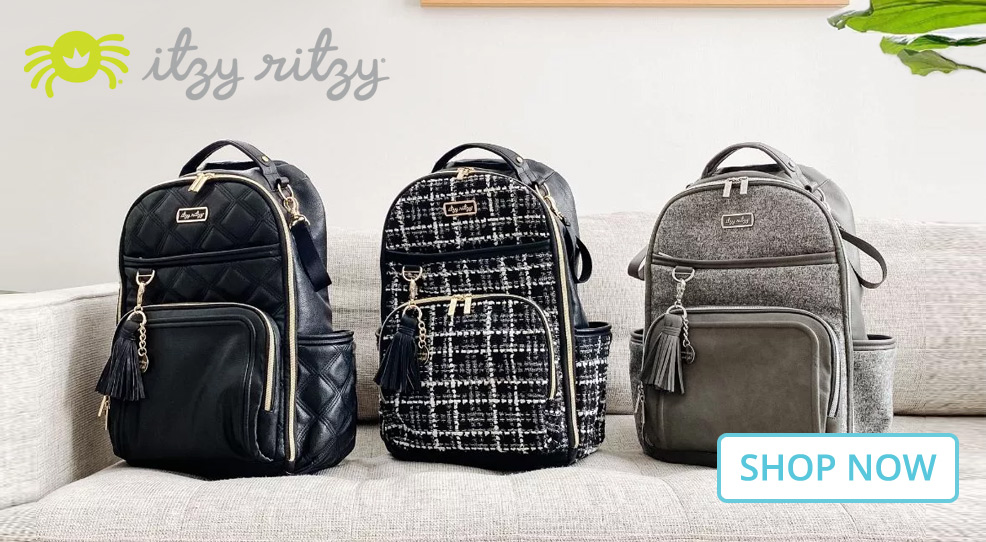 Kinetic makes an amazing sensory toy and is an awesome way to get some of that sandy beach experience in the middle of winter!
---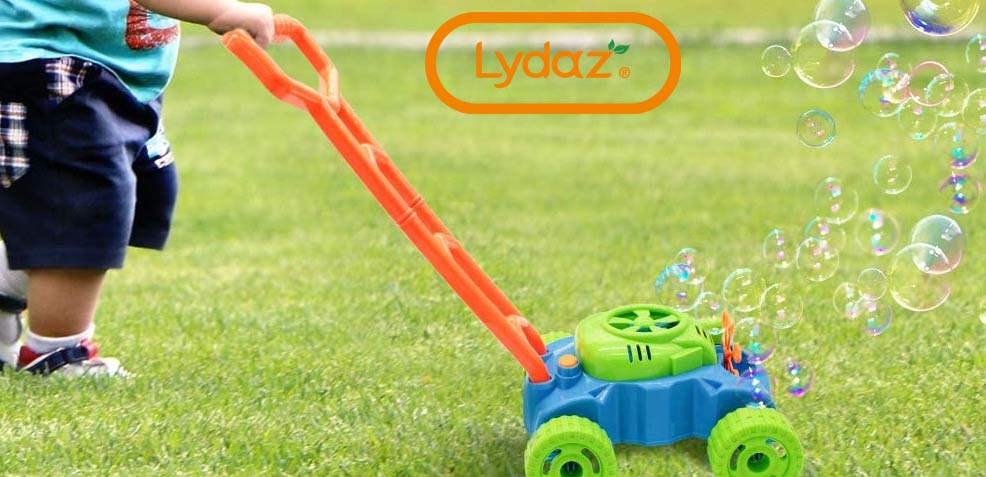 All yardwork can be made more fun with bubbles! The Lydaz Bubble Blower Machine is a modern model for the classic bubble mower. This push mower uses 3 AA batteries to make realistic engine and gear sounds while kids play gardening. The electronic, fan-activated bubble machine blasts and blows bubbles through the air. The push handle is flexible, and the wheels turn well on grass or concrete paths, so this toy can bring fun to the garden, the park, and the sidewalks in between. The mower also comes with three bottles of bubble solution and three hand wands.
---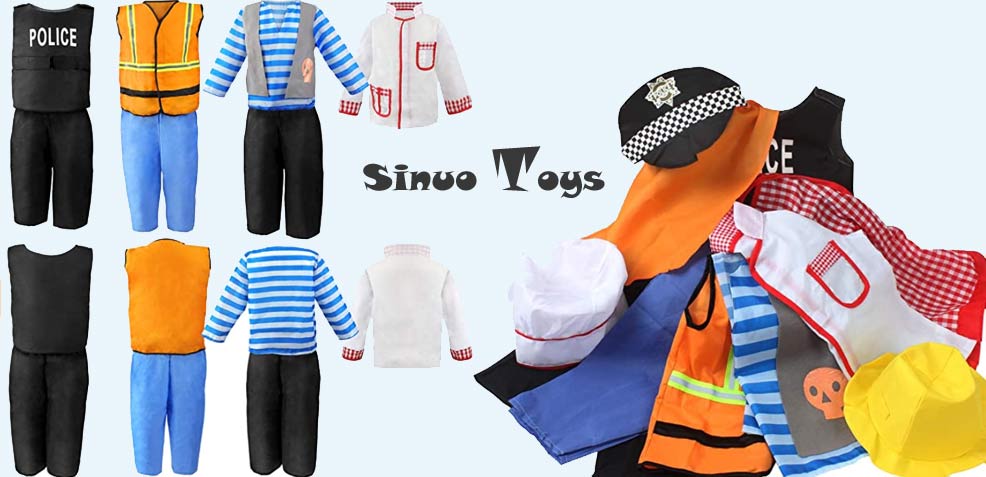 Creative play time allows little boys space to explore and imagine. With this dress up trunk, boys can role play one of four included multi-piece costumes—pirate, chef, construction worker, and police officer—or they can mix and match to develop their own character (maybe the best chef on the seven seas)! All of the costume pants have elastic waist bands for comfort, and these one-size ensembles fit most kids ages three to six. Made from high-quality dress-up material, these costumes can be machine washed with detergent, though the manufacturer recommends air drying for extended longevity.
---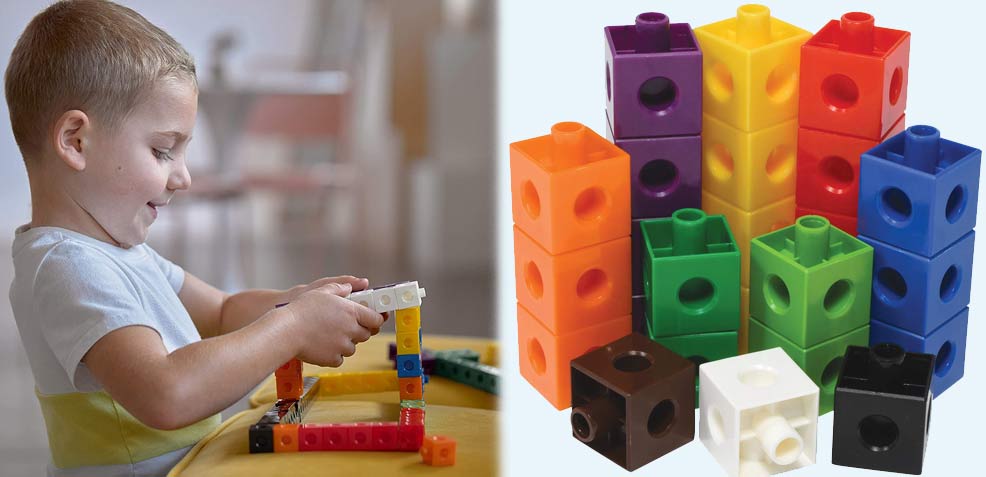 At three years old, children are natural sorters, and simple math concepts such as counting, construction, and problem solving are easy to add into play time with Linking Cubes from Edx. These cubes are made from durable, thick plastic. They snap together with an easy "click" and come apart with a soft "pop," making them ideal for creative play and fine motor development. These cubes are larger than some other construction cubes, so they are easier for small hands to manipulate. Kids can link cubes on all six sides to build and design patterns that grow in every direction.
---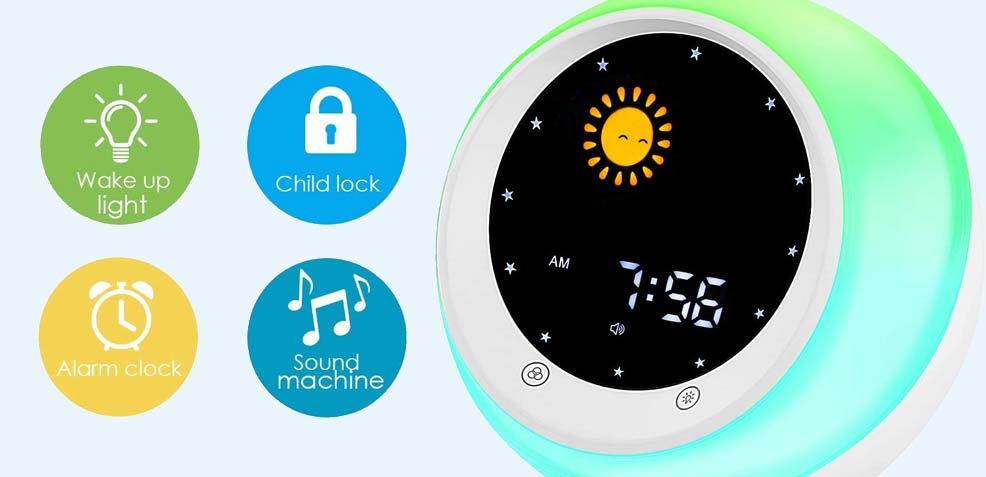 At three years old, kids have graduated from a crib to a toddler bed. For most children, this means an increased sense of freedom. Since time-telling is a few years off, the Sun & Moon Rise Kids Alarm Clock helps kids know when it is sleep time and when it is time to wake for the day. Soft nighttime lighting is designed to help kids feel safe when asleep in the dark, and a sleep sound machine feature includes 17 soothing sounds to encourage deep, restful sleep. At night or nap time, the clock screen displays the time and a moon graphic, so kids know it is still sleep time. When the happy sun icon lights up the screen, it is time to rise and shine!
---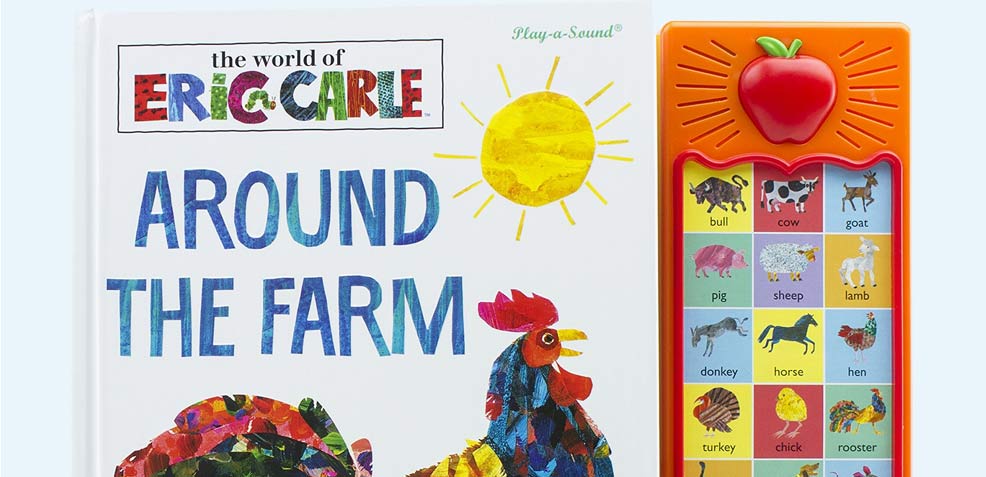 The fantastically artistic world of Eric Carle meets tactile and auditory sensory fun in this engaging, 30-button sound book. Multisensory reading experiences stimulate the imaginations of young readers as they follow along and press corresponding image buttons to hear animal noises and other sounds. This 24 page book features an amazing amount of animals, beautifully illustrated in Eric Carle's distinct style, including the favored Very Hungry Caterpillar. Children bond and develop cognitive and language skills during story time, and the bright colors and entertaining sound effects will make this book a family favorite. Want to see more? Check out our full list of the best baby books!