Winter Baby Clothes: How to Layer and Prepare for Cold
Baby, it's cold outside! How to layer your baby's clothes to keep them warm and comfy.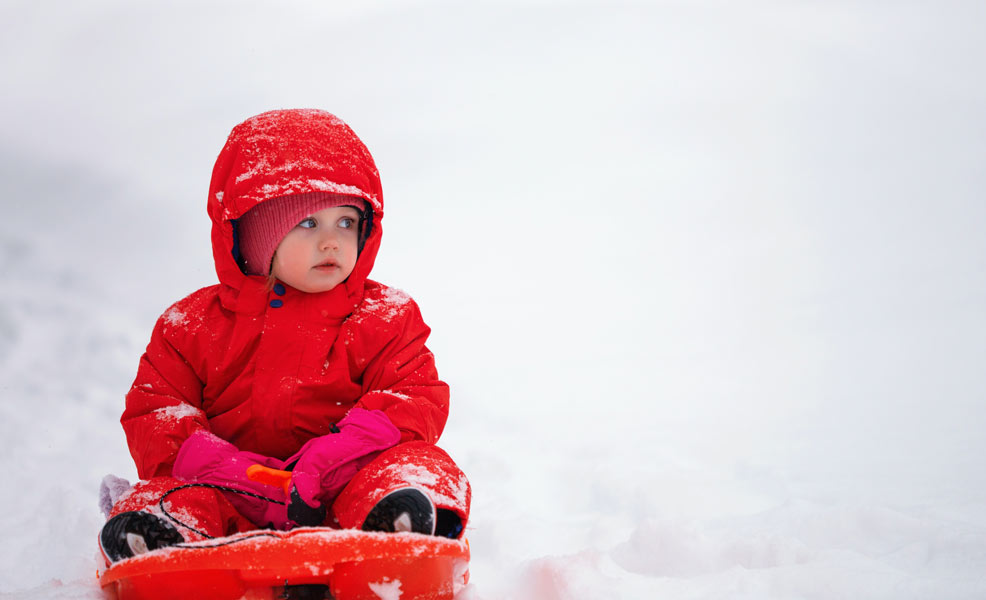 ---
Mommyhood101 independently tests and curates baby gear to help you make informed decisions. If you buy products through links on our site, we may earn a commission.
Dropping temperatures generally motivate more indoor activities like snuggly pajamas and warm cocoa.
However, the outdoors are not always off limits through late fall and winter, and a little fresh air is always great for health and mood.
Is it too cold outside for my baby?
Many parents want to escape the house and even bring their baby to winter sports activities such as sledding, skiing, showshoeing, and more.
Before venturing outside with infants and toddlers, be sure to check the current forecast and keep track of length of time spent in the cold weather. If temperatures are expected to remain above freezing (32 degrees Fahrenheit), some outside playtime or a relaxing stroll are great ways to enjoy the season. For colder days, below freezing, a quick walk or limited backyard playtime is recommended, and if temperatures drop below 20 degrees Fahrenheit, consider staying indoors, if possible.
How many layers to put on my baby?
Since infants and toddlers cannot specifically articulate their level of comfort in cold weather, a helpful clothing guideline recommends dressing children in one additional layer of clothing than an adult would wear in the same cold weather conditions. If you are walking on a brisk autumn afternoon, wearing comfy pants, a light shirt, and a fleece sweatshirt, consider adding a thick jacket outer layer (and a hat, of course!) to maintain baby's body heat.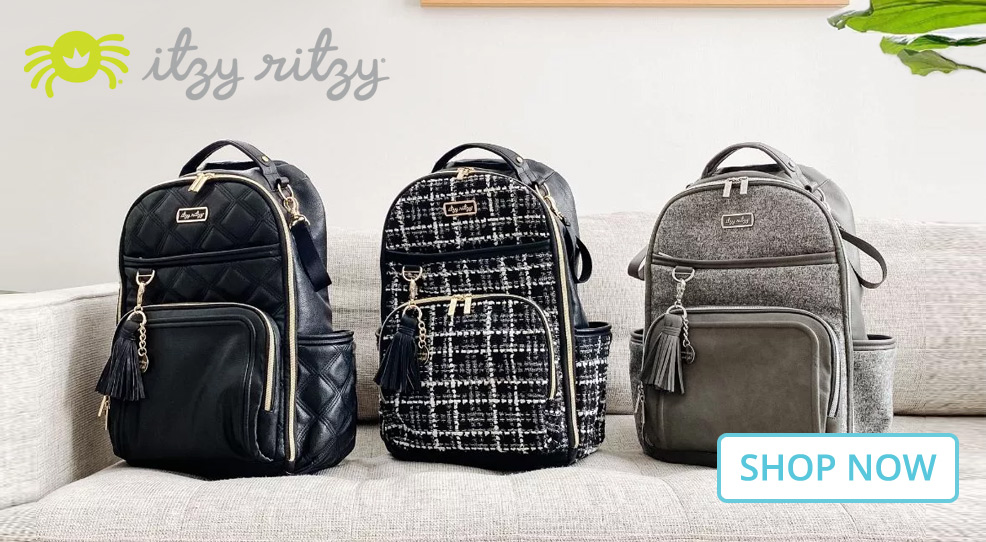 To help you and your baby stay warm while outdoors, we strongly suggest investing in one of the best baby carriers or best baby wraps on the market, particularly soft-structured carriers and wraps with fabrics designed to insulate during the colder months.
Tip: Dress your baby in whatever you're wearing, plus one additional layer!
Good cold weather layers for baby?
Strategic layering offers both safety and convenience when dressing children cold weather. While the process may seem daunting or confusing, with a little practice—as with many new parenting adventures—the layering system will become second-nature. Here is a helpful layer guide for reference:
Base Layer: The first layer of clothing is worn closest to skin. The base layer's job is to wick away moisture and sweat. Base layers should fit snugly and should not retain moisture; for this reason, cotton does not make a good base layer. Cotton is absorbent, but does not disperse moisture, so wetness will be held next to cold skin, ultimately cooling the body. Fabric for cold weather base layers should be quick-drying synthetic or wool. Merino wool is an excellent option given its softness, high breathability, durability, and warm. There are some great organic wool footed base layer options, including these Organic Sleep and Play Footie Pajamas that make a fantastic base layer.

Inner Layer: This middle layer traps warmth over the base layer. Standard mid layers include wool and fleece choices such as sweaters, sweatshirts, a thin jacket, and sweatpants. Selecting windproof inner layers can double the impact of this clothing.
Insulation Layer: The insulation layer is the powerhouse for warmth. This layer is thick and substantial. Insulation layer options may include a puffy or down jacket, snow pants, or snow suit. As children quickly lose heat through their heads, consider selecting an insulation layer that includes a hood for added head protection. One of our favorites is made by Columbia, which is an amazing bunting insulation layer baby snowsuit that includes covers for hands and feet and an adorable hood.

Shell Layer: The purpose of the shell layer is to protect against external moisture. This layer is weather resistant and/or waterproof to withstand precipitation and snow-play.
Tip: The Insulation and Shell layers can be combined by selecting a thick, water-resistant/ waterproof coat (such as many ski-jacket options).
Protecting Baby's Head, Feet, and Hands!
In addition to heat loss through their heads, infants and toddlers are highly susceptible to cold weather damage on their fingers, toes, ears, and cheeks (see a statement from the Mayo Clinic here). Parents should include mittens, socks, and hats in winter bundling. Thick socks can be layered over footed pajamas to reinforce insulation. Hats with ear flaps offer protection for babies' ears and face.
Baby Clothes and Car Seat Safety
Layering clothing creates an easy system to both add and remove articles when weather changes. The layering system also facilitates safer winter travel in car seats (whether in infant car seats or convertible car seats). One of the most common car seat safety mistakes is putting your baby into the car seat with thick outer layers. In the event of a crash, that thickly insulated winter coat will immediately flatten and there's a risk that your baby can then slip right out of the shoulder harness.
Car seat harnesses should always fit snugly to babies' bodies to protect them through travel and in the case of an accident. Parents should not loosen harness straps to fit bulky outerwear as this can leave space for babies to slip through the harness. The American Academy of Pediatrics recommends parents test car seat harness tightness by pinching the straps, "If you can pinch the straps of the car seat harness, then it needs to be tightened to fit snugly against your child's chest." By removing the bulky outer layers before buckling, babies will still have their base and inner layers to keep warm. Once babies are secured in their seats, parents can add blankets over the harness.
Skin Protection for Babies
Once babies are bundled in layers, parents can protect remaining exposed skin on the face and mouth with infant safe balm. Many brands make gentle and fragrance-free options, and these tend to the same brands that also make excellent diaper balms and nipple balms. Apply especially to lips, cheeks, and noses to create a barrier against cold and wind. We love the baby balm made by era organics, highly recommended!

Watch for Cold Weather Safety Concerns
Concerns for both frostbite and hypothermia form many clothing and activity guidelines for babies and children. Any symptoms of these painful and potentially life-threatening conditions should be taken seriously and addressed immediately. If you think there is any risk of frostbite or hypothermia, contact your doctor immediately.
Frostbite: Lengthy exposure to cold temperatures can literally freeze skin tissue. The Mayo Clinic outlines progressing stages of frostbite as frostnip, superficial-, and deep-frostbite, with a recommendation to seek medical attention for superficial and deep signs and symptoms.
Frostnip: Redness in the affected area, some pain and tingling when skin is warmed.
Superficial frostbite: Redness in affected area turns pale or white. The skin pigment may be blotchy. Skin may blister 12-36 hours after skin is warmed.
Deep frostbite: Dying skin tissue turns from white to blue-gray and then black. Large blisters may form 24-48 hours after skin is warmed.
Hypothermia: Children's small bodies lose heat faster than adults. When body temperatures cannot compete with external cold, internal organs are impacted and the condition can become life-threatening. Suspected hypothermia symptoms require immediate medical attention. Signs may include: Shivering, Slow shallow breathing, Weak pulse, Drowsiness, Loss of consciousness, and/or Bright red cold skin (in infants).
Weather advisories and resources and advice from medical professionals are invaluable to supporting winter safety for babies. Parents should consider packing backup mittens and socks—as these items may get wet or lost—and whenever possible, plan ahead to make extra time for double-checking layers and warming up the car.