The Best Toys and Gifts for 1-Year Old Boys
These curated gift ideas make the perfect holiday or birthday surprise for your little toddler!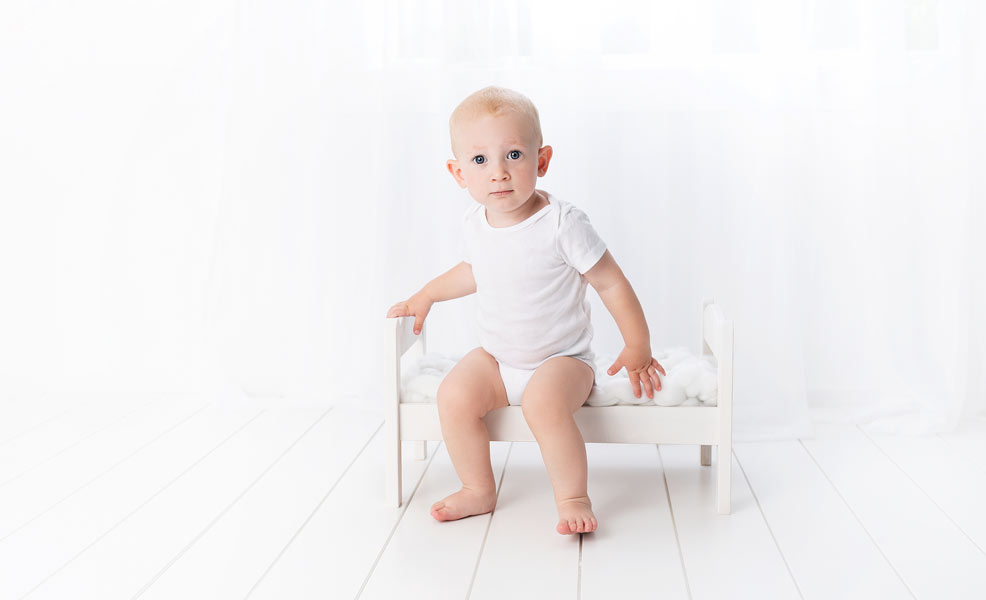 ---
Mommyhood101 independently tests and curates baby gear to help you make informed decisions. If you buy products through links on our site, we may earn a commission.
Babies change a lot in their first year of life. Each day holds new adventures and new milestones.
When searching for the best toys and gifts for 1-year-old boys, it is best to reflect on those milestones and developments and find gifts that complement baby's new skills and interests. Some of the best gift ideas will engage baby's newfound mobility, sensory development, and feeding time fun!
Below you will find our top gift ideas for baby boys. Our picks include top rated clothes, gear, and toys, perfect for new little bundles of joy. These are intended to complement some of the obvious essentials, which you can find on our lists of the best baby gates, best organic baby foods, and best convertible car seats. Many of these products come in baby blue as well as neutral and primary color options for variety.
Here are the Best Gifts for One-Year Old Baby Boys!
Click on an image to check prices at a major retailer.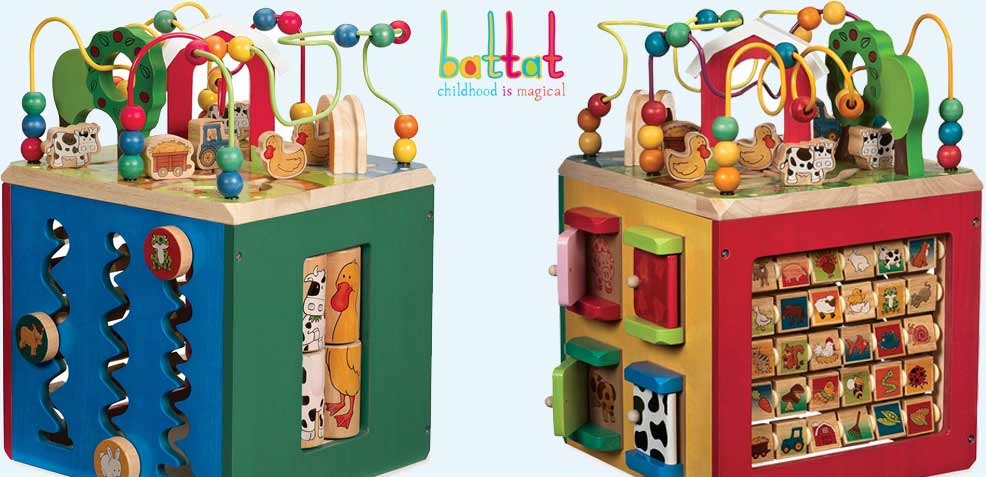 There are two very popular wooden activity models, one made by B.Zany and the other (this one) made by Battat. Both are very high quality, tons of fun, and reasonably priced. The Battat activity cube is perfect for one-year olds because it can be fully accessed from a sitting or standing position, or placed on a small table. Run the beads along the sturdy wire maze, spin and match the animals, open and close the doors to reveal animal friends, and figure out how gravity works as the bunny rabbit zig-zags up and down the side. This wooden activity cube is always the first thing one-year olds gravitate towards when they enter a room, making it the perfect gift to inspire curiosity and help build manual dexterity!
---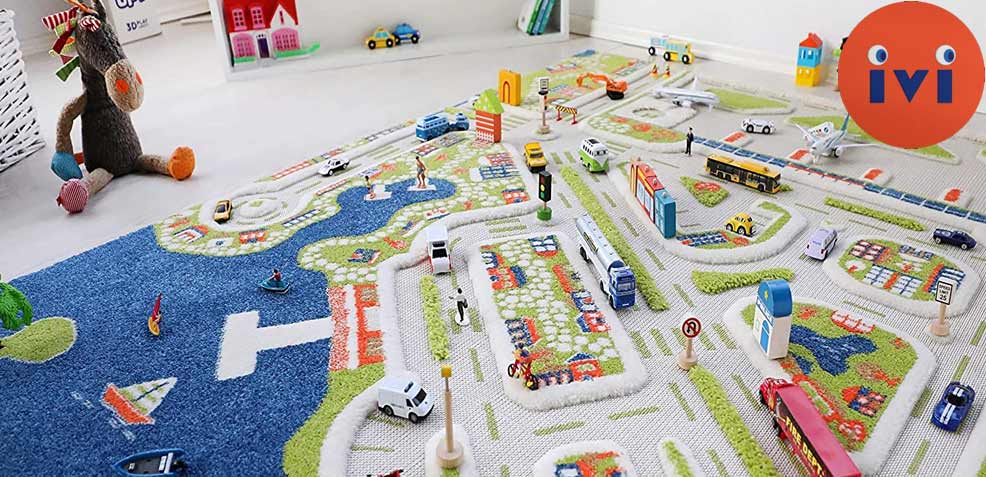 IVI has taken play mats to an entirely new level with their awesome 3-dimensional play carpets! We were lucky enough to test these out a couple months ago, and the toddlers absolutely loved them! Say goodbye to boring, flat play mats, and say hello to these colorful and dimensional play carpets. These awesome play mats are perfect for boys who love to play with cars, trucks and planes, offering realistic contoured roads, walkways, parks, bodies of water, and buildings. These carpets inspire creative, electronics-free play that is perfect for not only a one-year old, but any toddler and young child! High quality and durable, colorful and fun, and coming in at a fair price for such a large and functional rug, these make an awesome gift idea! Be sure to also check out our annual list of the best play mats and play carpets!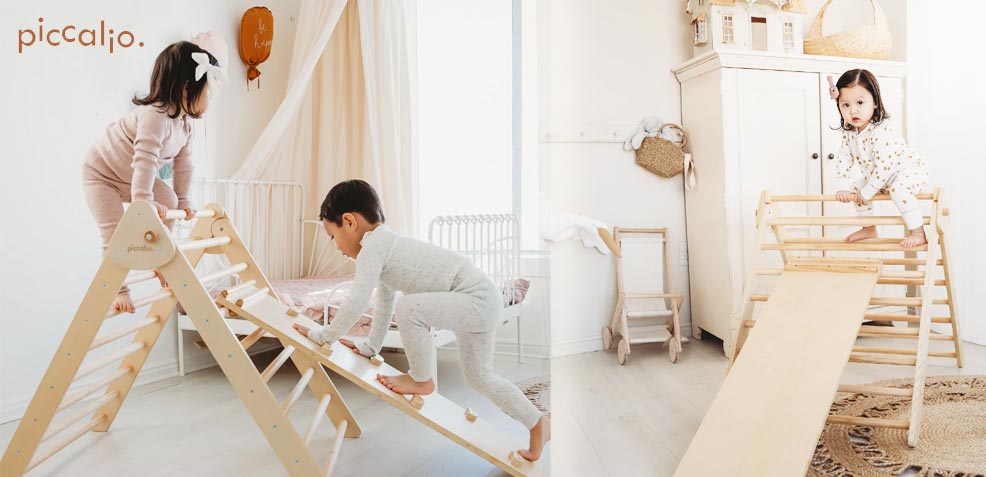 Got an early climber on your hands!? Satisfy his desire to physically explore his world with this awesome wooden climbing triangle from Piccalio. Beautifully crafted with high quality Baltic birch and New Zealand Pine, the Pikler climbing triangle is sturdy and tons of fun. The ramp can be used as a climbing wall or flipped over to make a slide, giving you many years of versatility. Support your little toddler's gross motor skills, posture, balance, coordination and confidence! Folds easily for storage and toy rotation. Click the image to learn more.
---
---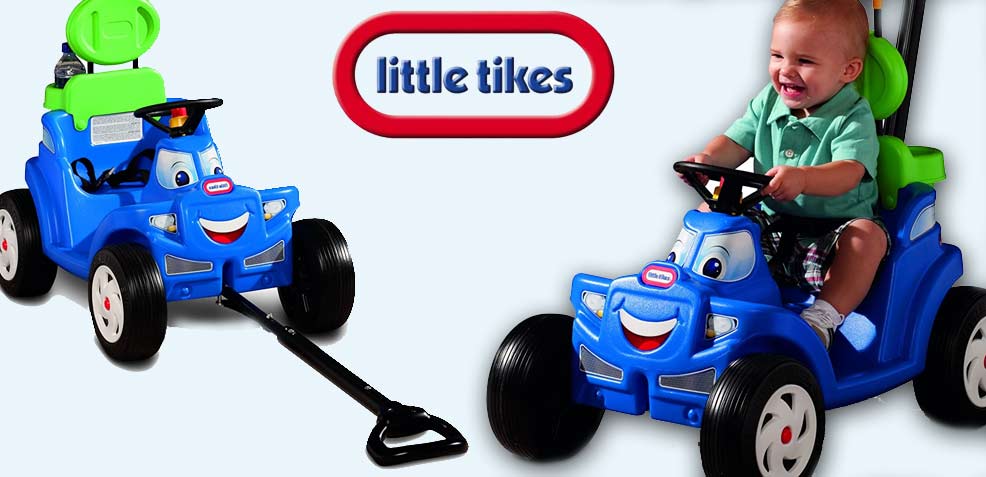 This gift packs a major WOW-factor! Perfectly sized for little drivers, this ride-on toy has left no feature unfulfilled! Baby will fit snugly in the Cozy Roadster seat, complete with shoulder support, headrest, and seatbelt for comfort and safety. The wagon style handle in the back functions for both pushing and pulling during walks around the block or park, and two cupholders are perfect for parent's water bottle and baby's sippy cup. The large, attached canopy keeps baby's sensitive skin and eyes safe from damaging sun. The roadster's tires are thick and durable for a smooth ride over many surfaces, and baby will love beeping the squeak-horn all through the town! Be careful, however, because this might be the gateway to an electric ride-on power wheels car once the boy is older!
---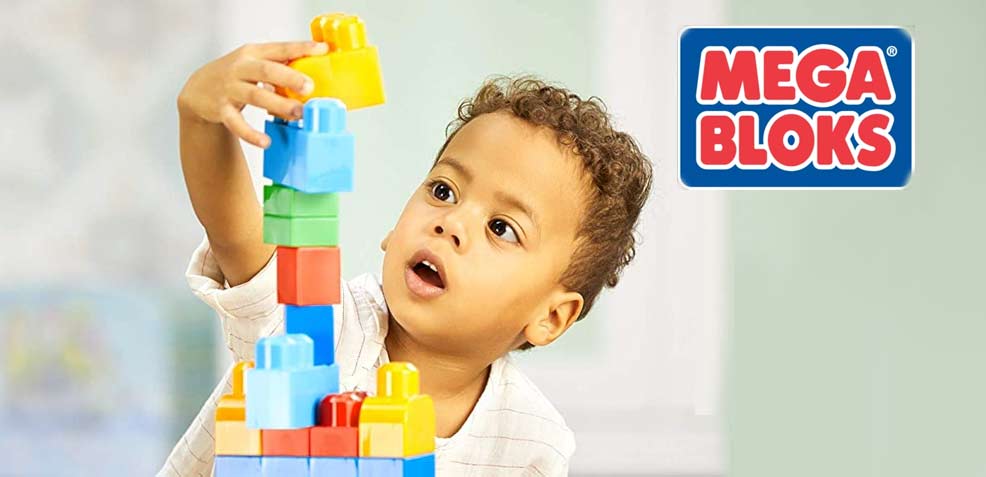 Mega Bloks are a gift that keeps on giving! These brightly colored stacking toys are perfectly sized and shaped for little hands to grasp and connect. These blocks connect and separate easily with no snapping or clicking necessary, so babies will enjoy their playtime without frustration. Offering more than just building play, Mega Bloks include developmental benefits such as problem solving and motor skill engagement. The 80 piece set features classic Mega Bloks colors and special shapes in a sturdy, zippered tote for easy clean-up. A household brand for generations, Mega Bloks also has a wide array of compatible expansion packs including cars, tables, and more to keep the fun (and little minds) growing!
---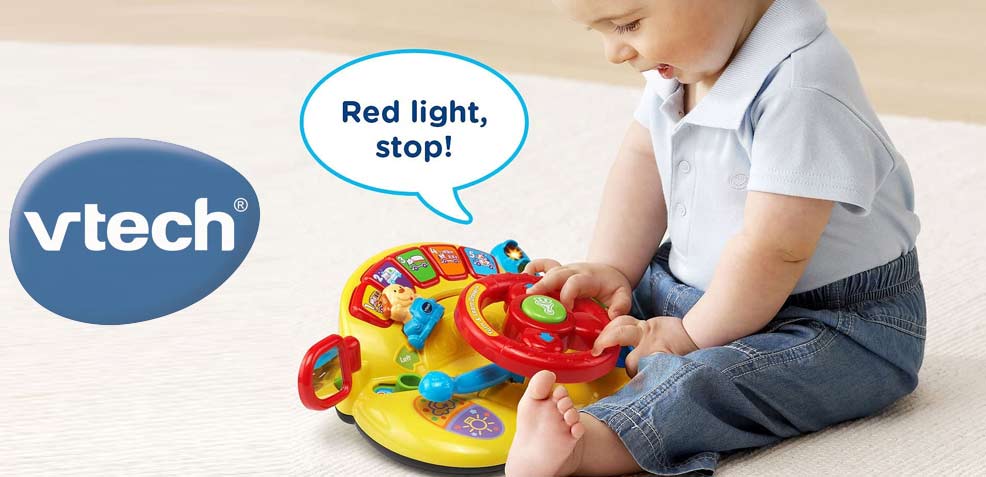 Now that baby can sit up and hold toys on his lap, he will love the Turn and Learn Driver toy! Turn and Learn is made by VTech, a well-known educational entertainment brand. Each element on this car dashboard engages baby in fun and learning! The signal lever triggers fun sounds and music, the gear shifter pushes and pulls to introduce opposites, and turning the wheel "drives" the little dog to various destinations! Turn and Learn includes 60+ songs, melodies, sounds and phrases and three play modes so babies can hear driving sounds, learn about animals, or listen to music.
---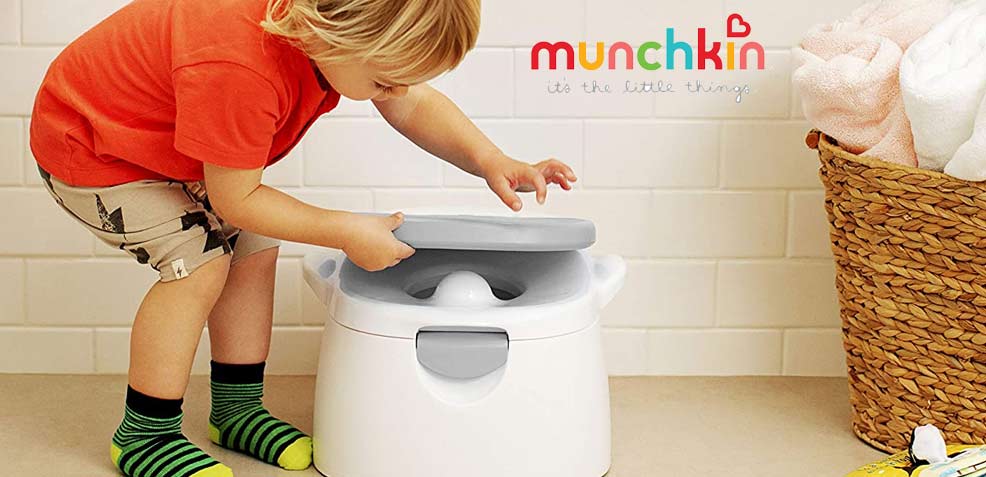 Not as much a gift for the boy as much as to help the parents' sanity during potty training, this is an awesome option! Most one-year-olds won't be quite ready for potty training for at least a few more months. This is especially true for little boys, who are notoriously late potty trainers. However, bringing in a training potty to slowly introduce the concept is a great way to grow baby's interest (and hopefully success).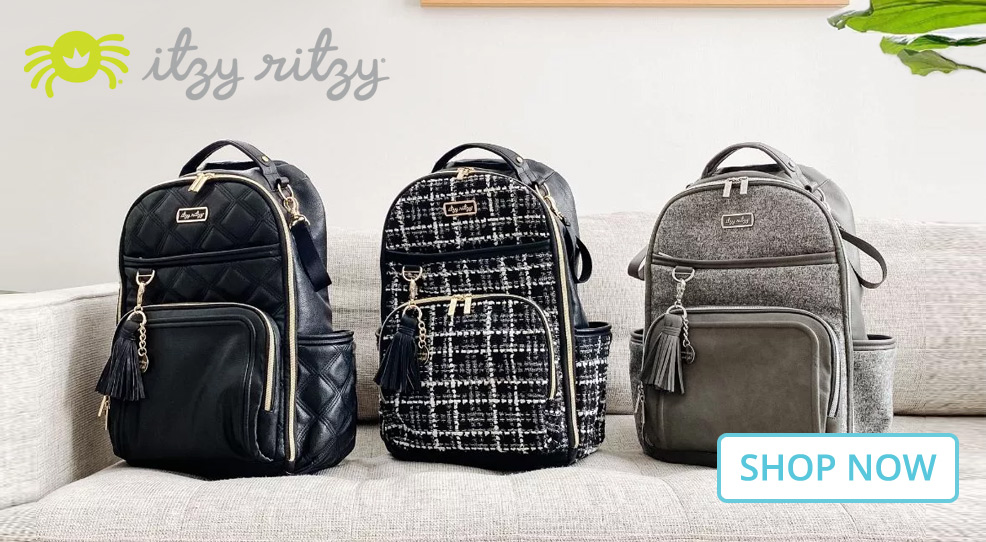 The Munchkin Multi-Stage Potty is ready to grow with baby. The first stage functions as a small-sized potty. Later, the removable potty seat (with built in splash guard for little boys) can be placed onto the big potty to keep baby from falling in. The collapsed mini-potty becomes a handwashing stool with textured cover for slip safety.
---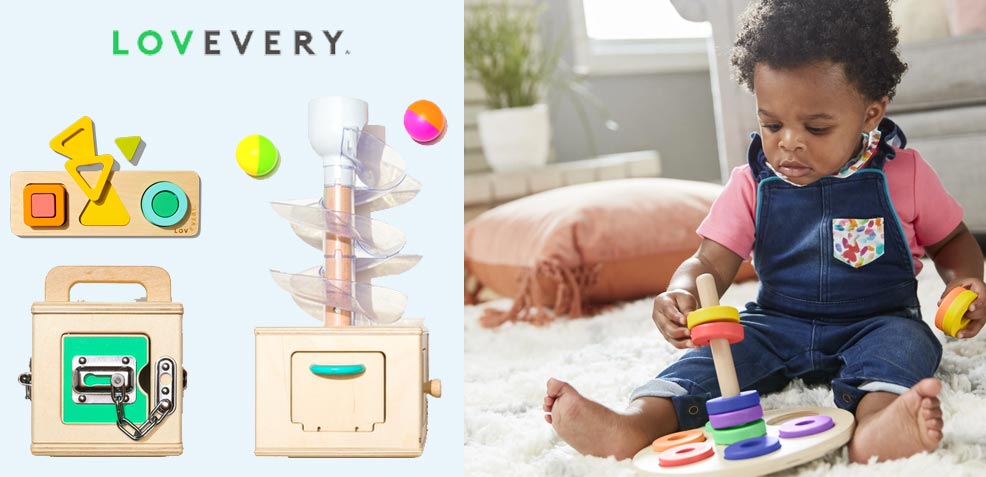 From the company that makes one of the best play gym activity centers on the market (see it here), Lovevery brings you an amazing set of Montessori-inspired toy subscription boxes! Every three months, Lovevery will send your toddler age-appropriate play essentials that will inspire curiosity and creative play. The play kits start as early as newborn with their staged baby play kits, and extending through the toddler years all the way from 1 to 3 years old. We tested out the Babbler (13-14 months), Pioneer (15-17 months), and Realist (18-20 months) play kits and were blown away by the beautiful and high quality toys. They use sustainably sourced wood, organic cotton, and all non-toxic coatings, and they remain some of the favorite toys in the entire house!
---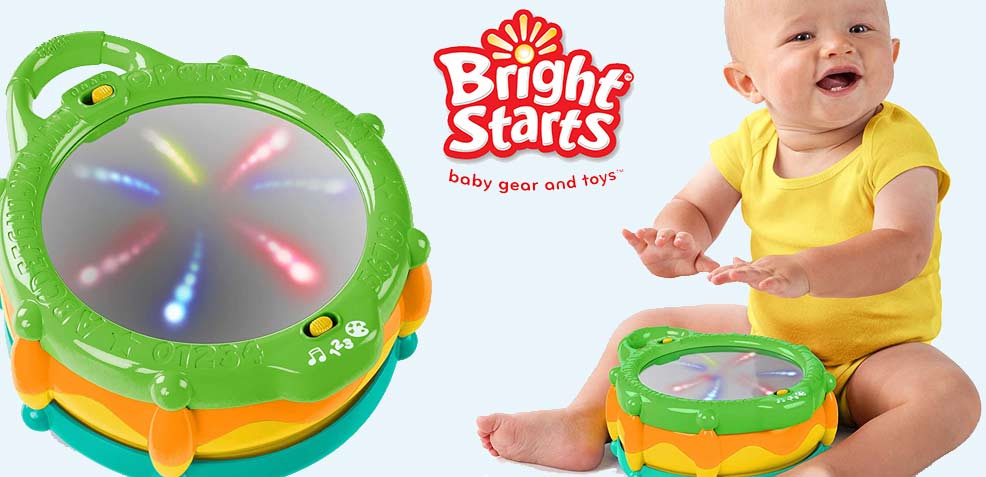 Babies love banging, clanging, and drumming on everything. Making these rhythms is part of how they explore the world and their impact on it. The Bright Starts Light & Learn Drum encourages baby to dance to his own drumbeat! With lights, sounds, numbers, and colors, this gift will entertain baby with endless play. The mirrored drum surface and internal light show engages baby's focus. Baby learns cause and effect when the light show responds to his drumming. The exterior is very sturdy and includes a carrying handle, making this a perfect, on-the-go toy!
---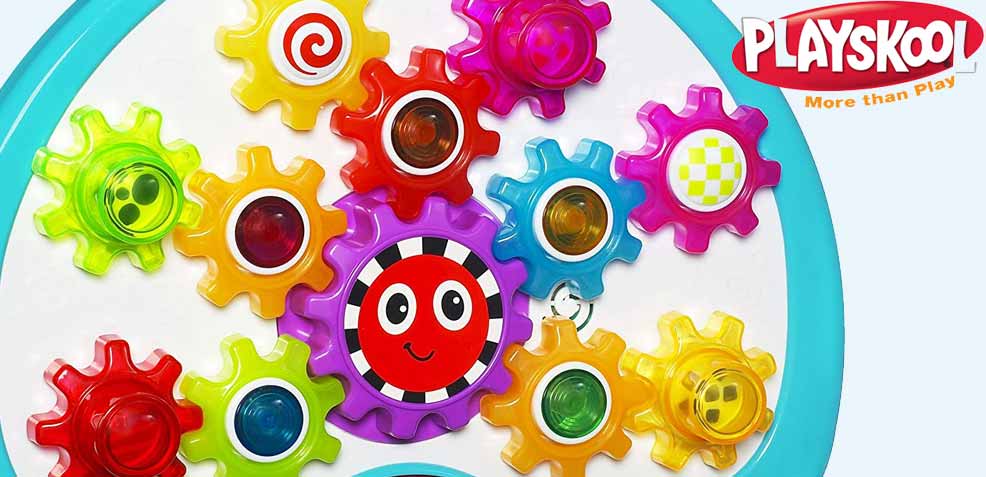 A great gift to avoid spinning your gears over toddler entertainment (yes, we went there)! The Explore 'N Grow Busy Gears tray engages your one-year old with lights, music, and movement! The center gear stays in place, but all the smaller gears are easily removed (and some are even stackable). When the center gear starts spinning, babies are challenged to connect small gears into the movement! This toy engages fine motor skills and problem solving development while moving and stacking gears helps babies explore spatial relationships and cause and effect. The tray's carry handle is convenient for little movers on the go!
---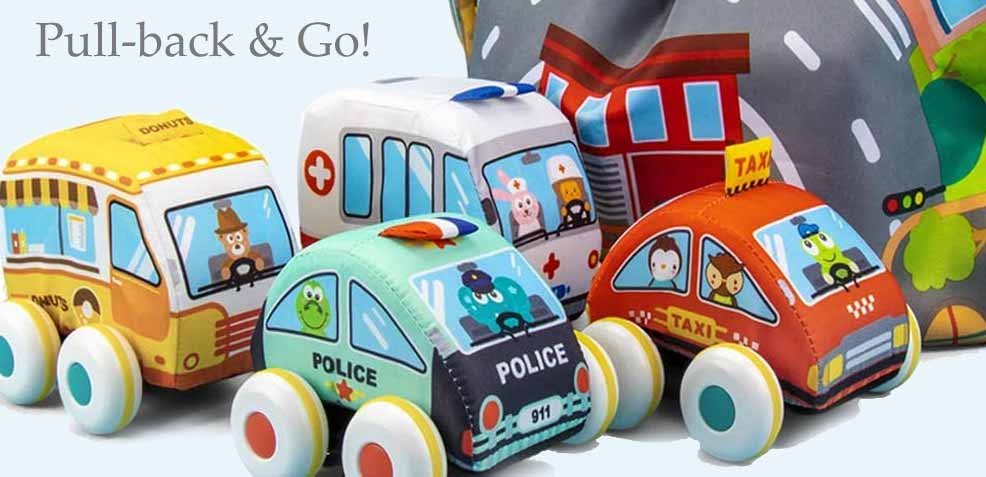 Possibly the cuddliest car set on the market, these plush cars really move! Using battery-free, friction powered design so baby can pull back on each car and release to make them drive forward. The soft parts of each car are removable for easy washing to keep these vehicles in tip-top condition! These plush cars come in a soft carrying case that opens and spreads out to reveal a road map for creative play. Close the case again using the hook and loop fasteners on the insides for easy set cleanup and storage. An awesome sensory toy that's included in our annual list of the best sensory toys for babies and toddlers!
---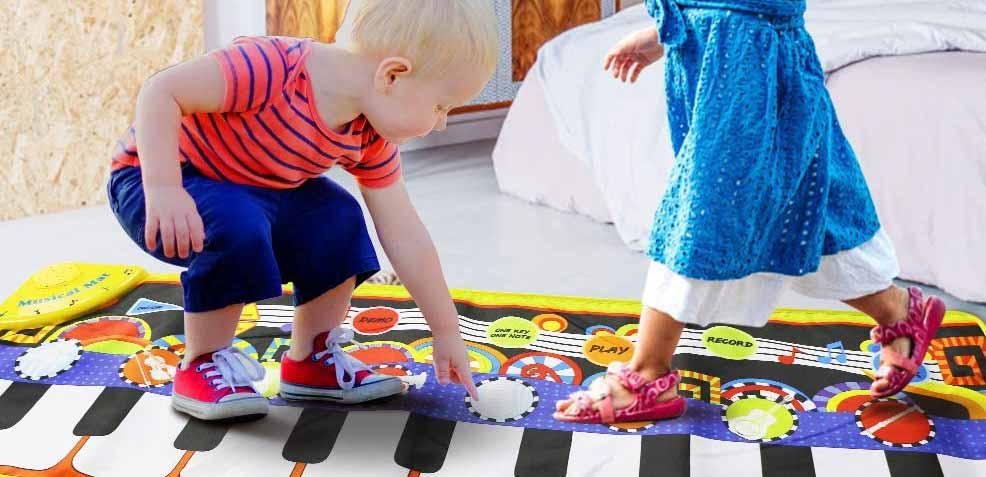 One-year-old boys are on the move. They are scooting, crawling, and starting to walk. This Piano Dance Floor Mat makes that movement even more fun! This soft mat is made from high-quality, non-toxic fabric that is easy to wash and gentle on baby's hands and feet. The keys and shapes play eight unique instrument sounds include piano, violin, accordion, horn, xylophone, oboe, guitar, and flute. Volume can be adjusted using the knob on the speaker box. The piano mat comes with an on/off switch, but it is also made with intelligent electronic chips that initiate energy saving mode after two minutes of idleness. The piano mat easily rolls up to be tucked away for portability and storage.
---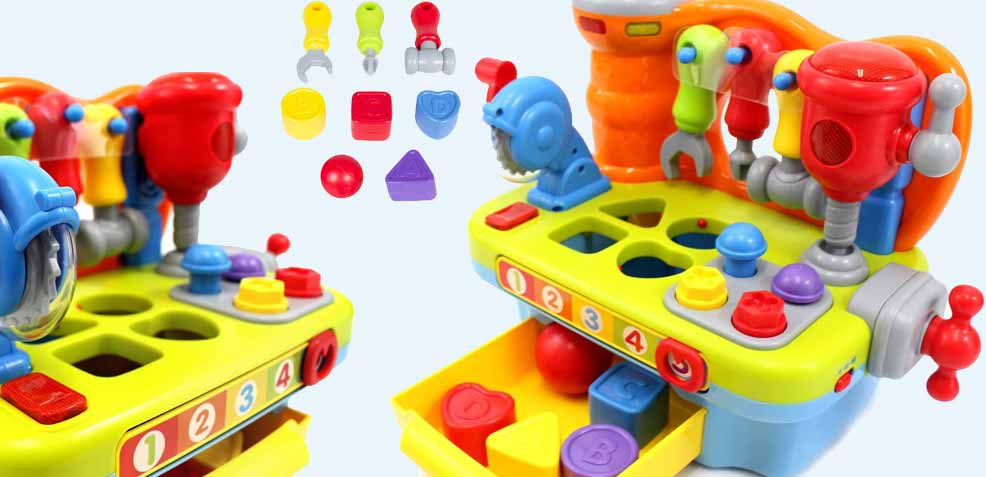 Get creative and get building with the PowerTRC Musical Learning Tool Workbench. Included tools feature a hammer, screwdriver, and wrench to work the attached nails and screws and make amusing sounds while teaching cause and effect. Table saw and drill handles pull down to make real tool sounds and play games and songs, and the slide ruler moves along to teach numbers. The workbench also comes with sorting shape blocks. Babies will engage in problem solving while trying to fit each shape in the appropriate hole. Shape blocks fall through to the pop-out drawer for endless fun! Parents will be grateful for adjustable volume levels!
---
Modern babies will love to share some quality "screen" time with their tech-savvy parents while using their My First Learning Tablet! Made by the popular educational toy brand, LeapFrog, each button on this stationary "screen" engages baby with various learning themes including weather, sports, health, numbers, colors, shapes, and more. The "dock" buttons allow baby to practice creative play talking on the phone with Scout, exploring time concepts, listening to Scout, playing with the pretend camera, and listening to music. The tablet's music mode plays twenty familiar melodies and three songs and also allows baby to compose his own masterpieces. Excellent parent reviews mark this as an immediate favorite with a durable design to withstand years of play.
---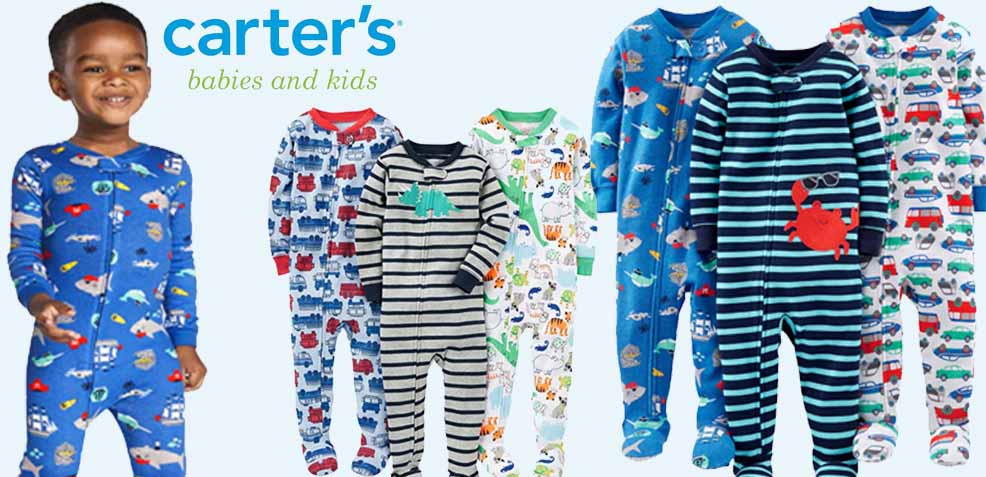 These are super-cozy pjs with a great selection of fun prints and appliques. Each set comes with three pieces that are designed to be snug-fit to meet fire safety standards. These pajamas are made from 100% lightweight cotton. The bottoms of the feet include gripper-texture to protect baby's feet and support early walkers. The best feature on these pajamas is easily the ankle to neck zipper with a single button snap-over tab at the collar. It is hard enough trying to diaper and dress a wiggly toddler without having to match-up a line of snaps, so this zipper is a real time-saver!
---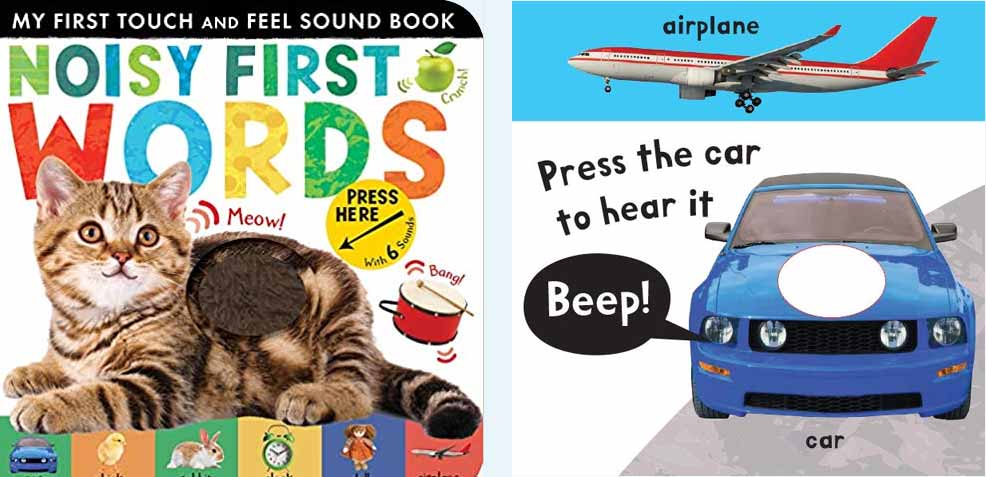 Noisy First Words takes the popular "touch and feel" book model to a new level with added sound! This engaging board book with large pictures and familiar words will engage baby's senses of sight, touch, and hearing! Noisy First Words features simple word groups to spark baby's curiosity and enrich his expanding vocabulary. One of the words in each group includes a button to hear the sound (meowing cat, beeping car, etc.). The button is a little challenging for younger babies to push, but this practice will support developing hand-eye coordination and motor skills. Want more options? Check out our annual list of the best baby books!
---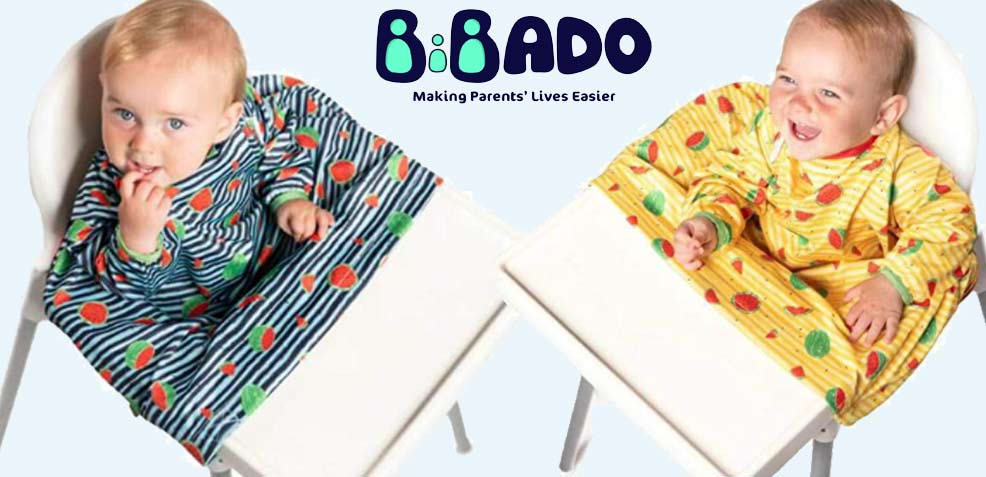 As they near the one-year old mark, babies and toddlers begin expanding their palates to include rice cereal followed by baby food and other exciting snacks. One-year-old babies can typically sit up in their high-chairs and will begin self-feeding with soft foods like pastas, cut fruits, and steamed vegetables. Warning: Things are about to get messy! The BIBaDO Baby Feeding Coverall takes the stress out of the mess so parents and babies can enjoy this new milestone! Made from a specialized PU coated Polyester, BIBaDO is totally waterproof and highly stain resistant. Both the neck and the sleeves are highly adjustable, and the coverall straps onto any highchair (with or without a tray). This is the perfect gift for home use and for travel! Looking for an awesome high chair to attach this to? Check out our annual list of the best high chairs on the market!