Best Outdoor Baby and Toddler Toys - 2023
We found several great outdoor toys for your creative little adventurer.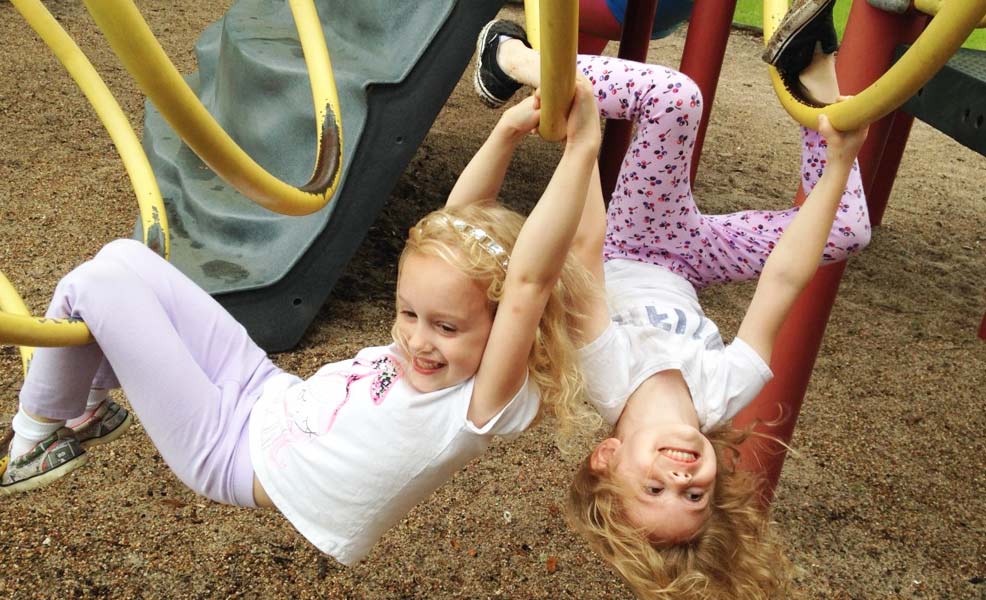 ---
Mommyhood101 independently tests and curates baby gear to help you make informed decisions. If you buy products through links on our site, we may earn a commission.
Kids love playing outdoors all year round and the good news is that it's also great for them!
The ultimate challenge is to keep them entertained and wear them out for a restful night, while also keeping them safe and (relatively!) clean.
In our quest to find the perfect outdoor toys for toddlers and big kids, we've tested everything from kiddie pools to bounce houses, and from scooters to bicycles! Below are the top 5 outdoor toys we've found, followed by in-depth reviews.
Some of the outdoor toys we tested were more fun than others, some broke too soon, some wore out in the sun and elements, and some were simply unsafe. The products that remained at the end of our testing were fun, sturdy, versatile, safe, and withstood the test of time and seasons. Throw on some of the best kids sunscreen and get your little ones outside playing, exploring, experimenting, and learning!
While different outdoor toys will be more or less suitable for different ages, we tried our best to include options for infants pulling to stand, toddlers, and bigger kids who might like jumping, climbing, and testing limits!
Full disclosure: Some of these toys, including the Micro Maxi and Strider models, were sent to us as free test samples by the manufacturer.
Here are the Best Outdoor Kids Toys of 2023!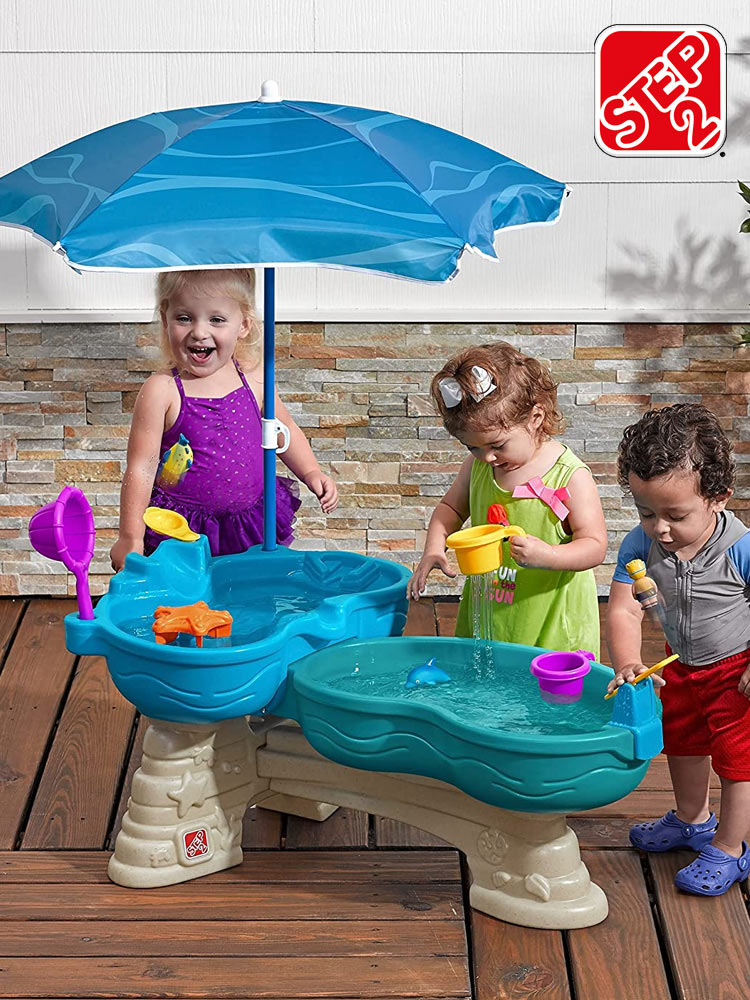 We had so much fun with this clever water table featuring two water reservoirs, a waterfall feature, an umbrella, and tons of fun toys like a dolphin diving board and fish net! We stuck a slowly-running hose in the top pool and let it fill up while the kids played. After a few minutes, it became a fun waterfall for the kids to scoop and redirect water. One of the best features here is the decent-sized umbrella to shield your kids from the hot sun and help prevent sunburn. It includes some squirting sea-life toys and little characters, and the fish catapult is awesome! Speaking of catapults we found the table sturdy and difficult to tip over; this is important because it's inevitable that you'll have an adventurous toddler sitting in this water table sooner than you think! The upper pool holds about 2 gallons of water, and the lower pool is quite a bit larger, holding over 3 gallons.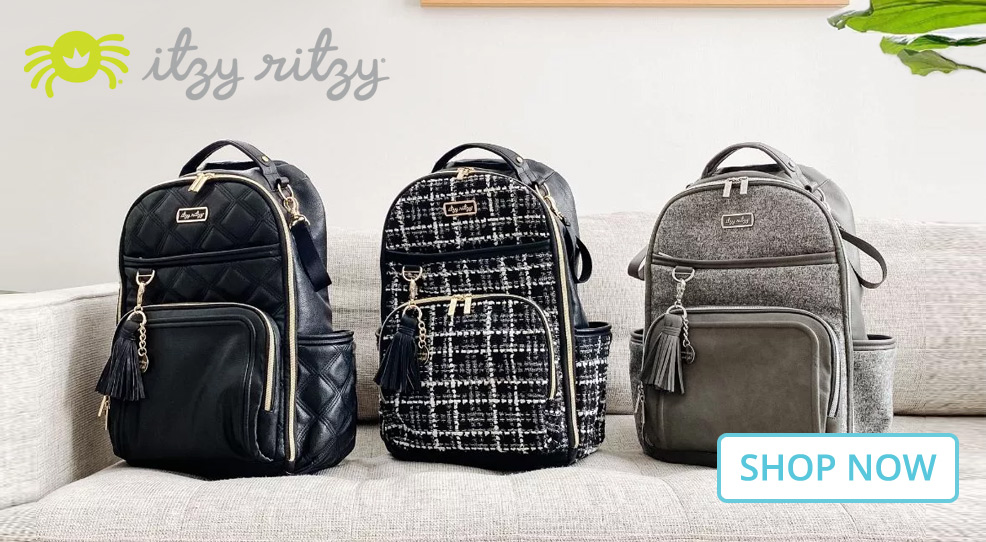 We found the Step2 Seaway water table for about $70 online, which seems like a reasonable price for this versatile toy. A couple things worth mentioning. First, there isn't a drain plug so you have to tip the table over to dump the water out when playtime is over - it's lightweight (like 15 pounds) so that's not a huge deal. Plus those plugs always end up being pulled out during play, and lost around the yard (or in the dog's mouth). The only other tiny con is that the canopy doesn't effectively shade the entire water table, so you might want to rotate the table over the course of the day to help keep it effective. This awesome outdoor toy is made in the USA, and is ideal for kids from about 2 to 4 years old. A great toddler and big-kid summer activity, and we think you'll get many years of fun out of it! Interested? You can check out the Step2 Spill and Splash Seaway Water Table here!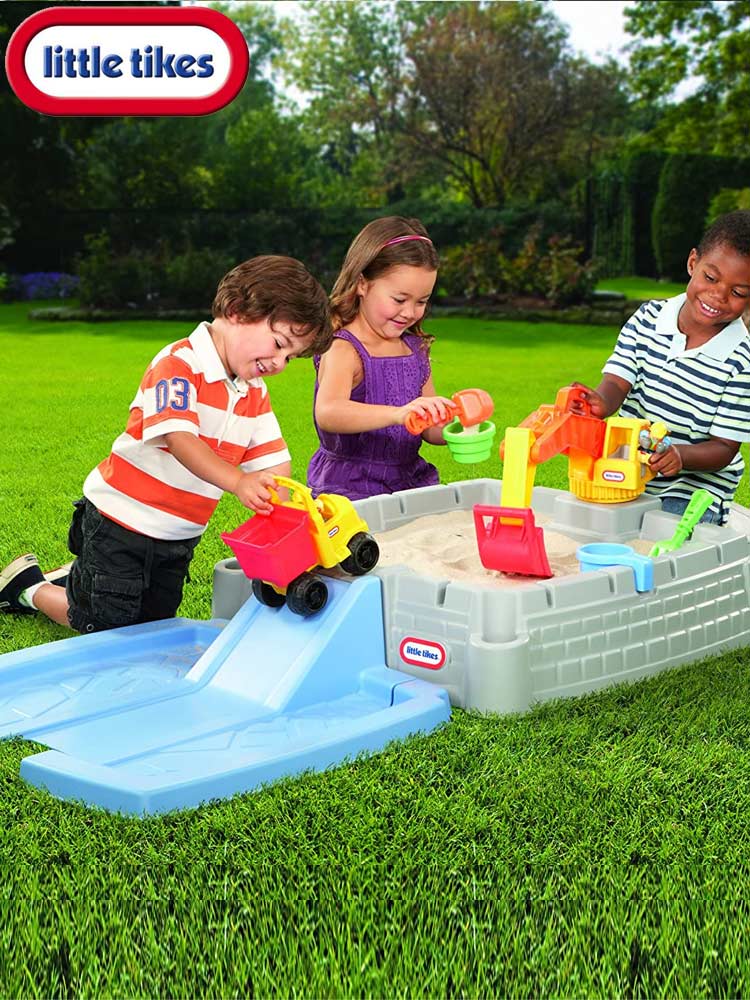 What's not to love about an outdoor toy that encourages pretend play, social interaction, and provides a great multisensory experience? This sandbox features an awesome set of vehicles and scoops, along with a unique sandbox excavator that lets your child dig, scoop, and move sand around the table. Just like at the big playgrounds, your children will have hours of fun building creative castles and shapes in the sand. When they're finished digging up the yard, the Big Digger comes with a convenient cover that will stop the rain and bugs from finding their way into the sand. In our testing, everything was high quality and tons of fun. The digger was really functional and the kids had a blast taking turns scooping sand into the included dump truck. The digger was high quality and didn't show any signs of weakness or impending breakage, and the little included shovels and buckets were tons of fun. Large enough to fit about 4 kids playing simultaneously, this sandbox is a great size for toddlers and big kids from about 2-4 years old.
If your child is too young for sand, you can always fill this with plastic balls or water until they learn to not put sand in their mouth! Overall, we love this outdoor toy and think it will last your children for many years to come! The only little cons are that the sand is sold separately, and the lid isn't completely water-tight. You might consider covering it with a small tarp during hard rainfall. Interested? You can check out the Little Tikes Big Digger Sandbox here!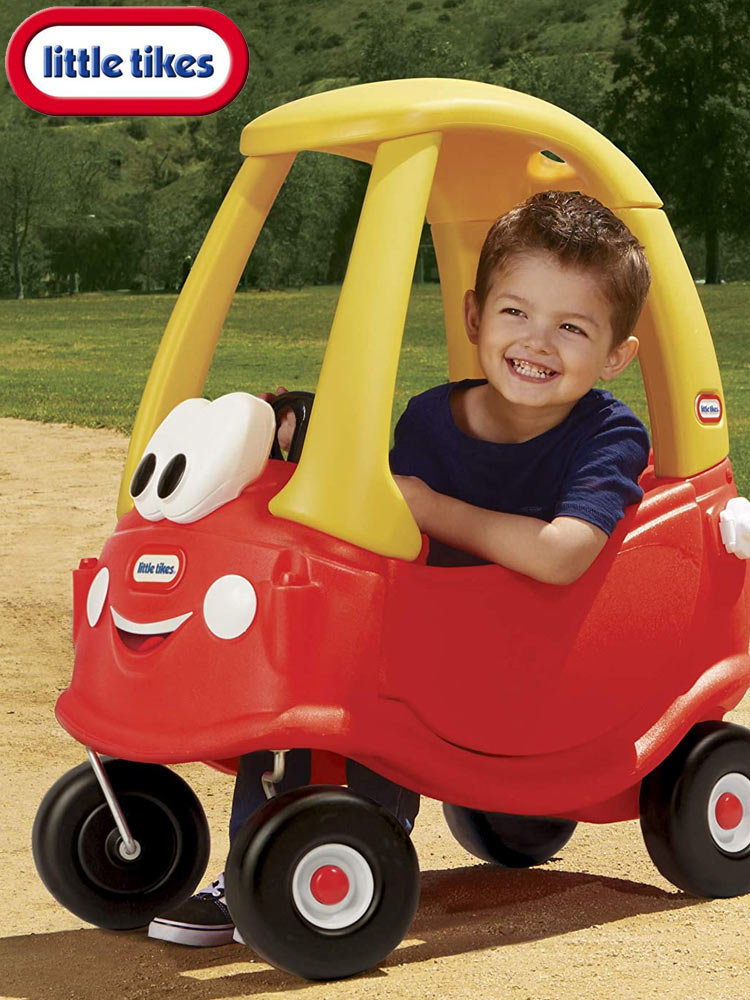 The Cozy Coupe and accompanying Cozy Pump gas station provides hours of entertainment for toddlers and big kids alike. Toddlers can start using it with their parents' help, getting pushed around the home, driveway, or neighborhood sidewalks. One they graduate to figuring out how to self-propel with their feet, they can scoot along Flinstones-style all on their own! This classic toy from Little Tikes is adorable, high quality, and withstands the test of time and abuse! We tried out the Cozy Coupe car and Cozy Pumper gas station bundle and our kids had a blast with it.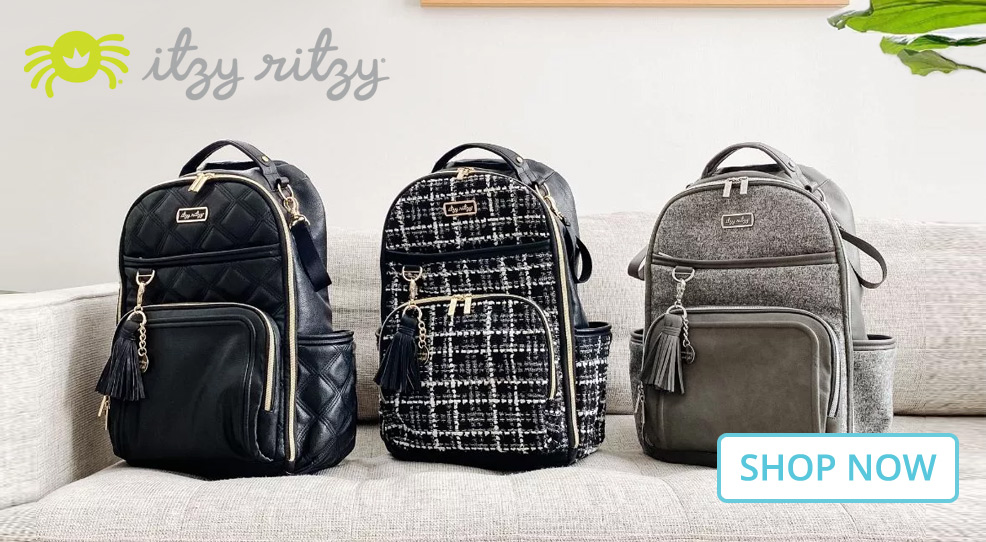 The Cozy Coupe promotes interactive play with siblings and neighborhood kids while pretending to get gas, drive to work and school, and pick up some mail at the mailbox! Our son scooted around the driveway while our daughter would wait at the gas station and do a full refueling transaction when he came around; and after a few minutes, they would swap roles and keep the fun alive! A great interactive toy set that encourages gross motor movement and will get the kids outdoors for hours. The Cozy Coupe works on paved driveways and sidewalks, and can be pushed through very short grass. The only con with the Cozy Coupe is that assembly takes about an hour and can be a bit of a bear! Interested? You can check out the Little Tikes Cozy Coupe here!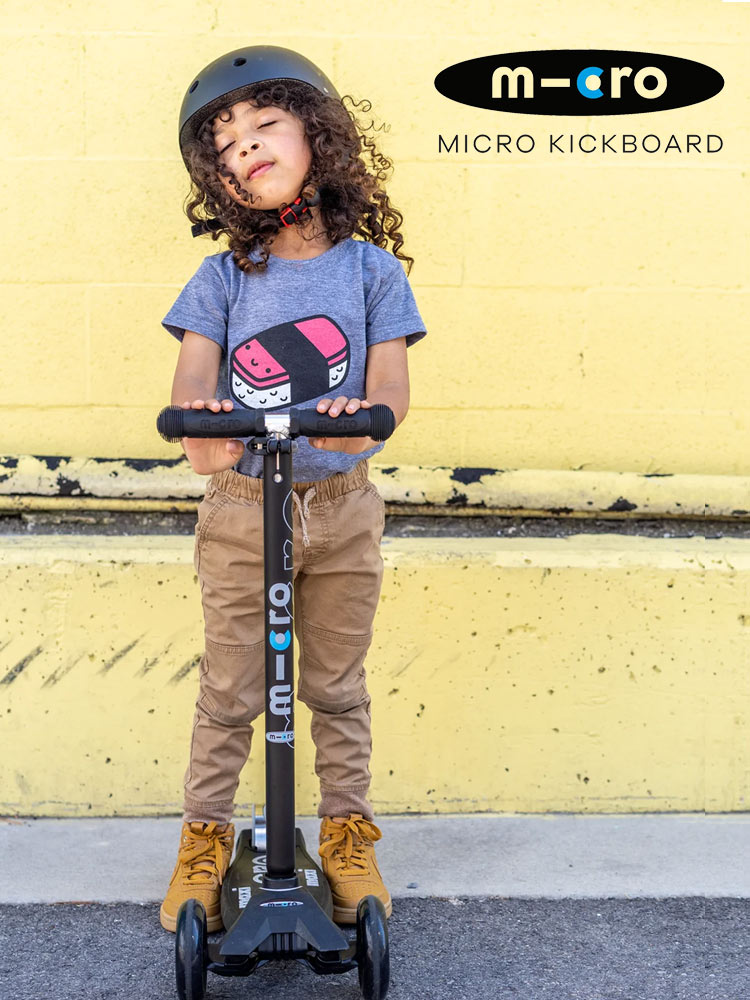 Micro makes the best overall kick scooters for kids, including sit-to-stand scooters, beginner scooters, and big-kid scooters. At the top of our best kids scooters list is the amazing Micro Maxi kick scooter, offering awesome style, durability, maneuverability, and fun! The Maxi scooters have adjustable handlebar height, and wide deck, and an awesome set of wheels that are smooth, low rolling resistance, and offer great turning and braking performance. The entire scooter is a total blast to ride, and it supports children from about 4 to 8 years old in our testing, with some kids starting earlier than others. A blast to use in the driveway and on sidewalks, and even around the house (on hardwood or tile), the Maxi can go slow or fast, turn gradually or sharply, and suit a ton of different riding styles and comfort levels. If your child is too young for a standing kick scooter, check out some of the awesome sit-to-stand scooters that are suitable for both toddlers and big kids alike! Always wear a helmet and any other safety equipment! Interested? You can check out the Micro Maxi Kick Scooters here!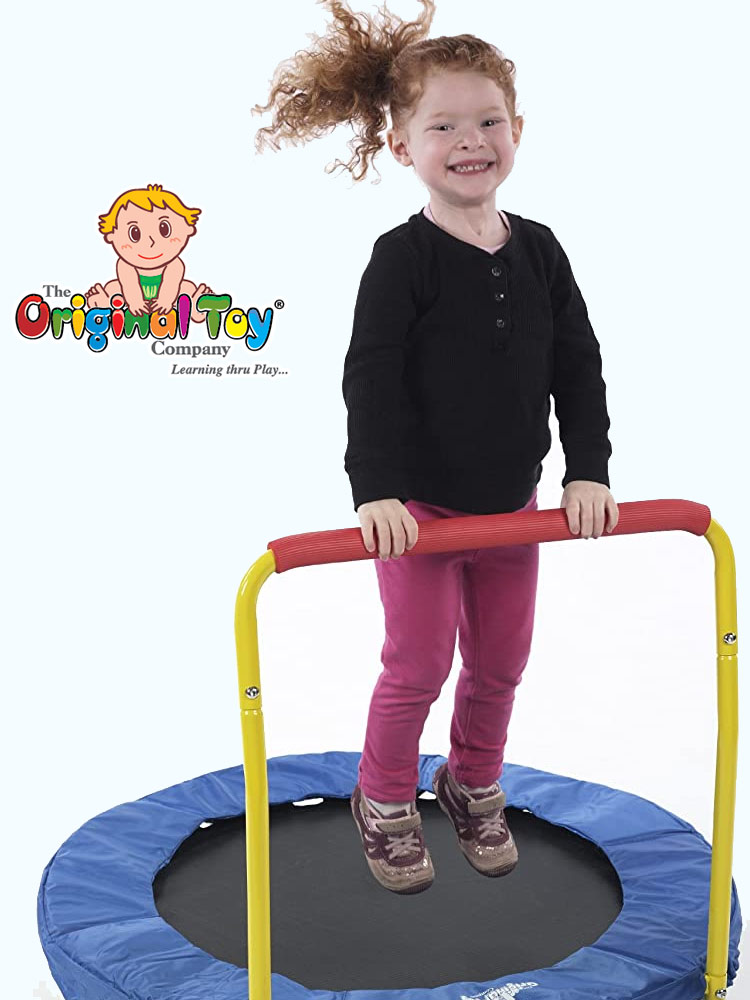 Trampolines are a fantastic way to get out physical energy, get some whole-body sensory input, and burn some calories indoors or outdoors! At the top of our list of the best kids trampolines is the awesome Original Toy Company Trampoline, with its excellent build quality and tons of fun! This trampoline is 36" wide and can be used by anyone up to about 150 pounds - which means that not only will your 2+ year old child love using this, but mom or dad might be able to jump on it too! In our testing, we loved that this trampoline has a padded handlebar, elastic springs (not metal!), and remained stable and firmly planted on the floor or ground when our children jumped on it. Even with very aggressive jumping this trampoline holds up to the stress without skipping a beat. Outdoors, the color does get washed out from the sun and the handlebar padding can deteriorate a bit over a few years of use, so you might want to cover it up or pull it under a roof when it's not being used. The good news is that it's lightweight and easy to move around, and assembly and disassembly are both very fast and easy. Interested? You can check out the Original Toy Company Trampoline here!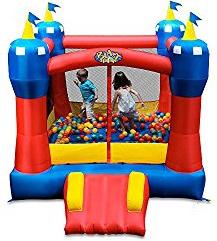 If your kids like jumping like ours, you know they'll love an awesome bounce house for their own yard! Last year we rented one of these for a birthday party and ended up spending about $100. If only we'd known that you can get an awesome one, that is much cleaner, for the cost of less than 3 rentals! This bouncy house is about 8 feet by 8 feet wide, with a 3 foot slide coming off the front. It holds up to 3 kids, or combined weight of 300 pounds. We unpacked it and were worried it would take forever to inflate, but it really only took about 10 minutes with the included blower. This was fun for hours! At one point we had 4 kids in it having a blast, even though the manufacturer says a limit of 3 kids at once - the bounce house didn't skip a beat and there was no sign of strain. We used it with and without balls, and I think the big kids prefered without the balls because they could bounce higher without stepping on a ball and possibly hurting their ankle. The cool thing about this bouncy house is when the kids are done bouncing, you open the valve and it deflates and rolls into something the size of a large rolled up sleeping bag. To keep things interesting, deflate it and store it away for a few weeks before bringing it back out and renewing your child's interest. We don't recommend leaving it inflated in the yard, or it will get pretty gross after a few weeks. Between rain, bugs, and leaves, you'll definitely regret leaving it outside for more than a few days at a time. Awesome fun at a really reasonable price, and still going strong in our family! It's tough, easy to use, and super fun and safe with the screened in sides. Interested? You can check out the Blast Zone Bounce House here!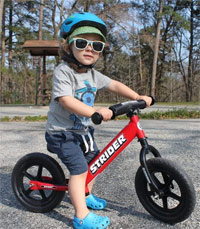 Balance bikes have become very popular of the past few years, and for great reasons. For children who are not quite ready to ride a bike, a balance bike can get them sitting on a bike, scooting around, steering, and getting comfortable with the experience. What you'll realize is that a balance bike will train everything all the fundamentals of bike riding without needing training wheels or a parent chasing them down the block (with a hand on the seat!). Through a few seasons of using a balance bike, your child will be much more likely to quickly learn how to ride a bike when the time comes. At the top of our list of the best kids bikes is the awesome Strider Balance Bike! Perfectly sized for kids from about 18 months to 4 years old, the Strider has an adjustable seat and handlebar height, easy to use handlebar grips, and padding in all the right places. They are built very well, are lightweight, and are easy to maneuver with low rolling resistance tires. Coming in at only about $140, this is one of the best gift ideas for toddlers and big kids, and will last them many years to come! Interested? You can check out the Strider Balance Bikes here!
Just looking at this house makes me nostalgic for my days of wanting to have my own play house and tree house! Living in the city that wasn't really possible, but if you have a yard this is an awesome outdoor toy for kids from about 2 to 5! The Backyard Discovery Play House is truly awesome in terms of both style and functionality. It uses all real cedar wood for both style and quality, making it a rugged play house that will last your family for many years. Everything works - the door with hinges and a doorknob, the doorbell, and real window boxes where you can plant some flowers! Inside are a ton of awesome pretend play toys, including shelves, a little kitchenette, a phone, and some kitchenware. Measuring about 4 feet by 4 feet wide and nearly 5 feet tall, the size is suitable as either an indoor or outdoor toy. If you're going to use it outdoors like we did, the manufacturer recommends using an exterior stain on all wooden surfaces. Out of the box, assembly took about an hour. All of the wood and hardware were very high quality and we were impressed with how sturdy and well-built this play house was! Two years after our initial review of this product, our kids still get tons of play time with it: they sell lemonade from it, set up pretend stores, and use it in very creative ways. In the winter they turned it into an igloo of sorts, and also used it as a fortress during snowball fights! Overall, we love it and think it's an awesome addition to our list of the best outdoor toys! Interested? You can check out the Backyard Discovery Play House here!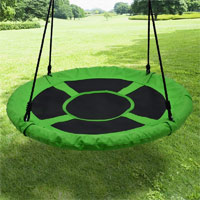 If you have a swing set or a few trees in your yard, there's not much more fun than a tree swing! Just like at the big playgrounds, this disk-shaped tree swing offers tons of swinging fun for one or two kids at a time! This tree swing includes a 40" diameter swinging pod with two adjustable nylon ropes that can extend from 47-63" in length. At the end of each rope is a carabiner that alls you to attach to branch straps or swing set anchors. Once you get it set up, this swing offers hours, weeks, and months of total fun! Starting a young age, this swing can be used for gentle swinging and vestibular input, and as your children get older it can be used for big swings. Grab your blood pressure medication because your kids will be getting a little wild on this! When you hang it, be sure there aren't any objects nearby that can be swung into, and make sure the ground underneath is soft. Holding up to 220 pounds this tree swing can be used by several kids at a time, and maybe even by a parent! Make your yard the envy of the neighborhood for only about $50! We've been using this swing for over 2 years now without any issues; the fabric has faded in color from the sun, but otherwise everything works perfectly. A great year-round outdoor toy, we can't begin to describe how much fun our boys have swinging on this when it and the ground are covered in snow! Interested? You can check out the Spider Web Tree Swing here!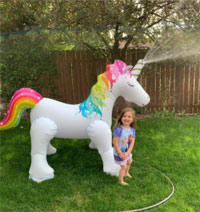 During the hotter months, nothing is more fun than running through a sprinkler, especially when that sprinkler is a giant unicorn! Standing nearly 6-feet tall with its bright beautiful colors, this unicorn sprinkler can attach to your house for hours of water-spraying fun! Out of the box, we do not recommend trying to inflate this by hand (mouth!)! We used a small tire compressor and it inflated in about 5 minutes; and when it did, it was surprisingly huge and amazingly fun! We attached a sprinkler to it and used it in all sorts of ways - for running through, aiming at our swing set slide, falling on our heads while in a kiddie pool, and more! Surprisingly high quality, this unicorn sprinkler surprised us with not only how much fun it was, but also how durable it was over the course of several uses. Coming in at about $40, it makes an awesome summer birthday party prop! Interested? You can check out the Unicorn Sprinkler here!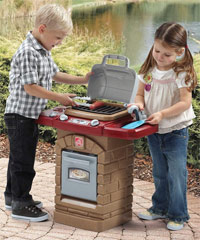 Already have one of the best play kitchens inside your house, but looking to get those kids outdoors? Check out this awesome pretend play grill by Step2! Using the included pretend play foods, your children will be grilling up hot dogs and hamburgers in no time, and using the play tongs and spatula to flip and serve their masterpieces! Want some stone fired pretend pizza? Put it in the lower oven! The kids had a ton of fun serving up summer lunches and dinners using this outdoor play grill, and we were impressed with the quality of the knobs and parts. The lid can be opened and closed, the oven door swings down to open, and the entire thing is relatively sturdy. Suitable for kids from about 2-5, this makes for an awesome outdoor toy for spring, summer, and fall months! Interested? You can check out the Step2 Play Grill here!
This is a little like the water table in that it includes some cool water funneling toys, but it sits directly on the ground and is intended for pretty small kiddos. Even though one of the 4 year old boys in our group loved it, he looked a little ridiculous in it. He fit in it, and a 15 month old jumped in with him, but they really took up all the space. This is basically a mini kiddie pool (about 3 feet diameter) that is pretty good quality and will last for several summers. As you know, we think a lot about sun exposure and safety (see our reviews of the best kids sunscreens of the year here), and we really love this kiddie pool because it includes an awesome 40" diameter umbrella that actually does a decent job of blocking some of the sun. It's height adjustable, so that helps. That means more time in the pool without having to worry, and also something to attach the cool water play toys to. Cons? Well, the pool has no drain which can be a pain since you have to bend down to flip it over and drain. But in reality, drains don't quite do the trick when the pool sits on the lawn, so we prefer the tip-over method. Overall, this is a cute little option that will keep the little ones busy for hours! Interested? You can check out the Step2 Play and Shade Kiddie Pool here.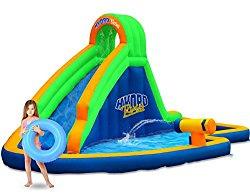 It's not really a bounce house, but it is giant and inflatable, and definitely just as fun. It's also quite expensive, coming in at around $480, but it is also certainly the most substantial one on the list. This is basically like having a miniature water park in your own backyard, with a huge and awesome inflatable water slide, kiddie pool at the bottom, and a large water cannon you can hook up to your garden hose. This thing has it all. Hook up your garden hose and it will get the water cannon spraying as well as a top sprinkler to keep the slide wet and running smoothly. When we filled it up, we simply hooked up the hose and let it do its trick for about an hour. This was an awesome way to do it because it filled somewhat slowly which helped warm the water in the sun as it streamed down the slide. It is quite big and has a capacity of 6 kids, ages 3 and up. The steps to get up to the top of the slide have little holes to stick feet in as well as cloth hand-holds to pull yourself up. Surprisingly sturdy and well-built, and the slide has good sized walls on it to keep kids safe and going in the right direction. And it inflates in about 2 minutes, and deflates and rolls up in about 5 minutes. Our kids absolutely loved this thing, and they beg for us to take it out and inflate it on every warm summer day! Interested? You can check out the Blast Zone Hydro Rush here!