Where to Buy European Baby Formulas
Trying to figure out which site has the best prices on European baby formula? Us too!
European baby formula is becoming increasingly popular for parents seeking high quality, organic baby formula for their newborns, infants, and toddlers. It has been appearing at or near the top of our annual list of the best organic baby formulas for a couple years now, and we're loving the new additions to the market!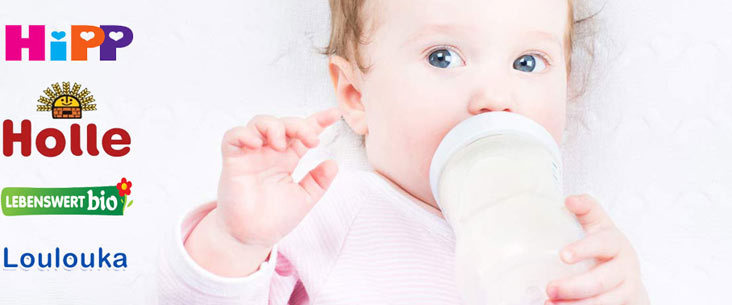 But importing baby formula from Europe is not cheap, and we know this can be discouraging for many parents.
Each month, we update this table with the current formula prices from the most reputable online stores, including OrganicStart, Little Bundle (formerly Huggable), OrganicsBestShop, and several others. As of now, we include HiPP, Holle, LouLouka, and Lebenswert. Our newest addition is the awesome Kendamil organic formulas (review here). Want us to add other brands? Send us a message on Facebook!
Best Prices on HiPP, Holle, Lebenswert, and Loulouka
Update! Here are some new coupon codes:
OrganicStart coupon code: Save 10% with code mommyhood101
OrganicStartWholesale coupon code: Save 5% with code mommyhood101
Is that table hard to navigate on mobile? Here's an image version: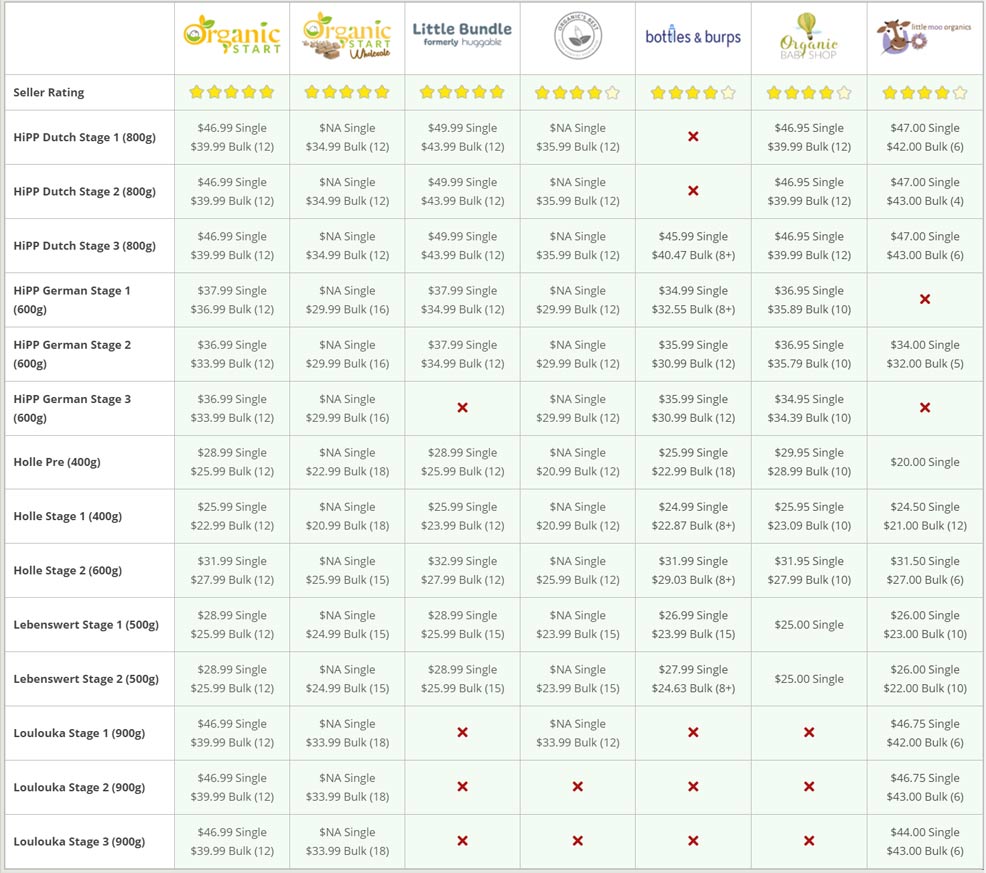 What is the best place to buy European baby formula?
If you're looking for fast and usually free shipping from a US warehouse, then we highly suggest OrganicStart or Little Bundle.
If you can wait, then consider shipping baby formula from Europe. For example, OrganicsBestShop has super fast (1-4 day) DHL Express shipping from Europe, and they are super reliable and well-priced. Either way, buying in bulk is the best way to save money on European baby formula.
We suggest trying out a formula with a single purchase, and if it works, then purchasing in bulk. In general, OrganicStartWholesale tends to have the best overall bulk purchase prices and the biggest selection, including not only HiPP, Holle, and Lebenswert, but also Loulouka and Topfer. They also have all of the HiPP varieties, including Dutch, German, and UK, and super fast shipping from within the US.
What are the Best European Formulas?
Good question! Check out our in-depth reviews of HiPP formulas, reviews of Holle formulas, reviews of Lebenswert formulas, reviews of Loulouka formulas, reviews of Kendamil organic formulas, and several others in our list of Best Organic Baby Formulas!
Each European formula has its own pros and cons, which we detail in our reviews.
What is the cheapest place to buy European baby formula?
Check the table for the most updated information about the cheapest places to buy European baby formula online and have it shipped to the US. Most of the most popular and reputable websites for buying European baby formula actually ship their products directly from the US. This makes it much faster and more reliable. As of this writing, the cheapest place to buy HiPP, Holle, Lebenswert, or Loulouka baby formula is at OrganicStartWholesale.
Some points about our tables. All prices were accurate at the time of the most recent update. We are not responsible for typographical errors or errors of omission. We try hard to keep this updated, but it's very time-consuming and errors are bound to happen once in a while!
What about shipping costs? All of the sites have different shipping policies, and they frequently change them and variably offer discounted or free shipping. Most of the places offer free shipping on orders over about $50.
Related Articles to Check Out!