Best Christening and Baptism Dresses & Gowns 2020
Planning your baby's Christening is stressful enough without having to worry about finding the perfect gown. There are a few options here, so don't worry! One option is to purchase a one-time use polyester or other synthetic fabric gown for $50-100, and donate it after the big day. The better option is to purchase a 100% silk gown and bonnet, hand-made, and keep it in your family to pass along through generations of children. Of course this second option is more expensive, as hand-made silk Christening gowns will set you back several hundreds of dollars. But if you value tradition, this is the option for you.
How to find the perfect Christening/Baptism Gown for your Little Angel
Because everyone has different budget requirements, below we list beautiful options that have been well reviewed but cover a range of prices. We list Christening gowns under $100, under $200, under $300, and under $500. Of course, you can also get a beautiful custom-tailored and hand-made 100% silk gown made for you by a boutique, but that will likely set you back about $1000-2000.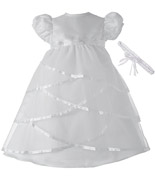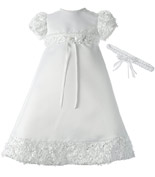 Selecting the best baby laundry detergent is no easy task. As parents sift through...