The Best Toys and Gifts for 1-Year Old Girls
These curated gift ideas make wonderful gifts for wonderful little girls.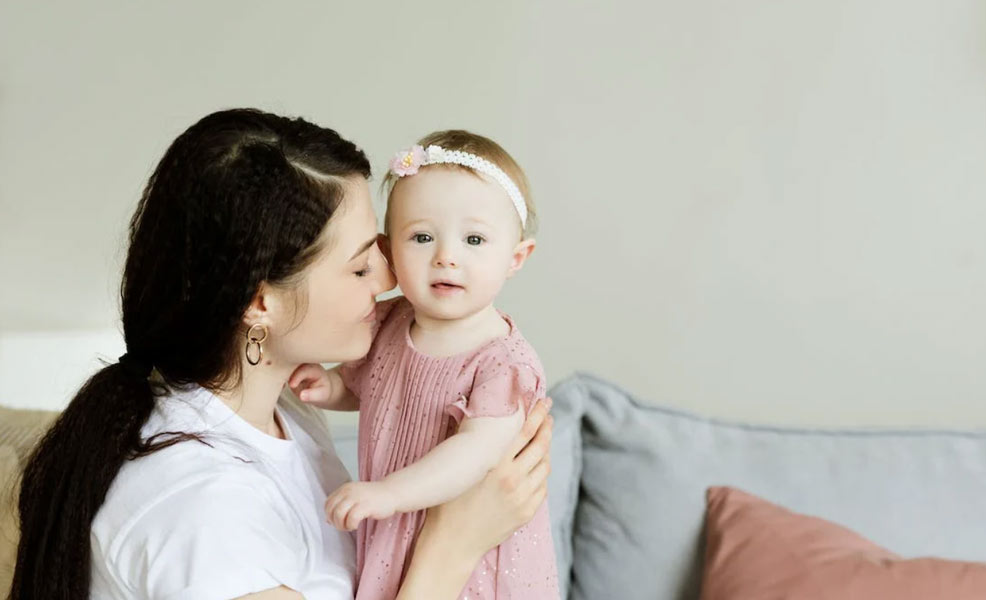 ---
Mommyhood101 independently tests and curates baby gear to help you make informed decisions. If you buy products through links on our site, we may earn a commission.
The best gifts for 1-year-old girls engage their interest and senses while helping them blossom into strong, independent toddlers!
A baby girl's first year is full of sugar, spice, and so much more! She is changing and growing, learning personal awareness and her impact on the world around her.
She is engaged in playing predictable games like peek-a-boo, and she may pick-up her favorite book when she wants a story.
Below you will find our top gift ideas for baby girls. Our picks include top rated clothes, gear, and toys, perfect for new little bundles of joy. Many of these products come in pinks, purples, and some neutral and primary color options for variety.
Here are the Best Gifts for One-Year Old Girls!
Click on an image to check prices at a major retailer.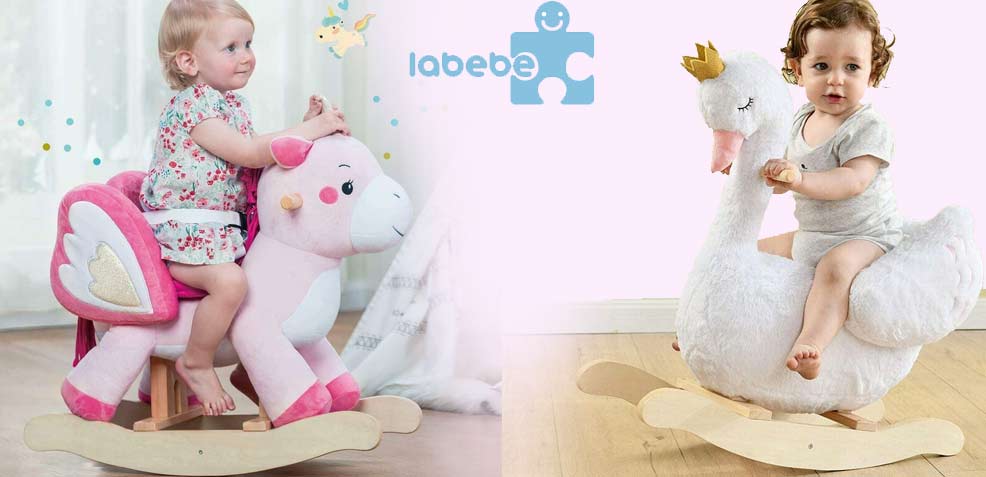 Some little girls dream of having their own pony—and some little girls dream even bigger! The labebe rocking animals come in all different varieties to please even the pickiest of babies! Swans, unicorns, horses, dragons, giraffes, and unicorns, all with high quality materials, soft a durable fabrics, and the perfect size to support the curiosity of baby girls around one-year old. We love these rocking horses, and our baby girl loves them even more!
---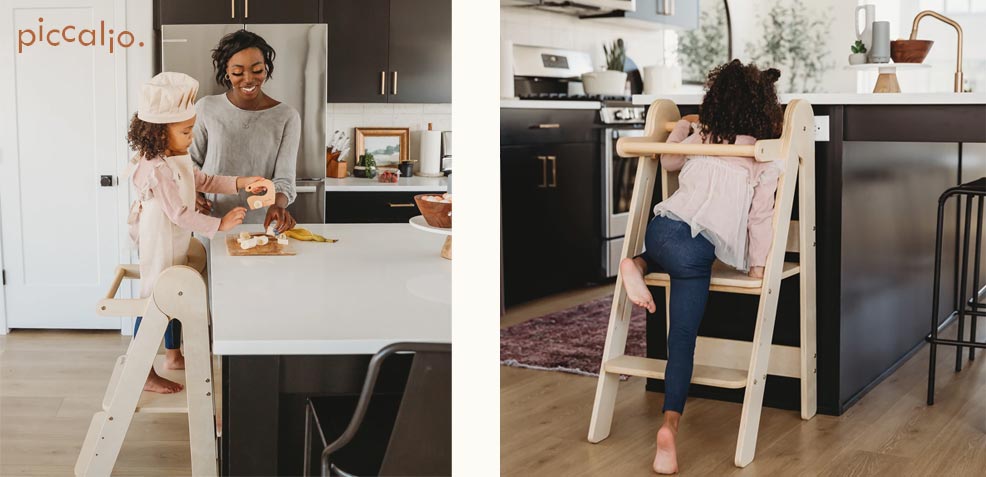 Trying to purge your house of all those cheap plastic toys? Us too! This beautiful wooden chef's helper tower will be a high quality and super functional replacement, allowing your aspiring little girl to climb up next to mom or dad and help out in the kitchen. Also great for boosting your little one up to the kitchen sink, game table, or any other high-up area of the house. With three height adjustments and a safety net for the wobbly ones (purchased separately), this tower grows with your daughter or grand-daughter, who will absolutely love working beside you to make a delicious masterpiece - and when she's done, fold up this beautiful wooden tower for easy storage. We love it! Also check out Piccalio's mini cutter tool, a safe way to get your little one started on cutting bananas and other foods. Click the image to learn more.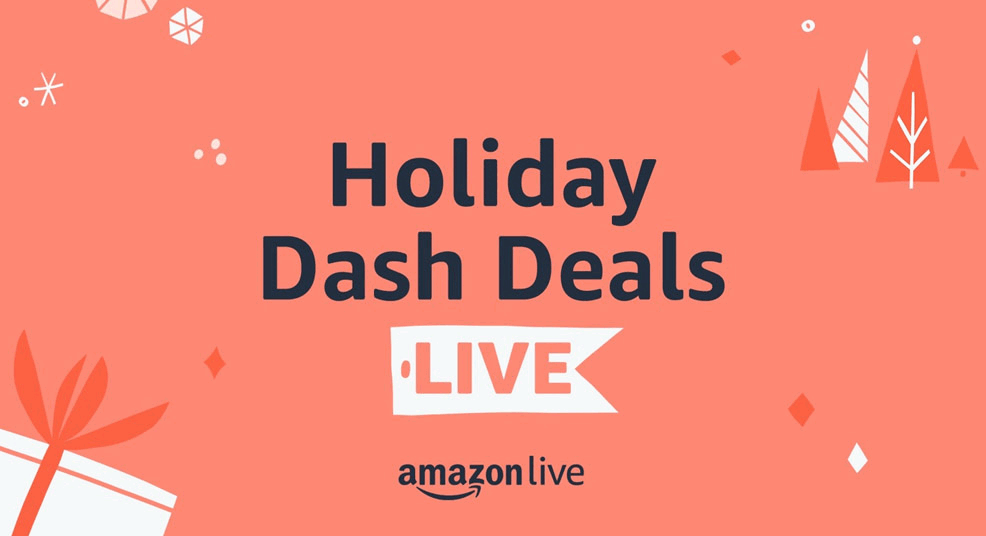 ---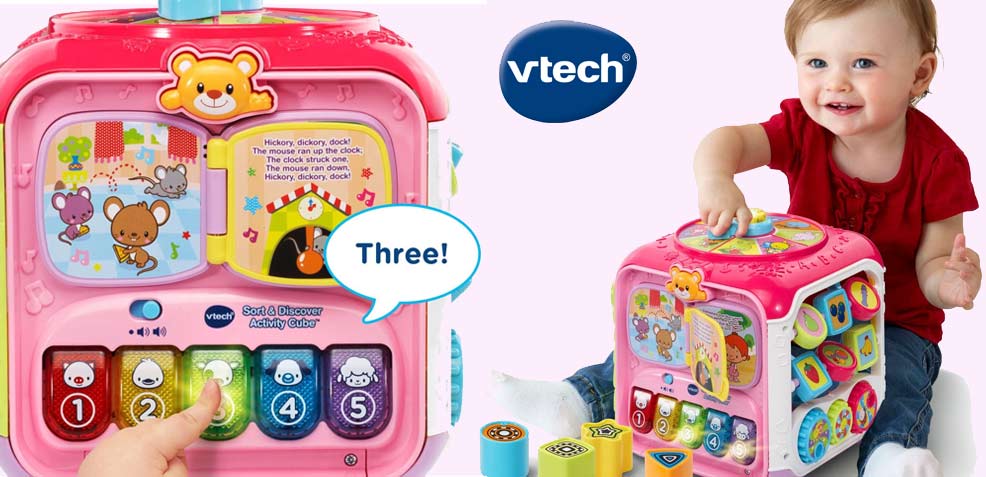 Looking for something your favorite baby girl can pop in her lap and use to entertain herself? The sort and discover activity cube has songs, sounds, basic phrases ("the baby chick is cute!"), and five sides of engaging activities. Help her build manual dexterity, hand-eye coordination, cause and effect reasoning, and problem-solving while engaging with animals, numbers, colors, piano keys, and an adorable spinner toy. This is the perfect toy for a baby who has learned to sit and play, and also great for motivating a little girl to pull herself up to standing to play with it on the coffee table! This will immediately become a favorite toy, and will keep engaging her for many months to come! You can check out the VTech Sort and Discover Activity Cube here.
---
With over 19 thousand positive reviews, this is one of the most loved toys for 1-year old girls available on the market! And for good reason - not only is it adorable and portable, it's also an excellent educational toy made by LeapFrog, a leading company with some of the best educational toys on the market. Turn through its pages and push the the button on each photo to have the book give you a lively explanation - in English or Spanish! Learn about foods, fruits, animals, articles of clothing, vehicles, and more, through a rich and interactive toy that is perfect for a one-year old girl! Enrichen vocabulary, hand-eye coordination, cause-and-effect, and imagination! Highly recommended for any one-year old, this is a really awesome gift! Looking for more letter, word, and color learning toys? Check out our list of gift ideas for two-year old girls!
---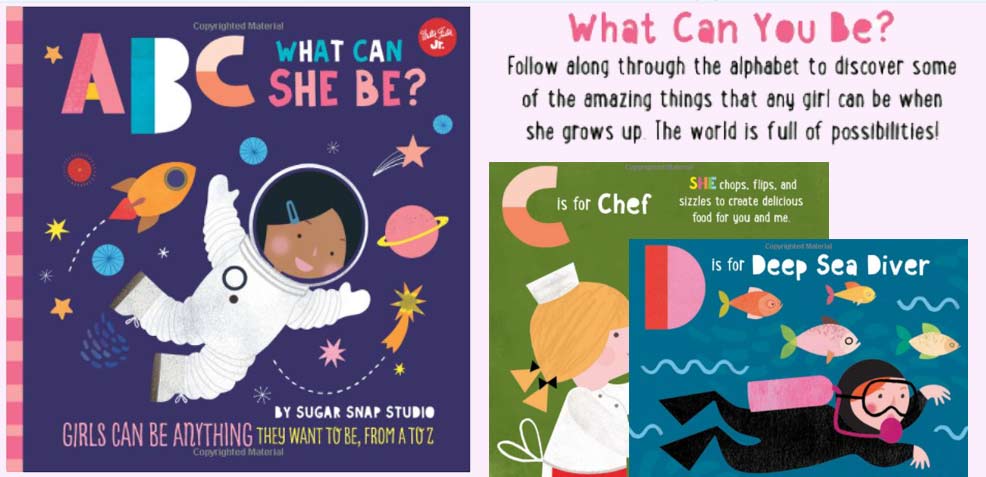 Girls can be anything they want to be! This alphabet book takes baby girls on an imaginary journey through different careers, from astronaut to zoologist, with vivid colors and creative descriptions. Neurosurgeon, judge, gymnast? The world is your little girl's oyster, and this book will show her the range of possibilities. It's never too early to begin inspiring your young girl to pursue her dreams, no matter how big they might seem! Be sure to check out our annual list of the best baby books on the market.
---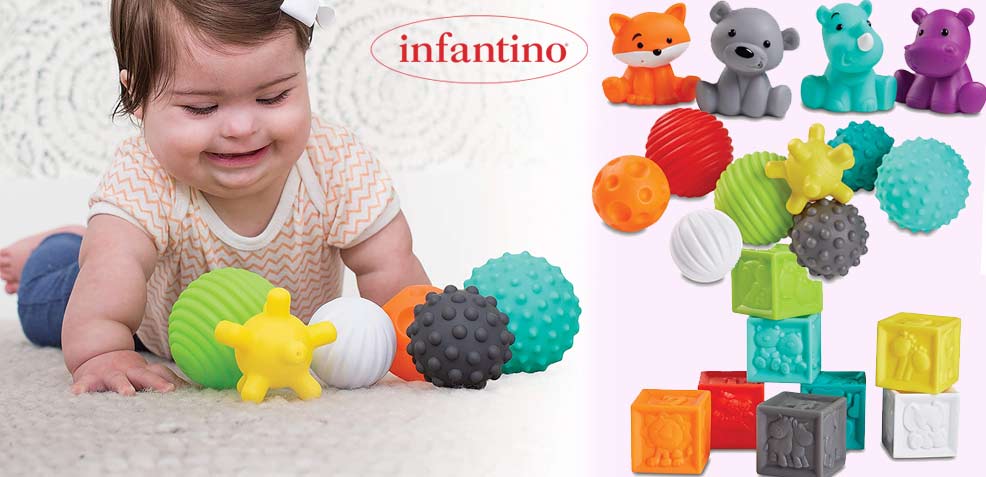 This brightly colored and highly textured toy set is perfect for gross motor development, object recognition, sorting, stacking, and so much more! Made from BPA free materials, the Balls, Blocks, & Buddies set includes eight colored, textured and shaped balls, eight colored and numbered soft yet sturdy blocks, and four squishable soft play animals. The silky soft texture of these toys is perfect for teething. The 20 Piece Basics Set also includes a handy storage bag for easy clean-up, storage, and travel!
---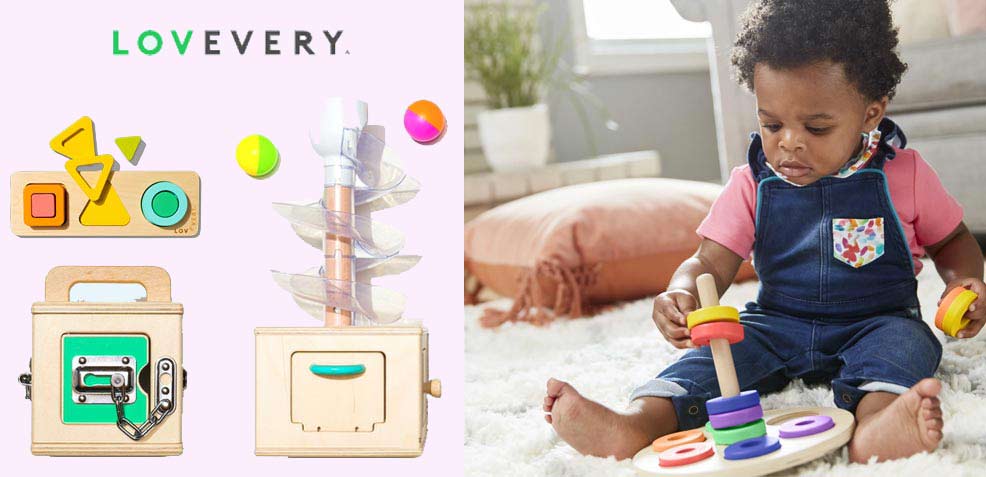 We absolutely love these Montessori-inspired toy subscription gift boxes! Lovevery makes some of the highest quality and most aesthetically pleasing toys on the market, including their popular play gym activity center (see it here). When you sign up for this gift box, you can pick the starting age and every three months Lovevery will send you age-appropriate play essentials that inspire curiosity and creative play. You can start as early as newborn, and they go all the way up to 3 years old. We have tried out three of their play kits: the Babbler (13-14 months), Pioneer (15-17 months), and Realist (18-20 months). In all cases, we absolutely loved the beautiful and high quality toys, including the sustainably sourced wood, organic cotton, and all non-toxic coatings. Not only did we love them, but they honestly remain some of the favorite toys in the entire house! This gift subscription for baby girls is a great way for grandparents, aunts and uncles to automatically send their special family member a thoughtful and high quality gift every few months, without stressing over which options to get. And you can rest assured that not only are the gifts high quality and fun, according to our occupational therapist they are also great for supporting emerging sensory, perceptual, and cognitive skills.
---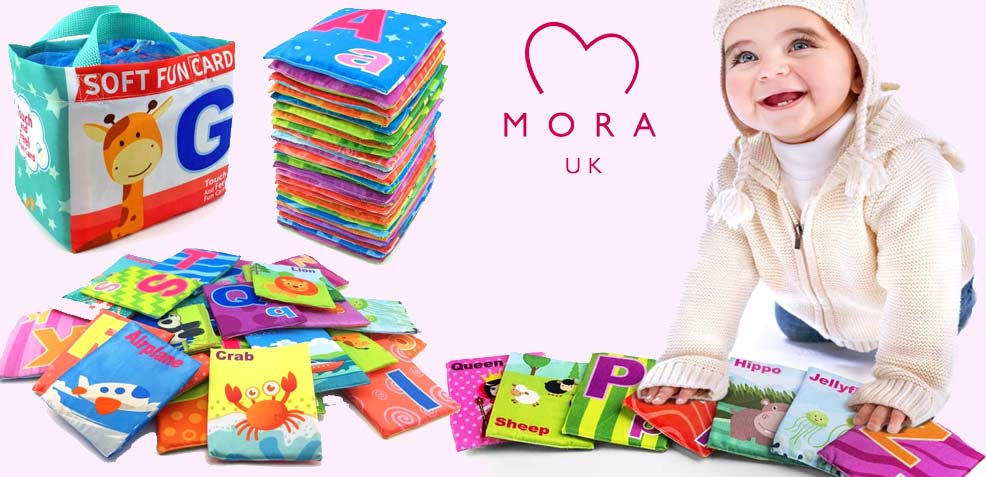 It is never too early to start engaging baby's learning and letter identification. This full set of alphabet flash cards features both uppercase and lowercase letters on one side, and a cute, corresponding word and picture for each letter on the reverse. The cards are vibrantly colored with engaging patters and illustrations to spark visual sensory engagement. Babies will also enjoy the fun crinkle sounds in tactile play. This soft set is made from safe, non-toxic material, with extra durable stitching to hold up in the wash. A soft carrying case is included to keep all of the pieces together.
---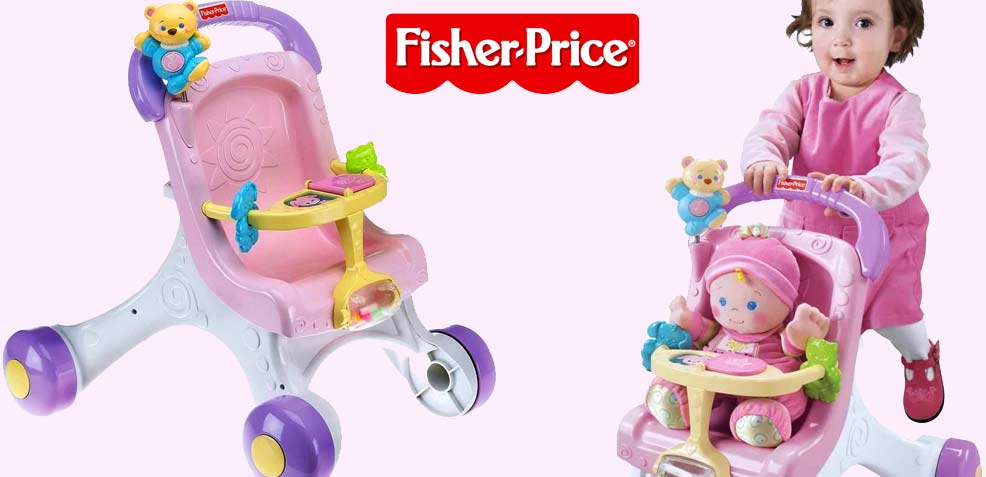 Babies begin walking between 9 and 18 months, so this gift is both fun for role play and developmentally engaging as baby learns to take her first steps. Extra wide angled legs make this a perfect support to help baby pull up and stand. After she learns to walk, she will continue to enjoy playing pretend with this toy. Baby can fit her favorite dolly or teddy in the stroller seat and play along with the attached activities including a spinning ring, roller-bar, and tray-top flipbook. Music plays as baby pushes the stroller and also when she presses the toy bear's tummy. Want to see more options? Check out our full list of the best baby walkers of the year!
---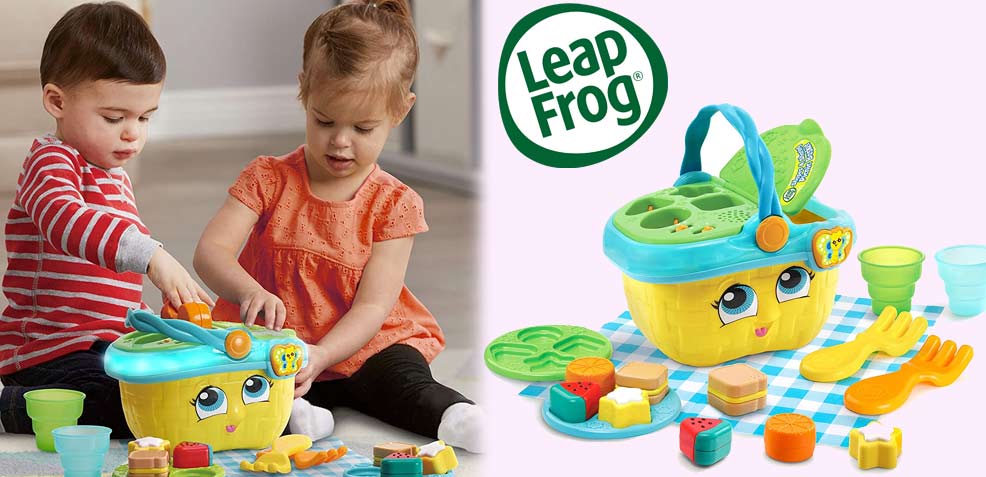 Delight in a picnic of fruits, cookies, and sandwiches while learning colors, shapes, and more. Like a vintage shape sorter with an interactive twist, the Shapes and Sharing Picnic Basket talks and plays along with baby, announcing the food, shape, and color of each piece as it is fit through the cover. The butterfly button triggers the basket to play music or politely request treats. Baby can feed the basket the correct food for rewarding responses. Three play modes include Music, Shapes & Colors, and Picnic Time for endless playtime fun. Shapes and Sharing Basket comes in both yellow and pink, and the 15 piece set packs away neatly into the basket for easy clean-up.
---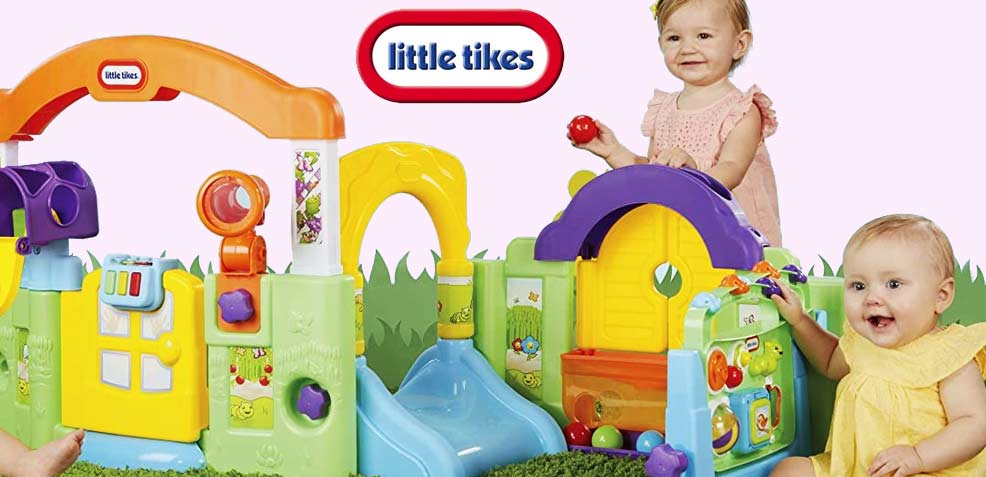 Give baby a wonderous garden world of her own with the Activity Garden Playset from Little Tikes. The set features multifunction play to engage baby's interest, sensory development and motor skills including a crawl-through archway, shape sorter mailbox, working tap a tune piano, open and close door, and adjustable look-through telescope. The take along play panel features a bead tumbler, spinner mirror, spinning "gears," clicking bugs, and large button that plays songs while baby adventures in the garden. This playset is also adaptable to grow with baby as it easily opens out into a two-sided play center.
---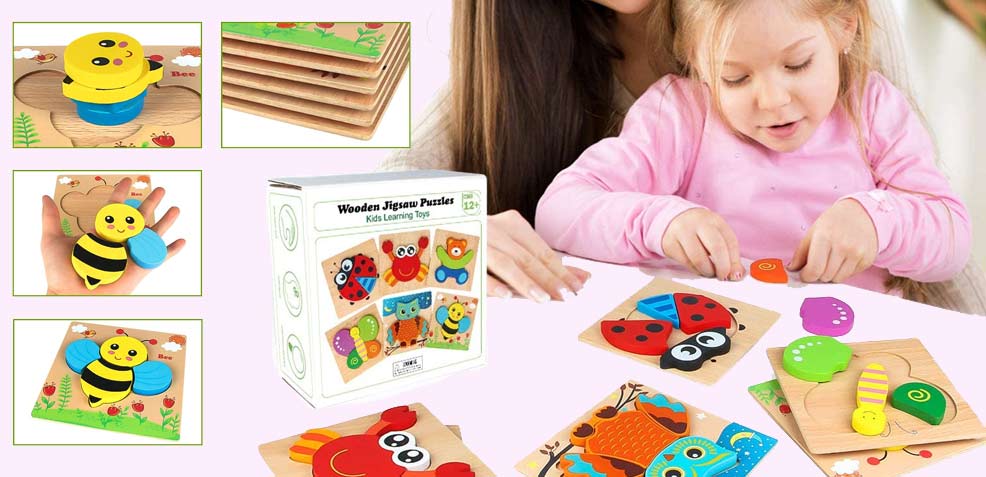 Large pieces and adorable images make these puzzles ideal for one-year-olds who are constantly exploring how the world works! Bright vibrant colors and fun animal shapes on each of the six included puzzles encourage hand-eye coordination and imaginative play. Each puzzle piece is perfectly sized for baby to grip and fit into its base without frustration. These puzzles are CSPC tested for product safety and they are made from eco-friendly wood and water-based non-toxic paint for quality and durability. In case of spills, these puzzles and their pieces easily wipe clean, thought the manufacturer does warn against direct washing to maintain color and quality.
---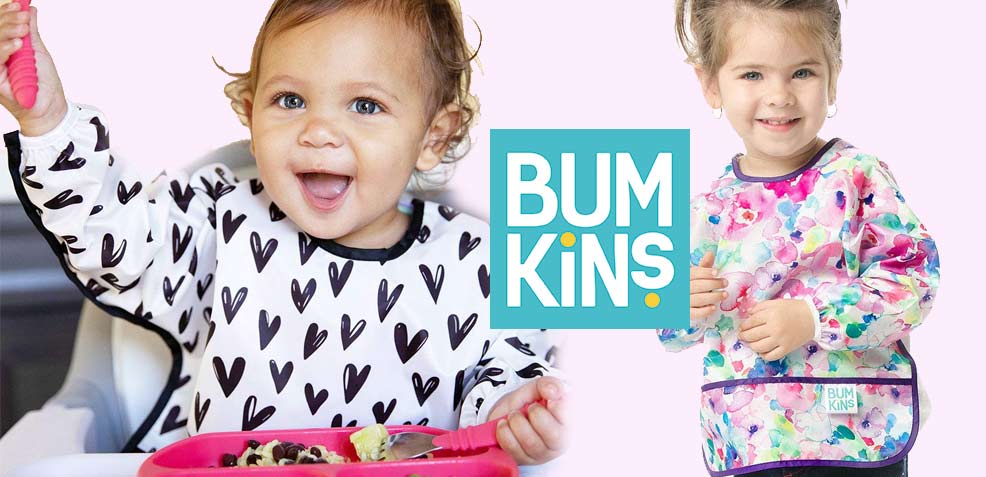 What could be worse than a giant stain on a brand new dress? The Bumkins Sleeved Bib protects baby girl's clothes with style and innovation. These bibs are generously sized to cover more of baby's outfit, and they even include sleeves with elastic cuffs to keep baby fresh and clean throughout snacks and mealtimes. The sleeved bibs are BPA-free, PVC-free, vinyl-free, phthalate-free and lead-free. Bumkins signature fabric is lightweight, waterproof, easy-wipe, and stain and odor resistant. And like Bumkins standard bibs, the sleeved bibs include the crumb-catcher pocket to help catch large spills. Bumkins bibs come in a wide variety of prints and are machine washable and durable to last through many messy meals.
---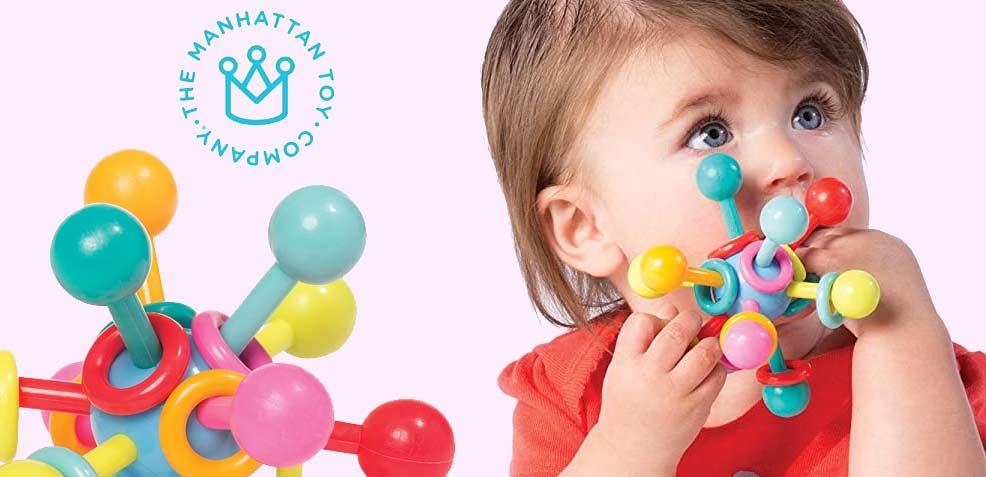 Getting to try new solid foods is exciting but growing the teeth to chew them is a challenge. The Atom Rattle & Teether Grasping Toy is perfectly sized for small baby hands encouraging reaching and multi-sensory grasping, which are both important skills for gross motor development. This baby teether and rattle is BPA and PVC free and passes strict CPSC, ASTM, EN71 and Health Canada safety standards. Baby will love easing gum pressure with the soft, flexible, one-piece teething stems.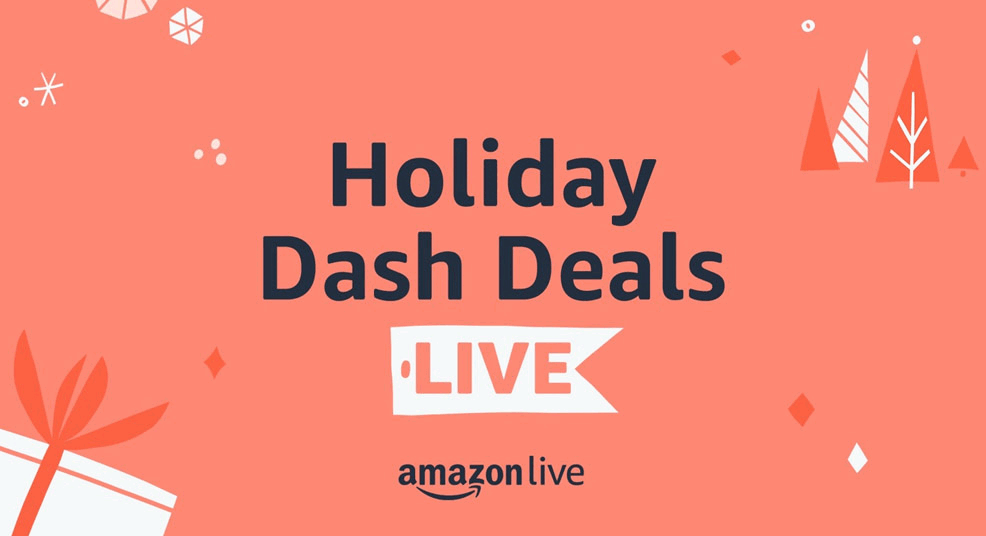 Rings clack and slide along each teething stem for extra sensory stimulation and amusement. Want to see more? Check out our full list of the best sensory toys for babies and toddlers.
---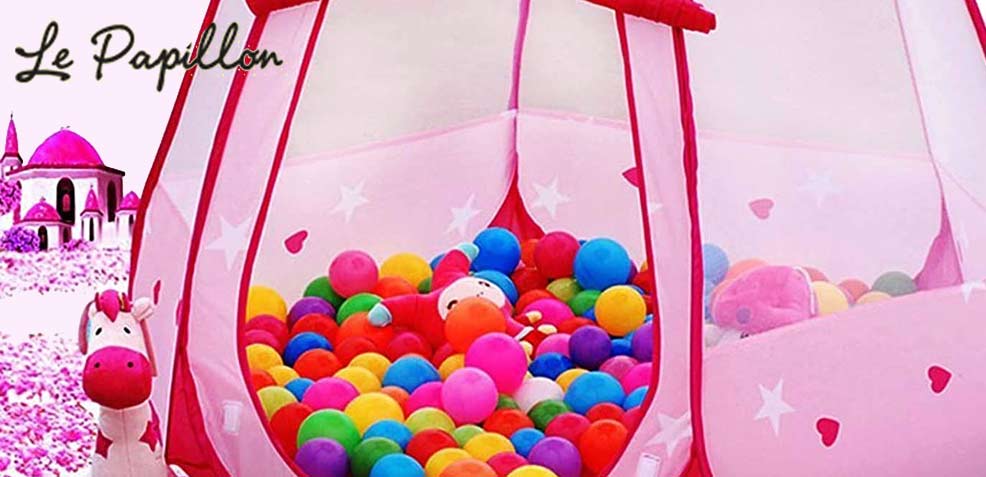 Every princess needs a special place to call her own. This play tent, aptly named after the French word for butterfly, includes a pop-up design to transform from collapsed to unfolded in seconds. The simple yet elegant motif offers roomy space for play, coloring, or just some quiet time. Mesh windows are breathable, and the curtain door can be strapped open or rolled down. The canopy is detachable for an open top option, and this set even comes with a matching headband for baby! In a quick twist, the tent folds back into its carrying case for travels between rooms, vacations, and more!
---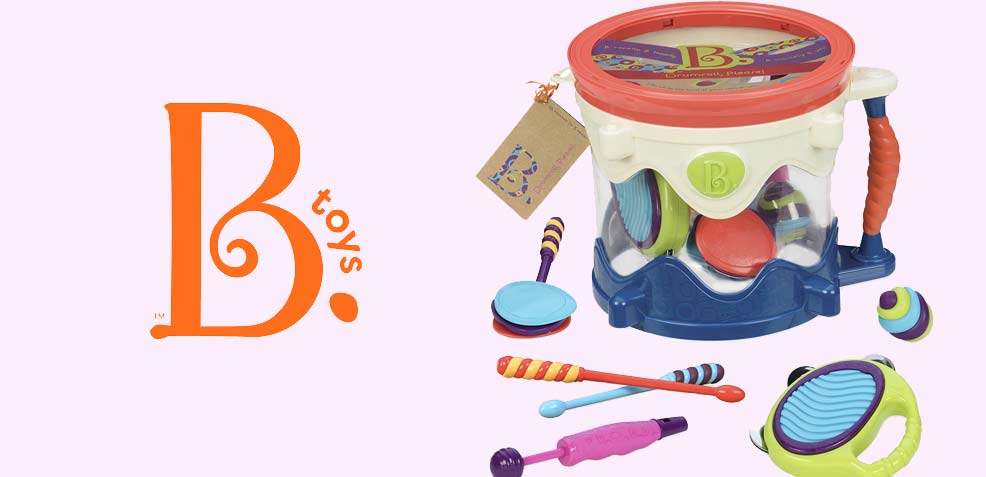 Modern girls are encouraged to forge their own path and walk to the beat of their own drum! The Drumroll Please set is a portable parade kit with seven musical instruments designed especially for toddlers. The bright, colorful instruments are made with different textures, bumps, and bristles, to stimulate baby's sense of touch and improve concentration, fine motor skills, and hand-eye coordination. Drumroll Please includes: one toy drum with an over the shoulder strap for play while marching, two drumsticks, castanets, one whistle, one tambourine, and one shaker egg. The drumhead is removable, and all of the small instruments fit easily into the drum for easily clean-up and storage.
---
In addition to her gross motor skills, baby will be developing fine motor precision. Enter Spike, the Fine Motor Hedgehog! This playful woodland friend is covered in "quill" pegs. Baby can practice gripping, pulling, and replacing each quill into the holes on Spike's back. The quills are vibrantly colored, so as baby grows, she can also work on sorting and pattern skills. When it is time to clean up parents don't need to worry about the quills getting lot—Spike's back opens like a shell and all of the quills fit inside for easy storage.
---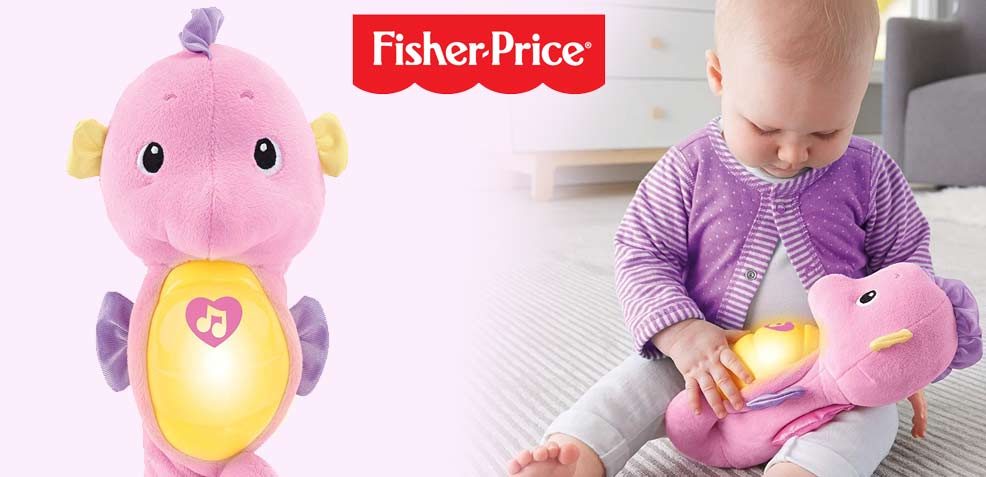 Soothe & Glow Seahorse will quickly become baby's best friend. This soft and snuggly plush has a gentle-squeeze tummy that lights up and plays sounds and music to calm baby and lull her into sweet dreams. Sounds play up to five minutes and include eight different lullabies and soothing ocean sounds. Various fabrics and textures make the Soothe & Glow Seahorse perfect for tactile exploration and cognitive development. This plush toy comes in both pink and seafoam to match baby's personality or nursery. Power and volume controls give parents the ability to customize this toy to each baby's needs and preferences.
---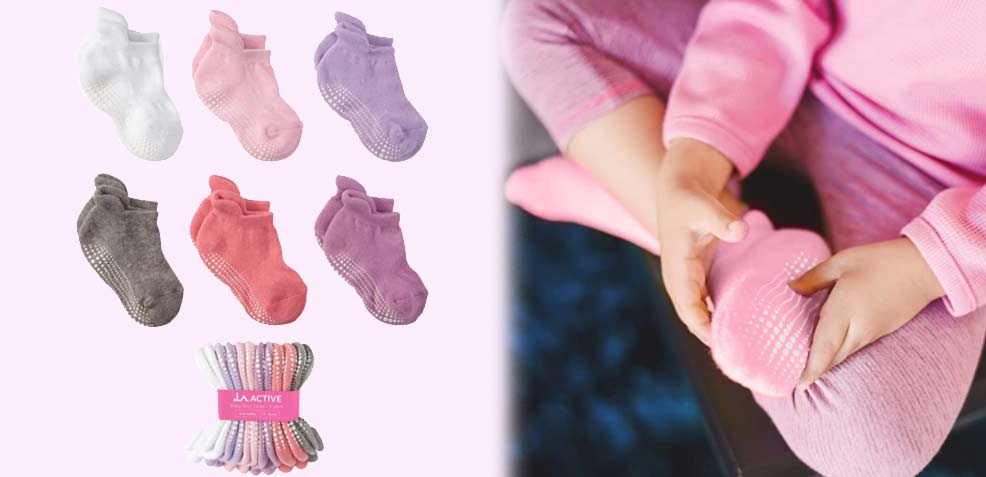 As little girls start walking, these active grip ankle socks will help keep her on her feet. Made from a comfortable blend of cotton, polyester, and spandex, these socks offer a snug, stretch fit to grow with baby. The extra-strong anti-skid safety grip covers the soles from heel to toe (with extra grippers on the heels and balls of the feet)! Various palettes available come with six coordinated colors in each set to ensure there is always a clean pair available. The padded heel tab around the ankle cuff makes pulling these socks on or off a breeze (and this is important when working with very wiggly, one-year-old feet), plus this tab creates a barrier to avoid blisters from shoe friction.
---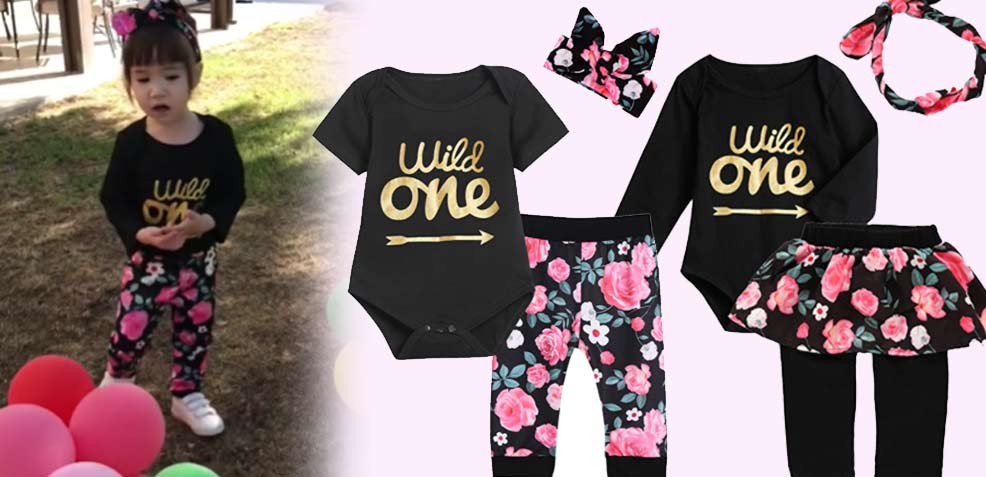 Celebrate baby's first birthday and free spirit with the Wild One outfit set! Made from smooth, breathable fabrics, this set will be a favorite for fashion and comfort. Wild One sets are available in a variety of prints including florals and polka dots and styles including tank top, short sleeves, long sleeves, suspenders, pants, shorts, and skirts. Each set incudes a top, bottom, and matching print headband. The durable cotton and spandex material clean easily and is perfect for photo shoots or playing outside. A pro tip from parent reviews: Order a size up to ensure fit and longevity.