The Best Toys and Gifts for 2-Year Old Girls
From princesses to problem solvers, these curated gifts are perfect ideas!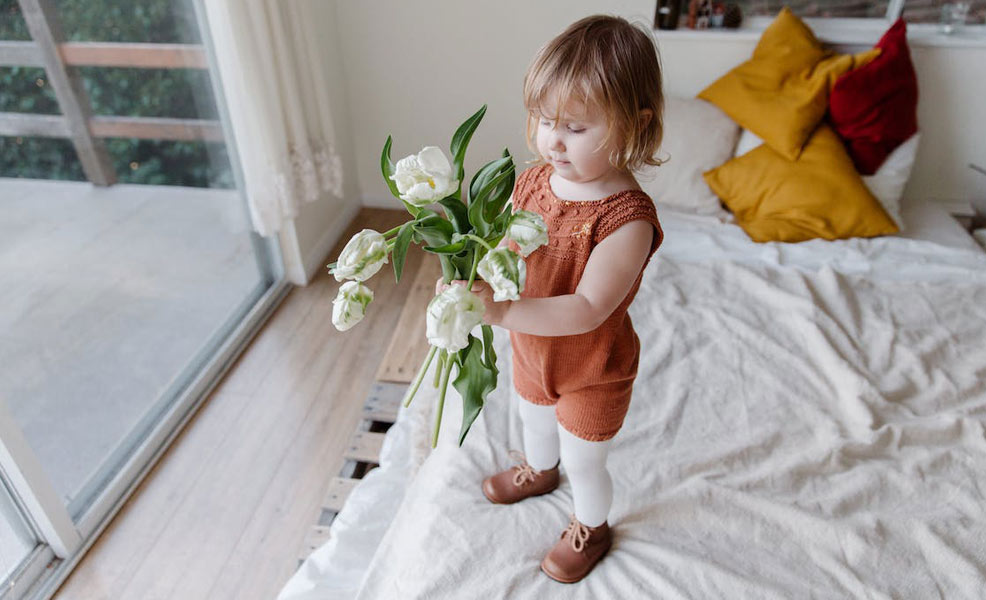 ---
Mommyhood101 independently tests and curates baby gear to help you make informed decisions. If you buy products through links on our site, we may earn a commission.
The best toys and gifts for two year old girls will build age-appropriate motor skills, communication skills, and social engagement.
At 2-years-old, most girls will be walking, carrying their toys, climbing, talking, and maybe reciting some of their ABCs.
Toddlers will follow their parents and caregivers, imitating daily chores and activities. Their imaginations are developing, so creative playtime becomes a significant opportunity for self-expression and growth.
All of these gifts and toys are time-tested, top-rated, and offer fun and durability for active toddler girls!
Here are the Best Gifts for Two-Year Old Girls!
Click on an image to check prices at a major retailer.
A magnificently modern kitchen with all the bells and whistles! The Step2 Fun with Friends Kitchen is a full, state-of-the-art culinary masterpiece. No details were spared in this playset design, including realistic electronic stovetop burner lights and sounds. The kitchen comes with a special frying pan and boiling pot, coffee maker station, realistic appliances with working doors, and accessories such as spoons, spatulas, saucers, cups, bowls, condiments, and a recycle bin. This durable, 45-piece set will stand the tests of time and toddler play with strong, double-wall construction. Materials are free from BPA, Phthalates, and VOC. Color is embedded throughout, so this set is vibrant and easy to clean. Want to see more options? Check out our list of the best play kitchens of the year!
---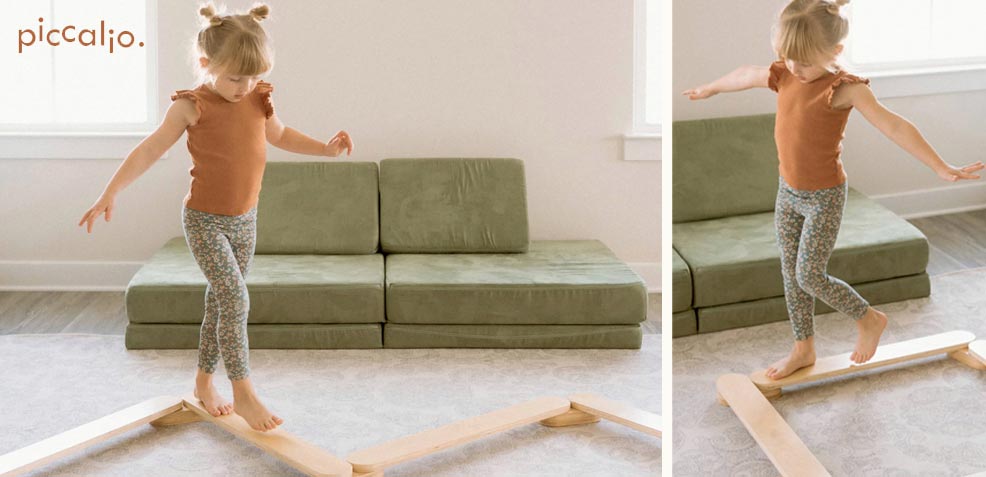 Got a future acrobat or gymnast on your hands? The Piccalio wooden balance board is the perfect way to train gross motor skills, coordination, posture, and balance, and get your little girl moving! The wooden planks are high quality and beautifully crafted with birch and pine, with non-toxic finishes throughout. Easy to assemble and pack up for storage, these balance boards are a winning combination of fun and function, and have a simple design and reasonable price. Highly recommended! Click the image to learn more.
---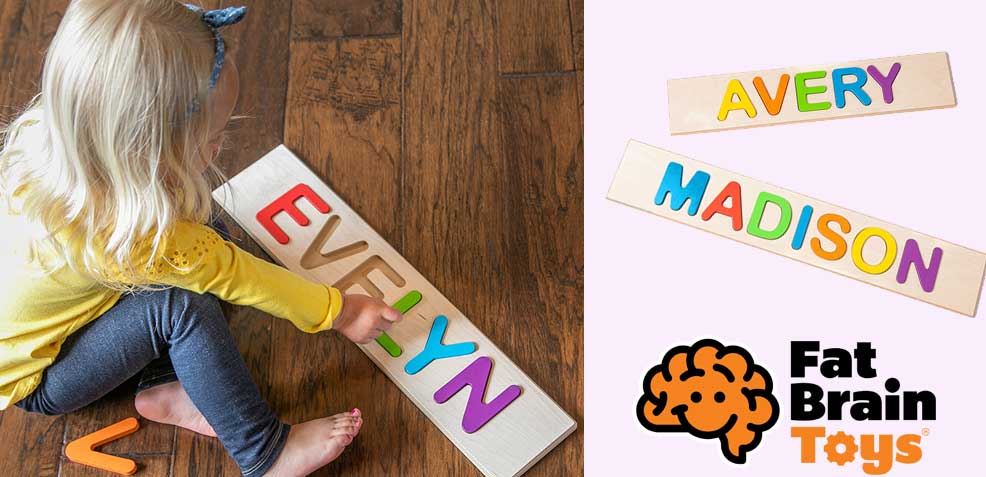 If you haven't heard of Fat Brain Toys, you're missing out on a huge selection of high quality, educational, and super fun gifts for babies, toddlers, and big kids! Their selection is second-to-none, moving beyond the typical gifts everyone will find at Amazon and other big retailers. This unique personalized name puzzle makes an awesome, thoughtful gift for toddler girls just learning how to sound out letters and put together puzzle pieces. It will help them learn to recognize their name, build perceptuomotor and spatial rotation skills, and start recognizing familiar colors. This puzzle can fit baby names up to 9 letters long, so bring on those Charlottes, Elizabeths, and Isabellas!
---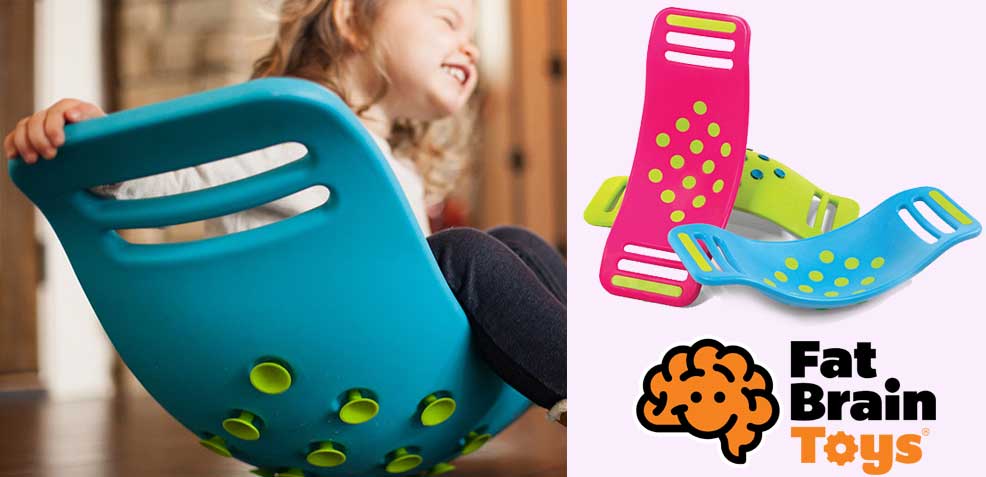 If you read our #1 gift idea, above, you know how much we love Fat Brain Toys! Their popular Teeter Popper is tons of fun for a two-year old girl, combining the best attributes of a balance board with a rich multi-sensory experience provided by miniature suction cups on the bottom. They can rock and roll, sit or stand, and otherwise have a blast wiggling this balance board around while feeling, hearing, and seeing the awesome pop-pops of the suction cups on the floor. Like all Fat Brain Toys, the Teeter Popper offers some serious developmental and educational advantages, helping toddlers to build stability, core strength, balance and whole-body coordination. Non-marking bottom, works perfectly on hardwood, tile, or linoleum floors!
---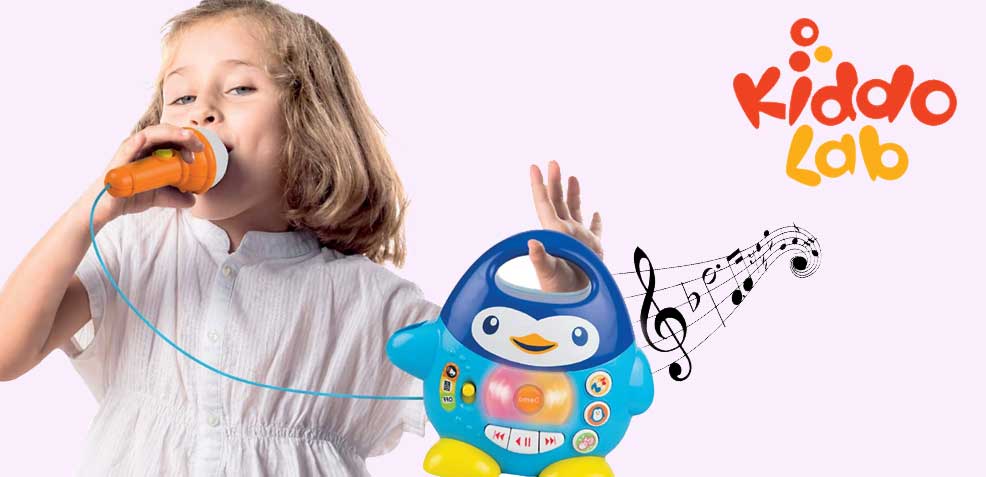 Toddlers learn a lot through song. Nursery rhymes, daily activity songs, and lullabies make up a substantial amount of communication for little ones. So, it is no wonder that babies often communicate musically. Singing is a wonderful form of self-expression, and the Penguin Karaoke Buddy encourages toddlers to lift their voices with music and colorful lights. Familiar melodies are built in, so no additional components are necessary. The microphone really works, so little girls will love singing along and adding special effects like echo and animal sounds to the performance. When it's time to take a bow, an applause button will offer well-deserved praise.
---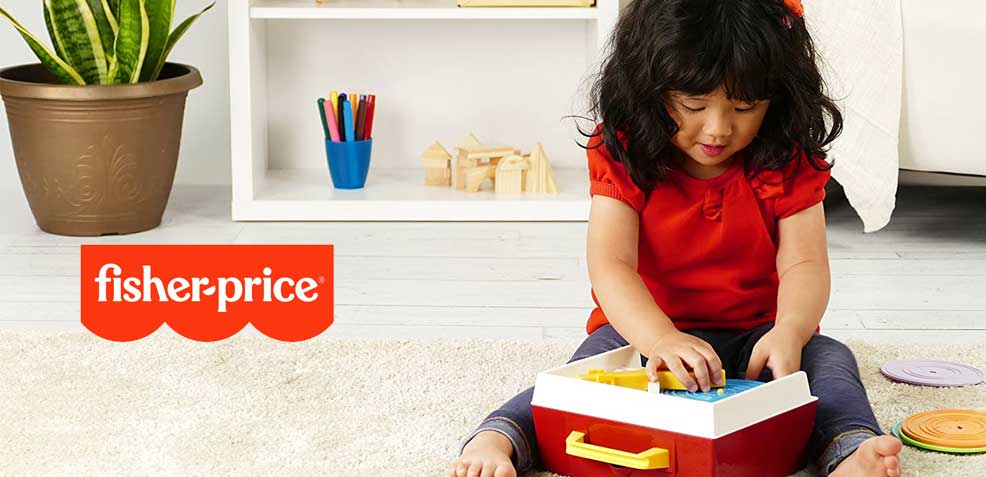 This classic toy is making a comeback. Sure, maybe today's two-year-old kids won't really know what a record is (unless they are already supremely hip), but they will still love this charming musical toy. Featuring ten songs on five records, this durable music player is an absolute delight. Little ones can simply crank the wind-up knob to get the table turning, select either side of the included records, and slide the arm over to start the music. All of the records fit into the special storage compartment on the back of the music box.
---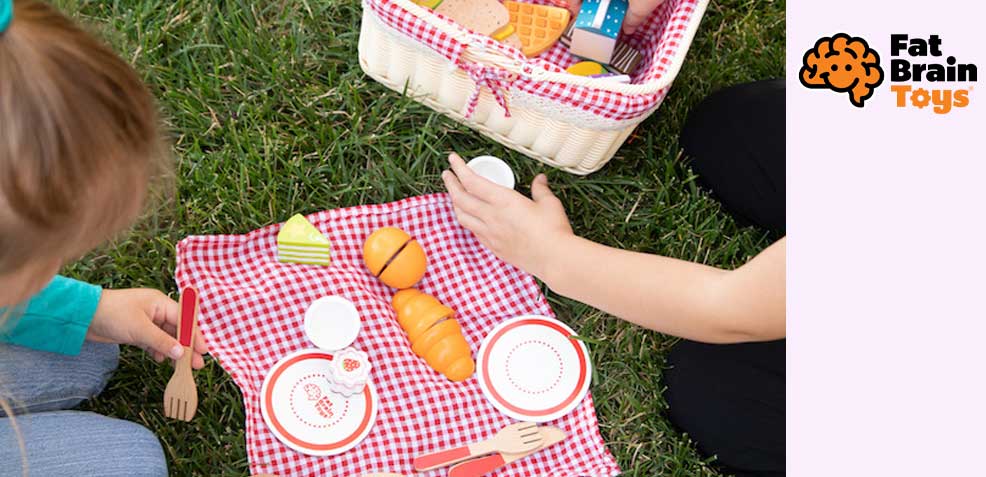 What better than a picnic on a beautiful spring, summer, or fall day? Soaking up the sun, sights, smells, and sounds of nature while embarking on a pretend play journey with their own picnic set! This 27-piece set comes with everything your toddler girl needs to host a little picnic meal with her friends in the park or backyard, including the basket and tons of high quality wooden play food and drinks. Lay out the checkered blanket, slice up the apple and croissant, make a super sandwich, and let imagination take them away!
---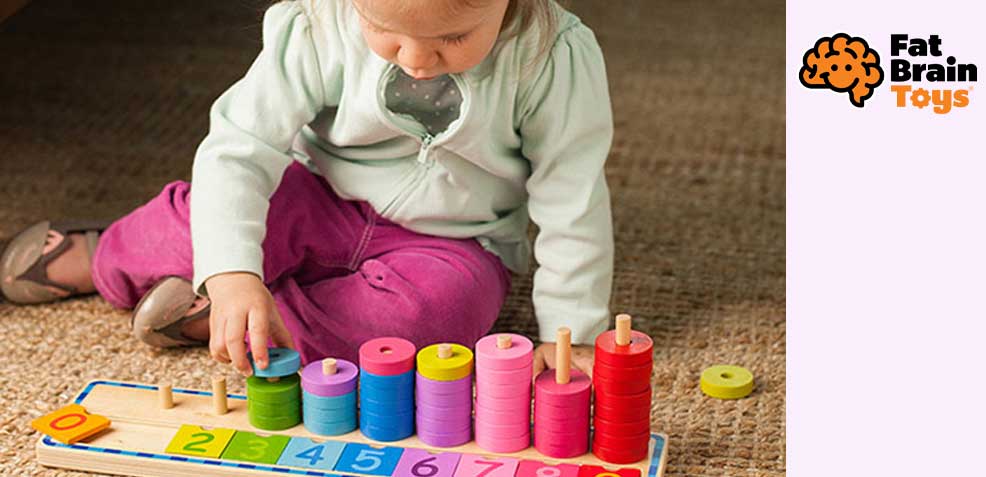 This awesome count & sort stacking tower is a learning adventure for toddler girls, who are tasked with sorting, stacking, matching, and learning to count, differentiate colors, and organize their little worlds! The wooden construction and vivid colors make for a beautiful educational experience that is tons of fun and will last a lifetime. Don't be surprised that your little girl has learned to recognize some numbers and colors after using this toy for a few months, all thanks to Fat Brain Toys and their super creative team! Be sure to check out our annual list of the best sensory toys!
---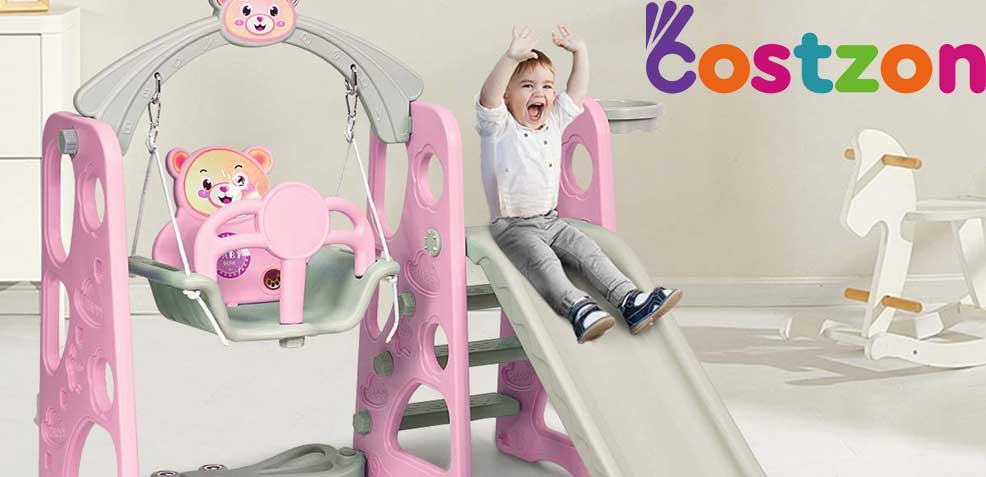 Two-year-old kids are full of energy and new-found mobility. Supporting and encouraging their physical education is an important part of raising strong, confident children. This 4 in 1 Climber and Swing Set promises hours of active play and entertainment. Featuring a smooth slide, safe swing, basketball hoop, and climbing ladder, this perfectly-sized jungle gym engages hand-eye coordination and balance while toddlers play. The slide includes an extended buffer to protect little bums from a hard landing, and the wide-seat swing includes a T-shaped safety bar and ropes that can hold up to 110 lbs. This set is designed for both outdoor and indoor use (with enough space) so the playground will never be far away.
---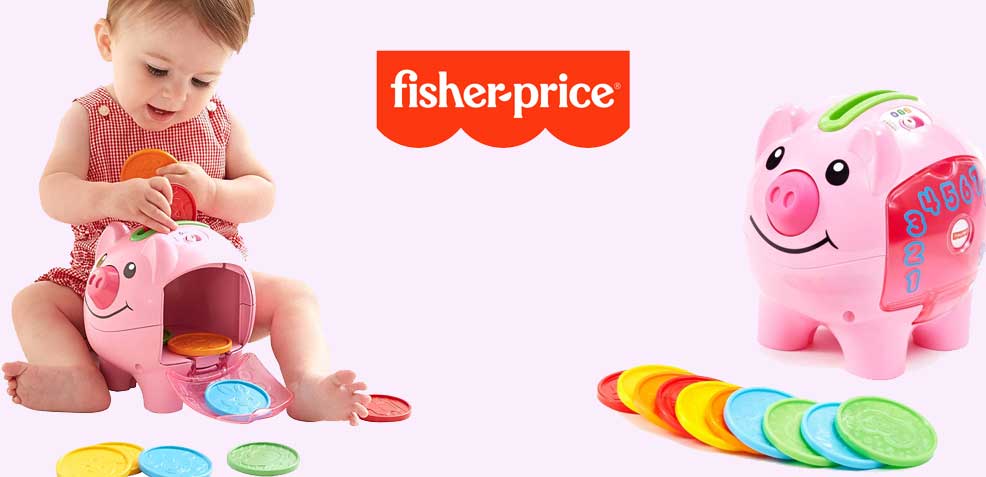 Introduce toddlers to colors, counting, and language skills while developing hand-eye coordination and motor skills. This little piggy comes with ten colorful coins that teach animals on one side and numbers on the other and 40+ sing-along tunes and phrases, including rewarding songs to introduce cause and effect. Every child develops at her own pace, so the Laugh & Learn Piggy Bank includes multiple play modes as part of Fisher-Price Smart Stages technology. Level 1 sparks curiosity with fun sounds and music. Level 2 encourages deeper interaction with questions and simple directions.
---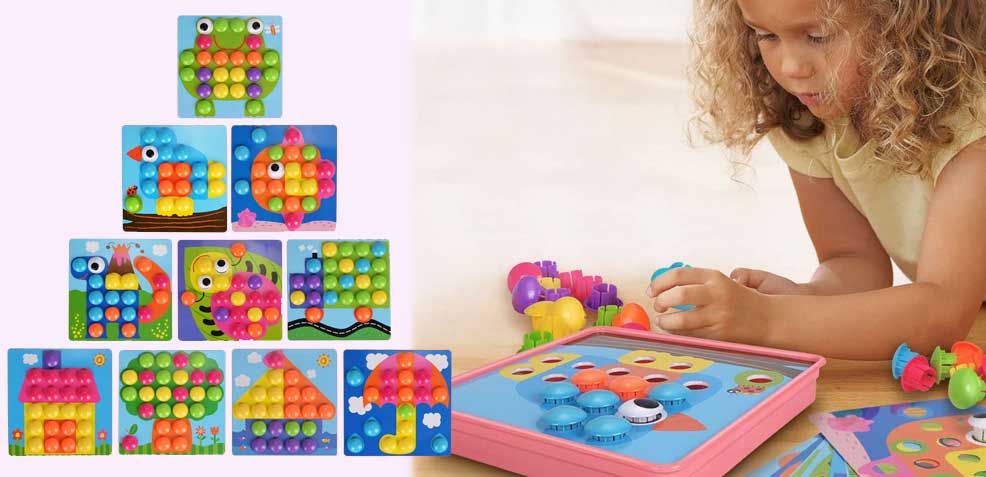 Button art could be described as color-by-number meets pegboard design. Perfect for creative play, arts and crafts, or quiet time, the Button Art Game combines color identification with hand-on gross and fine motor development as toddlers match colors to board images and pop pegs into place. This NextX set includes 46 colorful buttons, 10 different pictures, 1 peg board, and 1 storage tray to hold all of the parts for easy clean-up. All pieces are made from premium quality, BPA free, safe and non-toxic, ABS plastic with smooth edges. This durable set is engineered for at-home or on-the-go play.
---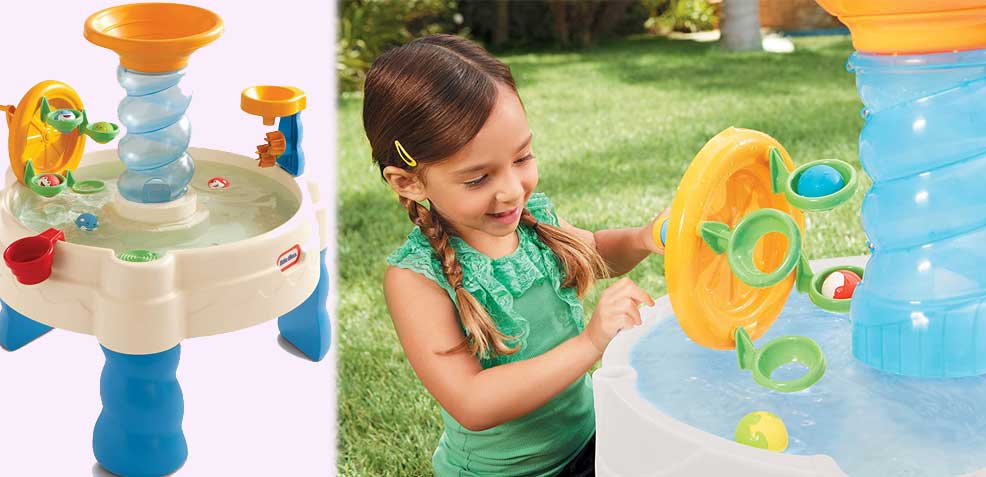 Toddlers can enjoy waterpark adventures at home while developing "put and take" and early motor skills with the interactive Spiralin' Seas Play Table from Little Tikes. This play table is loaded with exciting features including twin water wheels, a spiral tube, a funnel, and a Ferris wheel. Toddlers can pour water from the included cup to activate the waterwheels or drop one of the included squirt-balls through the spiral tube and then watch it float down and around the "lazy river." Large pieces make set up and simple assembly a breeze, and this table is just the right height for little bodies to reach and play for hours of splashing fun. Check out our outdoor toy reviews here!
---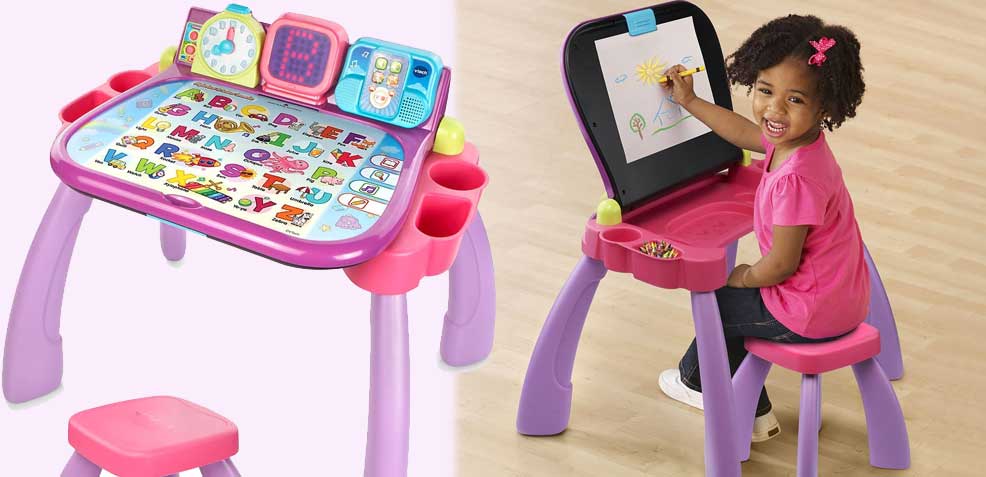 An all-in-one center for toddlers to learn, grow, and create. This dynamic activity desk has everything and space for more! On-deck assistants include a smiling music player/ speaker, a friendly toy phone, and a light-up display screen for letter stroke and basic shape demonstration. The surface features more than 200 touch and learn spots on the included learning card. The desk easily lifts open to reveal a chalkboard and storage space for art supplies. Use the attached clip to transform the chalkboard into an easel. Matching stool is included, and expansion packs are available including desk-top learning cards and music player cartridges for wider curriculum and entertainment.
---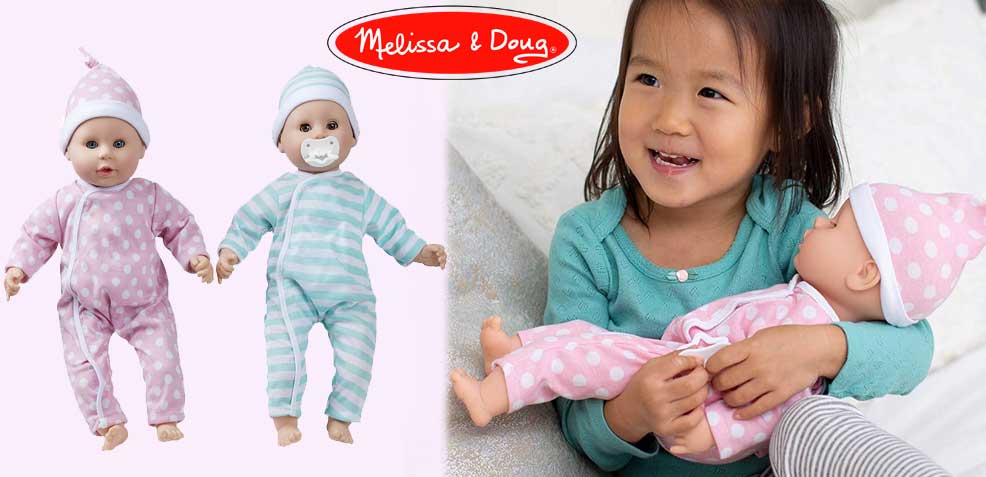 These classic style baby dolls are perfect companions for creative play. Luke and Lucy each come with a removable cap and romper, as well as a pacifier. Their eyes open and close when the dolls are reclined, and they can "suck" their thumbs as well as their pacifiers. Playing with these adorable baby dolls can help develop empathy and nurturing behavior in young children. The twins have soft, huggable bodies, making Luke and Lucy a perfect first baby doll set. Faces and limbs are made from quality, wipe-clean soft plastic (use some good baby wipes!). Melissa & Doug is a trusted, educational toy brand with many accessory options for their baby dolls including Baby Food & Bottle Sets and Bedtime Play Sets.
---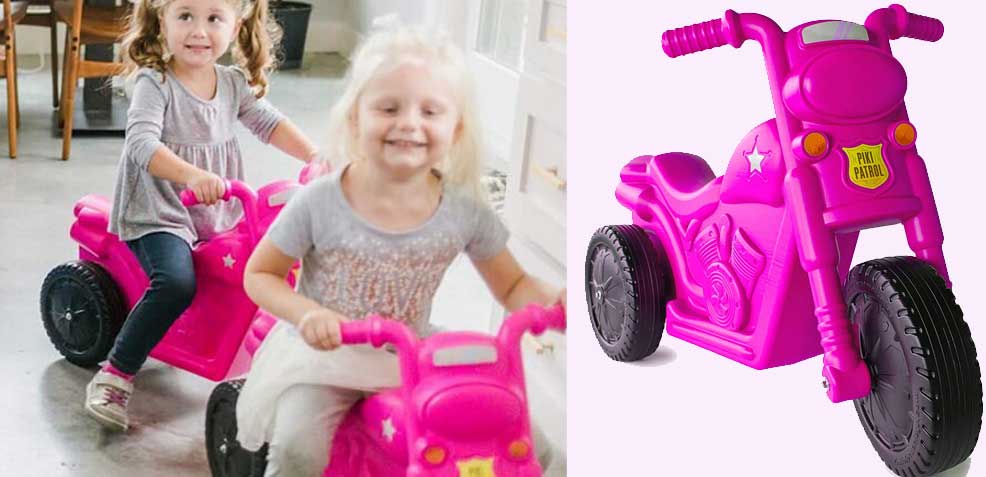 Toddlers will be ready to ride with their lightweight and durable Piki Piki Bike (named for the Swahili word for "motorcycle"). This slim-line, easy-steer bike is crafted from U.S. made, high impact, non-toxic HDPE plastic. The bike weighs only 5.5 lbs., but it can hold up to 70 lbs. The 3-wheel design helps toddlers build confidence in balance, maneuvering, and spatial awareness—skills which will come in handy when it comes time for bicycle training. Parents love that there is zero assembly required. Piki Piki's large wheels glide smoothly over concrete, carpet and most hard surfaces for indoor or outdoor play. Want to see more options? Check out our full list of the best kids bikes.
---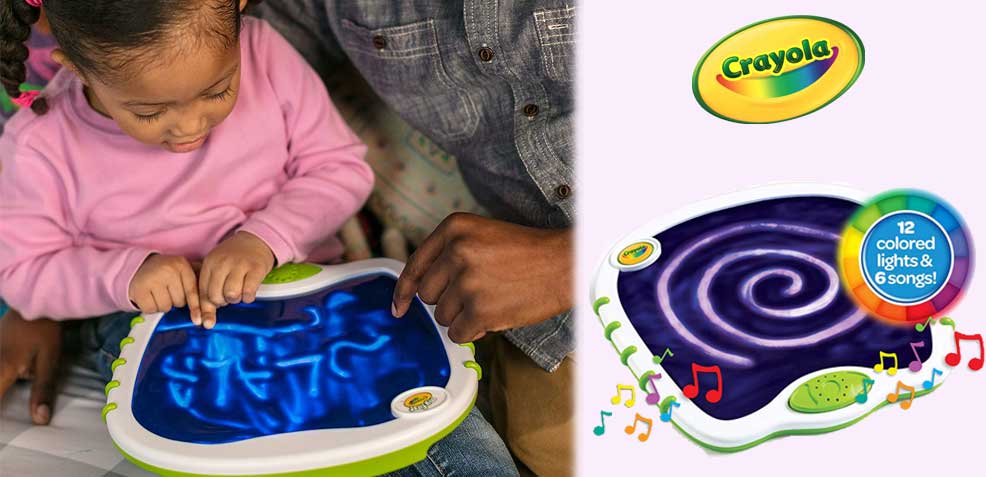 Imagine what mess-free finger painting might look like, and then take a look at the Musical Doodle Board from Crayola. This unique drawing tablet includes a sealed gel surface for safe, mess-free creation. No markers, crayons, or paints are needed to play on this tablet. Toddlers can use their hands and fingers to spread the gel around, supporting gross and fine motor skill development during tactile play. The Doodle Board also features 6 songs and 12 light colors built in, so as kids draw, their pictures come to life with sound and illumination. This dynamic art station runs on 3 AA batteries, so it is perfect for on-the-go fun, and a silent mode option allows children to continue play at any venue.
---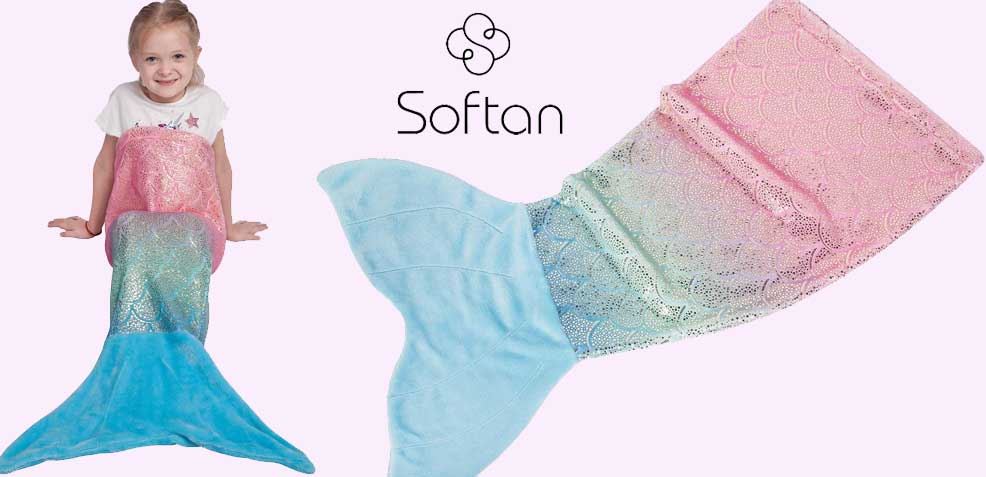 This ultra-soft Mermaid Tail Blanket is the perfect cuddle accessory for movie night or story time. Toddlers love playing dress up, and this blanket combines creative play with calm-down time. The wrap-around blanket transforms legs into a mermaid tail. Toddlers will thrill to kick-up their fins and pretend to snuggle under the sea. The Mermaid Tail Blanket is made from flannel fleece, which is lightweight and more plush than polar fleece. The ombre color options are glamorous with glittering fish scale patterns that will not fade. As a bonus, this blanket is also available in adult sizes—so grown-ups can be mermaids, too!
---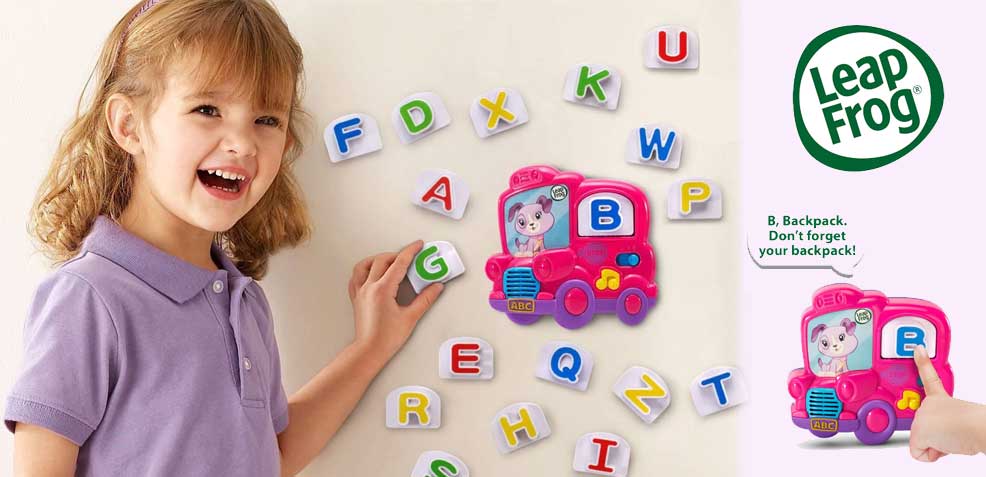 Alphabet refrigerator magnets get a dynamic upgrade with this phonics set from LeapFrog. The set includes one magnetic phonics bus and 26 interactive magnetic alphabet tiles, specially designed for easy manipulation by little hands to help strengthen fine motor and coordination skills. Individual letter tiles fit into the bus window for a phonics adventure. Violet recognizes the letters and will announce the name and sound or use it in a word sentence. The music note button plays three fun songs including the 'Alphabet Song' and 'Wheels on the Bus,' so toddlers can sing and dance along while exploring letter recognition and sounds.
---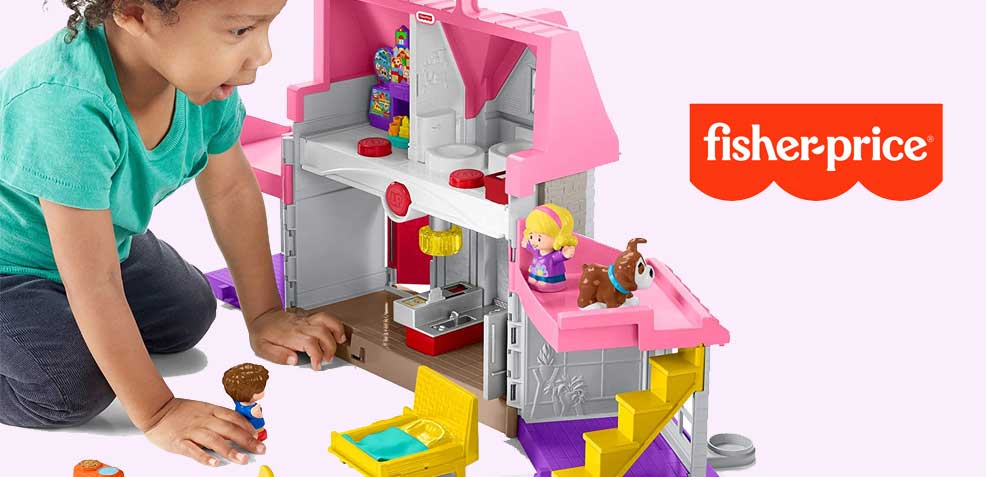 A quaintly simple first dollhouse, perfect for little hands at play. The Little People Surprise & Sounds Home includes many features such as bedrooms, kitchen, bathroom, and living room—but in this house, most of the furnishings are attached, so there is little worry for pieces going missing. The only separate elements include three Little People dolls and a table with three chairs. Little girls will love this interactive house with 50+ sounds, songs, and phrases. The refrigerator and oven both open to reveal lights and sounds. The toilet seat lifts, makes a flushing noise, and reminds kids it's time to "wash your hands." When playtime is over, all of the pieces fit into the house, which hinges closed for easy storage.
---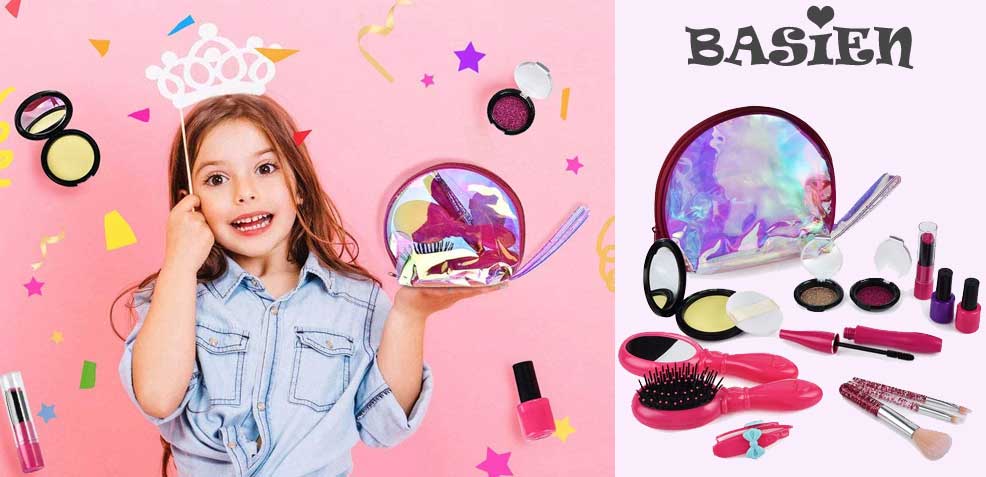 Mess-free fun for little girls who love to watch mommy and other caregivers apply makeup. This kit includes pretend make-up for little glam toddlers. Encouraging imaginative, creative play, the kit features pretend compact powder, glitter pots, nail polish, mascara, soft brushes, a powder puff, a hairbrush, a hand mirror, and a shimmery zip-up pouch to carry it all. None of the makeup pigments will transfer onto skin. Each piece in this makeup set includes realistic shades and textures, engaging toddlers through tactile stimulation. The toys in this set are made from non-toxic, eco-friendly secure foam, rubber, and plastic materials with smooth edges for safety.