We pulled together 14 of the year's most popular lightweight and ultralightweight "umbrella" strollers and put them to the test. We took them on walks, brief runs, loaded them up with babies and supplies, folded and unfolded them, and tested out all the features. In the end, there were five strollers that emerged on top. They were the safest, most comfortable, easiest to use, lightest, and had some pretty great features. Note that we have several other stroller reviews, including luxury strollers, double strollers, jogging strollers, and mid-grade strollers (under $200, but often heavy). So be sure to check those out as well. Before we get into our lightweight stroller reviews, let's go over what we were looking for.
Easy Folding. This was critical. You're buying a lightweight travel stroller for a reason. You want it to be quickly and effortlessly fold up and fit into the half-full trunk of a compact car, fit into the overhead bin on a plane, fit neatly into an apartment closet (or restaurant coat area!), or to strap onto a suitcase during travel. Folding with only one hand is even better. You also want it to unfold with ease and not too much hassle, preferably also with just one hand. These were really important features for us.
Safe and Reliable. You want a lightweight stroller that folds easily, but won't fold up with your baby inside, or have several exposed hinges that could pinch their little fingers. The stroller needs to have a 5-point harness, not tip over easily, have good locking wheel brakes, and have a sturdy build quality that will last for years. There are many lightweight strollers on the market that are flimsy, tipsy, and won't last you more than a year. Those don't show up on our list.
Comfy and Lightweight. There's a trade-off between a super comfortable stroller and a super lightweight stroller: rarely will you find a stroller that meets both of those needs, especially not an umbrella stroller. To keep an umbrella stroller super lightweight (under 10 pounds), you often compromise a bit on seat, head, and side cushioning. We try to find the best trade-off between weight, build quality, and comfort.
Here are the Best Lightweight Strollers of 2018!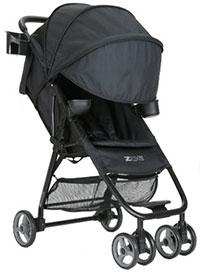 1. ZOE XL1 Deluxe Xtra Lightweight Umbrella Stroller System. This is the best we found, and all of our testers were thrilled with it! Features abound: there is a great snack holder and cup holder for baby, a detachable cup holder and storage pouch for the parents, front wheel suspension, a HUGE canopy (the biggest we tested), reclining seat, a peek-a-boo window to check on your baby (sleeping yet!?), detachable padded front belly bar, rear wheel brakes, and a decently large storage basket on the bottom. Now, we want to be clear that this stroller doesn't fold like a typical umbrella stroller, instead it folds into a much shorter bit wider rectangle about the size of a small suitcase. It's about 26" high, 15" wide, by 7" thick, which is perfect for the overhead bin on an airplane. The wheels can be popped off to make it a couple inches shorter if needed. We suggest using this stroller from about 6 months of age, up until about 45-50 pounds maximum. Somehow they got all these great features into a super solid and sturdy stroller that weighs less than 10 pounds! On our scale, it was 9.8 pounds, which is really unbelievable for this type of quality stroller. They accomplish this by using a sleek aluminum frame with plastic additions (like the cup holders and belly bar), which is all lightweight. Surprisingly comfortable, this super lightweight stroller with an awesome feature set can be purchased for around $150. Cons? Well, we thought a carry strap would have been nice, but do note that they make a backpack that it slides into pretty nicely.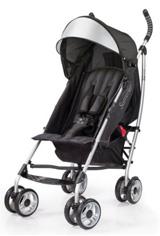 2. Summer Infant 3DLite Convenience Stroller. This is a true umbrella stroller that folds into a long narrow shape that can fit into even the smallest places (44" high, 14" wide, 12" deep). Deal with tiny European rental car trunks, small plane overhead bins, or a tiny urban apartment closet? This is probably a great option for you. Not surprising that this is one of the best selling strollers of all time, coming in at only 12 pounds and with some really great build quality, comfort, and features. Even with its light weight and low cost (usually under $100), this is not a flimsy stroller at all, and we thought that was really impressive. It turns well, has good brakes, and isn't tipsy at all. And the company Summer Infant has a very long reputation for reliability and customer service. We like the curvy lines of the frame, the handlebar shape and grips, the front wheel suspension, and the fact that it includes a carry handle (for when it's folded) which is surprisingly hard to come by! It has a good sized storage basket that is actually easy to access from the rear, a decent size canopy (but nowhere near the ZOE XL1), padded shoulder straps, and a pretty comfy seat (and deep recline). There's also a cup holder and little pouch for mom or dad. Cons? Well, we couldn't figure out how to get it to stand on its own while folded, and there are no cup or snack holders for baby. Outside of that, for this price-point you are really getting an exceptional stroller!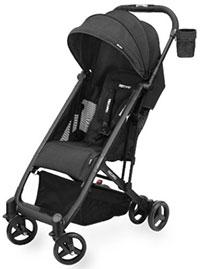 3. RECARO Easylife Ultra-Lightweight Stroller. This is one of the heavier strollers on this list coming in at just under 13 pounds. But we really like its style, flexibility, and features. It's a really functional stroller that feels super sturdy and well built. Maybe this isn't so surprising given RECARO's history of making high quality products, and its popularity in Europe. For use with babies from about 6 months of age up to 50 pounds, this stroller is super portable, stands on its own when folded, and has highly breathable surfaces (including mesh sides which are awesome for keeping baby cool on summer days). It has a sleek, super simple design and frame, that looks great. All wheel suspension makes for a nice smooth ride, and we thought it did a great job cornering in tight spaces. The canopy is decently sized, and includes an extra extension for those bright or rainy days. A somewhat small storage basket is easily accessible and sturdy, and there is a detachable cup holder for parents. The recline was also quite good, though it didn't go anywhere near flat when fully folded. There were some things that were really easy about this stroller, including the one-handed folding, padded shoulder straps, smooth steering (even with one hand), and rear wheel brakes that were surprisingly easy to use. The steering is helped by the fact that there are single (rather than double) wheels up front. So overall this is a really excellent stroller. Cons? Well, it's a bit heavier than most lightweight strollers, folds into a size quite a bit larger than the ZOE, has no carrying strap, and we had an issue once where the front wheels were locked after unfolding (though that only happened once).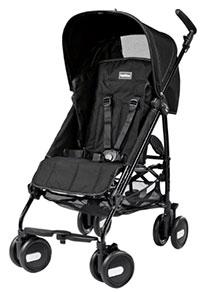 4. Peg Perego Pliko Mini Umbrella Stroller. Another great option, but a bit more expensive than most others on this list, coming in around $250-300, and without quite as many features. The Pliko is an awesome, very well built, and very comfortable stroller that comes in a ton of great colors and patterns. Some great features include front wheels that can lock or swivel, locking rear wheel brakes, adjustable seat recline, adjustable foot rest height, adjustable handlebars for shorter or taller parents, and a very easy to use folding mechanism. Like the ZOE XL1, this stroller also folds into a rectangle, but unfortunately one that is quite a bit larger, especially in terms of how thick it is when folded. It is about 11 pounds, coming in slightly heavier than the ZOE XL1. In terms of capacity, this stroller is suggested for babies about 6 months old up to about 45 pounds. The nice wide seating surface makes this possible - our 4 year old fit into it just fine, and I could see him using it after a hot day walking through an amusement park. We found the folding mechanism really easy to use with only one hand, which is great if you're holding baby with the other! It also stands upright alone really easily when folded. So overall this is a great stroller, with far fewer features than the ZOE, but with great build quality and some other good additions like adjustable handlebar height, and a super easy folding mechanism. Cons? Well, we thought it felt a bit more flimsy than the ZOE, and of course it doesn't include anywhere near as many features. The canopy is relatively small as well, and the storage pocket isn't as easy to access. Also, it's usually about $100 more than the ZOE, and we don't see any great reason why that's the case.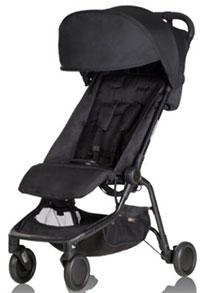 5. Mountain Buggy Nano Stroller. This is a very minimalistic stroller that is great for traveling. Heading to Europe for an adventure with a baby or toddler? This might be a great solution for you. It folds into a carry-on size for airplane travel, and is super compact even when opened. Not for big chunky monkey babies or toddlers, the seat is rather narrow and we think it reasonably tops out around 40 pounds. The stroller itself weighs 13 pounds, which was heavier than we were expecting, especially given the minimalistic design and features. But we found it really clever in its design, well built and reliable, and narrow enough to fit through little European doorways. Folding was easy enough, but we found that it really required 2 hands. It folds up nice and small (12" by 22" by 20") and fits into its own (included!) pouch, and has a built-in carrying handle. Even with its minimalist design, it has some good features for travel: adjustable footrest, rear wheel suspension, and a canopy with a nice extension to block sun or rain. Overall, if you're planning on doing some serious traveling with baby, this is the way to go. Cons? Well, it doesn't have anywhere near the features as the top lightweight strollers on this list, and there are some minor annoyances. Like when it's folded up the canopy interferes with your hands gripping the handlebar, there's no cup holder, and the storage basket is small. Not to mention it's pretty pricey!