Moonlight Slumber Little Dreamer Review
One of the most popular crib mattresses of all time, but easily surpassed by others.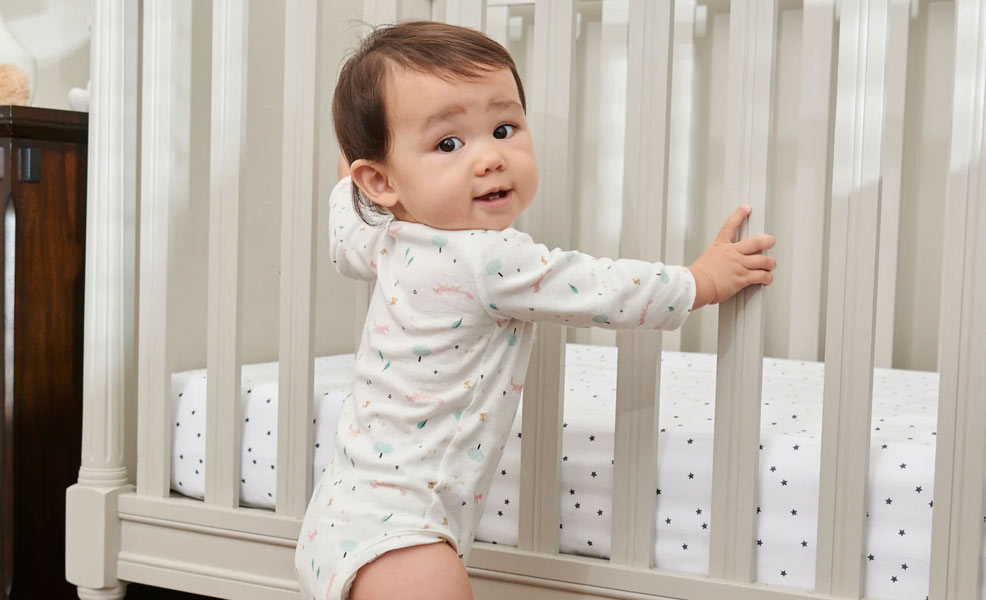 ---
Mommyhood101 independently tests and curates baby gear to help you make informed decisions. If you buy products through links on our site, we may earn a commission.
One of the more popular crib mattresses on the market, the Moonlight Slumber Little Dreamer packs a strong set of comfort, design, and safety features.
Our Review
We put the Moonlight Slumber crib mattress through our hands-on testing and came away with a good impression. Rather than making you read through the entire article, here are the main things we liked and disliked about it:
✔️ Made in the USA.
✔️ Low VOC CertiPUR-US certified.
✔️ Greenguard GOLD.
✔️ Soft water-resistant cover.
✔️ Lightweight construction.
✔️ Good edge support.
✔️ Dual-firmness.
✔️ Super comfortable toddler side.
✔️ No chemical flame retardants.
✔️ Unrolls and expands evenly.
✔️ Reasonably priced.
❌ Polyurethane foam core.
❌ History of misleading claims.
❌ Strong off-gassing odor when new.
Not the best crib mattress on the market, but certainly better than many others!
You can find better, but maybe not for the same price point (around $199). Overall, we give it a 4.2 out of 5! Click the below image to check prices at Amazon.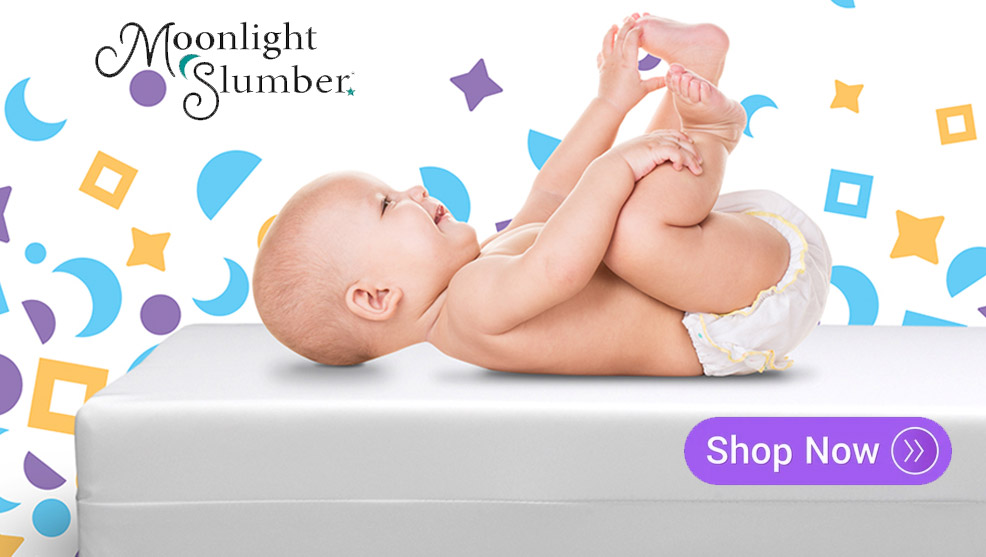 Want to learn a little more about this crib mattress? Keep reading!
The Little Dreamer is a polyurethane foam core crib mattress made right here in the U.S.A..
It has some great low VOC features, squared corners, a long excluded chemical list, a waterproof and seamless cover, dual firmness, and hypoallergenic materials.
We love the fact that it is Greenguard GOLD certified and also CertiPUR-US certified for low VOC emissions.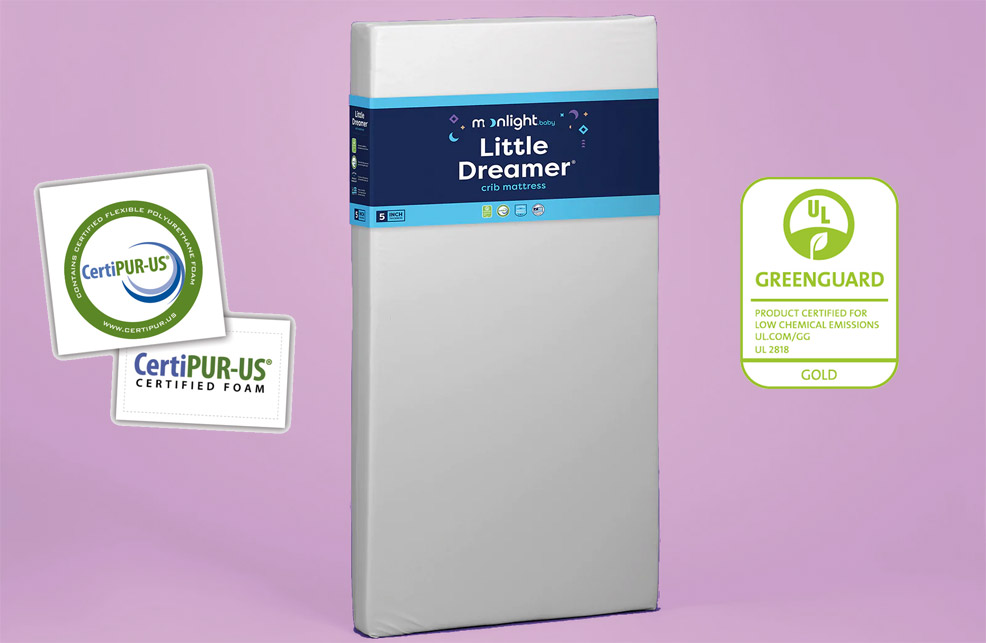 In our hands-on testing, this mattress fit our DaVinci crib and Nestig crib like a glove, and the squared corners were awesome, filling all the extra space.
This design makes it less likely that a pacifier falls down into the gap between the mattress corner and crib frame, becoming impossible to find at night!
As far as we could tell the crib mattress it has a great build quality, and the seamless edges and waterproof cover were a nice touch. The cover itself is decently soft with a woven texture, seems like good quality, and it's infused with plant oils for some nice softness.
While the cover isn't removable for washing, we love that it is waterproof, has a fire-resistant woven layer, and can be easily wiped clean.
The anti-microbial coating is also a nice touch!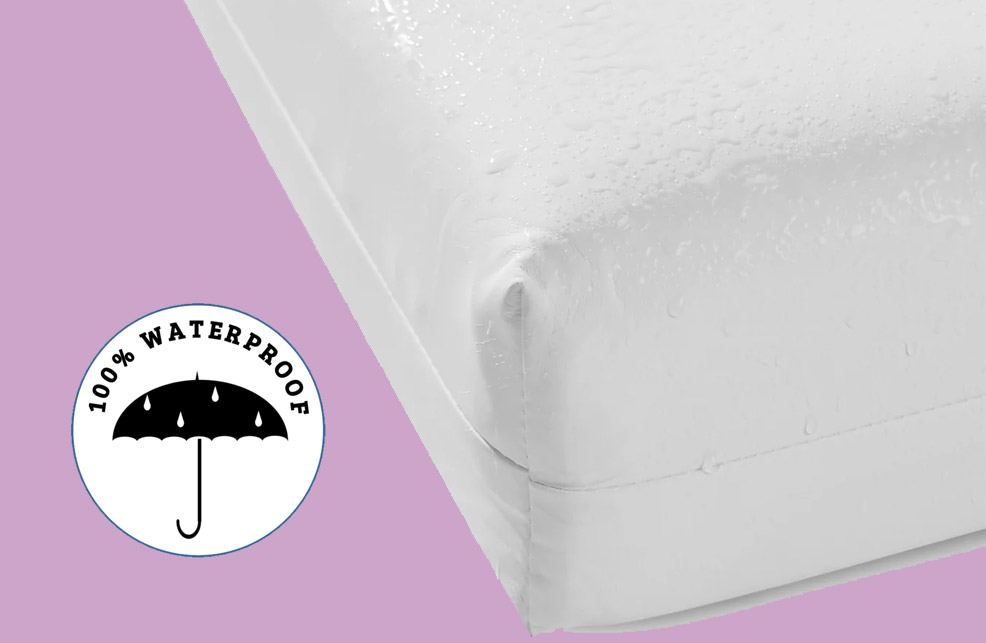 Coming in at only 8 pounds, the entire crib mattress is relatively lightweight, making for easy sheet and mattress pad changing. Speaking of sheets, the squared corners make it a bit more likely for the sheet to actually stay on the mattress (even when your toddler becomes a jumper!).
The foam core doesn't have any springs. This makes it less appealing as a trampoline (crib-o-line?) for toddlers, but impressively lightweight. More importantly, the core is dual-firmness, with one super soft side for toddlers, and a fairly firm side for infants.
A typical weakness of a foam mattress is the droopy edges, but the Little Dreamer has extra firm edges to prevent it from sagging and losing its form.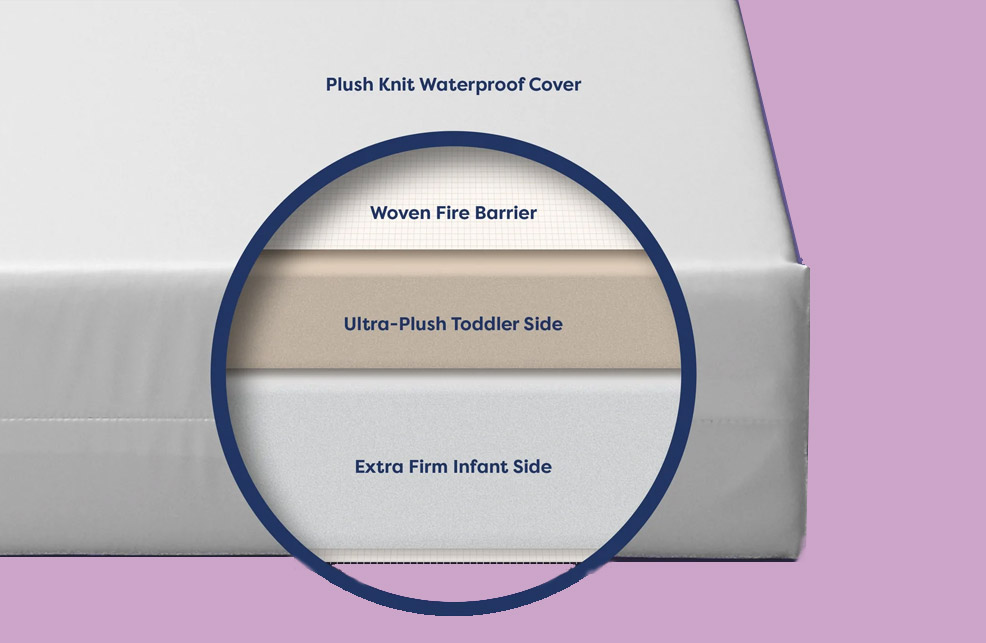 The Moonlight Slumber Little Dreamer is about $199 (check it out at Amazon), which seems like a steep price for a polyurethane core mattress.
We found that the firm balance between the infant and toddler sides was really nice; the infant side was super firm, and the toddler side was moderately soft.
The model we purchased didn't have any labels showing which side was the infant side and which was the toddler side. If you can't tell from pushing your hand in and feeling which side is the firmer infant side, the one we tested had the words "Moonlight Slumber" printed on one side (the infant side) and the other side was blank (the toddler side).
The seams were basically non-existent, giving it a nice clean look and feel, and making it easier to wipe clean.
Moonlight Slumber Little Dreamer: Cons
While we appreciated many of the features of the Little Dreamer, including its safety and health certifications, dual-firmness and lightweight construction, and waterproof cover, we also found some shortcomings.
In our testing, once the mattress had unrolled and expanded into its full form (which took about 24 hours), we found the smell (off-gassing) to be a bit stronger than many other foam core mattresses. This was a little surprising given all the low VOC certifications.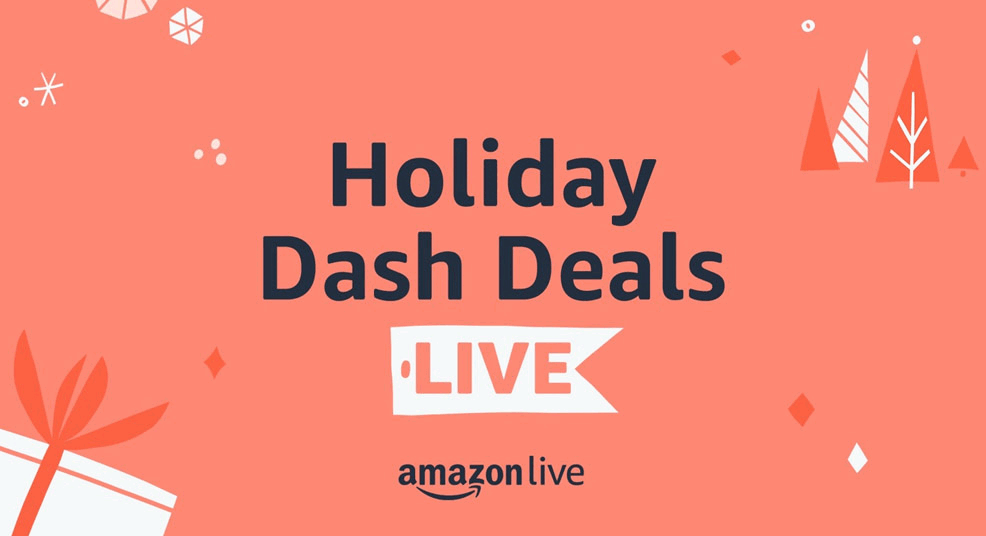 It's important to point out, however, that the odors tended to subside after about a week.
Also, it's worth noting that Moonlight Slumber was recently charged by the FTC for making misleading claims about the mattress being organic and free of VOCs. They removed any such claims, of course, but it doesn't inspire confidence.
Overall, the build quality seems quite good, but we don't have long-term durability and longevity results.
Who else recommends the Moonlight Slumber? It's a top pick by our friends at Babylist, WhatToExpect, and The Bump.
Interested? You can check out this Moonlight Slumber Crib Mattress here.