How to Travel with a Baby - 25 Essentials
Hit the road, baby! Here are some must-haves for traveling with your little one.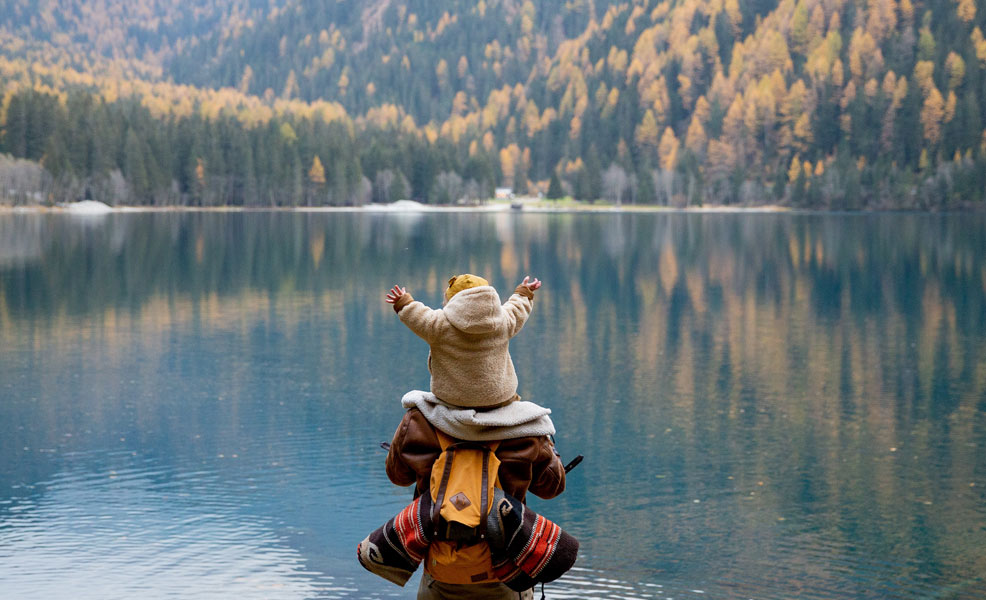 ---
Mommyhood101 independently tests and curates baby gear to help you make informed decisions. If you buy products through links on our site, we may earn a commission.
Vacations and holidays are wonderful times to gather with family and friends who may be excited to meet your new infant or see how your toddler has grown. Whether traveling by car or by plane, for just an overnight stay or longer at a destination, it is best to get a head start on planning and packing for travel with a baby.
Traveling with Baby: The Essentials
Especially new parents will observe that packing for travel with baby seems to start small and grow until a second vehicle is suggested just for baby gear. Over packing can cause unneeded stress and confusion. It is best to grab a reliable diaper bag and stick to compact essentials.
Blanket + Spare: Pack two or three blankets for multi-function use. Blankets are helpful for car seat naps and floor play time.
Diaper Considerations: Before getting out the calculator and multiplying diapers times wipes per day, parents can pack a changing pad (or disposable pads), rash cream, and just enough diapers and sensitive wipes for the travel duration plus a few extra. Once at the vacation or holiday destination, locate the nearest department store or pharmacy for additional supplies.
Extra clothes for everyone: Spit-up and diaper explosions happen, and parents' clothes are often impacted as well as baby's. In addition to clothes for the holiday duration, pack a change of clothes for everyone (and keep these clothes readily available during travel) to avoid a very uncomfortable trip.
Feeding Supplies: Like diapers and wipes, parents should pack what is needed for travel, plus a few extra meals and snacks (in case of spills, traffic, and / or layovers). Once arrived at the vacation destination, a quick grocery trip will restock necessary foods.

Care Supplies:

Pacifiers and clips: Pack two or three of the best pacifiers in case one is dropped during travel. Sanitize pacifiers when destination is reached.
Thermometer: Babies can encounter a whole new world of germs when traveling. Parents should pack a good baby thermometer in case of illness.
Nasal aspirator: This is especially important for infants. Young babies are obligate nose breathers, which means they can only breathe through their noses.
Necessary medications: Parents should be sure to pack any medicines prescribed by their children's medical professionals.

Stroller/Baby wearing: There are many excellent compact and lightweight strollers available to save space while traveling. Alternatively, parents may consider packing a wearable baby carrier or sling—saving both packing space and hassle when maneuvering through a new town or city.
Travel Safety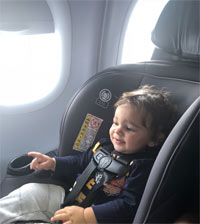 Travel safety means planning ahead and considering the destination point as well as the trip.
Accommodations Safety: When planning to be away from home for any period of time, parents of infants and toddlers should take additional precautions to ensure the destination will be a safe environment for their children. Some safety preparedness actions might include:

Calling ahead if staying with family. Request firearms and medicines are locked up out of reach.
Upon arrival, scan the area from a baby/toddler's perspective. Be on the lookout for pets/pet food, sockets, wires, sharp table edges, stairs, and other dangerous areas.

Car Seat: Ensure any infant car seat or convertible car seat is properly installed before a long car trip. If traveling by plane, children over 40 lbs can use the aircraft seatbelt. However, according to HealthyChildren.org, "A child is best protected when properly restrained in a car safety seat appropriate for the age, weight and height of the child. The car safety seat should have a label noting that it is FAA-approved. Belt-positioning booster seats cannot be used on airplanes, but they can be checked as luggage (usually without baggage fees) for use in rental cars and taxis."
Sun Screen or Shades: Long-distance car travel can be hazardous for baby's skin. "The sun's ultraviolet A (UVA) radiation can penetrate glass." It can also penetrate most clothing unless it specifically claims a UV protection value. Parents should protect baby's head with a hat, and apply safe kids sun screen or a UV blocking window screen. "The US Food and Drug Administration and The Skin Cancer Foundation recommend using sunscreen only on children older than six months. The American Academy of Pediatrics, on the other hand, suggests applying sunscreen to small areas of exposed skin in infants younger than six months old if appropriate clothing and shade are not available" (SkinCancer.org)
Dress in Layers: Dressing in layers is a safety precaution for properly sitting baby into a car seat, but this is especially important for families traveling between climates. Layers allow family members to quickly and easily adjust for comfort.
Extra Baby Wipes: Baby wipes are magically versatile! Pack extra sensitive baby wipes for sticky face/finger cleanup, table wipe-down, and other travel messes.
Checklist and Tips
Parents can ease travel chaos by getting an early start on organization and packing. Creating a checklist will help keep plans on track and provide peace of mind.
Pack Ahead: Pack everything into the car the night before. This helps avoid a crazy, morning rush.
Travel During Sleep Times: If possible, plan the longest portion of the voyage during baby's regular sleep times. Napping schedules may be impacted by holidays and travel, but this is one way to ensure babies will have some quiet time to sleep on schedule.
Bring Snacks: Babies are picky eaters (check out our top tips for dealing with a picky eater) - pack a few favorites to keep on hand in case of fussiness.
Plan Stops and Activities: For car trips, the AAP recommends parents "plan to stop driving and give yourself and your child a break about every two hours." Crayons and a paper pad, plus a few small toys will help keep baby occupied during travel. Parents can also get creative while entertaining baby during travel—in a pinch, a couple of coffee cups from a café are great noise-makers or stacking toys!
Avoid Peak Day Travel: When possible, parents with small children could save on traffic, delays, and ticket costs by avoiding peak travel days. Some of the worst travel days in the U. S. include the day before Thanksgiving, Christmas, and New Year's Eve.