We are back with more giveaways! For the month of August, we are giving away two awesome new products: the Levana Oma Sense baby movement monitor, and the Motif Luna breast pump! Details below!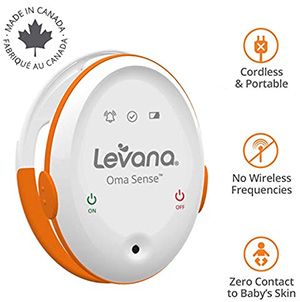 The Levana Oma Sense is the ultimate in baby movement and breathing monitors. We put it through our hands-on reviews last month and fell in love with its simplicity, accuracy, reliability, comfort, and ease of use. It's the perfect device to put new parents' minds at ease and help them get a good night's sleep!
Value: $119.
Read all about it here!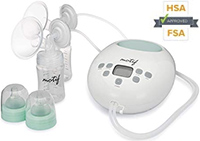 The Motif Luna double electric breast pump is an all-new portable breast pump that provides serious pumping capability with a lightweight and versatile form factor that moms love! We reviewed it last month and think it is an awesome alternative for anyone considering the popular Spectra: it's quieter, smaller, more powerful, and lighter weight than the Spectra S2. But it's also more expensive, and that's why we're giving it away this month - to save you some serious cash!
Value: $225.
Read all about it here!
To qualify for this month's giveaway, fill out the below form!

Previous Winners:
Hiccapop Baby Wipe Warmer (Aug 2019): McKenzie F., Sacramento, CA
Babymoov Bottle Sterilizer (March 2019): Tiffany C., Wichita, KS
Tommee Tippee Bottles (Dec 2018): Cara O., Austin, TX
Baby Brezza Formula Maker (Feb 2018): Laureen B., Dover, NJ
Boba Wrap (Oct 2017): Jenna S., Pittsburgh, PA
Boba Wrap (July 2017): Megan T., Tampa, FL
Boba Wrap (Mar 2017): Sarah L., Pheonix, AZ
Bloom + Kind Baby Wipes (Jan 2017): Vanessa K., New Rochelle, NY
WubbaNub Winner (Dec 2016): Janet C., East Hampton, CT
Diaper Clutch Winner (Nov 2016): Yaara C., Falls Church, VA
Moby Wrap Winner (Oct 2016): Jessica K., Santa Barbara, CA
Terms and Conditions: This giveaway, sponsored by Mommyhood101.com, provides you with a chance to win the popular baby product described above. There is no purchase necessary. To be considered you must be 18 years or older, and a United States resident. We will not ship the item outside of the U.S.A. To be eligible, you must enter a valid email address, and valid color preference. One randomly selected winner will be notified by email. Your email address will be used for future mailings and promotions. Your email address will not be entered automatically into any subsequent giveaways. Your name and any personal information (including shipping address) gathered in relation to the giveaway will not be shared with anyone. If you are selected as a winner, your name and address will be shared only with the sponsor of the giveaway (for shipping purposes only).
Odds of winning will depend upon the number of eligible entries received. The use of multiple email addresses is not permitted and will result in disqualification; multiple entries from a single IP address will be disqualified. All federal, state and local taxes, insurance, licensing, registration and title fees are the sole responsibility of the winner. No substitution or transfer of prize permitted by winner. Mommyhood101.com and DITYE LLC reserve the right to substitute items/prize of equal or greater value. Mommyhood101.com is not responsible for incomplete, lost, late, damaged, illegible or misdirected e-mail or for any technical problems, malfunctions of any telephone lines, computer systems, servers, providers, hardware/software, lost or unavailable network connections or failed, incomplete, garbled or delayed computer transmission or any combination thereof.
By participating in this promotion, entrants agree to be bound by these Terms and Conditions and the decisions of the judges. By accepting prize, winner agrees to hold Mommyhood101.com and DITYE LLC harmless against any and all claims and liability arising out of use of prize. Winner assumes all liability for any injury or damage caused, or claimed to be caused by participation in this promotion or use or redemption of any prize.